Barbara Ellen (Minard)
Deyo Rose
(1857-1947)
Barbara Ellen "Barbary" (Minard) Deyo Rose was born on Oct. 8, 1857 in Knox County, OH, the daughter of Solomon and Rebecca (Metzler) Minard Sr.
Divorced from her first husband, Barbara's second husband was a veteran of the Civil War.
When Barbara was an infant, her father died. Within a relatively short time, she and her widowed mother pulled up stakes in Ohio and moved westward to Iowa as pioneer settlers. In 1870, at the time the U.S. census was taken, Barbary was age 12, and she and her mother resided in Fairfield, Jefferson County, IA. They made their home that year under the roof of 70-year-old Bartlett Travis and 22-year-old Belle Johnson, a housekeeper.
~ Barbara's First Husband, Joseph W. Deyo ~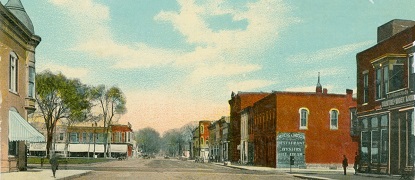 Fairfield -- the south side of the town square
Shrouded by history for now, but likely in about 1874, Barbara married her first husband, Joseph W. Deyo ( ? - ? ). Barbara was no more than 17 years of age at the time, and possibly younger.
They went on to produce two children -- Franklin H. Deyo and Jessie Ellen Deyo, both born in Iowa.
The marriage did not last long. Fond of drink, Joseph allegedly deserted the family and remained away for more than three years. Barbara and her children moved back to her old home region of Knox County to re-establish their lives. The federal census of 1880 shows Barbara (age 21), Frank (5) and Jessie (2) residing together in Clinton Township, Knox County. Interestingly, the census-taker recorded the birthplace of both of Barbara's parents as "Germany."
Barbara sued for and was granted a divorce in the Court of Common Pleas of Knox County, with the ruling being made in November 1882. The court awarded Barbara the custody of her daughter, but the son's legal guardianship and whereabouts are not addressed in the court papers.
~ Barbara's Second Husband, Gilman Rose ~
Shortly after her divorce, on Christmas Eve 1882, Barbara married her second husband, widower and Civil War veteran Gilman Rose (1840-1892). They were wed at Mt. Vernon, Knox County by the hand of Rev. Elvero Parsons.
They made their home in Alexandria, Licking County circa 1884, when Gilman was mentioned in a history of his Civil War regiment, Our Knapsack: Sketches for the Boys in Blue, published by F.M. McAdams. They later resided at Black Creek, Holmes County, where they were enumerated when the special census of Civil War veterans was taken in 1890. The name of "Black Creek" was changed to "Pictoria" in late 1892 or early 1893.
Gilman stood 5 feet, 10 inches tall, and had a light complexion, light hair and blue eyes. Prior to the war, Gilman resided with his first wife Harriet C. (?) in Granville, St. Albans Township, Licking County, OH. He was a stout and hard working farmer, recalled John J. Pendleton. Harriet passed away in Granville on Dec. 16, 1876. Friends Mary E. Ladd and T.M. Owen attended her funeral.
During the war, Gilman had served in the 113th Ohio Volunteer Infantry, Company D, for a period of two years. He enlisted at Granville, Licking County on Aug. 20, 1862. He deserted at Portland, KY in February 1863 but reported back to his unit two months later when President Lincoln -- faced with an epidemic of some 125,000 Union Army deserters -- offered amnesty to anyone who returned for duty. While on duty at Franklin, TN in May 1863, he became a mess-mate with Moses Goodrich, sharing meals and a tent. At Franklin, he contracted a case of "camp diarrhea which became chronic and from which he suffered during the remainder of his service," his former captain, James R. Ladd, wrote many years later.
Recalled mess-mate Moses Goodrich:
The first that I remember of his complaining of chronic diarrhea was at Shelbyville, Tenn., on or about July 1863. he was considerably discouraged, and as we say had the blues. He said his food came through him without doing any good. We were at Wartrace a month later and it was the same way then. An old mess-mate of ours was talking with me about Rose, one or two years ago and he told about Rose paying out the last money he had for some wilted peaches when he was most dead with the diarhea. And in two or three days more was out of tobacco and not a cent to get any more with. We thought the best way would have been to have let the peaches alone and saved his money for tobacco for a man in his condition. He complained of the same diarhea (and I am sure he had it) as long as he was with us.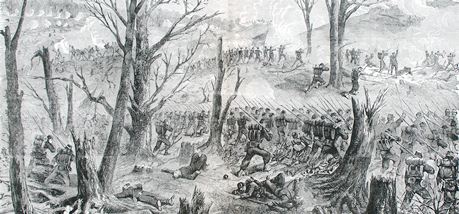 Battle of Missionary Ridge, Tennessee -- after which Gilman was sent away from the regiment for more expansive medical care.
Gilman's bowel problems were often so debilitating that he was unfit for duty, and at times was sent to a convalescent camp to recover. His fragile health further led to heart and digestive problems which he chose not to disclose to his superiors. After the Battle of Missionary Ridge, TN on Nov. 25, 1863, he was assigned away from the regiment to be a teamster for his division.
Gilman received an honorable discharge at Louisville, KY on July 6, 1865, and returned home to Licking County.
~ Postwar Life and a Decade of Marriage ~
Upon his home-coming, Gilman took up his former occupation in farming and as an occasional salesman. His postwar years were spent in Granville and Alexandria, Licking County, until 1883, when he and Barbara moved to Black Creek, Holmes County.
After his mother remarried, son Franklin Deyo changed his surname to "Rose" which he kept for the rest of his life. He considered Gilman as his father.
Over the years, as his wartime ailments flared up, Gilman was beset by "considerable pain and vomiting," recalled his physician, A.L. Jones, M.D. "It was difficult to retain sufficient nourishment to sustain him. Besides the periodical attacks of diarrhea, he has become so emaciated." Gilman's friends advised him to apply for a federal pension as compensation for his diminished ability to work and earn a living. He refused initially, but by 1889 changed his mind and filled out the appropriate paperwork to submit an application. His payments circa April 1891 were $6.00 per month.
Gilman's health continued to steadily decline. On Sept. 11, 1892, with the end near, his physician Dr. Jones was summoned, but arrived too late. Gilman died that day, at the age of 52, with Dr. Jones attributing the cause to malnutrition caused by the ongoing stomach and bowel disease.
Gilman's original Civil War pension file today is on file with the Department of Veterans Affairs in Baltimore, MD. Such files normally are in the custody of the National Archives, but because Barbara lived so long, the responsibility changed from one to another during her later years. In 2009, the papers were found after a request by Minerd.com's founder under the Freedom of Information Act.
~ Life as a Widow ~
Barbary thus was left as a single mother again, at age 36, for the second time. She remained a widow for a half-century to the end of her life. Making her home in Manning and Pictoria, Holmes County, she successfully petitioned the federal government to receive Gilman's pension and received monthly payments for the remainder of her life. They began at $12 per month in 1892, and at her death they were at least $40 monthly.
When the federal census was taken in 1900, Barbary lived by herself in Richland Twp., Holmes County, OH. She was age 42. In later years, she resided with her son in Glenmont, Holmes County, where she was a member of the Amity Methodist Church.
Barbary was named in the 1936 newspaper obituary of her older half-sister, Elizabeth Shook, and was residing in Glenmont at the time.
In 1947, Barbary celebrated her 90th birthday, but failing in age was admitted to the Holmes County Home. She died there of hardening of the arteries and heart disease on Oct. 22, 1947. She was laid to rest at the Glenmont Cemetery. At the time of her death, she had three grandchildren, 18 great-grandchildren and 18 great-great grandchildren. On her death certificate, her father's name erroneously is listed as "Philip Minard" rather than "Solomon."
~ Son Franklin H. "Frank" Rose ~
Son Franklin H. "Frank" Rose (1875-1946) was born in 1875. He was a "service station operator and a ... carpenter," said the Coshocton County (OH) Democrat.
He married Mary C. Bell (1877- ? ) in 1896. They had at least four daughters -- Grace A. Rose, Frances E. Rose and Della M. Rose and Laura M.B. Rose.
In 1900, the federal census of Mansfield, Richland County, OH shows the Roses living on Daisy Street, with Frank working as a machinist. By 1910, having moved to Washington Township, Holmes County, OH, he worked as a house carpenter. In 1920 and 1930, the Roses resided in Glenmont, Richland Township, Holmes County. The 1930 census shows that Frank's widowed mother lived just a few doors away.
The daughters' married names were Mrs. James Fry Jr. of Glenmont, Mrs. Clarence Bevington of Coshocton, and Mrs. Alfred Purdy, also of Coshocton.
Frank passed away on April 25, 1946, of a cerebral hemorrhage caused by hardening of the arteries.
~ Daughter Jessie Ellen Deyo ~
Daughter Jessie Ellen Deyo (1877- ? ) is lost to us but is being researched.
Copyright © 2004-2005, 2009, 2012 Mark A. Miner