George Minard
(1797-1891)
George Minard was born in 1797 in Fayette County, PA, the eldest son of John and Mary Magdalena (Kohl) Minard Sr.
When George was a teenager, his parents moved to a farm near Scio, Harrison County, OH. George is thought to have remained for a number of years in Fayette County, but evidence shows he also traveled back and forth to his parents' new locale. He never learned to read or write.
On Sept. 9, 1819, in Harrison County, OH, George married Susannah Smith (1794-1861), also a native of Fayette County. Rev. John Crom officiated at the ceremony. On the marriage license -- still on file today in the Harrison County Courthouse -- the family name was spelled "Mynart." George was age 22 at the time, and Susan was 25.
The Minards together produced at least seven children – Daniel Miner, Jacob Minerd, John W. Miner, Catherine Ann Minard, William Miner, Mary Minard and Rachel Susannah Manbeck. Son Daniel was born in Fayette County in 1828, but shortly thereafter the family moved for good to Harrison County, where William (1830), Mary (1833) and Rachel Susannah (1835) were born.

Above: The Minards' marriage license, 1819. Below: 1850 Census of Ohio, showing George's birthplace as "Fayette County, Pa."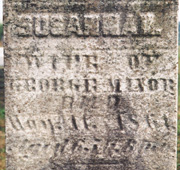 Susannah's grave marker
In 1850, when the federal census was taken, George declared that he, his wife and their eldest son were born in "Fayette County, Pa." This census also shows that George's occupation was a miller.
George's father wrote a will in 1856 and directed that George receive $80 in cash payments within one year of death. The father did not die until 1867, and it is not known if George received the inheritance.
When the federal census of 1860 was taken, the Minards resided near Scio and Connotton, Harrison County. George is marked as a laborer and Catherine as a housekeeper. Unmarried daughters Catherine (age 30) and Mary (20) were in the household that year also, and labeled as "domestics." In comparison to his neighbors, whose personal assets were valued in the hundreds if not thousands of dollars, George's assets were worth just $50.
Susannah died at the age of 65 years on May 11, 1861. She was buried at the United Brethren Church Cemetery at Conotton, Harrison County. Her grave marker, seen here, was still legible and was photographed in August 2001 by the founder of this website. On the marker, the family name is spelled "MINOR."
George and his daughter Catherine were residing together when the federal census was enumerated in 1870.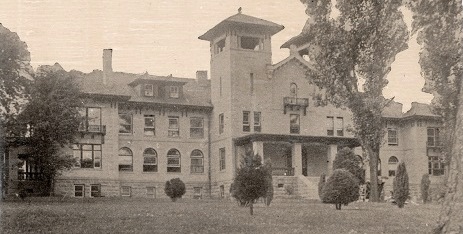 Harrison County Infirmary
When the census was taken in 1880, George and daughters Catherine and Mary made their home together. In that census, George is listed as having been born in Maryland, as were his parents.

George's obituary, Cadiz Sentinel, 1891
On May 18, 1885, George and daughter Catherine were admitted to the Harrison County Infirmary, a type of poor house. She stayed a little under two years, and was discharged on March 7, 1887.
George never left the infirmary, and resided there for nearly six years, until his death on March 29, 1891. The Cadiz Sentinel reported simply: "George Minard, an aged inmate of the County Infirmary, died on Sunday last, aged 94 years."
He is thought to be buried near his wife in the Conotton Cemetery.
After his death, George was largely forgotten, but not entirely. Thirty years later, in 1921, his name was mentioned in the newly published book, History of Carroll and Harrison Counties, Ohio.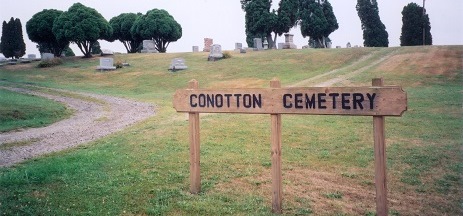 Where George, Susannah and Mary rest for eternity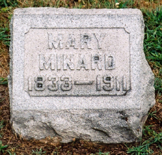 United Brethren Cemetery
~ Daughter Mary Minard ~
Daughter Mary Minard (1833-1911) was born in 1833 in Ohio.
As with her sister Catherine, Mary never learned to read or write.
She never married. Her decades of life experiences took place in a silent and slow time in Ohio, and few details are known today.
She dwelled with her parents in 1860, when her occupation was marked by a census-taker as "domestic." Their post office at that time was Conotton, Harrison County.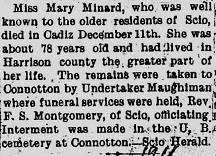 Mary's obituary, 1911
Then in 1870, she is believed to have lived in the household of a presumed relative, 71-year-old Elizabeth Smith (her grandmother?) in Goshen, Tuscarawas County, OH. She worked as a housekeeper at that time.
By 1880, she was back under the roof of her widowed father in North Township, Harrison County, as was her sister Catherine.
She died in Cadiz, Harrison County at age 75 on Dec. 11, 1911, said to have been "well known to the older residents of Scio." Her official Ohio certificate of death stated that the cause of death was an infection ("sepsis") arising from a puncture wound in her right second finger. The document also incorrectly named her father as "Daniel" instead of "George."
She is buried at the United Brethren Church Cemetery in Conotton, and her marker was still legible when photographed for this biography in August 2001.
Copyright © 2001-2002, 2007, 2010, 2012, 2019, 2021 Mark A. Miner