James 'Forbes' Minard
(1853-1932)


Forbes and Becky Minard
James Forbes Minard was born on Aug. 23, 1853 near Mt. Vernon, Knox County, OH, the son of Solomon and Rebecca (Metzler) Minard Sr. He was a pioneer settler of Iowa and Missouri.
Forbes appears to have been named for a good family friend or relative, James Forbes.
As a young man, Forbes migrated to Iowa, apparently making his initial home in Iowa City, Johnson County.
There, on Jan. 13 or 23, 1877, when Forbes was age 24, he married 26-year-old Iowa native Mary Rebecca "Becky" Litzenburg (1851-1917), the daughter of James Litzenburg of Ohio.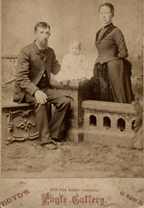 Boyd's Studio photo
The photographic portrait of the Minards, seen here, was taken in an unknown town, but located in Boyd's Studio at 411 Walnut Street, part of the Eagle Gallery.
They had two sons, William "Jay" Minard and Franklin Smith "Frank" Minard, both born in Iowa circa 1879-1880.
In 1880, the Minards left Iowa and relocated to Missouri, residing in the county of Nodaway, where they went on to reside for some four more decades near the crossroads community of Orrsburg. Forbes is listed on the 1880 census of Nodaway County as a "farmer."
The Minard' sons are seen here in a portrait taken at Chatteron Studio in Villisca, IA. Jay is at left, and Frank at right. This photograph, plus the portrait of Forbes and Becky, today are in the collection of one of his distant nieces.
Interestingly, a local neighbor boy destined to reach fame as an American author and lecturer was born into poverty near the Nodaway County seat town of Maryville in 1888, some 15 miles as the crow flies from the Minards' home in Orrsburg. Growing up on a farm, he became known for his educational courses on self-improvement and wrote the best-sellers How to Win Friends and Influence People and Lincoln the Unknown. Raised under the name "Carnagey," he later changed the spelling as he reached national prominence in the 1920s -- "Dale Carnegie."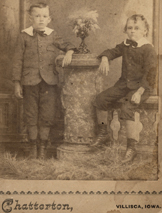 Jay and Franklin Minard
Both of the censuses for 1900 and 1910 also show the Minards living in Nodaway County. On Feb. 28, 1914, Forbes and Mary purchased a tract of land just to the north of Orrsburg, Nodaway County. The acreage comprised the north half of the southwest quarter of Section 10, Township 65 North, Range 34, west of the Fifth Principal Meridian.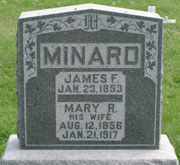 West Union Baptist Cemetery
A portion of that land, used for school purposes, was not included in their purchase. To pay for the land, they took out a five-year mortgage loan of $3,300 from the Commonwealth Trust Company, apparently an agent for Prudential Insurance. (Today Route NN cuts through the property, and is about a dozen miles from the Iowa border.)
Sadly, Becky passed away at the age of 59 on Jan. 21, 1917 at St. Joseph's Hospital in St. Joseph, Buchanan County, MO. The cause of her death was cancer of the lower right leg. Her remains were returned to Nodaway County where they were laid to rest at the Orrsburg Cemetery, also known as the West Union Cemetery, located west of Parnell, and beside the West Union Primitive Baptist Church.
Forbes satisfied his mortgage loan obligations with Prudential in February 1919. The 1920 census shows him as a widower at age 65. He resided that year along the state highway in Parnell, Independence Township, Nodaway County, where he was a farmer. He remained in this location for the rest of his life.
In May 1929, Forbes borrowed $150 from the Farmers Trust Company of Marysville, MO. He apparently did not repay the loan in his lifetime. Six years after his death, in November 1938, with the bank failing, it held a public sale for its remaining assets of personal loans, real estate, second mortgages, commission notes and overdrafts, with Forbes's debt included in a list published in the Maryville Daily Forum.
Forbes passed away at the age of 80 in St. Margaret Hospital in Kansas City on Aug. 23, 1932. In an obituary, the Maryville (MO) Daily Forum noted that he "would have been 81 years old the day following his death." The Daily Forum also reported that interment would be "in the cemetery adjoining the church where Mrs. Minard and a granddaughter are buried."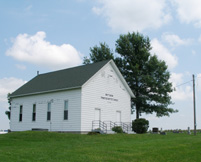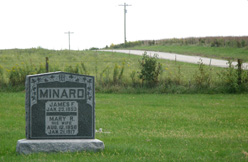 The Minards' quiet country rest, West Union Primitive Baptist Church
Some years later, when the booklet Independence Township Cemeteries was published, the Minard grave in Orrsburg was listed.
[Note -- a "Frederick F. Minard" also owned lived in Nodaway County from the 1880s to the early 1900s but has not yet been connected to our group. He bought or sold farms to and from William R. Walker (1883), Levi R. Johnson (1883) and Simon K. Lasley (1901).]

Old Minard farm, north of Orrsburg on Route NN, circa 2009
~ Son William "Jay" Minard ~
Son William "Jay" Minard (1877?- ? ) was born in Iowa in October 1877 (or 1879), and he apparently was married twice, if not thrice. On March 12, 1898, he was joined in matrimony with Nellie Lazenby (1879- ? ) of Pickering, Nodaway County. Rev. Horace Siberell performed the ceremony. Jay was age 21 (or 19) at the time, and Nellie was 20. The marriage license is on file today at the Nodaway County Courthouse in Maryville.
The federal census of 1900 shows Jay and Nellie living as farmers in Union Township, Nodaway County. They had no children at the time.
In 1910, the census suggests Jay was married to Idora (?) (1885- ? ) and laboring in a meat packing house in St. Joseph, Buchanan County, MO. They were wed in about 1904, and had no children.
Later, he wed Edith Ferris (1890- ? ), a native of Kansas. He was 11 years older than she.
Jay and Edith lived in Kansas City, MO circa 1914, when their daughter Vera Eldora Minard was born. By 1917, the family was in Parnell, where Jay was a farmer. Sadly, daughter Vera died of indigestion and encephalitis as she neared her third birthday on May 13, 1917. The little girl was laid to rest in the Orrsburg Cemetery, although her grave is not marked today.

Automobiles lining Parnell streets, circa 1914
Jay and Edith went on to have at least eight more children -- Desdah Gertrude Minard, Donald J. Minard, Lola Maxine Minard and Leslie Minard, all born in Missouri; and Delbert Minard, Mildred Minard, Calvin C. Minard and Frank Minard, all born in Kansas.
The 1920 census shows the Minards in Parnell, with the 41-year-old Jay laboring for the city as a drayman. That year, he purchased two town lots in block 33 of Parnell from S.A. and Phrana E. Krugh for $2,000. Within less than two years, the Minards sold their lots at cost to William C. Timmerman.
In about 1925, the Minards migrated westward and settled in Emporia, Lyon County, KS. Their home was on Congress Street. The 1930 census shows William working as a meat cutter in a retail meat shop, with Edith as a pastry maker working from their home.
When named in his father's Maryville Daily Forum newspaper obituary in 1932, Jay made his home in Kansas City.
~ Son Franklin Smith "Frank" Minard ~
Son Franklin Smith "Frank" Minard made his home in Shreveport, LA in 1932.
More about him will be added here when learned.
Copyright © 2003-2005, 2008-2009, 2015 Mark A. Miner
Minerd.com thanks Letha Marie (Shull) Mowry, research secretary of the Nodaway County Genealogical Society, for graciously opening her archives and resources during a visit in September 2009.