Eliza (Miner) DeMoss Cornwell
(1841-1917)

Eliza DeMoss Cornwell
Eliza (Miner) DeMoss Cornwell was born on March 29, 1840 (or 1841) in Columbiana County, OH, the daughter of Burget and Sarah Ann (Hays) Miner. The widow of a Civil War veteran, she later was a pioneer settler of Nebraska and Kansas.
As a young girl, she and her parents migrated to the western edge of Ohio, settling in the town of Van Wert, Van Wert County.
Kinsley (KS) Graphic
On July 22, 1857 in Van Wert County, at the age of 16, Eliza married 24-year-old Charles Warren DeMoss (1833-1867), a native of Piqua County, OH. The ceremony was performed by C. Roberts, a justice of the peace. Charles was eight years older than his bride. He stood 5 feet, 9 inches tall, with blue eyes, light hair and fair complexion.
They produced five children -- Warren "Clinton" DeMoss, Clara Alice Lawrence, William Nesbit DeMoss, Flora Etta Wake and Charles Burget DeMoss. The children's grandmother, Sarah Miner, helped with all of their births, as did Rebecca Zimmerman, whose connection is unknown.
The DeMosses resided in Ridge Township, Van Wert County, where they were farmers. They also apparently owned a 7/15 part of a 160-acre tract in adjacent Paulding County, OH in 1860. The latter tract was in Section 25, Township 1, Range 2 East. (William R. Bell [7/15] and Thomas "James" DeMoss [1/15] owned the remaining parts, but how they were precisely related to Charles is unknown.)
During the Civil War, at the age of 37, Charles served in Company H of the 139th Ohio Infantry (National Guards). After he completed the required 100 days' service, he re-enlisted in Company K of the 46th Ohio Infantry.

Civil War battle action at Pittsburgh Landing (Shiloh)
Among the major battles in which the 46th Ohio fought was in April 1862 at Shiloh (Pittsburg Landing), TN. During the action, 40,000 Confederates under General Albert S. Johnson attacked 45,000 Union soldiers led by General Ulysses S. Grant. The fighting led to a draw, but has been called "one of the most desperate of the war." Johnston was killed, and casualties on both sides numbered more than 10,000 each. Charles also saw action in the battle of Kennesaw Mountain in June 1864. At this battle, Union General William Tecumseh Sherman's troops faced the Confederate Army under the leadership of Gen. Joseph E. Johnston. Today the 3,000 acre site is a National Battlefield Park.
The 46th Ohio also was involved in the Battle of Atlanta, GA.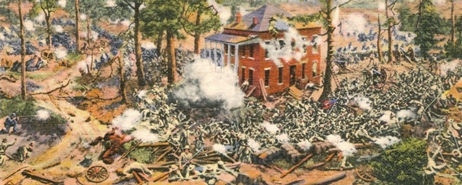 Fighting around Atlanta during the Civil War
Charles contracted a severe case of diarrhea sometime in 1864, "while in the service and in the line of his duty ... at a place called Point Lookout in the State of Maryland," recalled the regiment's surgeon, Dr. John Hill. Charles was ill during nearly his entire term of service "and remained so disabled up to the time he was discharged and was suffering from said disease at the time he was discharged."
After returning home, Charles purchased town lot #303 on the east side of Van Wert.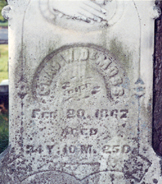 Charles DeMoss grave
He came down with a serious case of typhoid fever in September and October 1867, added to chronic suffering from loose bowels. Said Dr. J. Moon, the "disease baffled every effort to render permanent relief."
Sadly, just two years after the war, and after just a decade of marriage, Charles died, on Feb. 28, 1867. He was just shy of his 35th birthday, and according to one source was a victim of "disease contracted in the service of the United States."
His was laid to rest in the Woodland Cemetery. In about 1895 his remains were relocated to the Miner family plot there. His grave marker is seen here, as photographed in August 2002, and was still legible after more than 100 years.
Members of the community paid tribute to Charles and other Civil War veterans by participating in the newly designed "Decoration Day" (today known as "Memorial Day") the year after the war. An article in the Van Wert Weekly Bulletin named Charles among 10 local soldiers who were buried in the local cemetery, saying: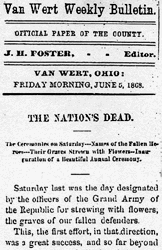 Van Wert Weekly Bulletin
Saturday last was the day designed by the officers of the Grand Army of the Republic for strewing with flowers, the graves of our fallen defenders.
This, the first effort, in that direction, was a great success, and so far beyond the expectation of all, that it is wondered at that such a ceremony was not inaugurated long since.... In this solemn tribute we could add no honors to the patriot dead -- their own heroic and self-sacrificing deeds are their highest honor. For us they gave up all; for us they endured toil, privation, and danger; for us they died.
Below is a roll of the heroic dead, who sleep in the Van Wert Cemetery.... CHAS. DEMOSS...
Widow Eliza was left to raise her five children, ranging in age from one to eight. Her father, Burget Miner, was named as their legal guardian.
When an inventory was taken of the DeMoss estate, officials noted among other items a two-horse wagon, plows, cross cut saw, a horse, a bay mare and a bay colt, a cow, three hogs, 18 bushels of wheat, a harrow and stand of bees and beehives. They also found two stoves, bedding and bedsteads, and a "School Book." In a petition to the Van Wert probate court judge, the administrators said the debts of the estate would total $625, but that the estate's assets only totaled $149, "wholly insufficient to pay the debts and costs [of the estate]."
On behalf of the estate, Eliza filed a lawsuit against her in-laws, who owned the Paulding County farm, so it could be sold. She also asked for the court's permission to sell her own town lot #303. Her goal was to raise additional cash to pay her debts.
Eliza then sought to sell her town lot #303. At a court-ordered auction, her father was high bidder, for $300. He then deeded it back to her. The residence was just a few houses away from her father's. The Paulding County farm was sold to Davis Johnson.
Eliza also filed for and received, on July 30, 1869, a widow's pension from the federal government in recognition of her husband's Civil War disabilities.
~ Eliza's Marriage to William J. Cornwell ~
After nearly six years as a widow, Eliza married widower William J. Cornwell (1837-1913) on Dec. 13, 1872. The ceremony was officiated by S. H. Alderman, a minister of the Gospel. He was the son of Anderson and Eliza (Coulter) Cornwell, and a native of Ohio.
William stood 5 ft., 10 in. tall, and had blue eyes and dark hair. He was a farmer, and also a Civil War veteran, having served as a sergeant with the 25th Ohio Infantry, Company D. During the war, he had suffered from chronic diarrhea and hemorrhoids while on duty at Mt. Pleasant, SC.
William was a resident of Bluffton, Allen County, OH at the time of marriage, and had lost his first wife, Sarah (Lucas) Cornwell, the year before. He brought five children to the marriage -- George Cornwell, Mary Ellen Freed, John W. Cornwell, Helen Leona Cornwell and William Henry Cornwell. The youngest child was just a month old when his mother died, and just 21 months old when his father married again.
As a result of the marriage, Eliza legally was no longer Charles DeMoss's widow, and thus lost her eligibility for a Civil War pension. However, the children under age 16 were eligible for a pension for their father's service. Burget filed a legal claim on Dec. 22, 1872, to pursue this on their behalf, and they began receiving a total of $8 per month in support. Burget also agreed to be legal guardian to the children.
Shortly after they were married, Eliza and William Cornwell migrated westward to Nebraska, settling in Columbus, Platte County. Her younger children went along as well. The Cornwells' migration to Platte County may be connected to the fact that Eliza's brother, Civil War veteran David "Nesbit" Miner, also moved there around the same time.
Eliza and William had two more children of their own -- Ida May Cornwell (born 1874) and Archie B. Cornwell (1877) -- both born in Nebraska.
Sadly, Eliza claimed that she was treated in the marriage with "extreme cruelty." In about 1880, William left his wife and family, and returned to Michigan, settling in the town of Ithaca, where he began a new life, and spent the remaining 33 years of his life.
That same year (1880), apparently needing funds for support, Eliza granted her father power of attorney to complete the sale of Van Wert real estate that she owned. Similarly, in 1882, Mary E. Walton-Roach and her second husband, Ephraim Roach, of Pierce County, Washington State, appointed Eliza's father as their power of attorney. (The relationship of the Roaches to Eliza and Burget is unknown.)
Eliza filed for divorce, and on Jan. 18, 1883, it was granted by the District Court of Platte County. Per the order of the court, she reassumed the "DeMoss" name which she kept the rest of her life. She was awarded custody of her children Ida and Archie Cornwell.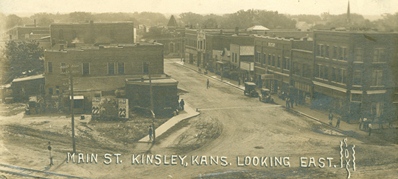 Rare view of Kinsley's Main Street of Eliza's era. Note the railroad track bisecting the street, in the lower left-hand corner.
~ A Single Mother, Again ~

Columbus Journal, Jan. 1887
Sadly, daughter Ida May did not live far into her teen years. A diligent student, she was named to her school honor roll in 1883 and 1884 and was named for the honor in the Columbus Journal. But in January 1887, at the age of 13 or 14, she died of pneumonia, in Columbus, after a short illness. Among those attending her funeral was her brother Clinton, who traveled from his home in Omaha. A short obituary was printed in the Journal.
Stricken again with heartache, in 1888, Eliza migrated to Kansas, settling in Kinsley, Edwards County. It was in this new setting that she apparently had her youngest children's names changed from "Cornwell" to "DeMoss," likely for convenience and to avoid having to answer uncomfortable questions.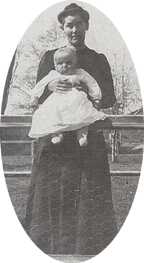 Eliza with unknown baby
She remained in Kinsley until the fall of 1895. During her time there, she was a frequent customer of a grocery and hardware business operated by H.L. and M. Schnatterly.
In 1895, she moved to Columbus, Platte County, NE, the town where her brother Nesbit lived.
From the fall of 1897 to early 1900, Eliza returned to Ohio and her old hometown of Van Wert. But by the spring of 1900, she moved again, back to Kansas and to the town of Kinsley.
At that time she also owned a 160-acre farm (which she rented for income) in Hodgeman County, KS. The farm produced about 150 bushels of wheat. According to neighbor P.T. Curran, "She works at anything she can find to do for a living, she washes, sews, does housework or nurses the sick."
She is seen at right, holding an unidentified baby.
In her later years, Eliza suffered from liver cancer. She spent about a year visiting one of her sons in Walla Walla, Washington State in late 1916 and early in 1917. She became convinced of the need to write a last will. She penned the document in Walla Walla, but returned to Kansas, making her home with son Archie.
Kinsley's Christian Church
Later that same spring, on May 22, 1917, she passed away at Archie's dwelling, at the age of 77. She was laid to rest in the Kinsley Cemetery. The Kinsley Graphic newspaper published this eulogy:
Mrs. DeMoss has lived for many years in this community, and was regarded as a true friend by all who knew her. She lived a life of service, and was always ready to do what she could for her friends. She was a good neighbor, and will be sadly missed from the neighborhood, where she has for many years made her home. As a member of the Rebekah lodge, she was a devoted and ardent worker, and the members of that organization gathered at the funeral service Wednesday afternoon to pay their last tributes of love and respect. Mrs. DeMoss was a good Christian and a member of the Christian Church of this city.
In a card of thanks published in the newspaper, sons Charles and Archie said they "want to sincerely thank the friends and neighbors who so kindly assisted us during the sickness and death of our beloved mother and grandma. We especially thank the Royal Neighbors, Pythian Sisters, Uniform Rank, Rebekahs, Odd Fellow and friends for their beautiful floral offerings."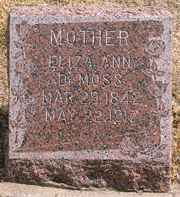 Kinsley's Christian Church
In her will, filed in the Probate Court of Edwards County in Kansas, she left one dollar each to her grown children Clara Lawrence of Cleveland, Ohio; Flora Etta Wake of St. Edwards, Nebraska; and William Nesbit DeMoss of Walla Walla. To her granddaughter Helen DeMoss (also known as Helen Alpharetta DeMoss), she bequeathed all of her household goods, jewelry, clothing and personal effects. She divided the remainder of her assets between her sons Archie and Charles, and named them as co-executors.
Among the goods inventories in her home were three rocking chairs; one settee; a center table; two wooden beds; one iron bed; two wooden dressers; a pantry table; drawing room table and linen; three 9 ft. x 12 ft. rugs; three small rugs; and a sewing machine. She also had family photos valued at $1.00; old books valued at $2.00 empty fruit jars; and a carpet sweeper.
A red granite marker was erected at her grave, a style eventually used for her offspring over the years.
~ William Cornwell's Fate ~
After his divorce from Eliza, in 1883, William married Adaline Matilda (Tewkesbury) Brown (1846-1928), the daughter of Elijah and Matilda (Hinds) Tewksbury, and the widow of Ezra Brown. She had six children to her first husband -- Mary Brown, William Brown, Jennie Brown, Louisa Brown Hill, Alice Brown Kenney and Edna Brown Davis.
They resided in Ithaca, Gratiot County, MI, and had one daughter of their own, Lois Cornwell Smith, born in 1887.
William's sister and brother in law, Jane and Asa Stratton, lived in Ithaca, and ran the Burr Betts general merchandise store.
During this time, William worked as a farmer, carpenter and lay minister. He also served as a justice of the peace circa April 1887, as noted in the 1913 book, History of Gratiot County, Michigan, Volume I. The book noted that he was a "citizen greatly respected."
Circa 1889, they resided in Findlay, Hancock County, OH, on 619 Folk Avenue. By 1892, they had migrated back to Michigan, settling in Lafayette, Gratiot County. His final church was the North Star Church in Lafayette.
In 1906, William was profiled in the book, Biographical Memoirs of Gratiot County, Michigan, published by J.H. Beers & Company of Chicago. It made no mention of his marriage to Eliza, or to the two children they had together. Among the excerpts from the entry are the following:
Rev. William J. Cornwell, justice of the peace and one of the most respected citizens of Lafayette township, is in every way one of the representative men of that section of Gratiot County. He was formerly in the active service of the ministry of the United Brethren Church... [He] spent his early life in Ohio on a farm. In the fall of 1881 he came to Gratiot county and settled in Hamilton township for two or three years, after which he located in Lafayette township, of which he has since been a resident. From 1891 until 1901 he was active in the ministry of the United Brethren Church... Mr. and Mrs. Cornwell have resided since their marriage on the present farm, a fine place of fifty-five acres, which she owned and which is well improved, most of it being under cultivation. Mr. Cornwell built the house on this tract, which is supplied with substantial buildings. Mr. Cornwell has held the office of justice of the peace for four years. He formerly took a very active part in township affairs, and has been prominently identified with the Democratic party.
As he aged, in about 1910, William's "failing health prevented him from doing active work," said a local newspaper. He died in Lafayette as he neared his 74th birthday, on July 30, 1913. The cause of death was a stroke. A Lafayette newspaper reported that his surviving children were: "Lois, now Mrs. Thomas Smith, of Lafayette. By a former marriage he leaves three sons, J.W. and George, living in Ohio, and William, of Ithaca; one daughter Mrs. Mary Freed, of Hillsdale. Two daughters, Mrs. Lettie Lanning of Ohio, and Mrs. Deth Curtis of this pace, have preceded him to the better land." He was laid to rest in the Lafayette Cemetery.
Adaline passed away in Ithaca on April 29, 1928. At the time of her death, she was receiving $30 a month in Civil War pension payments.

Clinton DeMoss
~ Son Warren "Clinton" DeMoss ~
Son Warren "Clinton" DeMoss (1858-1911) was born in 1858 in Van Wert.
Circa 1879-1880, he lived in Columbus, NE, where he earned a living as a clerk with the firm of Hatz & Ragatz. In September 1879, he went to the state capitol of Lincoln, telling friends and a newspaper correspondent that he wanted to see the "big pumpkin show."

Clinton, 1906
After recovering from a serious illness of diphtheria and quinsy, he moved to Chicago in April 1883, with his future brother in law Charles Wake taking his old job at the H. Ragatz store.
Later that year, he relocated again, to Omaha, Douglas County, NE, and found work there as a hostler (stableman), and later became a hackdriver. One place of employment circa 1888 was the Palace Stables in Omaha, located at the southeast corner of17th and Davenport. Rental rates included $2 for the first hour for a carries and $1.50 for the first hour for a coupe. Additional hours cost $1 apiece. The vehicles also were advertised for wedding parties and theatre-goers at a rate of $8 for coupes and $4 for carriage.
Clint resided in the rear of 1211 Douglas circa 1889-1890.
Around 1898, when he was age 40, Clint married 24-year-old Margaret M Yancey (1874- ? ), a native of Iowa. They had no children.
Clint and Margaret appear in both the 1900 and 1910 censuses, living in Omaha.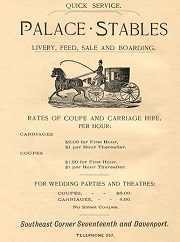 Clint's place of work, 1888
On Jan. 7, 1906, Clinton was one of several local hack drivers pictured in a feature article in the Omaha Bee (headlined "Omaha's Hackmen and the Service They Render to the Public"). At the time, he was serving as recording secretary of the Omaha local of The Hack and Cab Drivers' Union of America.
Tragically, in late November 1909, he was thrown from his rig and severely injured. A story in his old hometown newspaper, the Columbus Journal, reported that he was "a former Columbus resident, who has been driving a hack in Omaha for over twenty years, [and] was severely injured Sunday evening by being thrown from his hack when his team ran away."
He lingered with his injuries for almost two years, and passed away on Oct. 24, 1911, at age 53. His remains were buried in Forest Lawn Cemetery in Omaha.
Margaret remained in Omaha, working as a seamstress, until at least 1917. More about her will be added when learned.
Copyright © 2001-2004, 2006-2007, 2011, 2015 Mark A. Miner
Many thanks to Larry Wake for sharing his research on Ida and Clinton DeMoss. Photo of Clinton DeMoss courtesy Library of Congress..