Freeman 'Grant' Miner
(1869-1940)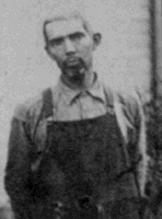 Grant Miner, early 1900s
Freeman "Grant" Miner was born on April 22, 1869 near Kingwood, Somerset County, PA, the son of Ephraim and Joanna (Younkin) Minerd. He was named after Civil War hero Ulysses S. Grant.
Grant was born with mental disabilities and never married. When he was about six years of age, his mother died, leaving him and his brother William Lincoln "Linc" Miner motherless. Two years later, their father married again, to a cousin, Rosetta Harbaugh, who became a loving step-mother over the years.
At a young age, Grant received $300 from the estate of his late grandfather, Rev. Herman Younkin. However, because he could not manage his finances or hold down a job, he was placed under the guardianship of Thomas Williams.
By 1890, at age 21, Grant was so incapable that his father petitioned the Court of Common Pleas of Somerset County to be named his guardian and to receive an allowance to cover "boarding, clothing, care and attention until further order of the court." Later, the Somerset Trust Company was named guardian of Grant's estate.
In 1920, Grant was residing with his cousin, Milton B. and Anna E. Colflesh in Lower Turkeyfoot Township. His occupation was listed as "laborer – lumber mill."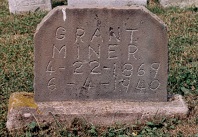 Grant's rough-hewn grave,
Younkin Cemetery, Paddytown
Grant is said to have had a violent temper, and the erratic behavior frightened his nieces. But he also had a compassionate side, as related in this story by the late Forrest Hall, a step-cousin, of Kingwood:
When I owned a store in Kingwood, there was a man named King who had his leg shot off in the war. He came into the store – it was a loafing place with a stove and a coal bin and benches all around. The men would chew tobacco and spit. There was a joker in the group who made up stories about King, and that made Grant Miner mad.
On Sept. 2, 1934, when the Younkin clan held its first National Home Coming Reunion at the Kingwood Picnic Grove, and drew 400 guests, Grant was first on the scene. Wrote Younkin Reunion President Otto R. Younkin:
The sky was clear, the air slightly cool, a fine day for the reunion. The first to arrive was Grant Miner, of Ursina Pa, who was upon the ground by 8 o'clock. By noon quite a number had assembled and partook of a bounteous basket-dinner.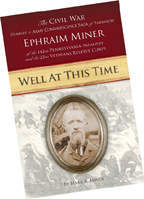 Book picturing Grant
In the late 1930s, Grant and his brother Lincoln lived together on a farm near Kingwood, where Otto Younkin's young son Tom would deliver fresh pies on summer evenings to the two old bachelors. One account said they were "practically destitute."
On June 4, 1940, at the age of 71, Grant died after a brief illness. He was buried at the Younkin Cemetery near Paddytown, beside his brother Linc and near their mother. Later, a short article about Grant's passing was published in the Younkin Family News Bulletin, Vol. 3, No.'s 1 and 2, published on Sept. 25, 1940.
Grant's final resting place is marked with a rough-hewn stone. His name and key dates are hand-carved on the face, a work by George Wesley Colflesh who always liked the brothers and wanted their graves to be remembered. Grant's dates appear to be accurate, unlike his brother Linc's, which are off by nearly seven years. Their cousin, William Rose, who was killed in a railroad accident in 1910, also rests for eternity at the Younkin Cemetery.
Grant is pictured and mentioned in a lavishly illustrated, 2011 book about his father -- entitled Well At This Time: the Civil War Diaries and Army Convalescence Saga of Farmboy Ephraim Miner. The book, authored by the founder of this website, is seen here. [More]
Copyright © 2001, 2007, 2011, 2013, 2022 Mark A. Miner