He moved with his parents and siblings as a youngster to Mauch Chunk, Carbon County, PA, and was the only one of his parents' sons to serve in the Civil War. As a young man, he stood five feet, 10 inches, with a light complexion and grey eyes. He weighed 160 lbs.
When the federal census was taken in 1850, the Miners made their home in Mauch Chunk, Carbon County. Levi's occupation was listed as "moulder" and also worked as a pattern maker. Living under their roof was Kate's presumed sister, 20-year-old Mary Keifer, and she remained part of the family for years, at least until 1860, when the census again lists her living there.
Levi enlisted on Oct. 15, 1861 in the 11th Pennsylvania Volunteer Infantry, and was assigned to Company H. His son Thomas also joined the company a few weeks later, as musician, for a term lasting for nearly five months, from Nov. 8, 1861 to March 5, 1862. Levi was named sergeant of the company, and drilled at Camp Curtin in Harrisburg. The following month, in November 1861, the regiment traveled to Annapolis, MD, where it was stationed during the winter.
At Front Royal, VA, in June 1862, Levi became ill with bronchitis while exposed to inclement weather, and developed a nagging cough. Recalling this later in life, Levi wrote: "The Surgeon of our Reg't (Onewalt) did treat me for what I supposed was a verry heavy cold and he never told me anything different and he did not seem to pay much attention to me at that time but I have had the same feeling and the same decease Ever since and it is getting worse Every Every day, more particularly in damp or rainy weather and all the physicians that have attended me call it bronchitis...." Then on Aug. 11, 1862, he was taken to Culpeper Hospital for treatment.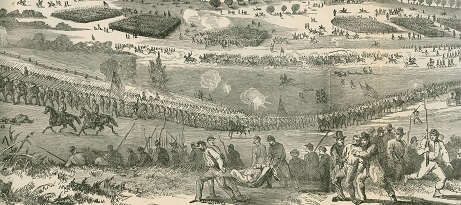 Battle action at Second Bull Run, also known as the Second Manassas, where Levi received a gunshot in the right leg, 6 inches below the knee
Sketch of Levi's wounded leg. National Archives

During the Battle of Bull Run, on Aug. 30, 1862, Levi was shot in the right leg and severely wounded. A surgeon noted that the wound was "about 6 inches below the knee. Ball entered on inner side where I find scar, also on top of tibia or anterior surface of tibia...." At Bull Run, known to the Confederates as Second Manassas, some 18,300 Union and Confederate soldiers were killed or wounded.

Levi was evacuated to Washington, DC where the bullet was removed and where he was admitted to Mt. Pleasant Hospital in Washington and 11 days later at Bellevue Hospital in New York City. In the autumn of 1862, he was promoted to orderly sergeant to fill the position vacated when Sgt. Daniel Tubbs was promoted to second lieutenant. Levi's fellow soldier Capt. E.H. Ranch wrote about this in a letter home, and on Nov. 6, 1862, the Mauch Chunk Gazette published portions of the letter. About Levi, Ranch wrote: "This is also a very worthy and faithful officer, and he deserves more."

Later transferred to Camp Convalescent in Alexandria, VA, it is possible that he became acquainted with a distant cousin, Ephraim Miner, who was treated there for injuries after the Battle of Fredericksburg.

On Jan. 24, 1863, Levi was examined at Camp Convalescent by a medical board, which recommended that he be honorably discharged due to hypertrophy (enlargement of damaged cells) and wounds. He returned to Mauch Chunk, and boarded with Charles A. Patterson.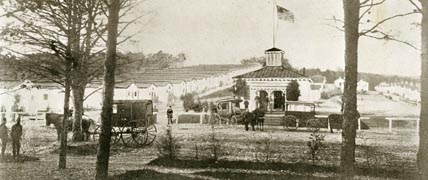 Camp Convalescent, Alexandria, VA, where Levi was treated after the Second Battle of Bull Run
When he came home from the war, said the 1900 book Freemasonry in Wisconsin, Levi "resumed his business of carpentering and contracting. He subsequently removed to Weatherly, Pa., where for eighteen years he was employed in the shops of the Lehigh Valley Railroad Company, having charge of the finishing work on new railroad coaches."
The federal census of 1870 shows the 46-year-old Kate heading their household in Mauch Chunk. Other inhabitants of the household were 18-year-old daughter Mary and 29-year-old sister Mary A. Keefer, both dress makers; and 16-year-old son Levi, an apprentice painter.
After several decades of marriage, Levi and Kate mutually agreed to separate in about 1871, but did not divorce. They lived apart, but in Carbon County.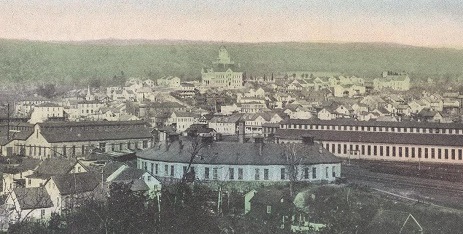 Weatherly, PA, where Levi worked in the Lehigh Valley Railroad shops
Despite the fact that he was still lawfully married to Kate, Levi married again, on Oct. 16, 1876, to widow Mary Ann Taney ( ? - ? ) of Oxford, Warren County, NJ. They were wed at Lehighton, Carbon County, by the hand of Rev. Abraham Bartholomew, with Charles A. Patterson and Kate Lauchnor attending. Former wife Kate did not object to the marriage.
Levi was age 54 at the time he remarried. Mary Ann's first husband had been killed in a railroad accident in Weatherly on or about Oct. 20, 1861.
The Miners resided in Oxford for a period of time, with Levi employed in carpentry, but returned to Carbon County by 1880. They lived in the town of Weatherly, Carbon County in the 1880s and '90s, where Levi worked when he could as a carpenter.
In 1883, when he learned he was eligible for a military pension as compensation for his wartime wounds, Levi applied for and was awarded the pension. He began receiving $2.00 per month in payments. By 1886, the amount was increased to $4.00 monthly.
The wounded areas of his leg and ankle always were swollen, with increasing stiffness and weakness. He could not climb a ladder, and suffered cramps in the leg at times. Army surgeons who examined him from time to time noted dark brown patches around the scar as well as small varicose veins. His hacking cough never seemed to abate for good, and he was forced to sleep in a sitting position.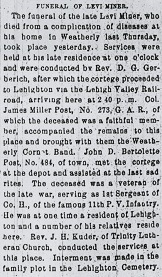 Mauch Chunk Coal Gazette,
Oct. 18, 1895
Dr. W.G.M. Seiple, who treated Levi for eight years, from 1879 to 1886, said of the illness that "every attack confining him to his home and bed the greater part of eight weeks, entirely incapacitating him from doing the lightest kind of work -- when he gradually began to recuperate somewhat as warmer weather set in, and got along fairly well during the summer months till cold weather set in again when the same old trouble would become so aggravated as to house him again." He also was cared for from time to time by Dr. P.H. Latham, who lived across the street from the Miners in Weatherly.
Isa N. Oliver, a neighbor of the Miners in Weatherly, and fellow moulder, saw Levi on average of twice a day. Oliver wrote that Levi "was suffering from a very bad cough, raised much phlegm, was weak and short of breath, and he has continued to suffer as described up to the present time." During Levi's extended period of being bedridden, Oliver visited and sat with him. Another friend, Pater T. Cheesman, a sales man in a general store in Weatherly, sat with Levi "when he was very low."
Sadly, Levi's former wife Kate died at the home of their son Thomas in White Haven, Luzerne County, on Feb. 28, 1891. She was laid to rest in Laurel Cemetery in White Haven.
Levi died in Weatherly at the age of 72 on Oct. 10, 1895. His remains were shipped to Lehighton on the Lehigh Valley Railroad. Accompanied by the Grand Army of the Republic Post 211 and musicians with the Weatherly Band, "They were met at the depot by Bertolette Post," reported the Lehighton Press. "The line was formed at the depot and to the music of a dead march proceeded to the cemetery where the religious services were conducted by Rev. J.H. Kuder" of Trinity Lutheran Church. Among the mourners attending the funeral were neighbors Ira N. Oliver and Charles H. Hinkle. An obituary in the Mauch Chunk Coal Gazette reported that "He was at one time a resident of Lehighton and a number of his relatives reside here.... Interment was made in the family plot at Lehighton Cemetery." also known as the Gnadden Huetten Cemetery.
Mary Ann's fate is not yet known.
Copyright © 2011-2013 Eugene F. Podraza and Mark A. Miner.
2nd Manassas sketch from Famous Leaders and Battle Scenes of the Civil War