William Ellsworth Miner
(1862-1956)
William Ellsworth Miner was born in 1862 in New Rumley, Harrison County, OH, the son of William and Rachel (Simmons) Miner.
As a boy and young man growing up in Harrison County, William undoubtedly was familir with the celebrated Standing Stone natural landmark, located along the old Moravian road, about a mile west of Cadiz.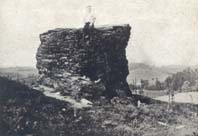 Cadiz's Standing Stone
On Sept. 14, 1885, when he was 23 years of age, William entered into marriage with Amanda "Manda" Albaugh (March 1865-1916), daughter of William and Elizabeth (Sell) Albaugh. Rev. R.S. Hogue officiated.
They together produced a brood of four known offspring -- Clarence Edward Miner, William Harrison Miner, Velma Miner and Harry Christopher Miner.
The Oct. 24, 1895 edition of the Cadiz Republican reported, in its New Rumley section: "Ellsworth Miner moved to town last week."
The couple's address in 1900 was on a farm in West Farmington, Trumbull County, OH. By 1910, they moved to 245 South McKinley Street in Alliance, Stark County, OH, with William employed as a foreman with the Lake Shore Railroad..
For the last four years of her life, Amanda was afflicted with heart valve disease which led to a decreased pumping and blood flow.
Sadly, Amanda passed away on June 15, 1916, at the age of 51. She was buried at the Alliance City Cemetery in Alliance.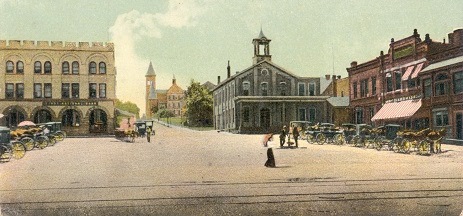 Public square in Alliance, Ohio, early 1900s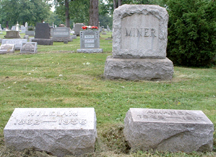 Alliance City Cemetery
William outlived her by four decades. In 1922, when he became seriously ill in Akron, his daughter Valma tried to find her brother Clarence in Los Angeles, where he was living at the time, to alert him to the issue.
Any other activities during those many years are not yet known.
He succumbed to the angel of death in 1956, and was laid to rest beside his wife. The place, and cause of his death are lost to history for now.
A large, prominent marker stands at their gravesite in Alliance City Cemetery.
William's brother John W. Miner, who died in 1963, also is buried in the Miner plot, in an unmarked grave.
~ Son Clarence Edward Miner ~
Son Clarence Edward Miner (1886- ? ) was born on Aug. 11, 1886 in New Rumley, Harrison County.
As a young man, he relocated to Akron, OH, where in 1910 he was a chauffeur for a storekeeper, and the following year as a tube builder. He was tall of of hedium build, with blue eyes and light hair.
Clarence at the age of 25 entered into marriage with 17-year-old Clara Evalyn Tubbs (April 15, 1894- ? ), a native of Canfield, OH and the daughter of William and Rory (Dustman) Tubbs. Their wedding was held in Akron on Aug. 3, 1911, officiated by justice of the peace A.A. Koplin.
The couple dwelled in Alliance, OH in June 1917 at the address of 2216 Arch Street. Clarence worked as a foreman at the American Steel Foundry in Alliance. Sadly, their marriage did not last long beyond that time.
By 1920, Clarence had relocated to Southern California, making his home in Los Angeles. He was now married to California native Margaret N. (July 16, 1894-1966), and his occupation was as a general foreman for a steam railroad.
Clarence and Margaret did not reproduce.
His sister Velma Young tried to find him in September 1922 when their father had become "seriously ill in Akron," reported the Los Angeles Times. She contacted local police, seeking help, and said that his last known whereabout was at 323 Union League Building. As it happened, the father survived and lived for several more decades.
When the federal census enumeration again was made in 1930, the Miners resided in Huntington Park, Los Angeles County. By that time, Clarence had joined the local city police department as a motorcycle officer. Clarence apparently invited his younger brother Harry and his wife Mary Adeline to join him in Huntington Park, as the latter couple was there in 1935 but eventually returned to Ohio.
Clarence passed away during the decade of the 1930s. The 1940 census shows Margaret as a widow, living in San Antonio, Los Angeles County, with a boarder in the household. She supported herself as a seamstress in a local factory.
Margaret remained in Huntington Park. She died in Los Angeles County on Aug. 14, 1966.
~ Son William Harrison Miner ~
Son William Harrison Miner (1889-1935) was born on July 5, 1889 in New Rumley, Harrison County.
He earned his wages as a laborer in young manhood. He was tall and of medium build, with light hair and blue eyes.
William was first wed at the age of 18 to 17-year-old Hope M. Irwin (1891-1945) of Alliance, daughter of John B. Irwin. The wedding was held on Jan. 18, 1908 by the hand of Rev. Fred A. Nichols.
The Miners' only son, William H. Miner, was born four months later, in May 1908. Their marriage ended within a year or two. Hope married again to (?) Sherbondy and died on July 23, 1945.
Divorced in 1910, at the age of 20, William worked as a drafting apprentice.
On Feb. 23, 1914, he married his second wife, Hattie Bruce Clapper (1893-1977), daughter of Isaac and Mary (Bowman) Clapper and a native of Osnaburg Township, Stark County, OH. Presiding over the nuptials was Rev. James A. Allman of Alliance.
Three children born into this second family were Evelyn Charlotte Ott Speirs, James Bruce Miner and Betty Jane Miner.
The couple lived in Canton, Stark County. At the time of their marriage, in 1914, William worked as a foreman. When he registered for the military draft during World War I, circa 1917, he was a machinist with Alliance Manufacturing (?) Company, and their address was 220 West State Street, Alliance.
William was a machinist in a steel mill in Canton for 15 years, including in 1930, when the federal census enumeration was made.
As he neared his 46th birthday, he came down with a fatal case of pneumonia and influenza, and died of their effects on June 13, 1935. He was laid to rest in Liberty, OH. Hattie's fate is unknown.
Hattie outlived her spouse by more than four decades. The federal census of 1940 shows her and her three offspring residing together in Canton. She had no occupation at that time.
She passed into the realm of eternity in 1977. Burial was with her daughter Betty in Liberty Cemetery in Minerva, Stark County.
Son William H. Miner (1908-1982) was born on May 5, 1908 in Alliance. He was a baby when his parents divorced. William was united in wedlock with Olive Ophelia Rogers ( ? -1982). They became the parents of an only daughter, Karen McClelland. William earned a living in Akron with the Goodyear Tire and Rubber Company. The family held a membership in the Northminster Presbyterian Church of Cuyahoga Falls, with Olive serving as a deaconness. He spent his final years in North Little Rock, Pulaski County, AR. Olive died first at the age of 73 on May 19, 1982. Her remains were transported to Ohio for funeral services in the family church. Burial was in Hillside Memorial Park. Only six weeks later, death swept away William at the age of 74 on July 1, 1982. An obituary for both appeared in their old hometown newspaper, the Akron Beacon Journal.
Granddaughter Karen Miner married Howard McClelland. They togethere bore two children, David McClelland and Lisa McClelland. Circa 1982, the family dwelled in North Little Rock, AR.
Daughter Evelyn Charlotte Miner (1915-1994) was born in about 1915. Single at the age of 25, in 1940, she resided at home in Canton and worked as an assembler for a suction sweeper company. She was married twice. Her first spouse was (?) Ott ( ? - ? ). After a divorce, she relocated to Lima, Allen County, OH, and earned a living as an assembler. On Oct. 17, 1950, at the age of 35, she was joined in matrimony with 39-year-old Scottish immigrant Edward Hunter Speirs (1911-1970), a resident of Buffalo, NY and the son of William and Janet (McMillan) Speirs. Edward was employed as a tool crib attendant at the time of marriage. Sadly, Edward died in 1970 at the age of about 59. Burial was in Liberty Cemetery in Minerva, OH. Evelyn's home in 1982 was in Canton, OH. Evidence suggests that she died in Canton on Feb. 3, 1994, with interment of the remains in Liberty Cemetery in Minerva.
Son James Bruce Miner (1917-1964) was born in 1916 in Alliance. When he was age 23, in 1940, he worked as a crane operator in a steel mill in Canton. In 1941, now, 24, James slipped away to Wellsburg, Brooke County, WV to marry 21-year-old Dessie Elizabeth "Betty" Johnson (1919-1977) of Canton. Performing the wedding was Rev. O.J. Homearth of the local Christian Church. Two children born to this couple were Denise L. Bair and James Miner. The spectre of death gathered James away on Aug. 24, 1964 as a patient in Cleveland Clinic. Dessie endured as a widow for a baker's dozen years. She passed away in Canton on Aug. 5, 1977.
Granddaughter

Denise L. Miner (1947-2014) was born on Jan. 30, 1947 in Canton. She was a member of the 1965 graduating class of Canton South High School. Denise was united in matrimony with Harold Leroy "Ted" Bair Jr. (June 24, 1940-2009). The Bairs made a home in Canal Fulton, Lawrence Township near Canton.

They together produced two children -- Kevin Bair and Cassandra Bair. Denise loved to play video games and travel. The family was plunged into grief when Harold passed away on New Year's Eve 2009. Sadly, as her health failed, she was admitted to Aultman Compassion Care. There, at the age of 66, she died on Jan. 19, 2014. In a

Canton Repository

obituary, the family asked that any memorial donations be made to the American Cancer Society.
Great-grandson Kevin Bair ( ? - ? ) married Katie.
Great-granddaughter Cassandra Bair ( ? - ? )
Grandson James Miner

was joined in marriage with Debbie.
Daughter Betty Jane Miner (1919- ? ) was born in 1919. She did not marry. In 1940, she made a living as a waitress in a Canton restaurant. Betty Jane maintained a home in Canton in 1982. She succumbed to death in 1992. Burial was beside her mother in Liberty Cemetery in Minerva, Stark County.
~ Daughter Velma Fay (Miner) Young ~
Daughter Velma Miner (1894- ? ) was born on Aug. 4, 1894 in New Rumley, Harrison County, OH.
At the age of 22, she earned a living as a printer in Kenmore near Akron, Summit County, OH.
Velma was joined in wedlock on Sept. 2, 1916 with Willis H. Young (Dec. 25, 1894- ? ), a native of Circleville, Pickaway County and the son of George A. and Emma (Wilkins) Young. Rev. Earl M. Anneshansley, pastor of Goss Memorial Reformed Church, presided.
Willis made a living at the time of marriage as a rubber worker, with an address of 46 Massachusetts Avenue in Kenmore. By 1922, their home was at 1658 Ottawa Street, Akron.
The pair is believed not to have reproduced.
Velma made news in September 1922 when trying to contact her brother Clarence, who was last known to have lived in Los Angeles in the Union League Building. Seeking help, she contacted local police, stating that her father was "seriously ill in Akron," reported the Los Angeles Times.
In 1940, census records show the couple in Akron, Summit County, with Willis employed at a rubber works as a "bias cutter" -- cutting ply stock at various angles.
~ Son Harry Christopher Miner ~
Son Harry Christopher Miner (1900- ? ) was born on Oct. 20, 1900 in West Farmington, Trumbull County, OH.
In young manhood he secured employment with the works of General Fireproof Company in or near Warren, Trumbull County.
His first marriage ended in divorce sometime prior to 1922.
When he was 22 years of age, on Dec. 15, 1922, he was united in the bonds of wedlock with 22-year-old Mary Adeline Jones (Feb. 11, 1900- ? ), a native of Gas City, IN and the daughter of David R. and Annie (Williams) Jones. The nuptials were held in or around Warren, led by Rev. Dr. S.B. Salmon. At the time of marriage, Mary Adeline earned a living as a telephone operator.
Together, the pair bore two known daughters, Jacqueline Ann Knutti and Shirley Mae Miner.
The United States Census of 1930 shows the couple in Minerva, Carroll County, OH. Harry earned income that year as a roller's helper in a sheet mill.
During the midst of the Great Depression, in the early 1930s, the family relocated cross country to Southern California, making a home in Huntington Park, Los Angeles County. For reasons not known, they returned to Ohio by 1940.
The federal census enumeration of 1940 lists the Miners in Warren, with Harry now working as a machinist for a welding company.
Daughter Jacqueline Ann Miner (1925- ? ) was born on Nov. 6, 1925 in Youngstown, Mahoning County, OH. In young womanhood she lived in Boardman, OH and made a living as a clerk. At the age of 20, on Jan. 30, 1947, she entered into marriage with 21-year-old William Wallace Knutti (July 29, 1925- ? ), son of Christie and Carrie M. (Cooper) Knutti. Performing the wedding ceremony was Rev. Dr. Don P. Montgomery. William also was a Youngstown native and worked as a salesman. Two known sons born to the marriage were William Wallace Knutti Jr. and James D. Knutti.
Grandson William Wallace Knutti Jr. (1958- ? ) was born on Dec. 9, 1958 in Youngstown. He joined the U.S. Air Force after high school. At the age of 18, on Sept. 3, 1977, he wedded 17-year-old Cynthia Crocker (Jan. 20, 1960- ? ), daughter of Benedict and Gertrude J. (Rochford) Crocker. Rev. Harold W. Bowman officiated the wedding.
Grandson James D. Knutti Sr. (1955- ? ) was born on Nov. 12, 1955. He too joined the U.S. Armed Forces in young manhood. He was twice-wed. His first wife, whom he wed when both were age 18, on March 23, 1974, was Kathleen Marie Chizmar (April 29, 1955- ? ), daughter of Martn and Mary (Wasser) Chizmar. Their wedding was performed by Rev. Fr. George M. Franko of the Catholic Church. The couple bore a son, James D. Knutti Jr. Sadly, they divorced in March 1993. James supported himself in self-employment. Then at the age of 38, on Jan. 7, 1994, he was joined in marriage with his second bride, 27-year-old Lisa Ann Fazzini (March 7, 1966- ? ), a native of Anaheim, CA but a resident at the time of Youngstown. She was the daughter of Daniel B. and Rebecca (Amuso) Fazzini. Rev. David Verzilli led the nuptials.
Great-grandson James D. Knutti Jr. (1979- ? ) was born in about 1979.
Daughter Shirley Mae Miner (1932-2016) was born in about 1932 in Manheim, Lancaster County, PA. She was married at least twice. On Aug. 4, 1950, in Mahoning County, the 18-year-old Shirley was wed to 23-year-old gasoline station attendant Vernon Strom ( ? - ? ), son of Charles and Pearl (Simon) Strom of Youngstown. Presiding was Rev. Charles H. Jack. Circa 1953, she earned her wages with Colonial Market. Then on Jan. 3, 1953, in Trumbull County, she was joined in wedlock with 21-year-old William Oliver Crawford ( ? - ? ), son of Elmer and Luella (Shaffer) Crawford and a native of Texas. At the time, he worked for Mullins Manufacturing Company. Their marital union endured for an extraordinary 61 years. Their family of children included William Oliver Crawford Jr., Debi Easley, Sandy Rippeon and LuAnn Robinson. The couple owned and operated several businesses over the years and lived in Frederick, MD and then in Bellville, OH. The company from which they retired in 1995 was Crawford Building and Lawn Maintenance. Reported the Frederick (MD) News-Post, "Shirley was creative and enjoyed doing crafts, often selling them at trade shows or giving as gifts to bless others, and most recently enjoyed coloring. She loved and prayed for her family regularly." Sadly, at home at the age of 84, Shirley surrendered to death on April 17, 2016. Her funeral service was held at the New Life Church in Frederick, led by Rev. David Hendershot.
Grandson

William Oliver "Bill" Crawford Jr.

(1957-2012) was born on Oct. 7, 1957 in Youngstown, Mahoning County, OH. Circa 1984, he was united in wedlock with Paige Rippeon ( ? - ? ), daughter of Donald "Rip" and Charlotte Rippeon of Frederick, Frederick County, MD. They did not reproduce, and their union survived the ups and downs of 28 years. They dwelled in Frederick. William was employed by Rentals Unlimited as a sales account representative. In his free time, he liked to enjoy wildlife, motorcycles and music. Grief blanketed the family when he died on Christmas Day 2012 in the University of Maryland Medical Center. Rev. Tim May preached the funeral sermon, followed by burial in Mt. Olivet. An obituary appears in the

Frederick News-Post

.
Granddaughter Debi Crawford married (?) Easley

. Her home in 2012-2016 was in Bellville, OH.
Granddaughter

Sandy Crawford wedded Galen Rippeon, son of John William Rippeon Sr. They made a residence in Frederick, MD.
Granddaughter

LuAnn Crawford was joined in matrimony with Rick Robinson

. They have dwelled in Manchester, MDE.
Copyright © 2004, 2007, 2019, 2021 Mark A. Miner
Bonnie (Welsh) Myers graciously has shared content for this biography.