William Hays Miner
(1876-1953)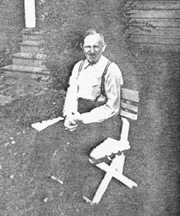 William Hays Miner
William Hays Miner was born on June 17, 1876 at Normalville, Fayette County, PA, the son of Martin and Amanda (Williams) Miner.
He never married.
For many years, William worked as a dairy farmer in and around the Normalville and Connellsville areas.
William registered for the military draft during World War I, and listed his occupation as a self-employed dairyman.
After reaching adulthood, he moved to the Breakneck region of rural Bullskin Township, Fayette County, where he resided for a quarter of a century.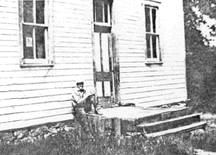 William resting
William suffered from heart problems in his later years. On Jan. 21, 1953, he went into cardiac failure and was admitted to Connellsville State Hospital.
Four hours later, William died on Jan. 21, 1953, at the age of 76. His brother Edward, a local school principal in Connellsville, signed the death certificate.
He was buried at Normalville Cemetery.
Copyright © 2000, 2008, 2021 Mark A. Miner