Catherine (Minerd) Zinn
(1894-1939)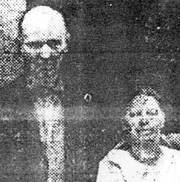 Burchie and Catherine Zinn
Catherine (Minerd) Zinn -- also spelled "Kathryn" -- was born on Aug. 15, 1894 in Fayette County, PA, the daughter of James C. and Suvina (Yauger) Minerd Sr. The murder of her teenage stepdaughter in 1935 unfortunately not only was horrific but thrust the family onto the pages of local newspapers for weeks. Many of the illustrations and quotes used in this biography come from the old Uniontown Morning Herald.
Catherine married Thomas B. "Birchie" Zinn (1874-1958), a hack driver and farmer and the son of America S. and Catharine Zinn of Nicholson Township, Fayette County. Birchie was a widower with 10 known children -- Clarence Zinn, Gay Zinn, Hazel Burner, Ida Mae Kelley Thorpe, James Zinn, Norman L. Zinn Sr., Clinton Zinn, Leona Diamond, Janie Grimm and Anna Zinn.
Birchie lost his first wife (Mary Frances "Mollie" Campbell) sometime around 1930, and then married Catherine. There was an age difference of two decades between husband and wife.
Catherine is believed to have had two daughters prior to marriage -- Dora Colpetri (in about 1928) and Betty Mae (Minerd) Brown Beals. But this needs to be confirmed.
The Zinns had five known children of their own, twins Thomas Zinn and Mary Jane Zinn, Margaret Ellen Sumey, Sadie Louise Metro and Francis Zinn.
Tragically, the twins did not survive their first two weeks of life. Thomas died the day he was born -- Dec. 12, 1934. His sister Mary Jane lived for 14 days, but was fatally ill with an umbilical hemorrhage, dying the day after Christmas 1934. Funeral arrangements were handled by Vance Funeral Home in Smithfield, with burial at the Cedar Grove Cemetery in New Geneva, Fayette County.

Anna Zinn
~ Shocking Murder of Teenage Step-daughter Anna ~
The family resided in an old farmhouse in Old Frame, a village near the mining town of Bowood, near Smithfield, Fayette County. Young Anna, age 15, was "an industrious girl," and helped her stepmother "do the housework at home [and] she also cleaned up the one-room school at Bowood and was listed as an eighth grade pupil..."
Further tragedy and heartache rocked the family on the night of Feb. 7, 1935. Anna had attended a dance at school. As she arrived home, with her parents asleep inside their house, the car in which she and her companion were sitting was approached by Thomas Jefferson "Jeff" Walters, described as "long and lanky, a typical mountaineer."
Walters shot her while she was still sitting in the vehicle, and she died instantly. The grisly killing made the top headline of the next day's Morning Herald -- Young Bowood School Girl Is Killed."
Reporter Joe L. Dickson opened his news story with this vivid description:
Opening the door of a small coupe in which Anna Zinn ... was seated along a dark country road at the entrance to the lane leading to the home of her father ... late last night, a man held a revolver against the right side of her head and fired. She died instantly. Pointing the revolver at her escort, ... the slayer asked "Do you want some of it too?"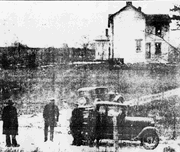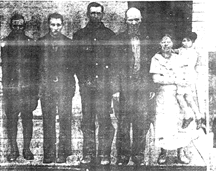 Photos from the Uniontown Morning Herald: Left, the murder scene and Zinn farmhouse. Right, the mourning family, l-r: Clinton, Norman, Gay, Thomas, Catherine and Dora.
Said the Morning Herald, "News of the tragedy so shocked the community that school sessions at both Bowood and Twin Oaks were closed for the day." The newspaper also reported that:
Simple but solemnly impressive funeral services were conducted for the slain girl Sunday afternoon in Old Frame Presbyterian church which was filled to capacity by mourning and sympathetic neighbors while from 200 to 250 others, unable to gain admittance, stood outside in the cold winter weather... At the close of the service, ... the casket was opened to permit those who desired to view the bullet-torn body. There was not a semblance of this apparent, however. The blond, 15-year-old child whom so many in that district knew and loved, lay there peacefully in her last long rest, as though she were asleep.
Anna was buried at Cedar Grove Cemetery, near her half-brother Thomas.
As the details of the murder publicly unfolded, Birchie was quoted extensively in news stories, and he and the Zinn family were pictured prominently in the Morning Herald.
The alleged killer, 45-year-old neighbor Jefferson Walters, was married and had children, but had taken a liking to the girl. He was suspected of having been jealous of Anna's male friends. Police officers found a German luger automatic pistol nearby, and "had succeeded in 'tracking' the fugitive by his footprints in the snow, across several fields to the Main highway at a point just South of the crossroads at Woodside..." Though authorities launched a massive manhunt, involving more than 100 men, Walters remained at large for many years, and his fate is unknown. An article in an August 1960 edition of the Morning Herald quoted local Smithfield residents who felt that he was still alive, possibly in the mountains as part of a logging camp.

School in Bowood, a coal mining patch town south of Uniontown, PA
~ Moving On ~
Birchie was employed in 1936 by the Pennsylvania Statement Department of Highways, and in late April that year was based in its office in Uniontown. A short notice in the Uniontown Morning Herald reported that he was treated in the Uniontown Hospital for an infected hand.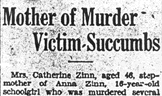 Catherine's obituary, 1939
Catherine was diagnosed with a malignant growth on her uterus in about 1938, and surgery was performed to remove the tissue. Sadly, the cancer spread into all of her abdominal organs. On Christmas Eve 1939, at the age of 46, only four years after the family tragedy, Catherine died at home. Interment was in New Geneva, Fayette County.
Birchie outlived Catherine by almost two decades. He remarried and maintained his residence in Smithfield.
As he aged, he traveled to Flint, MI, where his sons Clarence and Clinton and married daughter Leona Diamond lived.
He died in the Diamond home in Flint on March 21, 1958, at the age of 84. His remains were returned to Smithfield, with burial at Cedar Grove Cemetery in New Geneva. The Morning Herald reported that he was survived by 38 grandchildren and 33 great-grandchildren.
~ Daughter Dora (Minerd) Colpetri ~
Daughter Dora Minerd ( ? - ? ) was born in (?).
Dora married (?) Colpetri and resided in Akron, OH circa 1958.
~ Daughter Betty (Minerd) Brown Beals ~
Daughter Betty Minerd married (?) Brown and later (?) Beals.
She made her home in Uniontown in 1958.
~ Daughter Sadie Louise (Zinn) Metro ~
Daughter Sadie Louise Zinn ( ? -living) graduated from Point Marion High School.
She married Andrew J. Metro Jr. (1930-2002), the son of Andrew and Mary (Frisky) Metro Sr. Their nuptials took place at the St. John the Baptist Greek Catholic Church in Uniontown on June 9, 1962.
At the time of marriage, Andrew was employed at the dairy farm of the coal mining patch town of Continental No. 2 near Uniontown. During the Korean War, he served in the U.S. Army.
They had at least three offspring, Mary Skala, Regina Ann Metro and David Metro.
In 1972, they lived in Uniontown. Andrew passed away at Continental No. 2 on June 29, 2002, at the age of 71.
Daughter Mary Metro taught adult computer classes at Uniontown High School in the 1990s. She married Michael Skala, and they make their home in Continental No. 2 near Uniontown.
Daughter Regina Ann Metro (1964-2018) was born on Feb. 8, 1964 in Uniontown. She resided in Continental No. 2 near Uniontown and produced a daughter, Christa Angelo. For 14 years, she worked as a call service representative for Vertex. She was a longtime member of St. Joseph Roman Catholic Church in Uniontown. Tragically, she was stricken with cancer and died at the age of 50 on Sept. 16, 2014. Rev. Fr. Ronald L. Simboli celebrated the funeral mass in the family church, with burial in St. John the Baptist Byzantine Catholic Cemetery in Hopwood. An obituary was published in the Greensburg Tribune Review.
Son David Metro ( ? -living)
~ Daughter Margaret Ellen (Zinn) Sumey ~
Daughter Margaret Ellen Zinn (1938-2002) was born on May 28, 1938.
She wed Elmer Sumey (1934-1994).
They made their home in Markleysburg, Fayette County in 1962 and in Flint, MI in 1972-1993.
Elmer passed away in Flint on Nov. 28, 1994, at the age of 60.
Margaret outlived her husband by eight years. She died in Oak Park, Oakland County, MI on May 24, 2002.
~ Stepson Clarence Zinn ~
Son Clarence Zinn (1902-1972) was born on Aug. 24, 1902.
He married Addie (?). They had nine children -- Mary Louise Hudson, Clara Hunter, Richard Diamond, Clarence Zinn Jr., Larry Zinn, Fred Rogers, Georgie Zinn, Louis Zinn and Sammy Zinn. Clarence and Addie lived in Flint, MI.
He died there on or about July 25, 1972, at the age of 69. At his death, reported the Uniontown Morning Herald, he was survived by 28 grandchildren and 15 great-grandchildren. He was laid to rest in Flint Memorial Cemetery.
~ Stepson Gay Zinn ~
Stepson Gay Zinn (1904- ? ) was born on April Fool's Day 1904.
He married Ethel Burner. They resided at Smithfield in 1944 and in Masontown in 1958.
The Zinns had at least two children -- William Zinn and Mary Louise Zinn.
Sadly, daughter Mary Louise died at the age of three years, four months and four days on Aug. 1, 1944.
~ Stepdaughter Hazel (Zinn) Burner ~
Stepdaughter Hazel Zinn (1906- ? ) was born on May 26, 1906. She wed (?) Burner.
They resided in 1972 in Smithfield.
Hazel died sometime prior to March 1993.
~ Stepdaughter Ida Mae "Dolly" (Zinn) Kelley Thorpe ~
Stepdaughter Ida Mae "Dolly" Zinn (1908- ? ) was born on April 20, 1908. She was married twice, first to (?) Kelley.
They resided in Smithfield in 1958.
Dolly later wed (?) Thorpe. They made their home in Smithfield in 1972 and in Masontown in 1993.
~ Stepdaughter Jane "Janie" (Zinn) Grimm ~
Stepdaughter Jane "Janie" Zinn (1910- ? ) was born on May 29, 1910. She wed (?) Grimm.
They made their home in 1958 in Uniontown.
Jane died sometime prior to March 1993.
~ Stepson Norman L. Zinn Sr. ~
Stepson Norman Zinn (1912-1993) was born on Feb. 20, 1912 at Old Frame, Fayette County.
At the age of 21, he married 16-year-old Eva M. Adams (1917-2002), the daughter of Samuel M. and Minnie Mae (Butt) Adams, on Oct. 8, 1933.
They had 10 children -- Glenn Allen Zinn Sr., Norman L. Zinn Jr., Ronald D. "Shorty" Zinn, Donald H. "Donny" Zinn, Shirley M. Rubsteck, Marlene H. Nastasi, Audrey L. Gray, Lillian Rose Conn, Connie L. Myers Summers and Cathy D. Hughes.
Robena Mine, U.S. Steel
Norman was a coal miner for four decades at the Robena Mine of U.S. Steel Corporation, considered to be the largest coal mine in the world circa 1947. Seen here is one of the reversible trolleys used to haul 35 to 40 cars per trip in the mine's 10 miles of track.
According to the Uniontown Herald-Standard, Norman also was "a grave digger for 32 years, and owner of Zinn's Garage in Smithfield. He was a member of the Oak Hill Baptist Church in Smithfield, the Fayette County Firemen's Association, Western Pennsylvania Fireman's Association, Southwestern Pa. Chiefs and Assistant Chiefs Association, and a 45-year member of the Smithfield Volunteer Fire Department."
Norman passed away in West Penn Hospital in Pittsburgh on March 5, 1993, at the age of 81. At the time, said the Herald-Standard, he was survived by 19 grandchildren and six great-grandchildren.
Son Glenn Allen Zinn Sr. (1945-1991) was born on July 20, 1945. He served with the U.S. Army in Vietnam. He wedded Glenda Smith ( ? -living). The couple lived in or around Lake Lynn, Fayette County and produced two known children, Glenn Alan Zinn Jr. and Angela Elms. Sadly, Glenn Sr. passed away on July 10, 1991 at the age of 45 with interment in Cedar Grove Cemetery in New Geneva, Fayette County. Later, Glenda was married to Carl Moats Sr. and dwelled near Lake Lynn. The Moatses produced a son, Carl Moats Jr.
Grandson Glenn Alan Zinn Jr. (1968-2018) was born on Oct. 11, 1968 in Morgantown, Monongalia County, WV. He graduated from Albert Gallatin High School and went to work as an electrician for the International Brotherhood of Electrical Workers in the Baltimore and Washington, DC areas. He produced a daughter, Bethany Zinn. then in 1993, reported the

Uniontown Herald-Standard

, Glenn "entered the Maryland Police Academy, and was first a police officer, and later a detective for the City of Baltimore, retiring in 2004. In 1997, he was named Police Officer of the Year by the Baltimore Sun newspaper." The award was bestowed "for excellence in law enforcement," said the

Sun

. Glenn was "credited for several key arrests, but his superiors highlighted an incident in January 1996. He responded to a report of a man firing a gun at an Upton playground crowded with children. When the gunman began firing at three plainclothes officers who also had come to the scene, Zinn positioned himself between the gunman and the officers. When the gunman, still firing, began to run, Zinn pursued him and shot him. The gunman died." He was cited for making decisions "without regard to his own safety." Later, Glenn moved back to Fayette County, where he was employed by West Virginia University's Campus Police Force. He then was a truck driver for oil and gas companies in the region. His final home was in McClellandtown near Uniontown. Sadly, Glenn Jr. passed away at the age of 49, in Uniontown Hospital, on Aug. 30, 2018. Following funeral services conducted by Rev. French Jenkins, burial was in Mount Moriah Baptist Cemetery in Smithfield.
Son Norman L. Zinn Jr. (1934-2015) was born on Feb. 3, 1934 in Martin, Fayette County. He married Loretta P. Young ( ? -living), and they remained marriage for 59 years until the separation of death. They had two children -- Jamie Zinn and Trina Malone. The family resided in Smithfield, where Norman enjoyed his pet dogs. He died at the age of 81 on May 20, 2015. Pastor Elvie Edwards preached the funeral service.
Daughter Audrey Zinn married (?) Gray.
Daughter Shirley Zinn wed (?) Rubsteck.
Daughter Marlene Zinn married (?) Nastasi.
Daughter Lillian Zinn wed (?) Palko.
Daughter Constance "Connie" Zinn was united in matrimony with (?) Summers.
~ Stepson Clinton Zinn ~
Stepson Clinton Zinn (1914- ? ) was born on May 20, 1914.
He made his home in Flint, MI in 1972.
~ Stepdaughter Leona (Zinn) Diamond ~
Stepdaughter Leona Zinn (1917- ? ) was born on May 28, 1917. She married (?) Diamond.
In 1858, Leona's father died while staying at her home in Flint.
Later, she moved to Port Richey, FL, and lived there circa 1993.
Copyright © 2001-2002, 2008, 2012, 2014, 2018 Mark A. Miner
Robena Mine photo originally issued by United States Steel Corporation.