Hester (Minerd) Rankin
(1842-1923)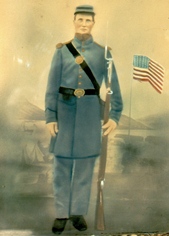 Robert Rankin in uniform
Hester Ann Minerd was born on April 20m, 1842 in Wharton Township, Fayette County, PA, one of 11 children of James and Sarah (Walters) Minerd Sr.
Her husband was a wounded veteran of the Civil War.
On July 17, 1859, at the age of 16, Hester married 23-year-old Robert Rankin (1836-1918). The ceremony was performed at Summit House, site of today's Summit Hotel, in the mountains along the National Road high above Uniontown, PA. Robert did not his exact age or the date on which he was born.
Robert stood 5 feet 9 inches tall, with blue eyes and brown hair.
Hester and Robert together produced a family of 10 children -- John William Rankin, Sarah Jane Addis, James Henry Rankin, Marinda King, Elizabeth Ann Rankin, Minerva Rankin, Alfred Rankin, Margaret Ann Fike, George Washington Rankin and Robert Alexander Rankin.
In year two of the war, Robert enlisted in Battery K of the 2nd Pennsylvania Artillery on Aug. 25, 1862. While in action on June 18, 1864, during a charge on the enemy's entrenched line near Petersburg, VA, he was shot in the right leg below the knee. So many soldiers ran past, tripping over him as he sat, that he dug a hole and temporarily buried his leg until he could be evacuated.
He was sent to the Corps Hospital at Point of Rocks, VA and then to Hampton Hospital, VA, where the ball was removed from his leg. In August 1864, he was transferred to David's Island, NY for treatment, and then was moved to Haddington Hospital, Philadelphia, where he reported after returning home on furlough.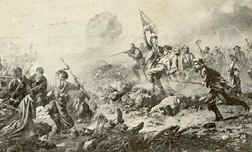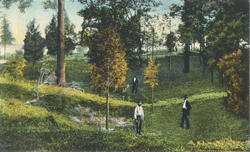 The Petersburg battlefield during and after the war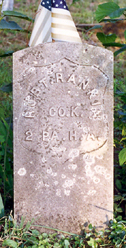 Robert's grave, Elliotsville
Later, Robert was sent to Satterlee General U.S. Hospital in West Philadelphia and stayed there for the remainder of the war. Several other cousins, among them Ephraim Miner, also was at Satterlee during that period of time. Robert was discharged on June 3, 1865.
Robert returned home to Elliottsville, Fayette County. He is said to have loved to "ramble through the woods and over the hills ... [and] always loved to help survey land. He knew the corners of nearly every man's land in Wharton Township ... [and] was a good judge of road making." Berries and chestnuts were plentiful for the family to gather and sell.
Hester is seen here standing in the doorway of their primitive mountain home. A daughter in law once complained that the house "was just weather boarded up and did not have any fire places, only had a wood stove, and had no paper on the walls, and no carpet on the floor...." She added that snow and rain came through the cracks in the walls.
Over the years, Robert's leg became infected and bone shards made their way to the skin's surface. Initially he received a pension of $4 a month which later increased to $12 a month.
Over the Christmas/New Year's holiday of 1887-1888, three of his children died of diphtheria.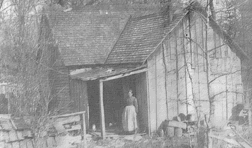 Hester in the doorway of their home

Later, he gave his surviving adult children land for their own homes.

In the early weeks of January 1918, the 83-year-old Robert was stricken with bronchial pneumonia. He died on Jan. 16, 1918 at nearby Farmington, Fayette County.

A standard-issue government marker was placed at his grave and photographed by the founder of this website circa August 1995.

Hester survived him by five years. She contracted a serious case of pneumonia in the first week of January 1923. She endured the illness for nearly two months but could not rally. She succumbed at age 80 on Feb. 22, 1923. Her son George signed the official Pennsylvania certificate of death.

Book naming
the Rankins

They rest for eternity together at Brown Cemetery near Elliottsville.

In 1993, a photograph of Hester standing on the porch of their home was published in the book, Yesteryear in Ohiopyle and Surrounding Communities, compiled by author Marci Lynn McGuinness.

Hester and Robert are mentioned, and Robert pictured, in a lavishly illustrated, 2011 book about one of her cousins who also served in the Civil War -- entitled Well At This Time: the Civil War Diaries and Army Convalescence Saga of Farmboy Ephraim Miner. [More]

Copyright © 1996, 2000, 2002, 2005, 2011, 2019 Mark A. Miner