Mary Jane (Minerd) Dillon
(1831-1858)
Mary Jane's grave,
Sugar Ridge
Mary Jane (Minerd) Dillon was born in about 1831 near Scio, Harrison County, OH, the daughter of John and Barbara (Shaeffer) Minerd Jr.
She was a pioneer settler of western Ohio and eastern Indiana, but died as a young married woman after losing three of her children to untimely deaths of their own.
In 1840, when Mary Jane was about age nine, she and her parents left Harrison County. Using "a good team of horses and a substantial wagon," a newspaper once said, they traveled across the state, a "very tedious and slow" journey. The family settled in Van Wert County, OH, and in 1845 moved to a farm along the Ohio state line in Allen County, IN.
On Sept. 8, 1850, in Allen County, the 19-year-old Mary Jane married 23-year-old John Quincy Adams Dillon (1827- ? ), the son of Asa and Mary V. Dillon. She was six years younger than her husband. They moved right away into the home of John's parents near Monroeville, Allen County, where John worked as a farm laborer, where they are enumerated together on the federal census of 1850.
The Dillons had at least five children -- Ira Dillon, Candace Dillon, Caroline Dillon, Furter Dillon and Huron Dillon. (Candace's name also has been spelled "Kansas" in myriad other legal records.) Caroline and Furter appear to have been twins.
Sadly, Huron died at age two in January 1854, and was laid to rest in the Stephenson family cemetery, also known as the Sugar Ridge Cemetery near Monroeville. The, in August 1858, infant Caroline died at age one month, seven days, and twin brother Furter joined her in the grave about two weeks later.


Graves of the ill-fated Dillon children, left to right: Huron, Caroline, Furter, at the Sugar Ridge Cemetery near Monroeville, IN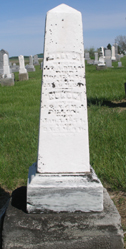 Dillon family marker
Tragically, Mary Jane died a most untimely death of her own, just two months later, on Dec. 17, 1858. She was but age 25 years, six months and two days. She was laid to rest with her children Huron at Sugar Ridge Cemetery. They all are buried under a single pylon marker which stands erect, if not badly fading today. Each child's name is inscribed on a different side of the vertical stone, with Mary Jane's directly above Huron's on one of them.
In the 20th century, when genealogists recorded and published the inscriptions on the Dillon marker, Mary Jane's year of death was stated as "1868" when in fact it was "1858." The grave inscriptions were published in two different booklets on file today at the Allen County Public Library in Fort Wayne, IN. They include Madison-Monroe Township Cemeteries and A Collection of Cemetery Inscriptions of Allen Co., Indiana, collected by the Mary Penrose Wayne Chapter of the National Society of the Daughters of the American Revolution in Fort Wayne, and compiled by Alberta Minor Flint.
Newly widowed, John quickly remarried to Louisa (?) (1832- ? ) and kept his family together, residing on a farm near Monroeville when the census was enumerated in 1860. Son Ira and daughter Candace (spelled "Cantes") lived under their roof that year.
Between 1864 and 1868, both of John's parents died and were buried next to Mary Jane and the Dillon children. In Asa's will, on file today in Allen County records, he directed that funds from the estate be paid to John -- named "Quincy" in the document -- as quickly as possible. The will also spells the family surname as "Dillion."
By 1870, John and Louisa had moved to Jefferson Township, Noble County, IN. He continued his work as a farmer, with their home located within close vicinity of the county poor house. The census of that year shows John's first name as "Quincy" and children Ira and Candace in their home, as well as children from the second marriage -- Harrell Dillon, Emma Dillon, Mary J. Dillon and William Dillon.
John's fate is not yet learned. He may -- or certainly may not -- be the same "John Dillon" whom the Fort Wayne Daily News reported in June 1897 had been "found yesterday lying dead by the side of the Vandalia tracks, two miles west of [Greencastle]. Marks on the body show that he had been struck while sitting or lying down."
Ira and Candace's grandfather John Minerd Jr. died in 1898. The terms of John's will stated that the two Dillon children were to receive payments of $50 each within a certain timeframe.
~ Son Ira Dillon ~
Son Ira Dillon (1854- ? ) was born on Aug. 18, 1854.
At the age of 26, on March 21, 1881, Ira wedded 21-year-old Mary "Lucy" Bruce (1859- ? ).
Together, the couple produced one son, Dallas Bruce Dillon.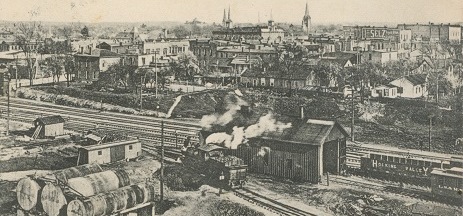 Kendallville, IN, home of the Ira and Lucy Dillon family, 1910s and '20s
In 1900, when the federal census was taken, the Dillons made their home in Jefferson Township, Noble County, IN, where they were farmers. One of their near neighbors was Ira's married sister Candace Melvin and her husband John S. Melvin. Ira may have resided in Kendallville circa 1916 when a local newspaper reported that he had paid his county taxes.
In November 1914, the Daily News said that "Mr. and Mrs. Ira Dillon and son Dallas are visiting friends in Ohio, Virginia and New York." A December 1916 article in the Daily News said that "Mr. and Mrs. Ira Dillon and Mr. and Mrs. Arthur Crothers were Thanksgiving visitors with Mr. and Mrs. William Singrey, of this city, and were accompanied home by the latter, where Mrs. Singrey will be the guest of her daughter, Mrs. Corothers."
In 1920, the Dillons lived in Wayne Township, Noble County, and were retired.
Ira was burdened with high blood pressure in his later years. Sadly, he suffered a cerebral apoplexy and died in Kendallville on Oct. 7, 1922. Interment of the remains was in Lake View Cemetery.
By 1930, 70-year-old widow Lucy resided in Kendallville, at 612 South Main Street, with 69-year-old Flora Whitford living with her as a lodger.
Lucy was spirited away by the angel of death in 1940.
Son Dallas Bruce Dillon (1895-1950) was born in 1895. He grew up in Kendallville and worked in young manhood as a farm laborer. He was of medium build, with blue eyes and brown hair. A Fort Wayne News story from May 1913 reports that he played piano for men's day services at the local Christian Church, "it being the first of a series of special days in the month of May. The pastor spoke on the theme, 'The Glory of Man,' in the evening, the men occupying the middle section of seats in the auditorium." During World War I, he was residing at 46 Aetna in Huntington, IN, and was employed by his father doing farm labor in Kendallville. By 1920, after the war ended, Dallas lived with his parents and worked as an accountant in a risk insurance business. He appears to have lived in Washington, DC in 1930, and worked as an auditor for the U.S. government. Evidence suggests that he married Rachel Jane Robison (1889-1985). Dallas died in 1950, with burial in Prospect Hill Cemetery in York, York County, PA. Rachel survived him by 35 years. She succumbed to death in 1985.
In June 1982, Lloyd F. Oliver of San Antonio, TX, placed a query in the South Bend (IN) Tribune, asking to make contact with descendants of Ira and Lucy. He placed a similar query in September 1983 in the Bedford (IN) Times-Mail.
~ Daughter Candace (Dillon) Melvin ~
Daughter Candace Dillon (1856-1941) was born in 1856. She moved to Noble County as a young girl with her father and step-mother.
On Oct. 22, 1879, Candace married Ohio native John S. Melvin (1854- ? ). She was age 22, and he 25, at the time of the wedding.
They bore one son, Howard C. Melvin.
Ellensburg, Washington - Third and Pearl Streets
The federal census of 1900 shows the Melvins living in Jefferson Township, Noble County, IN, where they were farmers. One of their near neighbors was Candace's brother Ira Dillon.
Grief cascaded over the family in July 1900 when son Howard died of injuries to his skull when thrown from a horse.
They migrated to the Pacific Northwest, and settled in Kittitas County, Washington State. John found work as a farm operator, and the 1910 census shows them living in South Kittitas Township. Their next-door neighbor that year was Candace's younger half brother, William Dillon (1868- ? ) and his wife Gertrude (1877- ? ).
In 1920, they had their own farm in South Kittitas Township. The 1930 census shows the Melvins residing in Ellensburg, Kittitas County. John was employed in 1930 as an "orchardist" in a fruit farm.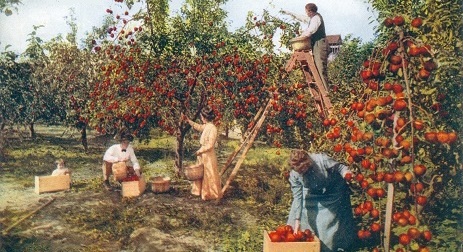 Apple pickers in Washington State's Kittitas Valley, a scene that Candace and John Melvin would have known well
Records of the Washington Death Index found on Ancestry.com shows that Candace passed away at the age of 84, in Kittitas, on March 27, 1941.
Son Howard C. Melvin (1885-1915) was born in April 1885 in Noble County, IN. He spent his growing up years in Albion, Jefferson Township, Noble County. On the tragic day of July 11, he was thrown from a horse and suffered serious injury to his cranium. His lingered for three days and, after developing meningitis, died on July 15, 1900, at the age of 15. Burial of the remains was in Union Cemetery.
Of the children from John's second marriage, it's believed that one of the daughters married E.J. Henney and lived in Ligonier, IN circa 1916. A Fort Wayne Journal-Gazette article in January of that year reported that "Mrs. E.J. Henney went to Kendallville Wednesday for a visit of some days with her brother, Ira Dillon."
Copyright © 2002-2003, 2008-2009, 2018, 2021 Mark A. Miner