Home

Estella (Minor) Ferguson
(1864-1958)
Estella "Stella" (Minor) Ferguson was born on May 15, 1864 in Brownsville, Licking County, OH, the daughter of James S. and Angeline C. (Hamilton) Minor.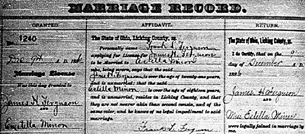 The Fergusons' marriage license
On Dec. 9, 1886, at the age of 22, Estella married 24-year-old James H. Ferguson (Sept. 5, 1862-1924), son of Harvey and Mary (Fry) Ferguson of Ohio. Their marriage license is still on file in the Licking County courthouse in Newark.
The Fergusons bore two children – Harvey M. Ferguson and Lucille Feighner.
In about 1888, the family relocated to Marion, Grant County, IN. They remained in Marion for some 70 years.
When the federal census enumerations were made in 1900 and 1910, James' occupation was marked as "tailor," with him working as such in a department store in 1910. They lived at 316 East Sixth Street in the 1920s.
Sadly, James suffered from cirrhosis of the liver and fluid buildup in his abdomen and legs. He succumbed at the age of 61 on April 24, 1924.
Estella survived her spouse by more than three decades. Her address in the 1950s was on Chapel Pike Road.
Stricken with leukemia of the lymph nodes, Estella fell at home and fractured her left humerus. She passed away on March 28, 1958. Daughter Lucille Feighner signed the official Indiana certificate of death. She was buried in Marion's International Order of Odd Fellows Cemetery.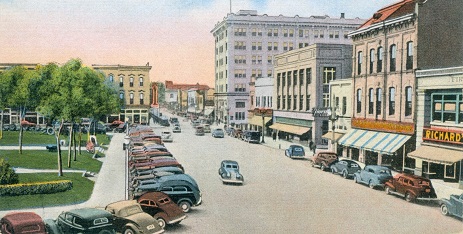 West side of the town square in Marion, Indiana
~ Son Harvey M. Ferguson ~
Son Harvey M. Ferguson (1887-1968) was born on Nov. 23, 1887.
He grew up in Marion, Grant County, IN and as an adult lived in Indianapolis.
In Aug. 1912, Harvey was joined in wedlock with Mary L. "Mayme" Potter ( ? - ? ).
The couple produced two offspring, Richard Potter Ferguson and Jean Ferguson.
They established a home in Indianapolis, where he earned a living as a buyer in the hardware business. For 35 years, he was employed by Van Camp Hardware Company. The Fergusons were members of Irvington Presbyterian Church. Harvey belonged to the Irvington lodge of the Masons and Mary to the Irvington Fortnightly Club and Irvington Coterie.
Their address in the 1960s was 821 North Layman Avenue.
At the age of 80, suffering from cirrhosis of the liver and heart disease, Harvey was felled by a cerebral hemorrhage and died in the Indianapolis Community Hospital on June 19, 1968. Burial was in Washington Park East Cemetery, with an obituary printed in the Indianapolis Star.
Son Richard Potter Ferguson (1925-2003) was born on the Fourth of July 1925. He married Phyllis Geer ( ? - ? ). They were the parents of two daughters, Cheryl Burgess and Jana Tylicki. The couple divorced. Later, he wedded Dorothy Louise (Hedge) Page (Sept. 21, 1927-1995), daughter of Ray Herschel and Margaret May (Frantz) Page. The Fergusons lived in Indianapolis in 1968. Later in life, in retirement, they made a home in Lake Lorelei, Brown County, OH. Dorothy passed away on March 28, 1995 at the age of 67. Richard survived her by eight years. On April 13, 2003, in Hamilton County, OH, Richard died at the age of 77. An obituary was published in the Cincinnati Enquirer, asking that any memorial donations be made to the American Heart Association.
Granddaughter

Cheryl Ferguson married (?) Burgess.
Granddaughter Jana Ferguson was born in (?). On Aug. 31, 1974, she wedded Gary Tylicki.

The couple may reside in Georgetown, KY. Jana at one time was president of Scott County's home economics extension group and was included in a group photograph of past presidents printed in the book

Georgetown and Scott County

, authored by Ann Bolton Bevins, Frederick A. Johnston and Lindsey Apple.
Daughter Jean Ferguson ( ? - ? ) was born in (?). She never married. Jean resided in 1968 in Indianapolis. She was deceased by 2003.
~ Daughter Lucille (Ferguson) Feighner ~
Daughter Lucille Ferguson (1890-1986) was born in Nov. 1890 in Marion, Grant County, IN.
When she was age 19, in 1910, she was single and worked as a sales woman in a local department store, likely the same business where her father was employed as a tailor.
On Nov. 20, 1912, in nuptials held in Grant County, IN, she married Harry Wilbur Feighner (June 4, 1888-1968). A native of Marion, IN, he was a onetime resident of Hartford City, Blackford County, IN.
They were the parents of Robert Thomas Feighner, John R. Feighner, James "Wilbur" Feighner and Jane Reinertsen.
Harry owned and operated Feighner Electric Company and was a member of the Hartford City Rotary Club.
The couple relocated south and established a dwelling in Macon, Bibb County, GA.
Harry passed away on Jan. 18, 1968 at the age of about 79. His remains were placed into eternal repose in Estates of Serenity in Marion, Grant County.
The widowed Lucille remained in Macon for the balance of her life.
Lucille was gathered in by the Grim Reaper in Nov. 1986. She also rests in Estates of Serenity.
Daughter Mary Jane Feighner ( ? - ? ) was born in (?). She married Carver Hamilton Reinertsen ( ? -2006), son of Helmer Reineretsen and a native of Virginia, MN who had grown up in Kokomo and Indianapolis. The couple produced three children -- John Carver Reinertsen, Thomas Reinertsen and Judith Reinertsen. For a dozen years, he served as safety director for the Naval Avionics Facility in Indianapolis. Then in 1956, he was transferred to Macon, Bibb County, GA, to become chief of the Air Materiel Area Ground Safety Division at Warner Robins Air Force Base. He received a citation in January 1965 for outstanding performance in preventing accidents and eliminating hazards at the base. The award was covered in the Kokomo Tribune. Mary Jane was deceased by 2004. Carver spent his final years in Macon. He died there at the age of 92 on Nov. 24, 2006. Rev. Camille Hegg and Rev. Mark Smith co-officiated at the funeral service, held at St. Paul's Episcopal Church. An obituary was printed in the Macon Telegraph.
Grandson

John Carver Reinertsen

(1941-1989) was born on July 3, 1941. In his youth, he studied at the Lanier School for Boys and Dartmouth College, where he received a master's degree from the Amos Tuck School of Business Administration. He served in the U.S. Army during the Vietnam War and held the rank of lieutenant, working in the United Nations Mission in New York City. On Dec. 3, 1966, he was united in marriage with Mary Lathrop Haskins ( ? - ? ), daughter of Lathrop Stanley Haskins of Park Avenue in New York and Old Black Point, CT. News of the wedding was printed in the

New York Times

. Mary was a graduate of Follow Hollow School in Menox, MA and Wheaton College. Said the

Kokomo Tribune

, "She was presented at the Junior League and Grosvenor Balls in New York City in 1960." At the time of marriage, she was employed by American Broadcasting Company (ABC) and a provisional member of the Junior League of New York City. Following completion of his military career, John is believed to have been employed in the marketing department of Lever Brothers. John passed away on Nov. 4, 1989 at the age of 48. Burial was in Riverside Cemetery in Macon.
Grandson Thomas Reinertsen

(1945- ? ) was born in about 1945. He was a member of the U.S. Army during the Vietnam War.
Granddaughter Judith "Judi" Reinertsen

(1949-2011) was born on June 20, 1949 in Indianapolis. She grew up in Macon, Bibb County, GA. In about 1985, Judith was joined in holy wedlock with French A. Weldon (Oct. 3, 1946-2015), son of French Orben and Vivian (Harris) Weldon. Their marriage endured for 26 years. The couple did not reproduce. They belonged to the Episcopal Church. Circa 2011, their home was in Perry, GA. Sadly, after suffering a sudden illness, she was admitted to South Georgia Medical Center. There, she she passed away on Nov. 24, 2011 at the age of 62. An obituary appeared in the

Valdosta (GA) Daily Times

. Burial was in Riverside Cemetery in Macon, with Rev. Peter Ingeman officiating at the funeral service. French survived another four years and died on Nov. 26, 2015.
Son Robert Thomas Feighner ( ? -2002) was born in (?). He received degrees from the Culver Academy at Princeton University and University of Indiana. He then became employed in San Francisco. On Sept. 29, 1956, the 31-year-old Robert and 28-year-old Elinor Bangs ( ? - ? ) were wed at St. Paul's Episcopal Church in Oakland, CA. She was the daughter of Edgward Geoffrey Bangs, and prior to the marriage, she was a graduate of Vassar and had taught school in San Francisco. A few months before the wedding, she and friend Marion Fitzhugh drove throughout Europe, starting in Paris, thence to Italy and from there to Venice. The wedding was covered in the social columns of the San Francisco Examiner. The children born to this marriage were Peter Cornell Feighner and Mary Bardouche. They adopted their son Peter in Sept. 1961, with the family pictured in a related story in the Oakland Tribune. In 1962, Robert earned a living as an architectural consultant. The family eventually migrated to Akron, OH in 1968 and later to El Paso, TX, where Robert was in business and president of the downtown Rotary Club. They were members of St. Clement's Episcopal Church. He died on Jan. 12, 2002, with an obituary appearing in the El Paso Times.
Grandson

Peter Cornell Feighner

was adopted in Sept. 1961 at the age of six weeks by Robert and Elinor through a referral from the Children's Home Society. At the age of 10, now living in Akron, OH with his parents, he took part in the Akron Recreation Department's long-distance balloon race, with his helium baloon entry touching down in Granby, Quebec, Canada.
Granddaughter Mary Feighner wedded (?) Bardouche

. They are thought to have resided in El Paso, TX.
Son John R. Feighner ( ? -2002) was born in (?). A veteran of the U.S. Marine Corps, he rose through the ranks of business and politics to become majority leader of the Indiana House of Representatives. John married Marilyn Osborn ( ? - ? ). Their two children were John O. Feighner and Sarah F. Westerfield. John obtained a degree in 1942 from Indiana University. In 1950, he was elected to the Indiana house and remained in office for six years. From 1954 to 1956, he held the position of majority leader. Then in 1964, he ran for the U.S. House of Representatives in the 5th District and at one time was Republican party chairman of the district. From 1973 to 1988, he chaired the Indiana Governor's Insurance Committee. He founded Feighner-Anderson Insurance Agency and was a member of the board of directors of Midwest Paper Company and Osborn Paper Company and served as president in 1959 of the Indiana Association of Insurance Agents. Among his honors was being named Sagamore of the Wabash and 1997 Commercial Union Insurance Company's agent of the year. After retirement, they moved to Hilton Head, SC, where he was vice president and executive committee member of the Hilton Head Island Republican Party. At the age of 80, John passed away on Jan. 11, 2002 in Hilton Head, SC. Funeral services were held in the First Presbyterian Church, with his ashes placed into rest in the church's columbarium. John's death generated headlines in the Indianapolis Star.
Grandson

John O. Feighner
Granddaughter Sarah F. Feighner married (?) Westerfield
Son James "Wilbur" Feighner Sr. (1916-2004) was born on Sept. 17, 1916 in Marion, IN. He received a bachelor's degree in mechanical engineering in 1939 from Purdue University. Then during World War II, he served in the U.S. Army Air Corps from 1942 to 1946, achieving the rank of captain. In 1941, at the age of 25, he was united in wedlock with Margaret Gordon Richards (Nov. 21, 1918-1984), a native of Columbus, Muskogee County, GA. They lived in Columbus for decades and were the parents of Barrett Bain, Katherine Van Allen and James Wilbur Feighner Jr. There were three stepchildren involved with this family as well -- Deborah Taylor, Cheryl Cloutier and Janet Cook. After the close of the war, he accepted employment with Tom Huston Peanut Company, rising to the post of president and board chairman. When the Huston firm was acquired by General Mills, he was named executive vice president and held a seat on the board of directors. The family weree members of First Presbyterian Church, where Wilbur was a deacon, elder and trustee. Active in the community, he sat on the Muscogee County Board of Education for a baker's dozen years, was a charter member of the Columbus College Foundation and chairman of the CSU Foundation. He also was a board director of St. Francis Hospital, the Columbus Waterworks Board, the American Cancer Society, Boy Scouts, Infantry Museum, Columbus YMCA, Red Cross, and was a long time board member of Callaway Gardens. He also served terms as president of the local Chamber of Commerce and the United Way. His was board chairman of the First National Bank of Columbus; director and vice president of the Southern States Industrial Council; director of the National Association of Manufacturers; and board director of the National Confectioners Association, the National Peanut Council and the Business Council of Georgia. Sadly, Margaret died in 1984 after 43 years of marriage. After two years of grieving, he wedded again in 1986 to Marion Creed ( ? - ? ) of Hilton Head, SC. He died on Dec. 30, 2004, with burial in Parkhill Cemetery in Columbus. Marion outlived her husband by many years.
Granddaughter

Barrett Feighner married (?) Bain.
Granddaughter Katherine Feighner married (?) Van Allen.
Grandson James Wilbur Feighner Jr.
Step-granddaughter

Deborah Taylor
Step-granddaughter Cheryl Cloutier
Step-granddaughter Janet Cook
Copyright © 2005, 2019 Mark A. Miner