Rachel Ruamy 'Amy'
(Murray) Cole
(1881-1953)


Rachel and Lutelis Cole
Rachel Ruamy "Amy" (Murray) Cole was born on Dec. 6, 1881 in Normalville, Fayette County, PA, the daughter of Elijah and Hannah (Minerd) Murray.
Tragically, in May 1885, when she was only four years of age, Amy was rendered an orphan after her parents died eight days apart. The identity of who raised her is unknown, but it was someone who lived in Dunbar, Fayette County. After moving there in 1885 to begin a new life, she resided in Dunbar for her remaining 68 years.
Amy married Lutelis "Lou" Cole (March 10, 1877-1962), the son of Charles and Hannah (Johnson) Cole, and a native of Dunbar. They united themselves in marriage on Jan. 16, 1903, with W.W. Greene and Minnie L. Barbe as witnesses. At the time of their union, she was age 22, and he 25, and a laborer. Amy signed her marriage license with an "X," meaning she did not know how to write her own name.
They produced a family of seven children, all sons but one – Hannah Shupe, Albert N. Cole, Richard P. Cole, Jesse A. Cole, Raymond Cole, Homer Francis Cole Sr. and Ralph Cole.
The Coles resided at Pechin in rural Dunbar Township, near Dunbar, where Lutelis was employed for years as a laborer by the Pennsylvania Wire Glass Company. When the federal census enumeration was made in 1940, the Coles were in Dunbar and lived next door to their sonk Albert and family. Their widowed daughter Hannah Shupe and children resided in their household at that time.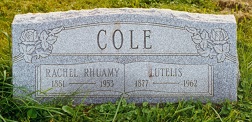 Franklin Cemetery in Dunbar
Circa 1962, Lutelis worked as a boiler fireman.
Several of their sons served in the U.S. Armed Forces during wartime.
Amy was burdened with Parkinson's Disease for the last 15 years of her life. Also suffering from heart disease, she died at home on July 16, 1953, at the age of 72. Her daughter Hannah signed the official Pennsylvania certificate of death. In an obituary, the Connellsville Daily Courier said that she "had been a resident of Dunbar for 70 years" and that she was survived by 11 grandchildren and one great-grandchild.
The following year, heartache struck the family again when son Albert Cole passed away.
Lutelis outlived Amy by nine years. He suffered a massive heart attack and died within 10 minutes at the age of 85 on Oct. 14, 1962. His funeral was conducted by Rev. Samuel Cummings, of the Church of the Nazarene of Holt, WV.
They are buried together in the Franklin Cemetery in Dunbar.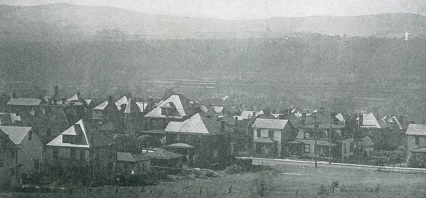 The hills of Dunbar Township circa 1929
~ Daughter Hannah (Cole) Shupe ~

Hannah Shupe
Daughter Hannah Cole (1904-1992) was born on April 7, 1904, in Dunbar.
In about 1928, when she would have been 24 years of age, she married 22-year-old Daniel Shupe (July 2, 1906-1935), a native of Bullskin Township, Fayette County and the son of Oliver and Minnie Shupe.
The couple were the parents of two known children, William Daniel Shupe and Lois Jean Donnan.
The federal census of 1930 shows Hannah and Daniel as living in Cross Creek, Hancock County, WV, with Daniel employed as a laborer in a local steel mill. The Shupes remained in Hancock County .
Tragedy visited the Shupes in the early spring of 1935 while visiting family in Kingview near Connellsville. While driving with his father and others along Route 119 near Poplar Grove, on March 30, 1935, the 28-year-old Daniel was killed when his skull was fractured in an automobile collision with another vehicle. The father was badly injured. Reported the Connellsville Daily Courier, "The impact of the crash virtually demolished the Shupe machine, smashing the left front wheel and tearing the top from the couple.... The younger Shupe was hurtled out of the driver's seat and landed head first on the highway. His head was split open from the top to the nose." His remains were lowered into eternal repose in Franklin Cemetery in Dunbar.
The widowed Hannah outlived her spouse by more than half a century. Here first step was to move with her children into her parents' residence in Dunbar.
Over the years, she lived in Pechin and later in the coal mining patch town of Monarch, near Uniontown. She was active in the political life of her community of Dunbar and was elected as inspector of elections of Dunbar Township No. 1 in 1949 and in 1951.
Hannah died at the age of 88 on Oct. 3, 1992.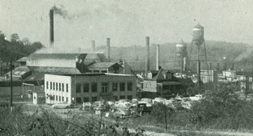 Anchor Hocking Glass in Connellsville
Son William Daniel Shupe (1933-2019) was born on Nov. 4, 1933 in Dunbar, Fayette County. He was only about two years old at the death of his father. He served in the U.S. Army during and after the Korean War, receiving his training in ordnance at the Aberdeen Proving Ground in Maryland. On Dec. 8, 1956, he married Wilma Blackstone (July 14, 1934-2013), daughter of Joseph and Mary (Hudock) Blackstone, a.k.a. Joseph and Mary (Blackstone) Layton, of Connellsville. The newlyweds both worked at Anchor Hocking Glass in South Connellsville. They produced one known son, William Shupe. Circa 1970, William was pictured in the Connellsville Daily Courier when, after 17 years with the company, he was promoted to lehr department formean in Anchor Hocking's selecting department. At that time, they lived at 627 Blackstone Road. He ultimately rose to the position of supervisor. The couple eventually divorced, with Wilma continuing to live in Connellsville. William wedded again to Shelby Schrock ( ? - ? ). She brought two sons into the second union -- Richard Schrock and Christopher Schrock. William died at the age of 86 on Dec. 3, 2019 in Uniontown Hospital. Former wife Wilma passed away in Uniontown Hospital at the age of 79 on Aug. 15, 2013.
Grandson

William Shupe

married Evelyn. They have one son, Ryan Shupe.
Daughter Lois Jean Shupe (1935- ? ) was born in about 1935 in Dunbar or in Hancock County, WV.She was employed circa July 1956 in Pittsburgh with Bell Telephone Company. On Aug. 11, 1956, she married John Donnan ( ? - ? ), son of Hugh Donnan of Sewickley, near Pittsburgh. After serving during the Korean War with the U.S. Air Force,John worked as a teller for Mellon National Bank in Pittsburgh. The newlyweds made their first home in the Squirrel Hill suburb of Pittsburgh and by 1957 were in Dormont. They had two daughters, Joyce Karen Donnanand Sheila Donnan.
Granddaughter

Joyce Karen Donnan

(1957- ? ) was born in 1957 in Magee Womens Hospital in Pittsburgh. News of her birth was published in the

Uniontown Evening Standard

.
Granddaughter Sheila Donnan ( ? - ? )
~ Son Albert N. Cole ~
Son Albert N. Cole (1906-1961) was born on June 12, 1906 in Dunbar.
In 1929, he married Beulah Beatrice Gordon (Dec. 3, 1912-1985), a native of Elkins, Randolph County, WV and the daughter of William H. and Sarah Mae (Currence) Gordon.
The newlyweds initially lived in 1930 next door to Albert's parents.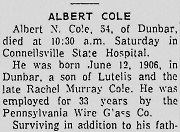 Obituary, 1961
They had three children -- Thelma Jean Smiley, Betty Cole and Donald Nelson Cole.
The family made their home in Dunbar in 1940-1961. Albert was a 33-year employee of the Pennsylvania Wire Glass Company, working as a boiler fireman. In 1957, they dwelled along Ferguson Road with a postbox number 315.
Having previously suffered from rheumatic heart disease, he was stricken with congestive heart failure followed by pneumonia. Death carried him away at the age of 54, in Connellsville State Hospital, on Jan. 21, 1961. Burial was in Mt. Auburn Cemetery in Dunbar, following funeral services officiated by Rev. Lewis D. Hunter. His obituary was published in the Connellsville Daily Courier.
Beulah lived for another 24 years as a widow. She succumbed to the Angel of Death in 1985.
Daughter Thelma Jean Cole (1930-2005) was born on July 12, 1930 in Dunbar. She grew up in the community of Pechin. On July 28, 1950, she was united in the bonds of matrimony with Wallace L. Smiley (1930- ? ), son of Robert and Clara Smiley of Speers Hill. They lived in Dunbar and were the parents of Kenneth Smiley, Deborah Lynn Smiley and Terry Lee Smiley. Thelma worked for a number of years as a carton assembler for the Anchor Hocking Glass plant in South Connellsville. At the age of 74, while a patient in Highlands Hospital, Thelma Jean passed away on Feb. 7, 2005. Rev. Jeff Popson preached her funeral service, with interment of the remains in Mt. Auburn Cemetery in Dunbar. An obituary was printed in the Connellsville Daily Courier.
Grandson Kenneth W. "Kenny" Smiley (1952-2021) was born on May 2, 1952 in Connellsville. He was wedded twice during his life. His first spouse was Kathy ( ? - ? ). Later, he was joined in marriage with Janice Lancaster ( ? -living). Kenneth's only daughter was Casey Cavanaugh. They resided in Dunbar. Kenneth was employed as an automotive detailer at Ranker Motor Sales. Sadly, at the age of 69, he died at home on June 12, 2021. Officiating at his funeral service was Pastor Lee Maley, a distant cousin of the family of

Lewis and Martha Ellen (Mayle) Mayle

. In an obituary, the family requested that any memorial donations be made to the Western Pennsylvania National Wild Animal Orphanage.
Great-granddaughter Casey Smiley entered into wedlock with John Cavaugh. Children produced by this union were Cole Cavanaugh and Cael Cavanaugh.
Granddaughter Deborah Lynn Smiley (1955- ? ) was born in 1955. Her birth was announced on the pages of the Connellsville Daily Courier. She married Walter Flight ( ? - ? ). Circa 2005, the Flights made a home in Cheshire, CT.
Grandson Terry Lee Smiley (1957- ? ) was born in 1957 in Connellsville. News of his birth was announced in the

Connellsville Daily Courier

. He was in Dunbar in 2005.
Daughter Betty Cole dwelled in Uniontown, Fayette County in 2001-2005.
Son Donald Nelson Cole(1937-2001) was born on May 20, 1937. At the age of 19, he joined the U.S. Navy in February 1956 and trained in Bainbridge, MD and the Patuxent River Naval Air Station. He was joined in wedlock with Carol Gish ( ? - ? ). Their brood of children included David Cole, Connie Just and Donna Cole. They put down roots in Rittman, Wayne County, OH. Later in life, the Coles relocated to Massillon, Stark County, OH. Sadly, at the age of 63, Donald died in Hospice Care Center in Copley, OH on May 2, 2001. His remains were placed into rest in the Ohio Western Reserve National Cemetery after a funeral service led by Rev. James R. McComas. In an obituary, the family requested that any memorial donations be made to the American Lung Association.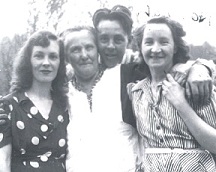 Richard, his mother, Ruth and Grace
~ Son Richard Cole ~
Son Richard E. Cole (1915-1988) was born in about 1915.
He lived in Dunbar circa 1940-1974.
He married Grace E. Clingan (1917-1983), daughter of Orrin and Phoebe Clingan.
Richard was employed circa 1940 at Pennsylvania Wire Glass Companyin Dunbar, while Grace earned a living as a waitress in a beer garden. Later, he worked for Liberty Powder Mill in Mt. Braddock and Steel Scaffolding Co. of Uniontown, while she was an employee of the popular Pechin's Market in Dunbar.
The couple dwelled in Dunbar in 1976.
Grace died in 1983 at about the age of 65.
Richard survived her by five years. In 1988, he passed away at the age of 73. Interment was in LaFayette Memorial Park in Brier Hill.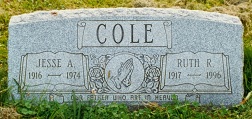 Franklin Cemetery, Dunbar
~ Son Jesse A. Cole ~
Son Jesse A. Cole (1916-1974) was born on Sept. 24, 1916, in Dunbar.
He married Ruth R. Landman (1917-1996).
They produced one daughter, Brenda Joyce Hustosky.
Jesse was employed for many years as a coal miner and was a member of Local 9584 of the United Mine Workers of America. Their address was 19 First Avenue in the Bryson Hill neighborhood of Dunbar.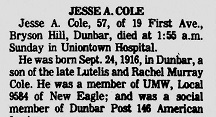 Obituary, 1974
Jesse died on March 10, 1974, at the age of 57. An obituary was published in the Connellsville Daily Courier. He is buried his parents in Franklin Cemetery in Dunbar.
Ruth outlived him by more than two decades. She passed away in 1996, and rests for eternity with her husband. Their grave marker is inscribed with the first line of the Lord's Prayer -- "Our Father, who art in Heaven."
Daughter Brenda Joyce Cole ( ? - ? ) was born on (?). She was wedded to Robert Hustosky ( ? - ? ) on April 24, 1971. Justice of the peace William J. Lincoln performed the nuptials in Dunbar. Their home was in Dunbar in 1974, where Robert was a construction contractor.

Raymond Cole
~ Son Raymond E. Cole ~
Son Raymond E. Cole (1919- ? ) was born in about 1919 in Dunbar, Fayette County.
In young adulthood he was employed by the Pennsylvania Railroad.
Raymond served in the U.S. Armed Forces during World War II. In 1942, he and his brother Homer were stationed about 150 miles apart from each other. Raymond made a surprise visit to his brother at Camp Wheeler, GA in July 1942, with the news published in their hometown newspaper, the Connellsville Daily Courier.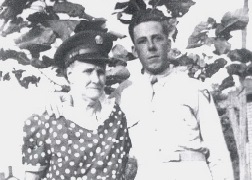 Ray and his mother
As a member of the 151st Infantry, he was deployed to the Philippine Islands. He spent 14 months in the South Pacific and was awarded the Combat Infantryman Badge for his role in the Battle of Zigzag Pass on the island of Luzon.
Raymond made his home circa 1953-1974 in Dunbar.
Whether or not he married or reproduced is unknown.
More about his life will be added here once learned.
~ Son Homer Francis Cole Sr. ~

Homer F. Cole Sr.
Son Homer Francis Cole Sr. (1920-2002) was born on New Year's Day 1920 in Dunbar, Fayette County.
He stood 6 feet tall and weighed 168 lbs. He had blue eyes, blonde hair and a light complexion. In young adulthood, he dwelled in Dunbar and was employed by Robert Waychoff of Connellsville.
Homer served in the U.S. Army Air Corps in World War II, training as an airplane mechanic at Spence Field, Moultrie, GA. He was promoted to staff sergeant and assigned to the 431st Fighter Squadron, in the Pacific Theatre.
After the war, Homer was wedded to Ruthie Evelena ( ? - ? ).
The couple produced a family of two children -- Homer Francis "Tony" Cole Jr. and Bonnie Cole.
He also had a step-daughter, Kathy Wade of Atlanta.
Later, he resided in Albany, GA (circa 1950-1953), Odessa, TX (1960-1962), Jacksonville, FL (1974) and in Littleton near Denver, CO (1992). Over the years, he was employed in highway maintenance.
While in Albany, in 1947, he and his wife and family returned to Dunbar to visit with his brother Richard. In August 1976, his niece Brenda Shupe spent a month's vacation at the Cole residence in Jacksonville.
He passed away at age 82 on April 22, 2002, and was buried with military honors at Fort Logan National Cemetery in Denver.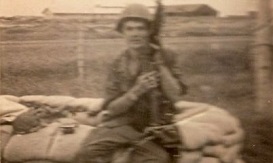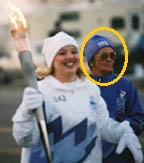 Worlds apart -- Tony Cole in Bien Hoa, Vietnam, 1968; and Sheila with the Olympic torch bearer in Salt Lake City, 2002

Tony Cole, 2011
Thanks to the efforts of his son Homer Jr., he is honored with a digital plaque on the website of the new National World War II Memorial in Washington, DC.
Son Homer Francis "Tony" Cole Jr. (1944-living)was born in 1944 in Albany, Dougherty County, GA and grew up in Midland, TX. He served in the U.S. Army during the Vietnam War, and was stationed at Bien Hoa with the 303rd Pink Panthers Squadron. On Nov. 21, 1970, in Okaloosa, FL, he was united in matrimony with Sheila Christine Price (Oct. 13, 1941-2022), a native of Milwaukee. Their two children are Mark Cole and Desiree Cole. In 1974, the couple established a residence in Utah and for many years lived in Sunset, UT. Tony has worked as a munitions specialist and in training management for the U.S. Air Force and as a security officer for the International Revenue Service. He also generously has provided content for this biography. In her own right, Sheila was an active volunteer with the youth program at Hill Air Force Base. For 33 years, she was employed by DFG at the Freeport Center. She raised funds for the Muscular Dystrophy Association for decades. Said an obituary, "She loved cake decorating, gardening and crafting of any kind. Her community looked forward to her annual Easter Egg hunt every year. She had a passion to give to charity and a very big heart.." When the Olympics were held in Salt Lake City in 2002, Sheila helped a volunteer escort the "eternal flame" during the 2002 Olympic Torch Run in their community of Sunset. Sadness blanketed the family when Sheila surrendered to the angel of death at the age of 80 on Sept. 19, 2022. The family requested that any memorial donations be made to Best Friends Animal Sanctuary in Kanab UT or St Joseph's Indian School of Chamberlain, SD/
Grandson Mark Cole ( ? - ? )
Granddaughter Desiree Cole ( ? - ? )
Daughter Bonnie Cole ( ? - ? ) dwelled in Jacksonville, FL in 2002.
~ Son Ralph E. Cole ~
Son Ralph E. Cole (1921-1975) was born on Oct. 1, 1921 in Dunbar.
He married Thelma Goodman (Jan. 25, 1924-2005), daughter of Jesse and Betty Lee (Parr) Goodman of Leisenring No. 1 near Uniontown.
They bore two children, Janet Rachael Riley and Gregory Cole.
He lived in Pittsburgh, Allegheny County, PA in 1953. Later, by 1962, he resided in Rockwood, MI, where he was employed by Calgon Corporation. In 1971, when his niece Brenda was married in Dunbar, he and Thelma attended the happy event.
Ralph died at the age of 53, in Rockwood, on Feb. 11, 1975. His remains were returned to Fayette County for interment in Green Ridge Memorial Park near Connellsville.
As a widow, Thelma lived for another 30 years. She married again to (?) Nieman ( ? - ? ) and continued to live in Monroe. Mr. Nieman may have brought a daughter into this marriage, Darlene Mullins.
Death swept her away at the age of 81 on St. Patrick's Day 2005. The body was shipped to Connellsville for burial beside Ralph in Green Ridge Memorial Park.
Daughter Janet Rachael Cole (1947-2007) was born on Aug. 16, 1947. She moved to Michigan with her parents and lived in Rockwood, MI in 1975. On Sept. 14, 1978, when she was 31 years of age, Janet was joined in the bonds of marriage with Randy J. Riley ( ? - ? ). The nuptials were held in Monroe, MI, where the couple put down roots. The Rileys were the parents of Rachel Cooper. In her free time, Janet liked to make crafts, cook and work in her garden, as well as enjoy gospel music with her spouse. Sadly, at the age of 60, Janet died on Oct. 6, 2007. Funeral services were held in the Bible Fellowship Church, followed by burial in Roselawn Memorial Park.
Son Gregory Cole made his residence in the 1970s in Mount Pleasant, MI. He married Vicky. The Coles have resided in Monroe, MI.
Copyright © 2001, 2003, 2006, 2012, 2018, 2020, 2022 Mark A. Miner