Letitia Alice (Ream) Silbaugh
(1902-1970)

Letitia and Robert Silbaugh
Letitia Alice "Tish" (Ream) Silbaugh was born Dec. 9, 1902 in Lower Turkeyfoot Township near Confluence, Somerset County, PA. She was known as "Tish" by everyone and was the fifth of 16 children born to Joseph and Sarah Ellen (Harbaugh) Ream.
Letitia along with her two older sisters worked very hard on the family farm. They took care of all the household duties and gardening, milking and gathering eggs, while their father and brothers worked in the timber and ran the farm.
Tish married Robert Ami Silbaugh (1898-1965), son of John C. and Catherine (Daniels) Silbaugh. They were married on July 24, 1930, when she was age 28 and he 32.
They produced two children -- Roger Franklin Silbaugh and Carol Ann Osgood.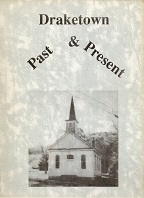 Book picturing the Silbaughs
Tish and Bob lived in the small village of Draketown, just outside of Confluence. He was a longtime coal miner in the region, while Tish was a member of the Draketown Church Sunday School.
The family was enumerated in Draketown -- Robert, Letitia and eight year old son Roger -- when the federal census was taken in 1940.
Several photographs of Tish have been published in the book Draketown Past & Present. One of the images shows her seated upon a bicycle while her good friends Sadie Rush and Sadie Hyatt hold on tightly. Another shows her with fellow members of the Fair Oaks Ladies Aid, among them Sadie Hyatt, Katherine Silbaugh, Mrs. Delmar Hyatt, Sue Plume, Bertha Smith, Mary Nicola, Frances Kreger and Velma Nickelsen. Robert also is picturedseveral times in the book, with one image showing him standing beside friends Harry Kreger and Catherine Silbaugh at the Draketown Hunting Club located near Cranberry Glade Lake.
Bob died on Aug. 16, 1965 of cancer. He is buried at the Jersey Cemetery, Confluence, PA.
After Bobís death, Tish continued to live alone for the remaining four years of her life. Tragedy struck on Sept. 1, 1970, a day when Tish was visiting her brother Osborne and his family who lived at the old homeplace of their parents. Osborne was the youngest of the Ream children and had acquired the family farm after his parents died.

L-R: Robert and Letitia Silbaugh, Norman Ream, Ethel and Eliot Harbaugh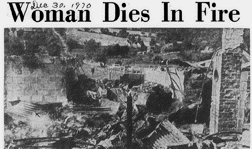 News coverage of the 1970 fire
Tish had spent the day and that evening with Osborne, and his family talked her into staying the night at their house. She agreed. But after everyone had gone to bed, a fire broke out in the basement of the house. The brother, his wife and two girls were able to flee from the burning building. They tried as best the could to find Tish and lead her out, but it was thought that she perhaps did not hear their calls, or perhaps was overcome with the thick smoke and passed out. The house was destroyed completely, and Tish's body was never recovered.
An FBI investigation followed to ascertain Tish's whereabouts. They were able to determine that some bone fragments found in the ruins -- a piece of skull, humerus, patella, femur and tibia -- were that of a middle-aged to older female. The fire was so intense and the bones so badly charred that the identity was very difficult to determine.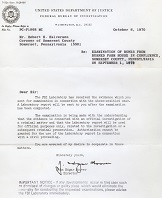 FBI letter in the Silbaugh case
The family held a memorial service for Tish after the investigation was concluded to put closure to this family tragedy. Her remains finally were identified by the FBI in Washington, DC after calling in expert Dr. J. Lawrence Angel, curator of the Division of Physical Anthropology for the National Museum of Natural History.
A form letter to the Somerset County Coroner, dated Oct. 4, 1970, signed by FBI Director J. Edgar Hoover, said that the FBI's examination "is being made with the understanding that the evidence is connected with an official investigation of a criminal matter and that the laboratory report will be used for official purposes only, related to the investigation of a subsequent criminal prosecution. Authorization cannot be granted for the use of the laboratory report in connection with a civil proceeding."
~ Son Roger Franklin Silbaugh ~
Roger Silbaugh, Korean War era
Son Roger Franklin Silbaugh (1931-1995) was born on Aug. 13, 1931. As a teenager, in 1947, he was baptized in the Youghiogheny River at Flat Rock by Rev. Witaker, and they pictured in Draketown: Past and Present.
He is believed to have married Virginia Maxine Fike (1935-2006). They produced four children -- Edwin R. "Ed" Silbaugh, Gregory Silbaugh, Mark Silbaugh and Beth Colvin.
During the Korean War, when Roger was age 21, he served with the U.S. Navy and was stationed in Norfolk, VA.
The Silbaughs made their home in Washington, IN in 1970, where Roger earned a living as a professional land surveyor.
Roger passed away on Jan. 17, 1995.
Virginia lived for another 11 years after the death of her husband, and made her home in New Albany, IN. She died at age 71 on Oct. 14, 2006. The family requested that donations be made to the Arthritis Foundation for Rheumatoid Arthritis. An obituary was printed in the Columbus (OH) Dispatch.
Son Edwin R. "Ed" Silbaugh (1955?-2012) was born in about 1955. He married Kim (Hacker) Somerville who brought two children to the marriage -- Chris Somerville and Jason Somerville. They resided in Bainbridge, IN and had a son of their own -- Chris Silbaugh. Ed obtained a bachelor's degree in education from Indiana State University and a master's degree in education from DePauw University. For 36 years, Ed was a teacher in Danville (IN) Community Schools, where he coached football, track and wrestling. In his spare time, he enjoyed fishing, gardening and woodworking. Sadly, Ed died at the age of 57 on June 22, 2012. An obituary was published in the Indianapolis Star.
Grandson Chris Silbaugh married Jodie.
Step-grandson Chris Somerville
Step-grandson Jason Somerville married Brandie.
Son Gregory A. Silbaugh married Kathy and lived in Dublin, OH in 2006.
Son Mark Silbaugh was wedded to Cathy and made their home in 2006 in Roswell, GA.
Daughter Beth Silbaugh was united in matrimony with Timothy Colvin. In 2006, they dwelled in Dublin, OH.

Carol Ann Osgood
~ Daughter Carol Ann (Silbaugh) Osgood ~
Daughter Carol Ann Silbaugh (1943-2003) was born on Feb. 4, 1943 and was adopted by the Silbaughs.
She grew up attending the Draketown Church and its Sunday School and is pictured seated in the pews in Draketown: Past and Present.
Carol Ann married William A. "Bill" Osgood ( ? - ? ).
They resided in Los Angeles in 1970 and in Littleton, CO in the early 2000s.
Sadly, Carol Ann died at the age of 60 on July 22, 2003. Interment was in Littleton Cemetery. The family asked that contributions be made to the Dumb Friends League.
Copyright © 2001, 2015-2016 Doris (Sands) Hawker and Mark A. Miner