Marshall 'Ellsworth' Rowan
(1885-1953)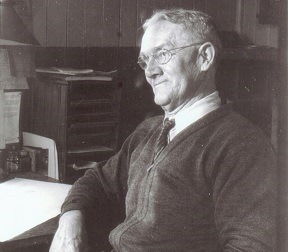 Ellsworth at work in Bidwell, PA
Marshall "Ellsworth" Rowan was born on July 1, 1885 at Maple Summit, Fayette County, PA, the son of Allen H. and Annie (Linderman) Rowan. For four decades, he was a telegraph operator for the Baltimore & Ohio Railroad, and his diaries provide a glimpse into a railroader's life in the early 20th century.
On Sept. 15, 1906, when he was 21 years of age, Ellsworth married 23-year-old Jennie Steyer (Oct. 28, 1884-1946), daughter of Daniel and Celesta Ann (Growall) Steyer of Mill Run, Fayette County. The bride was two years older than her groom.
The Rowan and Minerd families were close, and Jennie's sister Lutitia Steyer was married to Lawson Minerd, and another sister Ida Burkholder married step-cousin Charles Ross Burkholder.
The couple produced a family of four daughters -- Lela Jordan, Bernadine Smith, Ila Marie Price and Jennie "Evelyn" Kremer.
Ellsworth was interested in the development of his mind, and in 1903 he pursued what we know today as a high school education. Because such schools did not exist in rural Fayette County at that time, he decided to attend a boarding school called Barkeyville Academy. Operated by the Church of God, and affiliated with Findlay College, it was located in Venango County, PA, some 120 miles from home. A history of the academy, published in 1981, said: "A genuine religious spirit was the controlling influence. A Christian atmosphere was always in evidence."
While he was away at Barkeyville, Ellsworth's beloved six-year-old sister Goldie died of the croup back home. Because he was unable to return for the funeral, he regretted this long, long afterward. In fact, he once penned a poem about what he imagined were his sister's final days and thoughts.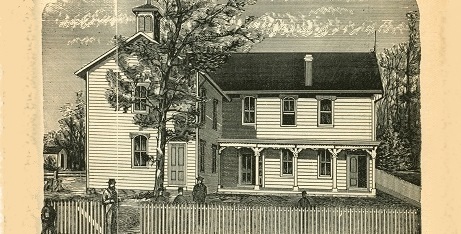 Barkeyville Academy of the Church of God, where Ellsworth attended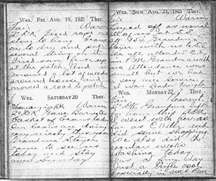 Ellsworth's diaries, 1921
The railroads were strong and vital to the region's economy in the early 20th century. Ellsworth focused his career in telegraphy (the equivalent of today's e-mail) for the Baltimore & Ohio Railroad. He pursued further education in 1904 by moving to Newnan, GA, to study at the Southern School of Telegraphy. By the following June, he had completed his schooling and was working in South Cumberland, MD. Later that year, in November, he had moved again, back home to Mill Run. Envelopes postmarked in his early adult years show him living in Bidwell, Ohiopyle, Confluence, Ursina, Rockwood and Uniontown, PA.
Railroad work for Ellsworth was not always steady, though later, when he got some seniority, his work became more steady. He records in his 1919 diary that he was "Not working. Laid off."
In his diary for August 1921, he wrote: "Layed off as usual." In June 1919, he wrote: "Decided since I am bumped will take vacation." Entries for the next week included: "Went to see Mrs. Smiths House. Up in town, rented it at $6 a month…. Stayed with Grandma Steyer last night. Papa came today at noon to take us up Home. At my old home at Maple Summit today for a good old visit…. Just having a good old time…. At Sunday School in AM & prayer meeting in evening at old home church. Surely Enjoyed myself all day…. At Papa's. Papa plowed patch for us and in PM Jennie & I planted it…. Vacation over. Feeling fine & fit for work."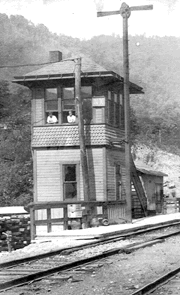 B&O Railroad depot, Bidwell
Railroad telegraphy of that day required skill, concentration and stamina. In August 1919, Ellsworth spent a "Heavy day on B&O. 10 trains Derailed." He had to have been busy that day transmitting messages back and forth from the wreck site to B&O management and customers.
Ellsworth appears to have had an occasional case of wanderlust. In 1908, he seriously considered relocating with Jennie to Salt Lake City, where his uncle Solomon S. Linderman was living. The uncle wrote to Ellsworth, describing the busy-ness of city life, the healthy climate and good wages. But they never made the move. In the spring of 1911, Ellsworth traveled to Pinellas Park, FL, to evaluate farm properties. In a letter to Jennie, he wrote: "I am liking the place better every day that I am hear and I think that I will own one of these farms before I come home." He purchased 10 acres of farmland, in Pinellas Park, near what is now Tampa-St. Petersburg, though he ultimately returned to Pennsylvania.
Ellsworth and Jennie exchanged love letters while he was away at school or for work. In 1904, she gushed: "You can not guess how happy I were to learn you are better contented and going to stand by your task and Darling since you are going to act to manly and stand by your school I will promis you I am willing to spend Xmas with you for I know the Dear Lord will be willing for us to do so."
Yet his long absences from home had to have taken a toll. In a 1912 letter, Ellsworth's father wrote: "Hope you will be satisfied at your job for a period at least. I am sure it is not a pleasant thing to be a way from home so much but perhaps that thing will not always last. Remember that if we put our trust in God he will manage our financial as well as our spiritual affairs."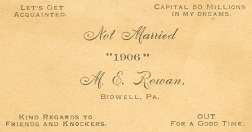 Humorous business card, 1906
Jennie and Ellsworth are mentioned in the 1912 book by John W. Jordan and James Hadden, Genealogical and Personal History of Fayette and Greene Counties.
In 1929-1930, Ellsworth and Rev. H.E. Miller, the local Methodist Episcopal preacher, bought the New Enterprise Press, a printing press and print shop in Fairchance. Ellsworth did the typesetting and printing, usually after getting home from railroad work on weekends, working until the wee hours of Sunday morning getting the church newspaper ready. Ellsworth is mentioned in the 1989 book Fairchance Through the Years, which said that "New Enterprise printed business and social stationary, legal and other blank forms, as well as church bulletins, newsletters, and tickets for schools and businesses."
In 1918, Ellsworth and Jennie moved to the Uniontown area. He worked at Mt. Braddock, then moved to Smithfield, where they rented from "Mrs. Smith" for $6 per month. They were very religious and active at both the Maple Summit Church of God and the Fairchance Free Methodist Church. He helped lead the Men's Bible Class in Fairchance. Good-hearted, and eager to help others, he once "Bought some groceries for a poor family near us" in the dead of winter. In an age when alcoholic beverages were outlawed, he once attended a church service where he "Heard Anti-Saloon man."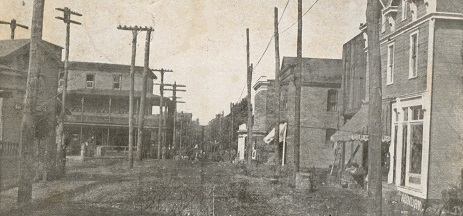 Fairchance's unpaved Church Street, looking west from Main Street
Ellsworth also enjoyed writing to his parents and recorded in his diary when he "Got [a] letter from Papa & Mama." He and his cousin Annie (Linderman) Sisler were pen pals, though they had never met, because she lived in Colorado. In a 1906 letter, she wrote: "Wouldn't it be dreadful if we should meet and did not like each other. Although, in this age they say nothing is impossible, I know that would be, cause I just know I would love you the minute I saw you…. I wish with all my heart, and mamma extends an invitation to your mother and father to come out here. They will receive a hearty welcome, and have a dandy time."
He also loved the beauty of nature, and working outdoors. In March 1919, he wrote in his diary that he "Had baby & Girls out for walk this AM and found 1st bunch of Posies of year." Later, in June, "Papa & I took our lunch & went to Big Sandy run to fish but caught nothing." Notes during the year show he enjoyed picking and peeling peaches, plums and pears, and gathering cabbage and turnips. He also made sauerkraut. His father once wrote: "I look back over our months we worked to gether with a degree of delite when you were plowing corn and we working in the hay and when you moved and we slept under the waggon…."
On Aug. 17, 1946, after 40 years of marriage, Jennie was stricken with a cerebral hemorrhage and died at the age of 62 years, nine months. With Rev. W.G. Birdsell officiating at funeral services at the Free Methodist Church, her remains then were lowered into eternal repose in the Mt. Moriah Baptist Cemetery in Smithfield.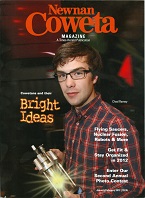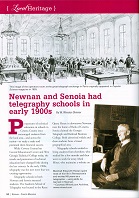 Article picturing Ellsworth, Newnan Coweta Magazine, Jan.-Feb. 2012.
For the last years of his life, Ellsworth resided at R.D.4, Uniontown, and was stationed in the B&O office in the coal mining patch town of Oliver, Fayette County. He suffered during that time from hypertension and hardening of the arteries.
He was felled by a heart failure and died at the age of 67 on June 8, 1953 at home in Uniontown. He was buried beside his beloved Jennie at Smithfield Baptist Cemetery.
Ellsworth's story, posted on Minerd.com in 2001, was told again in January 2012 by a community magazine in Newnan, GA, where he had attended telegraphy school. In its article "Newnan and Senoia Had Telegraphy Schools in Early 1900s," author W. Winston Skinner of Georgia's Newnan Coweta Magazine used content from this biography to illustrate a story about the Southern School of Telegraphy. The illustrations include a photo of Rowan, seated in the telegraph office of the Baltimore & Ohio Railroad in Bidwell, Fayette County, PA, and a worksheet from the school with some of Rowan's handwritten notes.
~ Daughter Lela (Rowan) Jordan ~
Daughter Lela Rowan (1908-1993) was born in about 1908.
On Oct. 12, 1929, in nuptials held in the parsonage of the Methodist Episcopal Church in Fairchance, she was united in matrimony with William A. Jordan (1912-1990), son of Arley Jordan of Fairchance, Fayette County. Rev. Harry E. Miller presided.
The couple bore two known children, Wilbert "Don" Jordan and Dolores Ostrander.
They resided in Smithfield and were members of the Oliver No. 3 mission church, where Lela helped organize the church's "Singspiration" event. Circa 1940, William supported the family through his work as a laborer for a road contractor.
William died in 1990.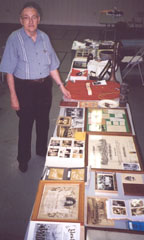 Wilbert Don Jordan, 2000
Lela survived him by three years and joined him in death in 1993. Burial was in Mt. Moriah Baptist Church Cemetery in Smithfield.
Son Wilbert "Don" Jordan (1930-2003) was born on May 27, 1930 in Fairchance, Fayette County. He married Lela "Vietta" Noakes (March 5, 1930-2022), daughter of John "Austin" and Pearl (Carr) Noakes of Fairchance. The couple's union endured for a remarkable 52 years. Together, they produced a family of eight children -- Barbara "Janie" Carter, Wilbert Charles Jordan, Marshall Jordan, Penny Vadadi, Christine Murin, Lorie Davis, Carolyn Jordan and Craig Jordan. The family made a longtime home in Fairchance. For 34 years, Wilbert was employed by Thorofare Super Market until his retirement. He also was an active volunteer for decades with the Pennsylvania Room of the Uniontown Public Library. In her own right, reported the Uniontown Herald-Standard, Vietta "was a lifelong member of the Hopwood Free Methodist Church. She also loved reading, listening to music, puzzles, enjoying nature from her porch, viewing wildlife on her rides and a fan of everything Bigfoot."

Buzz Storey column, Uniontown
Wilbert once was dubbed as "the walking encyclopedia of Fairchance history" by legendary newspaper columnist Walter "Buzz" Storey of the Herald-Standard. His extensive collections of books, papers, photographs and other artifact materials pertaining to the Smithfield and Fairchance areas of Fayette County were displayed in impressive fashion at Smithfield's "Celebrate the Centuries" event in June 2000. Wilbert's archives and incredible memory for detail have contributed enormously to our understanding of this branch of the family. Sadly, he passed away at the age of 72 on Feb. 6, 2003 while a patient at the University of Pittsburgh Medical Center. An obituary noted that he was survived by 11 grandchildren. Rev. William J. Moull officiated at the funeral service in Trinity United Presbyterian Church in Uniontown. with interment in Mt. Moriah Baptist Church Cemetery. Wilbert graciously and generously contributed significant amounts of material for this website and often called the site's founder just to talk. An unforgettable, original personality, and a unique community treasure, he is deeply missed. Vietta outlived her spouse by a little more than 19 years and remained in Fairchance. Death swept her away at age 91 on March 2, 2022. Pastor Charlie O'Brien led the funeral service, with burial at Mt. Moriah. The Herald-Standard published an obituary.
Granddaughter

Barbara "Janie" Jordan married William Carter.

Their home in 2003 was in Woodbridge, VA and in 2022 in Manassas, VA.
Grandson Wilbert Charles Jordan

remained in Fairchance. He wed Brenda.
Grandson Marshall "Marty" Jordan

wedded Virginia (?). They established a residence in Hampton, VA. Later, he entered into marriage with Linda and continued to dwell in Hampton.
Granddaughter Penny Jordan was joined in wedlock with Alan Vadadi

. They dwelled in Potomac, MD. She is known to have made a home in 2022 in Alexandria, VA.
Granddaughter Christine Jordan was joined in holy wedlock with Kenneth Murin.

They resided in Harrisburg, Dauphin County, PA. By 2022, they returned to her native Fayette County and put down roots in Connellsville.
Granddaughter Lorie Jordan was united in matrimony with J. Kirby Davis.

The Davises made a home in Dallas, TX. She relocated back to Uniontown, PA and was there in 2022.
Granddaughter Carolyn Jordan

at one time resided in Fairchance. She was united in matrimony with Patrick Cooper ( ? - ? ). Their residence in 2022 was in Brownsville, PA.
Grandson Craig Jordan

has lived for many years in Fairchance.
Daughter Dolores Jordan (1935- ? ) was born in about 1935. She wedded (?) Ostrander ( ? - ? ). Dolores' home in 2003 was in McKeesport, near Pittsburgh.
~ Daughter Bernadine (Rowan) Smith ~
Daughter Bernadine Rowan (1912-1982) was born in 1912.
She married John J. Smith (Feb. 1, 1902-1955), son of James and Mary I. (Murray) Smith of Smithfield, Fayette County. She was a decade younger than her husband.
One known son was born to this union, John Richard Smith.
They made their home in Smithfield, where John earned a living in 1940 as a truck driver for a road contracting firm.
In the late 1930s, Bernadine served as secretary of the Senior B.Y.P.U. of the Mt. Moriah Baptist Church.
John also was a machinist by trade. He was unemployed in the mid-1950s.
For many years, John endured a host of heart problems. The condition worsened with a buildup of fluids and electrolytes and he died from their effects at the age of 53 on June 7, 1955.
The widowed Bernadine made her home on Duck Hollow Road in Uniontown in 1975. She was gathered in by the Grim Reaper in 1982. She and John are in eternal rest in Mt. Moriah Baptist Church Cemetery in Smithfield.
Son John Richard Smith (1934-1975) was born in about 1934. He married Jenny Wood ( ? - ? ) and relocated to Olivehurst, CA. Their three offspring were Aaron Smith, Rebecca Smith and Teresa Smith. Tragically, while on vacation in The Netherlands in 1974, he suffered a heart attack and passed away. News was printed in his old hometown newspaper, the Uniontown Evening Standard.
~ Daughter Ila Marie (Rowan) Price ~
Daughter Ila Marie Rowan (1914-2006) was born on Jan. 23, 1914.
She married Charles W. Price (Dec. 2, 1923-1975).
They did not reproduce.
Said the Herald-Standard, Ila "was a member of the Oliver No. 3 mission church where she served as organist and at times played the guitar during services." Her sister Evelyn is known to have been a pianist in the church services.
Grief blanketed Ila Marie when her husband died on June 22, 1975 at the age of 52.
She passed away in Uniontown on Jan. 27, 2006. She was laid to rest next to Charles at Mount Moriah Baptist Church Cemetery.
~ Daughter Jennie "Evelyn" (Rowan) Kremer ~
Daughter Jennie "Evelyn" Rowan (1918- ? ) was born in about 1918.
On March 31, 1952, when she was age 33, she was joined in holy wedlock with John "Merle" Kremer ( ? - ? ), son of Thomas Kremer of Smithfield. The nuptials were held in the Fairchance Free Methodist Church, in the form of a candlelight ceremony led by Rev. Clair S. Richardson and Rev. Howard Van Valin. A related story in the Uniontown Evening Standard reported that she wore "an ivory satin gown, featuring a sheer yoke Chantilly lace trimming. Her fingertip veil, edged with lace, was held in place by a tiara of seed pearls. She carried a cascade bouquet of white roses and gardenias."
Merle was a veteran of World War II, with deployment in Italy and Africa. At the time of marriage, he was employed in Aliquippa, PA by Jones and Laughlin Steel Company.
The couple bore two known daughters, Cheryl Diane "Cherie" Krember and Cynthia Dawn "Cindy" Kremer.
Their address circa 1960 was at 1213 Irwin Street in Aliquippa's Plan 12.
Daughter Cheryl Diane "Cherie" Kremer (1954- ? ) was born in 1954. At her sixth birthday, she was pictured in the Uniontown Evening Standard. She wedded Roger Jordan ( ? - ? ).
Daughter Cynthia Dawn "Cindy" Kremer (1956- ? ) was born on Aug. 22, 1956 in Uniontown. She grew up in Aliquippa, Beaver County, PA. In 1974, she was valedictorian of Aliquippa High School and received honors from the Aliquippa Chapter of the Business and Professional Women's Club and the Beaver County Chapter of the National Secretaries Association. She also won the George Polivina Fund Scholarship "given annually to the top senior scholar at Aliquippa High School," said the Uniontown Evening Standard. Circa 1985, Cynthia was joined in marriage with Brad Leech ( ? -living), son of William and Margaret P. Leech. Their marriage endured for 34 years until cleaved apart by death. They made a home in Springhill Township, Lake Lynn, PA and bore two children -- Jennifer "Jenny" Packroni and Jason Leech. Cynthia was employed as a secretary at Smithfield Elementary School, part of the Albert Gallatin School System. She was a member of Mount Moriah Baptist Church in Smithfield and liked to cook and cultivate her flower garden. Sadly, Cynthia died at home at the age of 62 on Feb. 20, 2019. Rev. Darrel Edgar and Rev. Jay Hurley officiated at the funeral service, with interment in her church's cemetery.
Granddaughter

Jennifer "Jenny" Leech married Jonathan Packroni.
Copyright © 2001, 2003, 2006, 2009, 2011-2012, 2020, 2022 Mark A. Miner
Barkeyville Academy sketch from History of the Churches of God in the United States