Pearl (Stairs) Hence
Sines Sonavec
(1904-1977)
Pearl Nora (Stairs) Hence Sines Sonavec was born on Nov. 24, 1904 in Mount Pleasant, Westmoreland County, PA, the daughter of Lehman G. and Mattie (Minerd) Stairs. She and her brother Earl were twins, and their names rhymed.
Pearl apparently gave birth to a son in 1919 with a man named Hence (or "Hense").
The boy was given the name "William Hence."
The 1920 U.S. Census shows Pearl living at home with her parents. The son's location that year is not known.
In 1925, Pearl married Theodore Sines (1899- ? ). Nothing about him is known.
Pearl bore another son, Edward Lee Stairs, in 1926.
By 1930, when she was age 25, Pearl was widowed, using the name "Hense" and living with her parents and 11-year-old son William on Diamond Street in Mount Pleasant. The whereabouts of son Edward that year are not known.
Main Street in Mount Pleasant
In September 1931, Pearl is known to have attended a 25th wedding anniversary reception for her cousin Alvin P. Thurston in Mount Pleasant. She was a member of Trinity United Methodist Church of Mount Pleasant.
When the federal census enumeration was made in 1940, Pearl and her son Edward lived with Pearl's twin brother Earl Stairs in Mount Pleasant. That year, she used the name "Stairs."
Later, on Dec. 10, 1942, at the age of 38, Pearl married 24-year-old Jacob Sonavec (July 26, 1918-1974), son of Joseph and Mary Sonavec of Dawson, Fayette County. A U.S. Army veteran of World War II, he was a police officer, and was some 14 years younger than his bride. Their address in the early 1970s was 22 North Shupe Street in Mount Pleasant.
Jacob died at the age of 55 in Frick Community Hospital on June 30, 1974. Burial was in the Mount Pleasant Cemetery.
Pearl outlived him by three years, and dwelled on Smithfield Street in Mount Pleasant. At the age of 72, she passed away at Frick Community Hospital in Mount Pleasant on Nov. 1, 1977. An obituary was published in the Connellsville Daily Courier.
~ Son William Hence ~
Son William Hence/Hense (1919-1985) was born in 1919.
At the age of 11, in 1930, William and his mother resided in the home of her parents in Mount Pleasant.
His fate is not known, but he is believed to have been deceased by 1974.
~ Son Edward Lee Stairs ~
Son Edward Lee Stairs (1926-1985) was born on March 26, 1926 in Greensburg, Westmoreland County, PA.
He and his widowed mother resided together in 1940 with Edward's uncle Earl Stairs in Mount Pleasant. He was a 1941 alumnus of Ramsay High School and attended Pittsburgh's Shakespeare Auto Diesel School.
Edward served in the U.S. Navy for 19 months during World War II, stationed in the South Pacific. Among the vessels to which he was assigned were USS LST 568 and RS Navy 128. Later, after the war, he secured a job with the newly formed Penn-Scott Foundries in Scottdale and joined the Mount Pleasant American Legion post.
On Nov. 13, 1948, at the age of about 22, he was married to Gertrude Ann "Trudi" Banaszak (1926-2008), daughter of Joseph Banaszak of 110 Maple Street in Everson. The nuptials were held at St. Joseph's Roman Catholic Church at Everson, with Rev. Anthony J. Politowski officiating, and with Sister Mary Fidelis and Sister Mary Sophia providing music. News of the wedding was published in the Connellsville Daily Courier, which noted that "quiet simplicity marked the marriage" ceremony.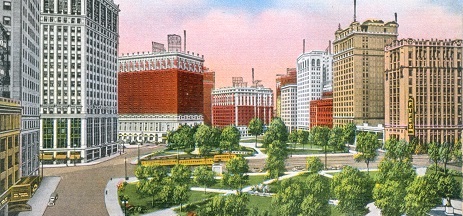 Downtown Detroit, Michigan
Gertrude was a 1943 graduate of Scottdale High School. Prior to marriage, she was employed by the Scottdale Independent Observer as society editor.
The couple relocated to Detroit by 1949, with Edward securing a job as a mail clerk with the U.S. Post Office. In 1952, their addresses were 8002 Burdeno and 2058 Hazelwood Avenue.
They produced three children, among them Jerome Anthony Stairs, Kathryn Eileen Howard and Aloysia "Yvonne" Hicks Tadajewski.
Sadly, Edward passed away on March 20, 1985. A death notice in the Detroit Free Press reported that funeral services were held at St. Gabriel Catholic Church. Burial was in Holy Cross Catholic Cemetery.
Gertrude outlived her spouse by 23 years and made her home in Dearborn Heights. She succumbed at the age of 83 on Dec. 5, 2008. Her funeral service, according to the Free Press, was held at St. John the Baptist Roman Catholic Church.
Son Jerome Anthony Stairs (1944-2019) was born on Aug. 11, 1944. He was joined in wedlock with Mary ( ? - ? ). They bore one daughter, Jennifer Stairs. The family lived in Detroit. Jerome is believed to have been employed by Ford Motor Company but was laid off circa 1983. He may then have been hired as an engineer by General Motors. He was quoted in a Detroit Free Press story about General Motors layoffs in December 1991. Sadly, Jerome died on Apil 21, 2019.
Daughter Kathryn Eileen Stairs (1949-2011) was born on Sept. 19, 1949 in Detroit. She married (?) Howard ( ? - ? ). Her home in the early 2010s was in Dearborn Heights, MI. Death enveloped her on Oct. 6, 2011.
Daughter Aloysia "Yvonne" Stairs (1952-living) is believed to have been born in 1952 in Detroit. By 1985, she was wedded to (?) Hicks ( ? - ? ). One son born to the couple was Jason "Jay" Hicks. At the death of her mother in 2008, she had married again to Thomas Tadajewski ( ? - ? ). They have resided in Sterling Heights, MI. Yvonne is believed to have been employed in Detroit as an administrative assistant with the Bank of America, U.S. Trust, and to have volunteered with the Hope United Church of Christ.
Copyright © 2001, 2003-2004, 2018, 2023 Mark A. Miner