Eleanor Frances
(Stillman) Davidson
(1872- ? )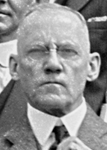 Isham G. Davidson
Eleanor Frances Stillman was born in 1872 in Fulton County, IL, the daughter of Henry B. and Ellen Amaret (Miner) Stillman. Her husband, seen here, was an insurance industry executive and a student of Illinois history.
On June 5, 1895, when Frances was age 23, she married 35-year-old Isham "Gaylord" Davidson Sr. (1860-1956) in Fulton County. The bride was a dozen years younger than the groom.
Gaylord was born on Dec. 10, 1860 in Havana, Fulton County, the son of James Monroe and Susannah Candace (Springer) Davidson, and grew up in a literate, spiritual household.

Gaylord's father,
newspaper editor
James M. Davidson
The father was considered a "pioneer country editor" of newspapers, reported an 1888 article in the St. Louis Republic. He "started his newspaper career as a boy of 10," said the book, The Scarritt Clan in America, Vol. I, authored by Ralph E. Pearson. Continuing to describe the father, the book said:
At 17 he was editing and publishing small papers, at 20 had charge of a paper at Canton, Illinois. In 1855 he founded the "Fulton Democrat" at Lewistown, Illinois, selling it to his brother, W.T. Davidson two years later... J.M.D. published the "Squatter Sovereign" at Havana, Illinois, then sold it in 1861 and in 1863 bought the "Carthage Republican" at Carthage, Illinois. It is still owned and published by his children.
Gaylord's mother was "a remarkable woman, deeply spiritual, keenly intelligent, uncritical, tender-hearted, a perfect wife and mother," said the Scarritt Clan. "She was a wide reader and shared her spiritual and mental treasures with her family. Daily family prayers and daily reading aloud were part of the home life."
Gaylord and Ella shared an uncle, William Taylor "W.T." Davidson, editor of the Fulton Democrat newspaper. (W.T. married Frances' aunt, Lucinda Miner.) As a young man, in 1890, Gaylord assisted his father with the Republican, and circa 1894-1895, he and his brother Henry filled in for uncle W.T. in running the Democrat.
Ella and Gaylord went on to have five sons -- Gaylord Stillman Davidson, John Dempster Davidson, Donald Miner Davidson Sr., Robert Springer Davidson and Edward Jordan Davidson. Sadly, son Robert died in 1905 at about the age of one.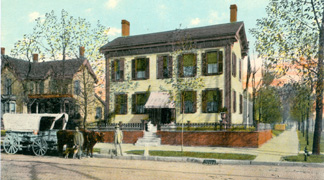 The Abraham Lincoln home in Springfield, appearing as the Davidsons would have seen and known it.
After the death of Frances' paternal grandmother Hannah Stillman in Elmwood, Peoria County, IL in January 1883, Frances learned that she was to inherit $2,000 under the terms of the will from funds on deposit at Heald's National Bank in Canton, Fulton County. She was to receive the inheritance on July 1, 1895, when Frances reached the age of 21. The funds were held in trust for her by her aunt Mary E. (Stillman) Barber during the ensuing dozen years, but upon receiving the payout, Frances was dismayed to see that no interest was included. Frances filed a legal complaint against the aunt, who in turn claimed that at the time of the payout, "it was as a gratuity, and out of her own means and not from any trust funds received from the estate of Hannah Stillman..." In the legal proceeding, the Circuit Court of Fulton County ruled on Frances' behalf. The case was appealed to the Third District of the Appellate Court of Illinois. In its ruling on the case in November 1897, the appellate court found that "there was 'not] any money on deposit in Heald's National Bank, belonging to Hannah Stillman, at the time of her death; and consequently there was no such fund as the will provided, out of which [Frances] could have received the $2,000..."
Book printing Gaylord's poems
The 1900 census of Carthage, Hancock County, IL, shows the Davidsons with their son Gaylord Jr., and mother Ella Holt, living together. Gaylord Sr. was employed in 1900 as an "insurance man."
When the 1910 census was taken, the family was in Springfield, Sangamon County, IL, with Gaylord Sr. shown as manager of a life insurance company. In January 1911, he was elected president of the Life Underwriters' Association of Springfield, Illinois, with his name published in Hayden's Annual Cyclopedia of Insurance (1910-1911). The trade journals American Underwriter and The Weekly Underwriter carried news items in January 1916 that Gaylord, formerly manager of Mutual Life of New York for Central Illinois, had joined Union Central for Central and Western Illinois, "and will cultivate that field for the Union Central from Springfield." Circa 1902, when their son Donald was born, they resided in Quincy, Adams County, IL.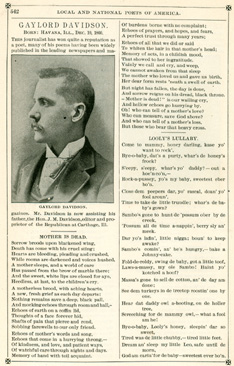 Gaylord's page, Local and National Poets
Gaylord was an accomplished poet. Two of his best works -- "Mother Is Dead" and "Looly's Lullaby" -- were published in the 1890 book, Local and National Poets of America, compiled by Thomas W. Herringshaw. Certainly unknown to him was that two of his wife's distant cousins also published poems in the same volume -- Allen Edward Harbaugh, a cobbler of of Mill Run, Fayette County, PA; and S. Isadore Miner, soon to be ex-wife of James Weston Miner of Battle Creek, MI. In a brief profile of Gaylord in the book -- seen here -- Herringshaw writes: "This journalist has won quite a reputation as a poet, many of his poems having been widely published in the leading newspapers and magazines. Mr. Davidson is now assisting his father, the Hon. J.M. Davidson, editor and proprietor of the Republican at Carthage, Ill."
With a background in newspaper reporting and editing, Gaylord also often submitted essays to the National Association of Life Underwriters for its annual Calef Loving Cup competition. In 1908, he received an honorable mention for one of his pieces, and was recognized in the association's book, Proceedings of the Nineteenth Annual Convention of the National Association of Life Underwriters.
Frances loved birds, and in 1912, was elected as an associate of the American Ornithologists' Union at its 30th stated meeting in Cambridge, MA. She also belonged to the Wilson Ornithological Club of Oberlin, OH. She was "close friends" with Ruth Eddy Keyes, an associate of the AOU and an active member of the Minneapolis Audubon Society, and the connection is mentioned in the 1954 book, Biographies of Members of the American Ornithologists' Union.
Reflecting an interest in history, Frances was a member of the Daughters of the American Revolution (ID no. 112849), as a great-great-great granddaughter of James Jordan, who served in Capt. Abner Lowell's company in Falmouth, ME in 1776.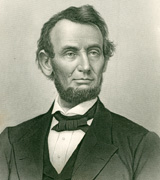 Abraham Lincoln
Having been born the year of President Abraham Lincoln's first inauguration, and hearing firsthand stories about Lincoln from his uncle William T. Davidson who as a journalist had tracked Lincoln's career closely, Gaylord absorbed his own interest in "Honest Abe." He was a life member of The Lincoln Centennial Association. He is listed in a special association list inserted into the 1914 book, The Every-Day Life of Abraham Lincoln, authored by Francis Fisher Browne, and a similar list tipped into "The Lincoln Douglas Debates of 1858," published in 1911 in the Collections of the Illinois State Historical Library, Vol. III, Lincoln Series, Vol. 1. The books apparently were distributed to Association members for special anniversary dinners.
In April 1922, Gaylord traveled to Washington, DC to take part in a ceremony marking the formal return of an old captured Civil War regiment banner from the state of Illinois to the state of Tennessee. The presentation coincided with the unveiling of the Ulysses S. Grant Memorial in Washington, DC, and was made at the office of Illinois Senator William B. McKinley. Photographs of Gaylord holding the battle flag were taken, one appearing in the Memphis Commercial Appeal, and the other housed today in the Library of Congress. Others pictured with Gaylord are W.C. Galloway, Commander of the Army of Northern Virginia, Confederate Veterans; Senator McKinley; Senator Kenneth McKellar of Tennessee; and Wade H. Cooper representing Tennessee Governor Alfred A. Taylor.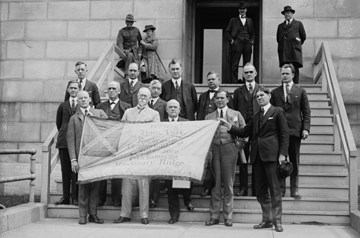 Gaylord Davidson, front, far left, at a 1922 ceremony returning an old Civil War battle flag from Illinois to Tennessee.
In 1920, the census shows the Davidsons living in Springfield on West Jackson, with Gaylord Sr. employed as agency manager for an insurance company. Circa 1926, he served as an officer of Western Reserve Life Insurance Company, with responsibility as superintendent of agencies.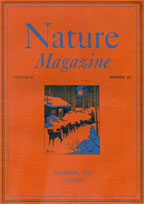 Magazine printing Gaylord's poem
Sometime during the 1920s, Frances and Gaylord and their four sons moved to Minnesota, making their home in Minneapolis, Hennepin County. The 1930 census shows their residence on Dupont Avenue South, with Gaylord retired, and son Gaylord as head of the household.
One of Gaylord's poems was published in the December 1952 edition of Nature Magazine, seen here. The eight-line work of poetry was entitled "Lone Gull in Storm," and appeared on page 539. It is not known when Gaylord would have penned or submitted this poem for publication, but its topic and the magazine's theme fit with Frances' interest in birds and the world of nature.
The Davidsons were still living at the time of publication of Ralph Emerson Pearson's 1948 book, The History of the Scarritt Clan in America, and are mentioned in the volume. At the time their home was at 4700 Emerson Avenue South in Minneapolis.
Gaylord died in Minneapolis at the age of 95 on March 23, 1956.
Frances' fate remains unknown for now.
We hope that more research will identify this vital information, and their final resting place.
Some of Gaylord's early newspaper writings are posted today on the website "Uncle Dale's Readings in Early Mormon History." These include miscellaneous St. Louis newspapers [link] and Quincy newspapers [link].

Gaylord's eight-line poem published in Nature Magazine, 1952
~ Son Gaylord Stillman Davidson, CPA ~
Son Gaylord Stillman Davidson, CPA (1896-1974) was born on May 1, 1896 at Carthage, IL. He married Norma Damuth (1906-1975) in 1945, when he was age 49, and she 39.
Gaylord obtained his bachelor of arts degree in 1918 from the University of Illinois. During World War I, he served as first lieutenant with the Headquarters, First Battalion of the 341st Infantry.
He became a certified public accountant, joining the firm of J.K. Raglan Co. of Minneapolis, where he rose to become a partner. (Founder John K. Raglan's wife, Sarah R. Davidson [1879-1936], may have been a relative.) In his accounting practice, Gaylord represented clients before the U.S. Board of Tax Appeals and public utility companies before the Federal Trade Commission. In about 1940, he joined Northern Pump Company and Northern Ordnance, Inc., as vice president and treasurer, with an office at Columbia Heights Station in Minneapolis. He was a member of the American Institute of Certified Public Accountants (AICPA, joining in 1926) and the Minnesota Society of CPAs.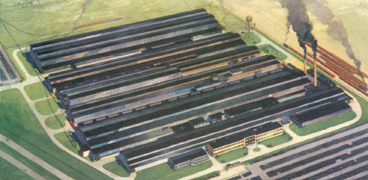 Sprawling manufacturing plant of Northern Pump in Minneapolis, billed as the "world's finest machine shop."
During the 1940s, Gaylord relocated to Northern Pump's offices in Tulsa, OK, to supervise operations, and was mentioned in a related article in the Oil & Gas Journal. Later, the Davidsons returned to Minneapolis, making their home circa 1948 in the Fair Oaks Apartments at 2423 Third Avenue in South Minneapolis.
At the age of 52, he applied for membership in the Sons of the American Revolution. The application was based on the service of his fourth-great grandfather, James Jordan (1746-1813) who served in Falmouth, Maine, in Capt. Abner Lowell's company.
Gaylord passed away in the Minneapolis area in December 1974, at the age of 78.
Norma outlived him by less than a year. She died in October 1975.

St. Anthony Falls in Minneapolis, a well-known local landmark
~ Son John Dempster Davidson ~

Book naming John
Son John Dempster Davidson (1900- ? ) was born in 1900.
He married Cathryn Hillstrom ( ? - ? ) in 1940, when he was 40 years of age.
John studied electrical engineering at the University of Illinois' Urbana-Champaign campus circa 1920. He was a salesman for Bell Telephone in 1930, when he resided with his brothers and parents in Minneapolis.
Circa 1938, according to the Scarritt Clan, John was employed "in electrical supplies business" in Memphis, TN. By about 1948, he served as manager of the heavy appliance section of Goldsmith's Department Store. That year, he and Cathryn made their home at 250 North Auburndale in Memphis.
The Davidsons made their home in Memphis at 250 North Auburndale.

Donald Sr.
~ Son Donald Miner Davidson, Sr. ~
Son Donald Miner Davidson Sr. (1902-1960) was an internationally renowned geologist and mining engineer in Africa, Europe and the United States who rose to become president of the E.J. Longyear Company and was inducted in 2002 into the National Mining Hall of Fame. Donald is mentioned in many Who's Who volumes for his stature in the profession, and authored or is cited in many technical articles in industry publications. Mining Engineering magazine once quoted his over-arching belief that "attitudes are more important than techniques, that people are more important than rocks."
He is one of many hundreds in the extended Minerd-Minard-Miner-Minor to work in the mining and metals industries over the past two centuries.
In 1937, when he was age 35, Donald married Bernadine Dunn ( ? - ? ), the daughter of E.O. and Jessica Dunn of Superior, WI. They had one son, Donald Miner Davidson, Jr. Circa 1948, they resided at 4438 West Lake Harriet Boulevard in Minneapolis.
Donald obtained three degrees in geology, all from the University of Minnesota -- bachelor of arts, magna cum laude (1925), master's of science (1926) and Ph.D. (1928). He began his career with England's Selection Trust, Ltd., assigned to the Cental Africa's copper belt which included the mines of Roan Antelope, Chambishi and Mufulira. He remained in Africa for 11 years, becoming chief geologist and senior engineer, but was recalled to the United States just before the outbreak of World War II.
Sample of Donald's Technical Articles Published in Economic Geology
| | | |
| --- | --- | --- |
| | | |
| Geology and Ore Deposits of Chambishi, Northern Rhodesia" (1931) | "Notes on the Ilmenite Deposit at Piney River, Virginia" (1946) | "Human Relationships in Future Mineral Procurement" (1954) |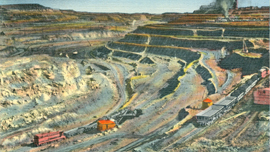 Minnesota's Mesabi mining range
In 1940, Donald was hired by the Longyear Company (which today is Boart Longyear, a provider of drilling services and products to the minerals industry). During the 1940s and '50s, he led explorations seeking lead, zinc and gold in the Near East, Far East and Europe, as well as Canada, New York State and Colorado. His hall of fame biography states that "In the years from 1945 to 1960, he logged more than 1 million travel miles in propeller aircraft."
Seen here is one of the massive, terraced open pit iron ore mines in Northern Minnesota's Mesabi iron range, at Hibbing. Opened in 1896, the mine generated more than 361 million tons of ore, including during World War II, in the year 1944, when it produced 20 million tons of ore, helping the nation to meet the military's extraordinary need for metal.
One of Donald's most ambitious efforts, according to a Boart Longyear company history, was a joint venture with Kennecott Copper and Calumet and Hecla Copper Company in the 1940s. The companies sought unsuccessfully to drill through gravel and lava in Eureka, Utah to extract underlying mineral deposits. He also helped produce a first-ever accurate survey and map in the 1950s of the geological resources of Angola and Mozambique.
In 1958, Donald was named president of the Longyear company and of Canadian Longyear Limited of North Bay, Ontario.

Donald's entry in the MMSA Biographies of Members, 1957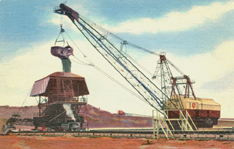 Mesabi iron range earth mover
Seen here, one of the world's largest earth-moving machines removes "overburden" in the Mesabi iron range at Hibbing, MN, to clear the way to expose and mine the ore reserves. The drag-line machine places the removed topsoil and rock onto a conveyor belt which transported the materials to a dump site some mile and a half away.
Active in the profession, Donald was appointed to the President's Materials Policy Commission in the 1950s to research the potential for the United States to face raw materials shortages. He also served with the National Minerals Advisory Council, as president of the Society of Economic Geologists (1953-1954), and in consulting roles with the U.S. Atomic Energy Commission, U.S. Bureau of Mines, U.S. Corps of Engineers and U.S. Geological Survey Secretary's Service Committee. He also was a visiting lecturer on mining and geology at Columbia University, the University of Minnesota and the War College.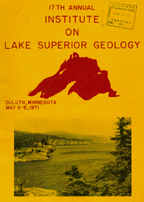 One of Don Jr.'s events
Sadly, on Sept. 15, 1960, at the age of 58, Donald died in his sleep at home. Just a few weeks earlier, he had completed a trip around the world on consulting business for Longyear. As an appreciation, Robert D. Longyear published a eulogy in the December 1960 edition of the Mining and Metallurgical Society of America Bulletin.
Following in his father's footsteps, son Donald Miner Davidson Jr. pursued a career in the geology of iron ores, and received a prestigious award in 2003 from the Society of Economic Geologists. He obtained his Ph.D. from Columbia University in 1965 and accepted a position on the faculty of the University of Minnesota at Duluth, where he spent a 14-year career. During this time, he worked closely with his good friend, Ralph W. Marsden, considered "a premier expert on the geology of iron ores."
He was active in organizing professional and technical seminars and conferences, including the Annual Institute on Lake Superior Geology. (Seen here is the cover of the 1971 AILSG conference, held at Duluth.)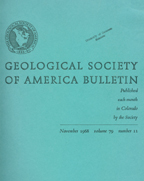 Don edited this publication
Among the articles Donald Jr. authored over the years was "Uranium-Bearing Veins in Plateau Strata, Kane Creek, Utah," with co-author Paul F. Kerr of Columbia University, published in the November 1968 edition of the Geological Society of America Bulletin (seen here).
Donald Jr. was elected to membership in the the SEG and appointed to its board of directors in 1976, as well as being named business editor of its Economic Geology Publishing Company (PUBCO), which produced its Bulletin publication.
From 1994 to 1999, Donald Jr. served as executive director of the Geological Society of America, based in Boulder, CO. His name appeared on each monthly edition of the society's newsletter, GSA Today.
In 2003, Donald Jr. was named the recipient of SEG's Ralph W. Marsden Award for "outstanding service to the society."
~ Son Edward J. Davidson ~
Son Edward Jordan Davidson (1906- ? ) was named in part for his great-grandmother, Myra (Jordan) Miner.
Like his brother Gaylord, Edward was an accountant in Minneapolis circa 1930. Circa 1938, said the Scarritt Clan, he was employed with the Minneapolis office of Chicago-based brokerage firm Harris, Burrows & Hicks. The firm was registered with the New York Stock Exchange and earlier had been known as Scott Burrows & Christie.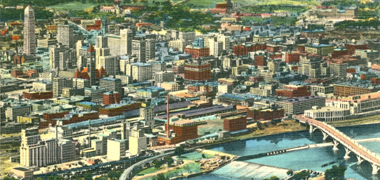 Aerial view of the heart of downtown Minneapolis
In about 1948, when volume II of the Scarritt Clan history was published, Edward was vice president of Mayflower Air-Conditioners, Inc., of St. Paul. That year, he was unmarried and resided with his parents at 4700 Emerson Avenue in South Minneapolis.
Nothing more about Edward is known at present, but will be researched.
Copyright © 2007-2012 Mark A. Miner.
Photo of the Illinois/Tennessee battle flag presentation courtesy of the Library of Congress American Memory Project. Portrait of Edward Miner Davidson Sr. courtesy of the National Mining Hall of Fame. Portrait of Abraham Lincoln courtesy of the Heinz Bros. & Co. Archives. Sketch of James Monroe Davidson originally published in the St. Louis Republic (Sept. 30, 1888), courtesy of Dale Broadhurst.