Coal, Coke and Steel
Honoring More than 400 Cousin Laborers Who
Shaped America's Mineral and Metal Industries
See Honor Roll of Cousins Who Died in the Workplace
and Article in the Pittsburgh Post-Gazette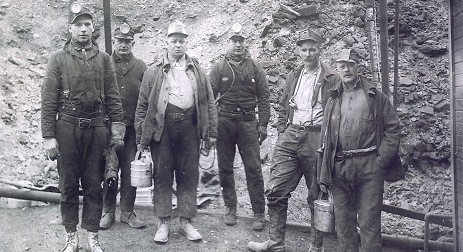 Frank J. Minerd, 3rd from left
There is no word in our language to describe what our national Minerd- Minard- Miner- Minor Reunion is about -- exploring the long-term, combined growth of a single family and its impact on society. In 1999, our reunion tried to define the concept by honoring hundreds of mineral and steel workers among our cousins over the past 150 years, and measuring their individual and collective accomplishments. With the help of this website in the more than decade of time since then, we have dug deeper.
On a larger scale, the clan serves as a symbol for many families who together helped build our nation.
The 1999 reunion may have been the first of its kind and scale. Unlike prior reunions, which focused on our clan's roles in education and military service, it delved deeper into a subject which since the 19th century has defined the identity, mindset and heritage of Western Pennsylvanians.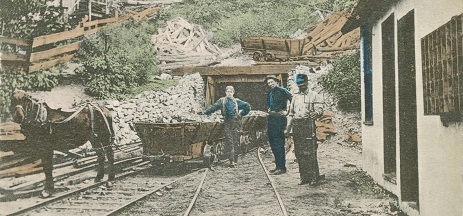 Miners in the Pittsburgh seam of coal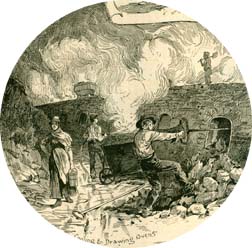 Smoky, hot coke ovens
In the book The Scheide Library, author Julian P. Boyd writes that regional Pittsburgh was "in the heart of the iron, coal, and oil resources that furnished the sinews not only for railroads and telegraphs but also for the whole gigantic industrialization of the 1860's and 1870's."
Since 1791, when pioneers Jacob and Maria (Nein) Minerd Sr. settled on the border of Fayette and Somerset Counties, their descendants have exploded in population, and now number 12,300 (including spouses), with thousands more waiting to be discovered. In the process, more than 330 known cousins (known as of 1999) have worked in coal, coke and steel. This growth spurt took place amid the building of vast industrial empires by Andrew Carnegie and Henry Clay Frick at the end of the 19th century.
Together, our cousins have worked thousands of man-years, mined and coked millions of tons of coal and produced many millions more tons of steel. The steel was used to build some of the nation's great landmarks -- the Empire State Building, the Panama Canal and Navy ships that helped win both 20th century world wars, among many others.
On the dark underside of the industry, more than 30 cousins' lives have been lost in work-related deaths, and at least three youths have been killed over time in accidents at mine-related facilities near their homes.
We asked relatives to supply data with the names and careers of laborers in their branch. The response was overwhelming. A study of the results shows what coal, coke and steel have meant to members of our family.


Henry Clay Frick (left) and Andrew Carnegie created sprawling coal, coke and steel empires in Western Pennsylvania which provided employment for hundreds of our cousins.
~ Long-Term Employment:
Over Three to Five Generations in Some Branches ~
John V.S. Minerd was a miner in OH and PA, the first of five generations. His son, grandson, great-grandson and great-great grandson have worked in coal and steel.
Henry A. Miner helped build coke ovens in Connellsville, PA. He was the first of five generations in the industry. His grandson, great-grandson and great-great- grandson worked at U.S. Steel's Edgar Thomson Works.
Thomas Michael Minerd, who started working in Uniontown-area mines at age 15, was a third generation miner.
Francis Yelaine Crosby was a 35-year miner whose father and grandfather labored at coal works near Mount Pleasant, PA.
~ Industry and Management Leadership ~
Donald Miner Davidson Sr. was a renowned geologist in Minnesota's Mesabi iron range who was president of the E.J. Longyear Company and was inducted in 2002 into the National Mining Hall of Fame.
Thomas Hunt was active in coal leasing in Uniontown, PA.
Nelson G. Kern was Superintendent of an H.C. Frick Coke Company farm near Uniontown where company horses were stabled.
Harry O. Millward completed studies with International Correspondence Schools of Scranton, PA on the subject of "Complete Coal Mining." Then in 1908, passed an examination allowing him to become a mine foreman. Initially was a "fire boss" at a coal mine and resided at Brier Hill, PA. Became superintendent of the Filbert Mine of H.C. Frick Coke. Later, became Frick's chief mine inspector, serving for 29 years. His son David was a district mine inspector with the Pennsylvania Department of Mines and president of several influential mining institutes and trade associations.
Wilbert Regis "Patsy" Minerd , employed by Republic Iron and Steel, was active in union organizing efforts in Republic, near Uniontown, and met with President Franklin D. Roosevelt at the White House in 1933 to help settle a crippling coal strike. In 1935, was part of a delegation which met with Pennsylvania Governor George H. Earle III.
Norman Bruce Ream, wounded during the Civil War, made a fortune with investments in commodities, railroads and insurance in Chicago. When J.P. Morgan sought investors to consolidate the American steel industry in the 1890s, Norman helped bring together western steel plants which formed what was known as Federal Steel Company. Then when United States Steel Corporation was founded in 1901 as the nation's first billion-dollar corporation, with Federal Steel part of its core, he joined the inaugural board of directors and was as a member of its finance committee.
William Arthur Stone owned several coal and coke companies in southwestern Pennsylvania, including the Prospect Coal and Coke Company, W.A. Stone Company, Waltersburg Coke Company, Hiorra Coke Company, Laurel Coal Company, W.A. Stone Fuel Company, W.A. Stone Coal Company, and Bertha Coal and Coke Company, named after his wife.
~ Opportunities to Export Talent ~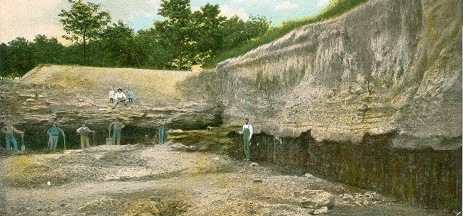 Samuel Minerd and sons worked in coal stripping pits in Pittsburg, KS, after relocating from southwestern Pennsylvania in the mid-1880s
Samuel Minerd and sons Levi, John, Melvin and Robert migrated as pioneers from Uniontown, PA to eastern Kansas in 1886. They mined the first coal using a slope mine in what is now Lincoln Park, Pittsburg, KS. Levi invented a mine gate that opened and closed to allow loaded coal cars to pass.
Leonidas "Lon" McGirk Sr. was a miner in Alaska and Russia. In 1918, en route to Siberia, he was shipwrecked for two weeks and lived with Eskimos before being rescued.
Lewis Mortimer Culp was among the first men in Eastern Ohio to be trained to use electric coal digging technology.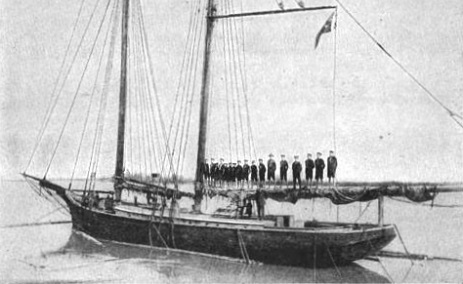 Leonidas Soland "Lon" McGirk Sr. rode this schooner, The Casco, on an ill-fated ore-mining expedition intended to reach Northern Siberia.
~ Springboard for Pursuit of Professional Careers ~
Albert Phillip McCabe, grandson of a mine stable boss, was a top guidance systems engineer in NASA's Apollo rocket program in 1965.
A grandson of tipple man William Mullen Minerd received numerous U.S. patents for his inventions for Xerox Corporation.
Alma L. Kern, granddaughter of H.C. Frick Coal Co. farm superintendent Nelson G. Kern, served as a special nurse for Cordell Hull, U.S. Secretary of State.
The grandson of coal miner John Andrew Miner was Chief of Police in Woodbury, NJ for 25 years and served as President of President Reagan's National Law Enforcement Council in 1982.
Lt. Col. Betty Jo (Workman) Canter, the great-great-granddaughter of coker Harrison Barnhouse was a lieutenant colonel, a NASA splashdown recovery nurse and played a role pioneering open heart surgery in the Army.
Occupational data used in this study was drawn from hundreds of news articles, census records and county marriage licenses, as well as in cousins' personal papers. Important data was found in the multi-year volume, Report of the Department of Mines of Pennsylvania, at the research library of the Senator Heinz Pittsburgh Regional History Center. We chose not to include railroaders who handled coal, preferring to explore that industry in its entirety some future year.
We have only scratched the surface. We hope this booklet will create awareness, stimulate interest and encourage the magic of discovery. Thank you to all who shared career information and precious photos. You honor those who came before us.