Agnes (Murray) Kern
(1870-1962)
Agnes (Murray) Kern was born on Jan. 11, 1870 near Normalville, Fayette County, PA, the daughter of Elijah and Hannah (Minerd) Murray.
Tragically, in May 1885, when she was age 15, she was orphaned when her parents died eight days apart. The identity of the individual who raised Agnes to adulthood is lost to history.
Reunion article, 1927
On Sept. 1, 1891, when she was 21 years of age, Agnes was united in matrimony with 22-year-old Nelson G. Kern (Dec. 7, 1869-1945), son of George and Ellen (Cramer) Kern of Normalville.
The couple went on to produce a family of six children – Anna Coffman, Mahlon S. Kern, Herbert Eugene Kern, George Kern, Ralph C. Kern and Woodrow William Kern. Sadly, son George died in infancy.
In the 1890s, the Kerns resided in Scottdale. The June 12, 1896 Connellsville Courier reported that "Walter S. Colborn has gone to Scottdale to build a house for Nelson G. Kern." They moved to New Salem, Fayette County in about 1900, where they remained for good.
Book about the family
In August 1927, Nelson was re-elected president of the Fourth Annual Kern Reunion. It was held that year at the home of N.R. Lyons near Paradise, Bullskin Township, Fayette County, featuring a basket dinner. The Courier noted that "Over a hundred persons were in attendance."
The following year, "more than 100 persons mostly from Connellsville and vicinity attended the annual reunion ... at Shady Rest along the Springfield road," said the Courier. "Dinner and supper were served at long tables which were laden with all the picnic delicacies of the season." That year, Nelson was re-elected president. Said the Courier, "The 1929 reunion will be held at the old Kern homestead at Normalville."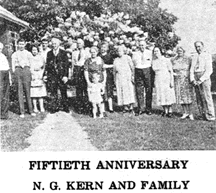 Photograph taken 1941
Nelson's brother Tilden H. Kern wrote the Kern Family History, published in 1960, and found in the Uniontown Public Library. He wrote that Nelson "was employed by the H.C. Frick Coke Co., as farm superintendent for many years, later retiring. Celebrated their 50th wedding anniversary, September 1, 1941. Now, April, 1956 his wife Mrs. Agnes Kern is still active and enjoying good health."
The photo seen here, of the Kerns' 50th anniversary celebration, is reproduced from the Kern Family History.
Nelson suffered a cerebral hemorrhage in about January 1944 and never recovered. He appears to have lingered at home for about 1 months. Death relieved him of his sufferings on April 4, 1945, at age 75.
Agnes survived her husband by 17 years.
Her final years were spent residing in the home of their daughter Anna Coffman at 49 East Main Street in New Salem. Suffering from heart and kidney disease, she succumbed to death on April 30, 1962, at the age of 92. Following a funeral led by Rev. W.T. Weaver and cousin Rev. Ray G. Manley -- of the family of Christmas and Fanny (Rankin) Leonard -- her remains were interred beside her husband's at Oak Grove Cemetery in Uniontown, PA.
~ Son Mahlon S. Kern ~
Mahlon S. Kern Sr. (1896-1974) was born in about 1896.
He married Lillie Griffey ( ? - ? ) of Waltersburg, Fayette County, on Feb. 19, 1913, in Cumberland, Allegany County, MD.
They bore four children -- Alma Kern, Herbert Kern, Earl Kern and Mahlon Carleton Kern Jr.
Mahlon worked for the Coffman Motor Co. and Null Ford Sales. He was a charter member of the New Salem Volunteer Fire Department, served as fire chief for 38 years, and was a member of the Fayette County Firemen's Association, and of the Chief and Assistant Chief's Association.

Mill Street in snowy New Salem in the early 1900s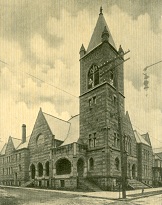 The Kerns' church, Great
Bethel Baptist in Uniontown
Lillie was active with the Great Bethel Baptist Church and taught its Collins Sunday School Class. She also was a member of the Women's Association of the church and of the Order of the Eastern Star, Uniontown chapter 263.
Other distant cousins belonged to this church body over the years. Among them were Edward Eugene Minerd, founder of the Minerd Funeral Home; William H. and Missouri (Shelkey) Minerd; Andrew T. and Mary (Williams) Morrow; Bruce Herbert and Agnes (Cooper) Leonard Sr.; and Thomas B. and Mary (Richter) Hunt Sr. The church also hosted the wedding of Arthur Paul and Alverta Mae (Stull) Ream in 1936.
During World War II, three of their children -- Alma, Herbert and Mahlon -- served in the U.S. Armed Forces. They were pictured in a feature article the March 1, 1945 edition of the Uniontown Morning Herald.
Mahlon and Lillie celebrated their golden wedding anniversary at the home of their son Earl on Feb. 17, 1963. A related news story in the Uniontown Morning Herald said they were "prominent residents of New Salem" and had "been lifelong residents...." In February 1973, they observed their 60th anniversary.
Mahlon passed away at the age of 78 on June 8, 1974, in the Laurel Rest Home in Uniontown. The Uniontown Morning Herald carried a prominent obituary. Burial was in Lafayette Memorial Park near Uniontown.
Son Mahlon C. Kern Jr. was employed in the 1930s by Charles Hout at New Salem. In about 1938, he joined the U.S. Army and was stationed for three years at Langley Field, VA. During World War II, he was a first sergeant in the 405th Bombardment Squadron of the First Air command in the South Pacific Theatre. After the war, he resided at 320 Coolspring Street in Uniontown. They had two known daughters, Jacqueline Wohler Festog and Carole Susan Wohler Lacock. The Kerns later relocated to a new home in Murrysville, Westmoreland County, PA.
Grandd

aughter Carole Susan Wohler married John Fairman Lacock, son of Dr. and Mrs. Gideon S. Lacock, in Pittsburgh on May 2, 1964. They made their home in Ingomar, a suburb of Pittsburgh. Carole worked at First Federal Savings and Loan Association in Pittsburgh and at the time of marriage worked for Mellon National Bank and Trust Company. John, a graduate of Kiski Prepatory School and Penn State University, was employed in the Trust Department of Mellon National Bank.
Son Herbert E. Kern married Pearle Finley. They had one known daughter, Darla Joy Kern, and they resided at Penncraft, PA. After graduating from Uniontown High School in 1938, Herbert secured employment at the Norfolk Naval Yard in Virginia. When World War II broke out, he joined the Merchant Marine and trained in the finance department at Hoffman Island, NY. Later, he was chief yeoman of the engine department on the U.S. Air Force vessel, George Washington.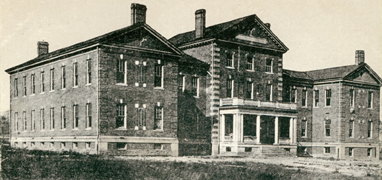 Old Uniontown Hospital, where Alma Kern trained to be a nurse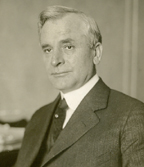 Alma's patient Cordell Hull
Daughter Alma L. Kern (1920-1997) was born on Nov. 20, 1920. She never married. She was a 1938 graduate of Uniontown High School and finished her training in 1943 at the School of Nursing at Uniontown Hospital. She joined the U.S. Army during World War II in November 1944 and received further nursing education at Portsmouth Naval Hospital in Virginia. She then was assigned to the Naval Hospital in Philadelphia. At one time she served as a special nurse for United States Secretary of State Cordell Hull. Later, she was a school nurse with the South Union Township School District and the Laurel Highlands School District in Uniontown. She is known to have helped organize meetings of the Uniontown Music Club held at the Great Bethel Baptist Church. She toured Australia in 1961 and was pictured in a related story in the Uniontown Morning Herald. In July 1963, in a tour conducted by the National Education Associatin in cooperation with the University of Colorado, she flew to Central America to visit schools and universities in the capital cities of Colombia, Panama, Chile, Argentina, Brazil, Uruguay, Paraguay, Peru and Bolivia. Her final years were spent in Uniontown, where she succumbed to the angel of death on June 6, 1997.
~ Son Ralph C. Kern ~
Ralph C. Kern (1900-1962) was born in 1900.
He married Jean McIntosh. They resided on Esther Street in Uniontown and later at R.D. Normalville, Fayette County, and had no children.
The Kern History says that Ralph was a "solicitor for the Prudential Life Insurance Company for 34 years in 1956. He was one of the organizers of the Fayette Stock Yard Co. and vice president and one of its largest stockholders, and has been a director since its organization in 1937."
Ralph suffered from an infirmity of many years, the details of which are not yet known. In January 1940, he entered the Cleveland Clinic "for a few days observation" and a resulting surgery, reported the Uniontown Morning Herald.
He died in Whitefish, MT, after becoming ill while traveling with Jean to the World's Fair in Seattle. Funeral arrangements were handled by the Brooks Funeral Home.
~ Son Woodrow William Kern ~
Woodrow William Kern ( ? - ? ) was born in (?).
He married (?) McKenna, daughter of Robert McKenna of Murray Avenue in Uniontown.
They had three known children -- Ralph Kern, Linda Lee Kern and Martha Ann Kern.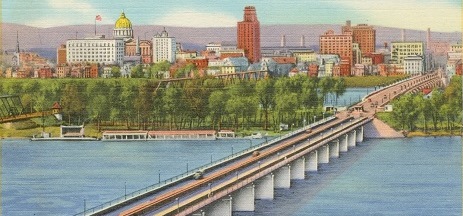 Harrisburg, PA, onetime home of the Woodrow Kern family
In 1942, they made their home in Willoughby, Lake County, OH. Later, they resided at Harrisburg, Dauphin County, PA, where Woodrow was manager of the Mechanical Unit of the Pennsylvania State Police.
Circa June 1974, at the death of his brother Mahlon, Woodrow lived in Duncannon, Perry County, PA.
~ Daughter Anna (Kern) Coffman ~
Anna Kern ( ? - ? ) was born in (?).
She married Ernest E. Coffman (1893?-1969).
The couple produced three known children, Ray P. Coffman, Alice Randolph and Valeria Coffman.
Early in his career, Ernest formed a partnership with Ewing I. Jeffries to operate the Jeffco Garage in New Salem. They two men dissolved the arrangement as of Dec. 31, 1921, with Ernest taking full ownership. Ultimately he was owner and operator of Coffman Motor Co. of New Salem for 45 years. He was a charter member of the New Salem Volunteer Fire Company and a charter member of the New Salem Rotary Club. As well, he served as vice president of the Tri-County Men's Fellowship, and was elected at a meeting in Carmichaels, Greene County, in September 1956.
For many years, Ernest was active in lobbying for New Salem to be carved out of Menallen Township and become incorporated as a borough. In a 1948 news article, he was quoted as saying: "We're trying to mold public opinion by meetings with advisory speakers. We can't grow without a borough." In September 1948, Ernest, his son Ray and nephew Earl Kern gave talks at a meeting of the New Salem Rotary Club on "The Most Needed Project for New Salem."
The Coffmans celebrated their golden wedding anniversary on June 15, 1961, with a banquet at the home of Ivan Carroll of Tower Hill 1. Among the attendees were their daughter and son in law Alice and Jay Randolph; daughter in law Mrs. Ray Coffman; Ralph Kern and Woodrow Kern. Another special dinner was held in their honor by the First Christian Church of New Salem, of which they were members.
Son Ray P. Coffman (1912-1956) was born on May 28, 1912. He was manager of Coffman Motors of New Salem, Fayette County. Active in the community, he also was vice president of the Uniontown Joint High School Board and a member of the New Salem Rotary Club and of the board of directors of the Fayette County Branch of the Pennsylvania Blind Association. He married Inez Levitcher, and they had two known daughters, Marilyn Rae Matthews and Marianne Coffman. Sadly, Ray died at the age of 43 on April 30, 1956, "after a brief illness," said the Uniontown Morning Herald. Funeral services were held in the Third Presbyterian Church in Uniontown, officiated by Rev. C. Edwin Houk and Rev. W.T. Weaver, followed by interment in Lafayette Memorial Park.
Grandd

aughter Marilyn Rae Coffman married (?) Matthews. They lived in Richmond, VA circa 1969.
Grandd

aughter Marianne Coffman made her home in 1969 in Miami, FL.
Daughter Alice Coffman E. ( ? - ? ) married Dr. John D. "Jay" Randolph ( ? - ? ), the son of Edgar Randolph of Connellsville, Fayette County. They were wed in the chapel of the Norfolk Navy Base in Virginia, by the hand of Chaplain Dunbar, on March 31, 1945. At the time, Alice was a senior at Indiana PA) State Teachers College, studying music, and Jay was with the U.S. Navy. By January 1946, when their son was born in Connellsville, Jay was stationed in Cuba. In 1954-1969, they made their home in Welch, McDowell County, WV. Their known son was Douglas Randolph.
Grands

on Douglas Randolph was enrolled circa March 1964 at the Greenbrier Military School in Lewisburg, WV, where he was a senior cadet. In 1969, he lived in Welch, WV.
Copyright © 2001, 2003, 2008, 2012, 2020 Mark A. Miner