Home

Life and Death in
the Coal Regions
Honoring Cousins Whose Lives Were Shaped By the Mineral and Metal Industries in Their Communities
Many members of the Minerd-Miner-Minor family, though not working directly in coal, coke and steel, nonetheless came into contact with these industries on a regular basis at home, at play, and in their communities. The following stories provide interesting examples.

Rev. I.H. Minerd
~ Nurturing the Souls of the Living ~
Rev. Isaac Herschel Minerd was an unordained Methodist preacher who, during his career, lived in Mount Pleasant, Connellsville, Uniontown and Pittsburgh, PA. Among other accomplishments, he was founding President of the first annual Minerd Reunion in 1913. While living in Uniontown, he conducted revivals in mining towns, as the following undated newspaper article attests:
A protracted meeting is going on at Revere. About or eight or ten already confessed and a great interest is manifested. Rev. I.H. Minard is carrying it on and is working hard for its success. Bro. Minard has others besides himself to also preach and help him in that work. Mr. Minard is to be complimented on its success and his labors are always given freely and without grudging.
~ Death At Play ~
Children were not exempt from the harsh life of the coal region. In fact, four of our young cousins died at mine-related facilities near their homes -- Elizabeth Miner (daughter of John Ross and Mary [Moody] Miner) at the Davidson Coke Works; James W. Minerd (son of Thomas Watt and Theresa [Dowling] Minerd) at the Helen Works reservoir; John Williams (son of Joseph G. and Emma [Inks] Williams), also at the Helen Works reservoir; and Harry R. Hiles (son of Josiah and Daisy [Minerd] Hiles Sr.) at the Hope Works. Their tragic stories follow.
Uniontown Morning Herald - Aug. 10, 1911
James Minerd Sinks to Death in Reservoir
In plain view of Mrs. Harry Hassen and her two sons, who made a frantic effort to save him, James Minerd, aged 15, was drowned in the reservoir at the Atlas coke works, Helen, yesterday afternoon at 4 o'clock. The woman, attracted by the screams of the boys who were bathing with Minerd, ran to the reservoir. It took but a glance to see the plight of Minerd. She quickly secured a rope, fastened one end around her waist and the other on the bank and jumped into the reservoir.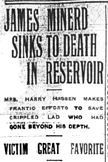 Before she could reach the spot where she had last seen the boy he had disappeared for the third time... The boy, who was the son of Thomas Minerd, a driver in the mines at Atlas, was a cripple and while he and the two sons of Harry Hassen were swimming in the reservoir, Minerd got beyond his depth. The two boys became so excited that they could not save the drowning boy but their cries brought the Mrs. Hassen to the scene.... Minerd was well known in the vicinity in which he lived and was one of the most popular boys at Helen.
Connellsville Courier - June 8, 1914

Season's First Drowning - Youth Perishes in
Helen Reservoir as Friends Look On.
John Williams, 15 years old, son of Mr. and Mrs. Joseph Williams of Keister, was drowned in eight feet of water in the Helen reservoir Saturday evening about 7 o'clock, while his two elder brothers and two other companions stood on the opposite bank, powerless to aid him. The body was recovered about 11.30 o'clock a few feet from where he was last seen alive."
Uniontown Daily News Standard - April 6, 1928
Boy On Raft Drowns When "Ship" Sinks
When an improvised raft on which a half dozen youngsters were playing last evening at 5:30 o'clock was submerged in the waters of a reservoir near Hope works, in the vicinity of High House, Harry Rebock Hiles, aged 16, son of Mrs. Daisy Hiles of Hope works, was drowned. His body was recovered last night at 10 o'clock by use of dynamite by employes of the works. The boys had built the raft after school hours yesterday, and had just "set sail" when too much weight drove the structure under water.
The youths were thrown in the reservoir all managing to get ashore excepting Harry. Help was summoned and despite hours of effort location of the body was impossible. In addition to his mother the boy is survived by four brothers, Josiah, with whom he had been making his home, Charles, Milford and John William.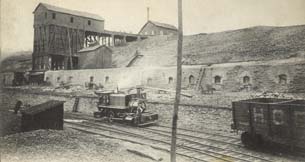 Railroad cars at the Davidson Works
Connellsville Courier - Sept. 26, 1907
A YOUNG GIRL KILLED
Miss Miner Meets Death
Under P.R.R. Shift-
ing Engine
RUN DOWN NEAR SLIGO WORKS
Was Walking Along the Track Yesterday Afternoon
and Stepped in Front of the Locomotive --
Death Came Almost Instantly
While talking to several persons along a siding at Davidson works yesterday afternoon at 3:30 o'clock, Miss Elizabeth Miner, stepped backward upon another track and was run down and almost instantly killed by a switching engine. The girl was 18 years, nine months and 27 days old... The crew of the switching engine saw the girl and her companions standing along the track but Miss Miner stepped back so quickly that it was impossible to check the speed of the engine. She was struck and knocked from the track, suffering a broken arm and internal injuries. Dr. A.J. Colborn was hastily summoned and arrived just as she was dying.

Rev. D.E. Minerd
~ Burying the Dead ~
Rev. David Ewing Minerd -- the famed "Blacksmith Preacher" of Fayette County, PA, spent six decades as a preacher in Dunbar, Connellsville and Uniontown. He was founding pastor of the Calvary Methodist Church in Uniontown (1894) and the Greenwood Methodist Church in Connellsville (1921) and helped rebuild churches at White Rock and Dunbar. In all, he oversaw 10,000 weddings and funerals.
A May 10, 1894 article in the Uniontown Daily News Standard reported that "Mr. Minerd is a very useful man especially among the poor and working classes, and he enjoys the respect of everybody in the community." One of his grimmer duties was ministering to the families of husbands, fathers and sons killed in the mines throughout the coal region. This included work in the aftermath of the Mather Mine Disaster of May 1928, which killed 195 miners, as reported in local newspapers.
Uniontown Morning Herald
Whoolery Brothers Perish
in Mather Mine Disaster
In a double funeral to be held in the Hopwood Methodist Protestant church Friday afternoon, last tributes will be paid to Clyde and Dewey Whoolery, brothers, who perished in the Mather mine explosion... The Rev. D.E. Minerd, assisted by the Rev. Mr. Thomas, will be in charge of the services.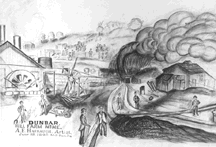 A.E. Harbaugh's sketch of a mine fire
~ Chronicling a Deadly Explosion ~
In June 1890, an explosion ripped through the Hill Farm Mine in Dunbar, PA, trapping and killing 31 miners. Minerd cousin and artist Allen Edward Harbaugh (1849-1916) was in Dunbar at the time, and he joined worried crowds to watch smoke spewing out the mouth of the mine. For days and weeks, rescue teams removed tons of coal, slate and rock, trying unsuccessfully to reach the doomed men. The region waited in suspense for the gruesome outcome. In his day and age, Harbaugh knew that a drawing, and not just words, could convey the horror. He set up an easel and began sketching in oil, crayon and ink.
The Uniontown Herald noted that "Crowds gather around his canvass and praise his efforts." One sketch showed the mine's entrance the day after the explosion, billowing out clouds of smoke. Another sketch depicted the huge fan at the nearby Mahoning Mine, blowing out poisonous fumes. Photo prints were made and sold at Porter's Art Store in Connellsville, and have turned up today in people's collections. A slightly different version of the Hill Farm sketch was used nearly 100 years later, in 1983, in the book Dunbar: The Furnace Town.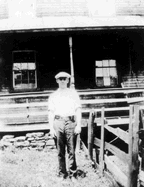 Thomas M. Minerd and
his ill-fated house
~ "The Day Our House Caved In" ~
As young parents, Thomas Michael and Anna (DZiak) Minerd resided in the patch town of Helen, Fayette County. The patches were built as inexpensive worker-housing by coal companies, and often their construction was of poor quality. Thomas is seen here, standing in front of the house which appears to be on a foundation made of field stones.
One day the Minerds' house began to collapse. Daughter Theresa (Minerd) Charnovich, writing in our 1999 Coal, Coke & Steel reunion booklet, said:
What I was told, by my parents, is that my Dad was at work in the mine when the house we lived in began shifting and caving in on one corner. When my Mom realized what was happening, she got me (an infant) out of the baby crib then tried to open the door to get out but it wouldn't budge. She then went to the window and fortunately men were doing road work nearby so she yelled and pounded on the window to get their attention. They came running and got us out. I don't know how many houses caved in or if they were torn down. I guess coal had been removed under the houses and then Helen, Pa., was gone. Most everyone then moved just over the hill to Keisterville; my Dad worked there until it finished...
~ Security of Owning Mineral Rights ~
A number of members of the Minerd-Miner-Minor family were farmers who owned the rights to the coal and clay below their properties. This advantage provided them with a source of energy resouces as well as income if they chose to lease or sell the mineral rights. One notable example of this was Civil War veteran Charles Rose (1819-1909), who with his wife Catherine (Minerd) Rose (1829-1922) owned a large farm near Ursina, PA. Over the years, as their children became adults and began families of their own, the farm was subdivided among a number of them. They included Jackson Grant Rose, Jennie (Rose) Burgess and William Rose, as well as Charles and Catherine's nephew John Ross Miner (see his entry) and his wife Mary (Moody) Miner. Many of these deeds were held in Catherine's name, perhaps to protect the property for her and her husband. In these deeds, she retained the mineral rights and extraction privileges, perhaps as a guarantee of income in her and her husband's old age. These rights and privileges consisted of:
...excavating, searching for, digging, mining and carrying away all the ... bituminous coal and other coals and iron ore and minerals, limestone [and] fire clay ... with the right to dig, shaft, drive drifts and tunnels and use and occupy so much of the surface of said branch ... as may be necessary for the purpose of taking out, preparing for market and removing the minerals ... and the right to locate, construct, use and operate one or more railroads upon, over and through said premises with such sidings, dumps, kilns, weigh scales and buildings as may be necessary to successfully operate said railroad, mine, prepare [and] carry away from said premises the minerals ...