Blanche (Minerd) McCabe
(1889-1966)

Blanche McCabe
Blanche (Minerd) McCabe was born on June 24, 1889 in Fayette County, PA, the daughter of James C. and Suvina (Yauger) Minerd Sr. One of her sons went on to play a pioneering role in the development of our nation's space exploration program.
Blanche married Homer Oswald McCabe (1883-1956), son of John P. and Elizabeth (Ruthford) McCabe. He was of medium height, and slender build, and had blue eyes and brown hair. He is seen here in a comic pose as a cowboy.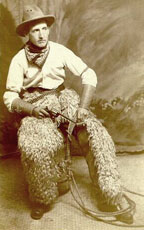 Homer in a playful pose
They had six children -- Albert Philip McCabe, Homer L. McCabe Sr., Donald F. McCabe, Laura Belle Atkinson, Jennifer Margaret Shaffer and Mary Lou Zack.
When Homer was required to register for the military draft during World War I, he declared that he was employed as a steamfitter for the Robinson Walters Company of 30 Morgantown Street, and that Blanche was his next of kin.
Homer worked as a "plumber and steamfitter and [was] employed in Uniontown for ... fifty-four years," said the Uniontown Morning Herald. He was a member of the Plumbers and Steamfitters Local 174.
The McCabes resided at House No. 28 in Little Brownfield for many years and later at 26 West Place in Uniontown. They enjoyed attending family gatherings and social events. Among these were several in which the family's name was printed, including in July 1927 when they went to a 57th birthday party for Mrs. J.W. Conn of Fairchance; in July 1934 when they went to a birthday party for Blanche's sister Jennie Darby; and in March 1948 when they took part in a surprise birthday party for Blanche's sister Mary Ellen Rodeheaver in Keisterville. In May 1939, they drove to Washington DC for a 10-day vacation to visit their son Albert, who was working there.
Sadly, they endured the deaths of adult daughters Laura Belle Atkinson (at age 29, in 1943) and Mary Lou Zack.
Homer was stricken with a heart attack and died within 15 minutes at the age of 73 on Nov. 12, 1956. His remains were placed into eternal repose in Green Ridge Memorial Park near Pennsville, north of Connellsville, PA.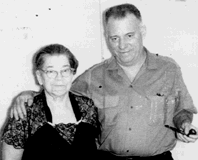 Blanche and son Albert McCabe
Blanche moved to 14 West Craig Street in Uniontown, and died on May 27, 1966. At the time, she had 18 grandchildren and 16 great-grandchildren. She rests for eternity beside her husband.
Son Albert, seen here with his mother, was an engineer who, during World War II, worked with early warning radar systems at the Naval Research Laboratory. After the war, Albert lived in California, where he specialized in the emerging field of guidance and control of spacecraft and missiles. He is said to have invented a missile error scorer, now known as the Global Positioning System (GPS). He also was a top engineer for NASA's Apollo spacecraft program, and received a letter of commendation signed by all the astronauts. Said his daughter, "He was a physicist and a mathematician. He had a great mind." There are several memoirs about him on Minerd.com authored by his daughter Aimee McCabe-Walker and grandson Erin S. Cleary.

Uniontown obituary
For more information, visit Aimee's excellent website. She has graciously served as a technical advisor in the development of Minerd.com, and hosted our 1998 and 1999 Minerd-Miner-Minor Reunion webpages.
~ Daughter Laura Belle (McCabe) Atkinson ~
Daughter Laura Belle McCabe (1914-1943) was born on May 25, 1914 in Connellsville, Fayette County.
She wed Robert Atkinson ( ? - ? ).
They had two children -- Robert Atkinson and Arlene Atkinson.
The Atkinsons were members of Christ's Methodist Church of Uniontown.
During World War II, Robert served in the U.S. Army with training in Tennessee. At the time, Laura Belle lived at R.D. 2, Box 280E in Uniontown, and may have worked as a laborer to support the war effort.
Heartache rocked this family on Aug. 24, 1943 when Laura Belle died in McKeesport Hospital near Pittsburgh. She was only age 29. A physician wrote that the cause of death was "acute alcoholic - gastro enteritis."
Funeral services were held in her parents' home in Little Brownfield, followed by burial in Green Ridge Memorial Park near Connellsville. Funeral arrangements were handled by the Edward E. Minerd Funeral Home of Uniontown.
Robert's fate will be reported once learned.
Son Robert Atkinson ( ? - ? )
Daughter Arlene Atkinson ( ? - ? )

Homer L. McCabe
~ Son Homer L. McCabe ~
Son Homer Lloyd McCabe Sr. (1924-2019) was born on Aug. 24, 1924.
During World War II, he served with the U.S. Army in the Pacific Theatre, including in the Aleutian, Philippine, Solomon and Marshall Islands. After the war, he returned home and resided in Hopwood, Fayette County.
Homer's first wife was Sarah F. Field ( ? - ? ).
They were the parents of Homer Lloyd McCabe Jr. and Jeffrey W. McCabe.
Homer earned a living with the Plumbers and Pipefitters Union #354. At one point, he owned McCabe Plumbing and Heating. In his spare time, he belonged to the Amvets, Hutchinson Sportsman's Club, Asbury United Methodist Church, Laurel Lodge of the Masons, Uniontown YMCA, and Uniontown Lodge of Perfection and Consistory. He was pictured in the book Young American Patriots.
Sadly, Sarah passed away, at a date not yet known.
Homer remarried to his second bride, Maxine (McCormick) Basescu (April 4, 1935-2023), a native of Irwin, PA and the daughter of Fred and Myrtle McCormick. She had been wed before and brought four stepchildren to the second union -- Chris Basescu, Scott Basescu, Steven Basescu and Lee Ann Rice.
The second marriage endured for 33 years until the separation of death. Said an obituary, Maxine was "employed by the Laurel Highlands School District for many years however her greatest joy in life was centered around family. She enjoyed creating a comfortable home for her husband, Homer, and she relished the exploits and accomplishments of her extended family. She was Protestant by faith and raised four children with her special combination of hard work, strength, common sense, and gentle humor."
Homer attended one of the national Minerd-Miner Reunions in the 1990s.
On March 20, 2019, at the age of 94, Homer passed into eternity in Uniontown Hospital. Rev. Donald Henderson officiated at the funeral, followed by interment in Green Ridge Memorial Park in Pennsville near Connellsville. Said an obituary, he was "the last surviving member of his immediate family."
Maxine outlived her spouse by four years and resided in Hopwood. As a patient in Uniontown Hospital, she died at the age of 88 on Sept. 26, 2023. Rev. Henderson again led the funeral rites in the Asbury United Methodist Church.
Son Homer Lloyd McCabe Jr. married Sandy and resided in Hopwood.
Son Jeffrey W. McCabe wedded Kathy and dwells in Uniontown.
Stepson Chris Basescu wed Monica. They make a home in Nashville, TN.
Stepson Scott Basescu married Joni. They have dwelled in Uniontown.
Stepson Steven Basescu entered into marriage with Shelly. They relocated to Severn, MD.
Stepdaughter Lee Ann Basescu tied the knot with Tim Rice. Circa 2023, they were in Hopwood.

Margaret Shaffer
~ Daughter Jennifer "Margaret" (McCabe) Shafer ~
Daughter Jennifer "Margaret" McCabe ( ? - ? ) was born in (?).
She married David A. Shaffer Sr. ( ? - ? ).
They had four known children -- David A. Shaffer Jr., Bonnie L. Wilson, Jack P. Shaffer Sr. and Patricia E. Osborne.
The Shafers lived in Uniontown circa 1938-1965.
Son Jack P. Shaffer Sr. (1942-2008) resided in Hopwood, and was the owner of Creative Touch Florist and the Village Upholstery Shoppe in Hopwood. In June 1960, he was pictured in the Uniontown Morning Herald for having been home on a furlough from the Army, where he was assigned for basic training at Fort Knox. Married with five children, he was a member of the Central Christian Church, AMVETS Post 103, and the Wharton Hunting and Fishing Club.
Son David A. Shaffer, Jr. (1938-2016) was born on Jan. 3, 1938 in Uniontown. David may not have married. He is known to have served in the U.S. Navy. For years he was employed at a steel mill in Homestead in the famed Mon Valley south of Pittsburgh. In his free time he liked to fish and hunt. He died in Uniontown at the age of 78 on May 16, 2016 in the Uniontown Hospital. A memorial service was held in Uniontown's Central Christian Church.
Daughter Bonnie L. Shaffer ( ? - ? ) wedded (?) Wilson.
Daughter Patricia E. Shaffer ( ? - ? ) was joined in wedlock with Warren Osborne.

Mary Lou Zack
~ Daughter Mary Lou (McCabe) Zack ~
Daughter Mary Lou McCabe ( ? -1965) was born in (?).
She married Charles Robert Zack (March 6, 1924-1979), son of Charles A. and Agnes (Rohlf) Zack of Oakland Avenue in Uniontown, the father a one-time Chief County Detective.
They produced five children -- William Earl "Bumpy" Zack, Tony Ray Zack, Robert Charles Zack, Albert Philip Zack and Gina Maria Lowenstein.
Circa 1947, the Zacks resided in or near Masontown, Fayette County. During the Vietnam War, Charles was stationed in the Panama Canal Zone with the U.S. Armed Forces.
Mary Lou became ill in 1962 and underwent surgery in Uniontown Hospital, and fortunately recovered. She and the children traveled to Panama in April 1963 to visit Charles, and they made the decision to remain there to live.
Tragically, Mary Lou died while in their home in Panama on May 18, 1965. She was only 35 years old. Her remains were returned to the United States for burial in Uniontown.
Charles remained in the U.S. Army as a sergeant and returned to Pittsburgh. In January 1968, when transferred to Germany, he announced he was taking his five children with him, ranging in age from 20 years to seven. The Uniontown Evening Standard said he was making the move "with an abundance of intestinal fortitude" and quoted him as saying "I just want to be close to my children if possible ... we'll manage just fine."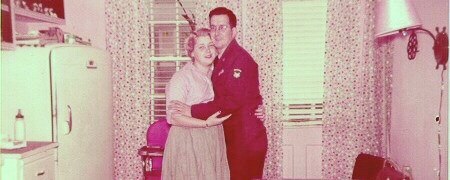 The Zacks
By 1969, at the death of his well-known father, Charles was back in Uniontown.
Sadly, at the age of 55, Charles passed away in Uniontown on Nov. 19, 1979. His remains were lowered into the sleep of eternity in Mount Saint Macrina Cemetery in Uniontown.
Son William Earl "Bumpy" Zack (1947-2018) was born on March 3, 1947 in Masontown. Circa, at about age 25, he was united in matrimony with Sandra Gardner ( ? - ? ). Their marriage endured for half a century. Two daughters borne by the couple were Mary Lou Maskaine and Brenda Smith. William earned a living with Sears, Roebuck & Company and Fun City. In time he was a bartender at the 206 Lounge. He belonged to the Uniontown lodge of the Moose. Sadly, William died on Dec. 8, 2018, at the age of 71. Bishop Leonard Tucker presided over the funeral service.
Granddaughter Mary Lou Zack was born in 1972 and named after her late grandmother. News of her birth was announced on the pages of the Uniontown Evening Standard. She married John Maskaine.
Granddaughter Brenda Zack wed Donald Smith.
Son Tony Ray Zack
Son Robert Charles Zack was deceased by 2022.
Son Albert Philip Zack appears to have been named for an uncle, Albert Philip McCabe. He was deceased by 2022.
Daughter Gina Maria Zack wed (?) Lowenstein ( ? - ? ).
Copyright © 2001-2002, 2008, 2013, 2019, 2022 Mark A. Miner