Albert Philip McCabe
(1910-1987)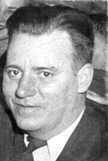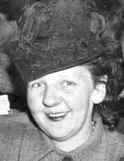 Albert and Elizabeth McCabe
[Editor's note: this biography of Albert and Elizabeth was written in 1997 by their late daughter, Aimee Louise. It is edited and republished here with her consent. The biographies of their children were authored by the founder of this website.]
Albert Philip McCabe was born on Nov. 20, 1910 in Uniontown, Fayette County, PA, the son of Homer and Blanche Minerd-McCabe. Dr. M.J. Delmore of Uniontown assisted in the birth.
He stood 5 feet, 8 inches tall and weighed 180 lbs.
On Nov. 16, 1936, when he was 26 years of age, Albert was united in holy matrimony with Elizabeth Irene Bryan ( ? -1996). Their nuptials took place in the District of Columbia.
Their offspring were Aimee Louise (McCabe) McKinney Killion Walker, John Philip McCabe, Linda Lucille Cleary Hemphill and Michael Mawrey McCabe. They lost a son Thomas McCabe in infancy.
Al McCabe began his career as a Communications Officer in 1939. He worked for the War Department Message Center, Army Radio Station in Washington, D.C. He had a Radio Telegraph Operator License, Number T-21-2 issued March 11, 1935.
When required to register for the military draft during World War II, the McCabes lived at 1415 James Creek Parkway Southwest in Washington, DC. At the time, he was employed in the Signals Section of the War Department, reporting to communications officer Major French.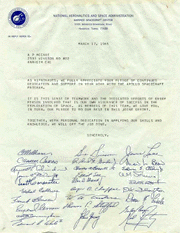 Letter signed by Apollo astronauts
His engineering experience dates back prior to World II when he was engaged in early warning radars at the Naval Research Laboratory. He held important positions in the guided missile field for the Boeing Airplane Company, Northrop Aircraft Corporation and Raytheon Manufacturing Corporation.
He also worked for TRW Systems. His particular specialization was in the field of guidance and control of spacecraft and missiles. He was a physicist and a mathematician. He had a great mind.
Al McCabe was a well-known engineer. He was the sole inventor of the missile error scorer, now known as the Global Positioning System. He presented it as a patent in 1955. It is not known what became of the patent nor the outcome of the patent. I have an original draft of the patent in which he had red penciled in a co-inventor's name. Hugo E. Stark. It is believed he sold the patent rights because he did not have the money to pursue the project.
He was also the Chief Engineer for the Apollo Spacecraft program in 1965. The National Aeronautics and Space Administration, Manned Spacecraft Center, Houston, Texas, sent him a letter of appreciation signed by all Astronauts involved with program. The letter is dated March 17, 1965. (Click to enlarge.)
He was a Lifetime, senior member of IEEE, Geoscience Electronics Group, Quantum Electronics and the Information Theory Group. He was also a member of the American Association for the Advancement of Science.
He passed away June 27, 1987 in Redondo Beach, CA. He is dearly missed and we will always love him.
Elizabeth outlived her husband by nine years. She died on Jan. 3, 1996.
~ Daughter Aimee Louise (McCabe) McKinney Killion Walker ~
Daughter Aimee Louise McCabe (1942-2009) was born on Jan. 22, 1942 in Washington, DC. She relocated with her parents to Seattle at the age of three.
At the age of 11, Aimee traveled to Uniontown with her mother and father and, for the only time in her life, met her grandmother Blanche (Minerd) McCabe. It took the family seven days via automobile to make the trip.
She is believed to have been married three times. On Jan. 27, 1962, at the age of 20, she was joined in marriage with Richard N. McKinney ( ? - ? ). Their nuptials were held in Santa Barbara County, CA.
The couple produced one daughter, Jennifer L. "Jenny" Hayes.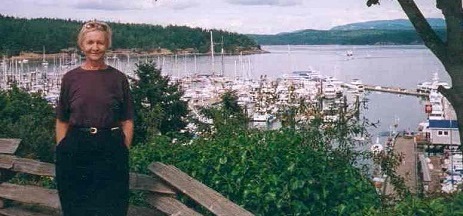 Aimee McCabe Walker, Friday Harbor, WA
By 1965, she wed again to Kenneth Michael Killion (Sept. 13, 1940-2015). He was a native of Santa Barbara and the son of Kenneth Frederick and Sandra Ardelle (Whitford) Killion.
Their offspring were Adeline E. "Addie" Moore and Andrew H. Killion.
The Killions made their home in Santa Barbara County. They divorced in September 1973.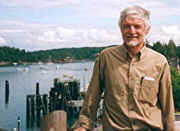 Richard Walker
On Aug. 12, 1976, at the age of 34, she was united in matrimony with Richard Alan Walker (1932-2007) of San Mateo, CA. Their wedding was in Santa Barbara.
In 1996, she created the website DataOptions.com and operated it for a number of years. She graciously used the site to host Minerd Reunion details. She is the editor of "My Mother's Journal: A Memoir by the Late Elizabeth (Bryan) McCabe" and "Grandmother Blanche Minerd-McCabe, A Memoir."
Circa 1996, the Walkers dwelled in San Mateo, CA. By 2006, they had moved to Friday Harbor, San Juan County, WA in the San Juan Valley.
After years of exchanging emails, information and photos, Aimee last was in contact with the founder of this website in April 2006. She wrote: "We are well and happy here on San Juan Valley in the town of Friday Harbor, WA. My website is keeping me very busy! We are enjoying walks and drives and basically just enjoying life. Strange, however, when you think of how terrible things are elsewhere, like in Iraq for instance. I hope and pray that there will be a change in politics in the near future. Wars are not the way to make changes. Imagine what would happen if everyone just simply killed anyone they disliked or to get their things (oil)?"
Richard passed away in 2007. Details are not known.
Aimee outlived her spouse by two years. At the age of 67, she succumbed to death in Friday Harbor on Aug. 9, 2009.
Former husband Kenneth Killion married again on June 11, 1983 to Barbara Konter in Ventura. He died in San Buevaventura, CA on June 19, 2015.
Daughter Jennifer "Jenny" McKinney (1962- ? ) was born in 1962. She wedded (?) Hayes ( ? - ? ) and made her home in 2003 in Ventura, CA.
Daughter Adeline "Addie" Killion (1965- ? ) was born in 1965 in Santa Barbara County. She married (?) Moore ( ? - ? ) and dwelled in 2003 in Roseville, Placer County, CA..
Daughter Andrew H. Killion (1967- ? ) was born in 1967. He resided in Ventura, CA in 2003.
~ Son John Philip McCabe ~
Son John Philip McCabe (1943-2020) was born on Jan. 11, 1943 in Washington, DC.
For many years, he was employed in the aerospace industry, working on projects for the federal government.
John appears to have been married thrice. His first bride was Karen Baker ( ? - ? ).
The offspring born to this union were James "Jim" McCabe and Cindy Boisen Winder.
Later, he wedded Sharon Stradling (June 3, 1943-2008), daughter of Wayne and Helen Stradling of Albuquerque, NM. She is believed to have brought these children into the second marriage -- Brenda Hebert and Jeffrey Pollock. Their union endured for nearly 34 years until cleaved apart by death.
John and Sharon's known children were John McCabe and Debbie Fielding.
Sharon was very active with the Church of Jesus Christ of Latter-day Saints. Having helped many in need, she was often considered their "angel."
In about 1999, John and Sharon relocated to Palmdale, CA. He liked to track his investments in the stock market, go sailing and spend time at the beach. He was a member of the Church of Jesus Christ of Latter-day Saints. Sadly, he endured the untimely deaths of his son John and daughter Cindy.
Stricken with cancer of the liver, Sharon died in Palmdale on June 19, 2008 at the age of 65. An obituary noted that she was survived by 19 grandchildren. Her remains were moved to Farmington, San Juan County, NM to rest for all time in Greenlawn Cemetery.
He wedded again in about 2010 to Blanche ( ? -living).
John passed away in Palmdale on Oct. 23, 2020 at the age of 77, in the care of Compassionate Elderly Care. An obituary in the Antelope Valley Press said he was survived by 20 grandchildren and nine great-grandchildren. His remains were transported to Farmington, NM to rest beside his wife Sharon in Greenlawn Cemetery.
Son James "Jim" McCabe
Daughter Cindy Boisen Winder was deceased by 2020.
Son John McCabe was deceased by 2020.
Daughter Debbie Fielding
~ Daughter Linda Lucille (McCabe) Cleary Hemphill ~
Daughter Linda Lucille McCabe (1945- ? ) was born in about 1945.
She was married twice.
On Aug. 5, 1963, at the age of 18, she was united in wedlock with her first spouse, Wesley N. Cleary ( ? - ? ). Their nuptials took place in Orange County, CA.
Later, she was joined in the bonds of wedlock with (?) Hemphill ( ? - ? ).
She was the mother of Erin Scott Cleary and Shannon.
Son Erin Scott Cleary is the author of a very personal memoir, entitled "My Grandpa Albert Philip McCabe." Erin is an experienced senior property risk engineer and account engineer in the field of insurance. Beyond property and fire protection, he is fluent in construction, health and safety and casualty insurance lines including workers' compensation, general liability and motor fleet. Since 2014, he has been employed as an account engineer and senior risk engineering consultant for Zurich North America in Burbank, CA. Earlier, he was vice president of technical services for York Risk Services Group; a loss control consultant for ISO; and owner of Cleary's General Construction, all of Los Angeles. He holds a fire protection engineer certificate from the University of California at Los Angeles and a bachelor's degree in fire protection from California State University of Los Angeles. He has been an active volunteer with Habitat for Humanity of Greater Los Angeles.
~ Son Michael Mawrey "Mike" McCabe ~
Son Michael Mawrey McCabe ( ? - ? ).
He was deceased by 2020.
Portions copyright © 1997 Aimee L. Walker-McCabe and republished with permission.
Portions and page copyright © 2020 Mark A. Miner