Jennie Marie (Minerd) Darby
(1883-1961)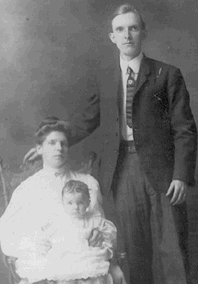 Jennie, James and baby Vina
Jennie Marie (Minerd) Darby was born on July 22, 1883 at Lemont Furnace near Uniontown, Fayette County, PA, the daughter of James C. and Suvina (Yauger) Minerd Sr.
On Nov. 30, 1905, at Connellsville, Fayette County, Jennie married James William Darby (1880-1959), the son of David and Ollie (Markey) Darby. She was age 18, and he 25.
The Connellsville Weekly Courier said, "We wish the happy couple much joy through life. We presume they will go to housekeeping in Percy." They are seen here with their firstborn child, Vina.
They together produced a family of 10 children -- Vina Alice Miller, Dorothy Helen Pegg, Lawrence Edward Darby, Ewing Carl Darby, Clinton William Darby, Kenneth Eugene Darby, Stella May Darby, Clyde Orval Wayne Darby, Ollie Naomi Lynn and Jennie Marie Darby.
Tragically, five of the Darbys' children died young -- Clinton at age one on Sept. 11, 1916, due to ileocolitis (Crohn's Disease); Kenneth at age four days on Feb. 5, 1917, due to atelectasis (collapse of the lungs); Stella at nine months on Aug. 11, 1919, caused by acute entero colitis; Clyde at age eight months on July 29, 1921 of gastro entero colitis; and Jennie at age three months on Sept. 27, 1924, due to gastro entero colitis. The children all were buried in the Fairview Cemetery at Percy near Uniontown.
Obituary, 1961
As a young man, James was an educator. He is known to have taught at the Percy school near Uniontown from 1901 to 1905. Later, he became a coal mine laborer, which likely provided a larger salary than teachers in that era.
The Darbys moved frequently, following mines that were hiring. They lived in mining patch towns in and around Uniontown, such as Percy (1906-1908), Evans Manor (1910-1916), Adelaide (1916-1917) and Keisterville, Revere and Waltersburg (1918-1924). Later, they relocated to the mining town of Bobtown, Greene County, PA, where he worked at the Shannopin Mine and spent the rest of their lives.

Jones & Laughlin Steel's Vesta-Shannopin mines, where coal traveled by conveyor over the suspension bridge at right into the coal preparation plant for cleaning and loading into barges bound for J&L Steel plants.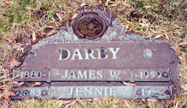 Lafayette Memorial Park
James died at the age of 74 in Greene County Memorial Hospital in Waynesburg, Greene County, on July 15, 1959. He was laid to rest at Lafayette Memorial Park at Brier Hill near Uniontown, Fayette County.
Jennie then went to lived with a daughter in Michigan.
She passed away at the age of 77 on June 8, 1961, in Lincoln Park, Wayne County, MI. Her remains were returned to Uniontown for burial. She and James rest together for eternity at Lafayette Memorial Park.
~ Daughter Vina (Darby) Miller ~
Daughter Vina Darby (1906-1972) was born in 1906.
On Dec. 23, 1922, when she was 16 years of age, Vina was united in matrimony with 22-year-old Sidney Miller (April 12, 1900-1998), son of Henry M. Millere and Amanda Gunnoe Holtsclaw of Chap, WV.
Together, they produced had seven children -- Virgil Edward Miller, Arthur Denver Miller, James Miller, Sidney E. Miller, Delbert Miller, Sarah Charlene Buchanan and Anna Bargerstock.
Sidney spent his early life in Boone County, WV and migrated to Uniontown in the 1920s. He was a coal miner in Fayette and Greene Counties, PA, and retired from the Shannopin Mine in Bobtown, Greene County. He was a member of Local 6159 of the United Mine Workers of America. In his free time, said the Uniontown Herald Standard, Sidney "was an avid outdoorsman who enjoyed hunting, fishing and gardening."
The Millers resided in Bobtown, where they were members of Bobtown United Methodist Church, and where Sidney worked as a custodian.
Following an illness of several months, Vina passed away at the age of 66 on Dec. 8, 1972.
Sidney later remarried three times -- to Thelma P. Perry (? -1980), Lettie Smith ( ? -1984) and Mary C. Marcum ( ? - ? ). Sidney later moved to Waynesboro to be near his three sons.
He died at the age of 98 on June 27, 1998, in Chambersburg, PA. Funeral services were held in the Methodist church in Bobtown, by the hand of Pastor Erwin "Woody" Wilson. Burial was at Evergreen Memorial Park in Point Marion, Greene County, PA. At the time of death, wife Mary made her residence in Youngstown, OH. He was survived by 31 grandchildren and many great-grandchildren.
Son Virgil Edward Miller ( ? - ? ) was deceased by 1998.
Daughter Anna Miller ( ? - ? ) wed (?) Bargerstock. They did not reproduce. The pair dwelled in Kent, OH in 1998.
Son James Byrl Miller ( ? - ? ) lived in Waynesboro, PA in 1998.
Daughter Sarah Charlene Miller ( ? - ? ) was born on (?). She lived in Bobtown as a young woman. In September 1952, at the age of 19, she and 21-year-old military service man Roy "Leo" Buchanan ( ? -2002) were joined in marriage in Cumberland, MD. News of their marriage license was printed in the Cumberland Evening Times. Four children borne by this couple were Roy Leo Buchanan Jr., William A. Buchanan, Patty K. Bower and Peggy J. Gornick. In 1972, they resided in Cleveland and in 2002 in Linden, TN. Leo belonged to the local lodge of the Masons and was a worthy patron of the Order of Eastern Star. Leo died in Linden at the age of 68 on May 27, 2002. Interment of the remains was in Lakewood Park Cemetery in Cleveland, with an obituary appearing in the Cleveland Plain Dealer.
Grandson Roy Leo Buchanan Jr. (1953-2014) was born on June 18, 1953 in Franklin Township, Greene County, PA. He entered into marriage with D. Jeane ( ? - ? ). Their four children were Michael Lane, Angie Buchanan, Jennifer Classen and Karen Buchanan. He made a career in the U.S. Air Force, retiring with the rank of staff sergeant. They made a residence in Louisiana in 1978, Charleston, WV in 2002 and in Dunbar, WV in 2014. The family held a membership in the Clendenin Church of the Nazarene. Said an obituary, Roy Leo "was an avid golfer, loved fishing and camping with his family and friends. He enjoyed singing and playing his guitar and bagpipes." After contracting cancer, Roy died at the age of 61 on June 27, 2014, bringing to a close a marriage which had endured for 28 years. Pastor Charles Larue led the funeral service, held at the family church. Interment of the remains was in Lane Family Cemetery in Clendenin.

Great-grandson Michael Lane ( ? - ? ) married Miranda.

Great-granddaughter Angie Buchanan ( ? - ? )

Great-granddaughter Jennifer Classen ( ? - ? )

Great-granddaughter Karen Lee Buchanan (1978- ? ) was born in 1978 in Barksdale Hospital in Louisiana. News of her birth was printed in the Bossier City (LA) Observer.

Grandson William A. "Billy" Buchanan ( ? - ? ) made his home in Mahwah, NJ.
Granddaughter Patty K. Buchanan ( ? - ? ) married (?) Bower. Her residence in 2002 was at Avon Lake, OH.
Granddaughter Peggy J. Buchanan ( ? - ? ) wed Gornick. She dwelled in Seward, PA in 2002.

The Darbys with grandson Arthur Denver Miller at Bobtown as he leaves for the Army during the Korean War.

Art Miller
Son Arthur Denver Miller ( ? -2003) was born in (?). He married Rosalie Bailey (1931-2007) on May 3, 1953. He was employed in the electrical drafting department at Landis Tool Company in Waynesboro, Franklin County, PA. Later, he was a meter electrician at South Penn Power Co., Waynesboro, later named West Penn Power Company. He also was an active volunteer with our reunion activities, including the Lynn Point Cemetery and Gettysburg battlefield cleanup crews. Sadly, he passed away in 2003, about a month after he marched in the Memorial Day 2003 parade in his hometown of Waynesboro, PA. Art was pictured and mentioned in the May 27, 2003 Waynesboro (PA) Record Herald, in an article entitled "Services Honor U.S. Soldiers Who Paid Ultimate Sacrifice." A Korean War veteran, Art was "dressed like the statues of the soldiers depicted at the Korean War Memorial in Washington, D.C.," in the 2003 Memorial Day commemorations. Art's wife Rosalie "worked at Emmert Manufacturing, Frick Co. and Waynesboro Knitting Mill, all of Waynesboro, and Letterkenny Army Depot of Chambersburg," said the Record Herald. "Most recently, she was a receptionist at Waynesboro Hospital for more than 25 years, retiring in 1995. She attended services at Faith United Methodist Church and the Church of Jesus Christ of Latter-day Saints... She was a member of the Waynesboro Lioness Club and Merry Mixers Square Dancing Club." She passed away on May 15, 2007, with burial beside her husband at Green Hill Cemetery in Waynesboro.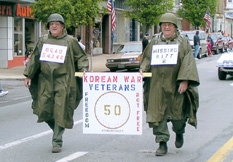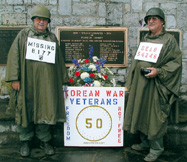 Art Miller and a fellow veteran, 2003 Memorial Day parade, Waynesboro, just a few weeks before Art's death

Sid Miller

Son Sidney E. Miller ( ? - ? ) was born on (?). He entered into marriage with Nancy ( ? - ? ). They are the parents of an only daughter. Sid served in the U.S. Navy during the Vietnam War, and was a longtime photographer with the Waynesboro (PA) Record-Herald. Passionately interested in the family's heritage, Sid organized the Lynn Point Cemetery cleanup in 2001, and our Gettysburg National Battlefield cleanups in 2003 and 2007. He at one time served as vice president of our reunion committee and was our unofficial reunion photographer. The family has dwelled in Mont Alto, PA. In 2020, he and Todd A. Dorsett co-authored a book, Green Hill Cemetery: Stories of Waynesboro, published by the Antietam Historical Association.

Son Delbert D. Miller ( ? - ? ) was deceased by 1998.


~ Daughter Dorothy (Darby) Pegg ~

Daughter Dorothy Darby (1908-1969) was born in 1908.

She married a distant step-cousin, James Pegg (Sept. 26, 1910-1983), son of Lewis W. and Jessie (Elizabeth) Pegg of the family of William Penn and Catherine (Minerd Nesmith) Dean.

They lived in Detroit, MI, at 8308 Thaddius Street. The Peggs did not reproduce.

Dorothy was a member of the Bobtown Methodist Church and its Adult Bible Class. In May 1957, Dorothy is known to have returned home for a visit with her parents in Bobtown, drawing coverage in the gossip columns of the Uniontown Evening Standard.

Dorothy died in Detroit at the age of 61 on Sept. 1, 1969. Burial was at Lafayette Memorial Park.

The widowed James remained in Detroit. He died in 1983 and is buried next to his bride.

~ Son Lawrence Darby ~

Son Lawrence Darby (1910-1991) was born in 1910.

He married Mildred A. Seese (1910-1984).

The Darbys had five children -- Lawrence E. Darby Jr., Robert Darby, Betty Contesti, Rhoda Kinkead and Audrey Masters.

Lawrence worked at the Bobtown Mine of Jones & Laughlin Steel, where he was a member of the United Mine Workers of America. Later, they moved to Solon, Ohio, where he was employed as a custodian in Cleveland for 25 years.

They returned to Greensburg, where Mildred died at the age of 74 on June 28, 1984.

Lawrence outlived her by seven years. He passed away at the age of 81 on Aug. 10, 1991. At the time of his passing, he had 19 grandchildren, 33 great-grandchildren and one great-great grandchild. Burial was in Lafayette Memorial Park.

Son Lawrence E. Darby Jr.

Son Robert Darby

Daughter Betty Darby married (?) Contesti.

Daughter Rhoda Darby married Ralph V. Kinkead Sr. Ralph was a teacher for the Greensburg Salem School District, and she a paraprofessional for the Westmoreland Intermediate Unit 7 in Greensburg, Westmoreland County, PA. They celebrated their 50th wedding anniversary in 2002.

Daughter Audrey Darby wedded (?) Masters.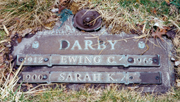 Lafayette Memorial Park
~ Son Ewing C. Darby ~
Son Ewing C. Darby (1912-1965) was born in 1912.
He married Sarah K. Boyd (1900- ? ). She was a dozen years older than her husband. They did not reproduce.
They resided in Uniontown, and later relocated to Wyandotte, MI, where he worked for the City of Wyandotte.
Ewing passed away at the age of 53 on Oct. 31, 1965. He is buried at Lafayette Memorial Park near Uniontown.
~ Daughter Ollie (Darby) Lynn ~
Daughter Ollie Darby (1923-1972) was born in 1923.
She married Raymond Lynn ( ? -1969). They did not reproduce.
They resided in Detroit circa 1959 and later in Solon, Cuyahoga County, OH.
Raymond passed away in 1969.
Ollie outlived him by three years.
She died at the age of 49, in Solon, on Feb. 4, 1972. Burial was in Lafayette Memorial Park, with Rev. Paul Tarcy preaching the funeral service. An obituary was published in the Uniontown Evening Standard.
Copyright © 2001-2003, 2007-2008, 2010, 2012 Mark A. Miner