Andrew Jacob Sturtz
(1825-1909)
Son Andrew Jacob Sturtz (1825-1909) was born on July 3, 1825 in Adamsville, Muskingum County, OH, the son of Jacob and Susanna (Gaumer) Sturtz.
As a child, he suffered from an infection to the cartilage of his legs called "white swelling" which caused permanent injury to his right foot. Then as an adult, he stood 5 feet, 8½inches tall, with a fair complexion, blue eyes and brown hair.
In about 1845, when he was age 20, he married 19-year-old Mary McClure Reeser (Aug. 1826-1904), a native of Williamsport, Lycoming County, PA. A justice of the peace officiated.
The couple went on to produce seven known children -- Alice Sturts, Marshall Sturts, Emma Sturts, Charles Sturts, Andrew M. Sturts and one unknown. They also may have adopted a daughter, Olive Mansfield, born in 1866. Two of the children were deceased by 1900.
For about eight or 10 years, they lived in or near Cortland, Jackson County, Indiana, where Andrew worked as a carpenter and operated a shingle machine. He built a house for the mother of S.J. Bottorff and also several local school houses. At some time before the Civil War broke out, Andrew hurt his leg while handling a heavy bale of shingles. The leg was not broken, but his sister in law Henrietta Tucker noticed that the skin had been torn away.
In 1848, he became acquainted with GeorgeW. Kelly, and became better friends in 1855
In the fall of 1863, they pushed further west to Hazel Dell, Cumberland County, IL, moving into the home of friend Kelly. Brother in law George W. Tucker called him a "stout rugged man." The couple remained there until the following January 1864 when he fixed his own dwelling and moved in.
Andrew served in the Union Army during the Civil War under the name "Andrew Sturts." Enlisting in Springfield, IL on March 28, 1865, he was a member of the 6th U.S. Veteran Volunteer Infantry, Company A. Capt. E.R. Blakeslee was his commanding officer. While on duty at Camp Stoneman, MD on or about May 15, 1865, he was on the sick list but was ordered out to gather wood for a cooking fire. He was pulling a sapling out of the ground when he slipped and may have fallen. Apparently the same day, while driving a mule-drawn wagon, the team bolted and ran away, upsetting the wagon and throwing Andrew underneath, catching his leg in the hub and fracturing his leg from the knee to the foot. He was sent to a hospital, but when seeing other patients there suffering from smallpox, he panicked and crawled out. Somehow he found a crutch and "hobbled back to his company," he said. He was treated by a Quaker physician and took on light duty as company cook.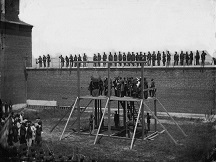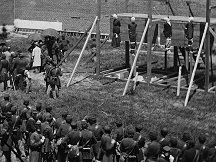 The 1865 hanging of Lincoln assassination conspirators at which Andrew was on duty and fainted in the sun. Courtesy Library of Congress.
After the assassination of President Lincoln, the co-conspirators were captured, tried and found guilty, and sentenced to be executed -- Mary Surratt, George Atzerodt, David Herold and Lewis Powell. At the hanging, in the courtyard of the Washington Arsenal, on July 7, 1865, Andrew and his regiment were on duty, standing attention in the excessive summer heat of the District of Columbia. Andrew fainted from the heat, which some called a sunstroke. He "fell near me," wrote R.E. Holloway. "I thought he was dead but found upon opening his collar that he was still alive." He was carried into a tent or shack to recover and then was treated at a camp hospital. Wrote William Ross: "I was standing near and helped to carry him into his tent and helped to take care of him afterward and after that his eye sight failed him so that he could not see to wright his Letters or Read and still continues so."
He received an honorable discharge at Alexandria, VA on March 27, 1866, having served a year, and then returned home to Hazel Dell, Cumberland County. For the rest of his life, he claimed that he endured ankle joint pain, ulcers of the shinbone and running sores along the leg.
Andrew devoted his life to farming. In 1869 or 1870 he harvested crops for the father of Davis L. Kelly and operated a grain cradle. He also harvested with Allen Pane and J.W. Travis and thrashed with John Black. While swimming with friends in the local river, they noticed the reddish burn color on his leg. Occasionally, shards of bone would work their way through the skin.
Suffering from wartime ailments, Andrew in January 1871 was awarded a military pension. [Invalid App. #162.072 - Cert. #551.783] Yet when under investigation for the claim, government officials spoke with his neighbors and friends and determined that he did not enjoy a good reputation and in fact was considered a "fraud." Among those who provided testimony were George W. Kelly, Davis L. Kelly, John B. Kelly, Gabriel Hagey, George W. Tucker, Ephraim Neal, Gershon Monahan, Samuel C. Patrick, William Wylde, David B. Green, William H. Ross, S.J. Bottorff, Charles Bevins, Joseph Isaacs, Jacob Brown, David D. Brown and Benjamin Little. In his report, Jeremiah Pittman stated that "It's my firm conviction his whole story of the injury is the flimsiest kind of fabrication."
Andrew and Mary celebrated their 50th wedding anniversary in 1895. Federal census records for 1900 show them residing in Crooked Creek, Cumberland County, with all of their offspring having moved out.
Mary passed away on July 15, 1904 in Hazel Dell.
Andrew outlived his wife by five years and died on Aug. 24, 1909, also in Hazel Dell. They rest together in Hazel Dell Cemetery (South) [Find-a-Grave].
~ Daughter Alice Virginia Sturtz ~
Daughter Alice Virginia Sturtz (1846-1935) was born in 1846 in Ohio.
She married Daniel Freeman (1843-1926), an immigrant from Ballymoney, Ireland and the son of John and Rachel (Lafferty) Freeman.
Their two known daughters were Edith Nellie Eyestone and Alice Gertrude Meeker.
The family dwelled in or near Greenup, Cumberland County, IL.
Daniel passed into eternity in Greenup on Nov. 8, 1926.
At the age of 89, Alice died on Nov. 25, 1935 in Greenup. Burial was in Greenup Cemetery.
Daughter Edith N. Freeman (1878-1952) was born on April 6, 1878 in Greenup. She was united in wedlock with Theodore McPherson Eyestone (1874-1958), son of Alfred Columbus and Angeline (Ralston) Eyestone. Their three children were Milton Eyestone, Harold McKinley Eyestone and Marshal R. Eyestone. The family relocated to Oregon, making their home in Gresham, near Portland, Multnomah County. There, Edith died on Oct. 13, 1952. Theodore joined her in death six years later on May 23, 1958. [Find-a-Grave].
Daughter Alice Gertrude Freeman (1883-1936) was born on May 3, 1883 at Crooked Creek. She was joined in matrimony with Bruce Meeker ( ? - ? ). Alice died on Feb. 19, 1936 in Crooked Creek. Burial was in Hazel Dell Cemetery.
~ Son Marshall Sturts ~
Son Marshall Sturts (1852 - ? ) was born in about 1852 in Indiana. At the age of 26, unmarried in 1880, he lived at home with his parents and assisted with farm work.
~ Daughter Emma Sturts ~
Daughter Emma Sturts (1855- ? ) was born in about 1855 in Indiana. She was unmarried at age 24 and resided under her parents' roof in Crooked Creek, Cumberland County, IL.
~ Son Charles Sturts ~
Son Charles Sturts (1858- ? ) was born in about 1858.
~ Son Andrew M. Sturts ~
Son Andrew M. Sturts (1864- ? ) was born in 1864.
~ Daughter Olive Mansfield Sturts ~
Adopted daughter Olive Mansfield (1866- ? ) was born in about 1855 in Ohio.
She was brought into the Sturtz family and in 1880 lived with them in Crooked Creek, Cumberland County, IL.
Copyright © 2000, 2011, 2013, 2015-2019 Mark A. Miner