Charles Sturtz
(1813-1895)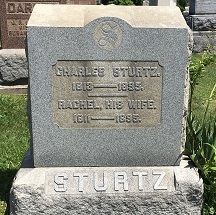 New Hope Cemetery, Adamsville
Charles Sturtz was born on Feb. 19, 1813 on his parents' farm in Washington Township, Muskingum County, OH, the son of Jacob and Susanna (Gaumer) Sturtz.
Said the Biographical and Historical Memoirs, he "received but little education in the old log schools of that time. He attended school, in all, about three months, learning to read and write, and learned the usual work of a farmer boy, becoming very handy with a rifle. He shot his first deer when but even years of age.
At the age of 20, in 1833, Charles married 22-year-old Rachel Bainter (1811-1895), daughter of Adam and Elizabeth (Shroyer) Bainter and granddaughter of Philip Shroyer, also a pioneer settler of Muskingum.
They produced 10 known children -- Elizabeth L. Sturtz, Margaret Sturtz, Adam Claude Sturtz, Susan C. Sturtz, Jacob L. Sturtz, John P. Sturtz, Mary M. Sturtz, Charles N. Sturtz, Rachel A. Sturtz, Josiah Sturtz and Andrew J. Sturts.
Sadness blanketed the family as they lost several offspring over the years. Their youngest son Josiah died in infancy. Daughter Rachel succumbed in the 1850s. Son Andrew died in January 1859 at only a few months of age. And daughter Margaret passed away in about 1869 when in her 20s. The epitaphs on their upright grave markers at New Hope are worn and difficult to decipher.
Following their marriage, Charles purchased a farm in Salem Township where they remained for decades. His deed was signed by President Andrew Jackson. He also acquired a sawmill on Symms Creek in Section 4 in about 1836, which produced much of the lumber used to build houses in Adamsville. "This mill he operated until 1850, when he built a new one, and also had a store for three years, from 1847 to 1850, in Coshocton County," said the Biographical and Historical Memoirs. He was a very prosperous farmer, and now owns 320 acres of well-improved land. He is a prominent member of the Lutheran church, of Adamsville, and has been a church trustee." He voted the Democrat ticket and belonged to the Hubbard lodge of the Masons.
Federal census records for 1850 and 1860 show the Sturtzes living as farmers in Salem Township, Muskingum County. In 1860, 26-year-old farm laborer Abraham Sturtz made his home under their roof. For some 27 years, Philip A. Baker, M.D. of Mt. Vernon, OH was their family physician.
Even more heartache enveloped the family in early June 1873 when their son Charles drowned while fishing in the Muskingum River. (See below for details.) Charles Sr. was named in a story abou the accident in the Cambridge (OH) Jeffersonian.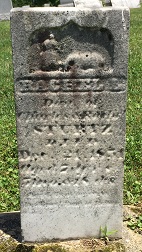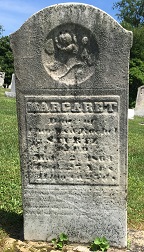 L-R: Sturtz siblings graves at New Hope -- Rachel, Andrew, Margaret
Charles kept a family Bible in which he inscribed records of the births of each of the children. The book was published in 1867 by Harding & Son, No. 57 South Third Street in Philadelphia. By 1913, the Bible had been lost, and only the handwritten pages remained, "in a dilapidated condition, the leaves having become loose and in danger of being lost and destroyed," wrote a notary public who had examined them.
During the Civil War, they worried as sons Adam and Jacob left home to serve in the Union Army.
Sadly, both Charles and Rachel died the same year, Charles on Aug. 26, 1895 and Rachel on Oct. 28, 1895.
They are buried in New Hope Evangelical Lutheran Church Cemetery near Adamsville. [Find-a-Grave]
~ Daughter Elizabeth L. Sturtz ~
Daughter Elizabeth L. Sturtz (1835- ? ) was born in about 1835 and grew up in Salem Township, Muskingum County.
At age 25, unmarried, she lived at home with her parents.
She was married (to whom?) and was deceased by 1892.
~ Daughter Margaret L. Sturtz ~
Daughter Margaret Sturtz (1836-1863) was born in about 1836.
Single at age 23, in 1860, she dwelled at home with her parents.
She died just five days shy of her 26th birthday on March 2, 1863. Another source states she was age 22 at death.
~ Son Adam Claude Sturtz ~
Son Adam Claude Sturtz (1839-1918) was born on March 24, 1839 near Adamsville, Muskingum County. He grew up as a friend and schoolmate of William H. Gaumer (relationship unknown), "often in each other's society and intimate as boys usually are, and consequently confidential," Gaumer wrote. Another childhood friend was Orin Richardson.
As an adult, Adam stood 5 feet, 7 inches tall, with a dark complexion, dark hair and black eyes, and weighed 140 lbs. Friends considered him as a "sound hearty boy and young man."
He seems to have gone by the name "Claude" until joining the Army when he would have been forced to go by his first name. Adam and his brother Jacob served during the Civil War as members of the 160th Ohio Volunteer Infantry. Adam rose to the rank of corporal. Adam, Jacob and chum Gaumer re-enlisted on Feb. 15, 1865 in the 191st Ohio Infantry, Company D.
While stationed at Winchester, VA in June 1865, he was engaged in lifting heavy logs in the construction of pontoon bridges for crossing rivers, and he said the strain caused an outbreak of hemorrhoids. About that time, he contracted typhoid fever and was so debilitated that his tent mate Gaumer had to turn him with a blanket. The fever caused "roaring in the head" which led to "some deafness in both ears," he wrote. He was treated in an army hospital in Winchester and received an honorable discharge there on Aug. 27, 1865.
Said friend Jacob A. Snoots, Adam returned home "a complete physical wreck. He took to his bed and for several months afterward was not able to leave the house."
On Sept. 5, 1868, at the age of 29, Adam married 24-year-old Rachel "Rae" Sarbaugh (1844-1919). Their nuptials were held in Coshocton County, OH by the hand of justice of the peace Luther L. Cantwell. The Sturtzes spent their lives farming near Adamsville.
They had at least two children, Mynne D. Pocock and Kirke Henry Sturtz.
On July 2, 1873, having filed a claim for the "Rheumatism and resulting disease of heart and piles" he was suffering, he was awarded a military pension as compensation for his wartime service. [Invalid App. #184.872 - Cert. #406.476]. "Most every winter I have been laid low for a spell," he wrote, "sometimes several weeks. I don't attempt to work in the winter season, only a little feeding." He believed his rating of disability too low, and often petitioned the government for increases in his monthly payments. Friends Snoots, James Hunter of Adamsville, Orin Richardson of Zanesville and relative John O. Sarbaugh of Hindsboro, IL, provided written testimony to support the claims. At times, when granted increases, the news was published in newspapers such as the Springfield (OH) Daily Republic. The federal census of 1900 shows the Sturtzes in Salem Township, with 30-year-old daughter Mynne and 22-year-old son Kirke living under their roof. When examined by a military physician in 1913, Adam was described as suffering from rheumatism of back and left shoulder and arm; muscles in both instance atrophied. 1/2 arm helpless and constant pain." He also had varicose veins of the left leg. The doctor noted that for the past four years, Adam had been "taking maximum doses of Digitalis," a medication intended to strengthen heart muscles and improve heartbeat.
Stricken with senile dementia, he was admitted to the Columbus State Hospital. He died there at the age of 79 on Oct. 2, 1918. His remains were returned to Adamsville for interment. [Find-a-Grave] News of his passing was published in the Coshocton Tribune.
After his death, his widow began to receive the monthly pension payments. [Widow App. #1.129.717 - Cert. #865.022]. She died but a year later, in 1919.
In October 1933, in a short feature "15 Years Ago Today," the Tribune reprinted the news of Adam's passing in a two-sentence story. The Tribune ran a similar short piece in October 1938 upon the 20th anniversary of the death.

Surgeon's sketch of Adam's varicose veins in the left and right legs, 1888
Daughter Mynne D. Sturtz (1870- ? ) was born on Oct. 4, 1870. Her first name also has been spelled "Minnie." As a young lady, she learned how to make dresses. When she was 30-yars of age in 1900, unmarried, she lived at home with her parents and her occupation was listed by a census taker as "dress maker." In early May 1903, the 33-year-old Mynnee married Jay C. Pocock (1875-1915), son of Lloyd and Martha Ann (Craig) Pocock of Coshocton, in a ceremony held at the home of Mynne's brother Kirke near Adamsville. Officiating was Rev. J.S. Eaton of the Adamsville Methodist Episcopal Church. In reporting the news of the wedding, the Coshocton Daily Age said she was " a well known dressmaker of this place and has a large circle of friends," while J.C. was "the son of a well known business man of Coshocton." The couple went on to produce two known offspring, Winifred Pocock and Lloyd Pocock. Sadly, Winifred is believed to have died young. Jay made a living over the years as a driver of "hacks," a type of taxi driver using horse and buggy. He purchased a 50-percent ownership of John Elson's hack business in September 1909, to be known as the "Elson Hack Line" with stables on Walnut Street. "Both men are old horsemen," said the Coshocton Daily Times, "and with the large number of present patrons the prospects of a good fall business it will be a thriving institution." He was a member of the Eagles lodge. Jay became ill with some sort of paralysis and in the fall of 1910 lived with his mother in Canton, Stark County, OH. He returned to Coshocton, where in November 1910 the Daily Age noted that he was "suffering with a severe attack of infantile paralysis, a disease which rarely attacks people of mature age." To support herself during Jay's illness, Mynne immersed herself in work, advertising her dressmaking services in the Daily Age, with her business located at 230 North Third Street. She took an interest in the latest fashion and, while frustrated by her small town society's reluctance to adapt to new styles, attended the Fashion and Art League Convention in Chicago in 1915. No longer able to drive, Jay took a position as manager of the Howard Wolfe livery barns in Coshocton circa 1913. He finally succumbed of pneumonia on March 9, 1915 while in his mother's home on South Fifth Street. Dr. A.B. Markley of the Emmanuel Lutheran Church, and Dr. J.S. Secrest, of the Grace Methodist Episcopal Church, officiated at the funeral services. The Coshocton Morning Tribune published an obituary, and burial was in the South Lawn Cemetery in Coshocton. Widowed at the age of 45, Mynne never remarried and remained in Coshocton. Proud of her father's military service, she was a member of the Daughters of Veterans and its Women's Relief Corps No. 258 in cooperation with the Grand Army of the Republic, and in 1922 was elected secretary of the organization. She hosted meetings of the DOV at her home at 121 South Fourth Street in Coshocton, as reported in the gossip columns of the Coshocton Tribune. Over the years, she was named in scores of Tribune articles about DOV meetings and business. By 1932, she had moved to a new residence at 401 South Lawn Avenue. In April 1937, she and her married son Lloyd hosted as weekend guests her brother Kirke and his family, in town from Dayton, OH. In company with Mrs. Peter Wardrop and Ella Failor, Mynne made a driving trip in September 1939 along Skyline Drive in Virginia's Shenandoah Valley, visiting Washington national park. In July 1940, she vacationed with her son and family at Cask Villa on Lake Erie. By 1956, she was considered "crippled" and resided alone in an apartment in Coshocton. Tragedy struck just five days before Christmas 1956. After placing a coffee pot on her stove, her clothing ignited by the flame on the burner, but she walked out of the kitchen unaware. Jane Fiecoat, living in the apartment upstairs heard her scream and ran down to help, only to find her "in an overstuffed chair, enveloped in flames," reported the Dover (OH) Reporter. Fiecoat put out the fire and called the fire department, but it was too late. Mynne died of severe burns and suffocation. The story was reprinted across the state in the Cincinnati Enquirer, Sandusky Register, Logan Daily News and Circleville Herald. Son Lloyd Pocock was married and had two daughters, Charlene Pocock and Jacquelyn Pocock. Circa 1930, the family dwelled at 1415 Elm Street in Coshocton
Son Kirke Henry Sturtz (1876-1940) was born on Sept. 24, 1876 (or 1877 or 1879). He also spelled his name "Kyrke." Evidence suggests that he was married thrice. On April 2, 1902, he was joined in wedlock with his first bride, Ora Nevada Winn (1880-1909), daughter of F.P. and Rose (Taylor) Winn of Adamsville. Rev. N.D. Creamer performed the ceremony. They lived in Coshocton, OH and produced one known son, Franklin "Wynne" Sturtz, born in about 1905. Kirke was a member of the Adamsville Camp of the Modern Woodmen of America. From time to time the couple returned to Adamsville for visits. Sadly, Ora contracted a deadly case of typhoid fever and gastro-entestinal influenza and succumbed in Salem in Feb. 20, 1909 at age 28. Her father, living in Newark, OH, signed the death certificate. Burial was in the New Hope Lutheran Cemetery. An obituary in the Coshocton Weekly Times noted that she "was the sister-in-law of Mrs. Jay Pocock of Coshocton." The 1910 United States Census shows the widowed Kirke and his young son living under his parents' roof in Salem Township. His second wife is believed to have been Goldie A. (1881- ? ), and if so, they were wedded in 1920. By 1940, Kirke was joined in marital union with Lola (1880- ? ), an Indiana native. Kirke earned a living as a house painter circa 1910. In 1920-1937, he was a drug salesman in Dayton, Montgomery County and in 1940 in Darke County, OH. Suffering from hardening of the arteries, Kirke suffered a stroke and died just two days before his 64th birthday on Sept. 22, 1940. He was interred in Abbotsville (?) Cemetery. Son Wynne Sturtz married and lived in Dayton and had two daughters, Martha Jane Sturtz and Janice Sturtz.

South Main Street, Adamsville, early 1900s
~ Daughter Susan C. Sturtz ~
Daughter Susan C. Sturtz (1840- ? ) was born in about 1840 and grew up in Salem Township, Muskingum County.
She lived at home with her parents in 1860.
~ Son Jacob L. Sturtz ~
Son Jacob L. Sturtz (1843-1903) was born on Jan. 25, 1843 in Adamsville, Muskingum County. In young adulthood, he stood 5 feet, 8 inches tall and weighed 130 lbs. His complexion was dark and his eyes hazel/brown.
Jacob learned the blacksmith trade.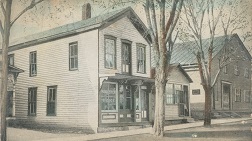 Adamsville, OH
He and his brother Adam served in the Union Army during the Civil War. Jacob was assigned to the 160th Ohio Volunteer Infantry, Company E. He enlisted on May 2, 1864 and was mustered out on Sept. 7, 1864. He and his brother Adam then re-enlisted on Feb. 15, 1865 in the 191st Ohio Infantry, Company D. While stationed at Winchester, VA, he received an honorable discharge on Aug. 27, 1865.
After the war, he relocated to Illinois, residing in Blandinsville, McDonough County.
At the age of 27 or 28, on Feb. 19, 1871, Jacob married Kentucky native Mary L. "Mollie" Calvert (Jan. 1850-1943). The ceremony was performed by Rev. B.E. Kaufman (or "Coffman") of the Methodist Episcopal Church.
They went on to produce five children -- Myrtle Hall, Ivy Sturtz, Charles Sturtz, Ruby Sturtz and Nd D. Sturtz.
The Sturtzes purchased town lots 1 and 4 in Block 19 of the Western Addition of Blandinsville, upon which they built a house. He earned a living following his blacksmithing trade. A year after marriage, Jacob was stricken with inflammation and rheumatism in March 1872 and spent nine months in bed until he recovered. He claimed that his heart bothered him ever after that. Treating him during that period was family physician William M. Huston. On Sept. 20, 1890, he was awarded a military pension for his wartime service [Invalid App. #952.731 - Cert. #793.148]. As he aged, suffering from heart problems, he was treated by his family physician B.F. Duncan.
While at a feed lot near his home, on Jan. 18, 1903, he finally succumbed to his incurable heart condition at the age of about 60. Friends found his body, and called for Dr. Duncan, who pronounced him dead. A coroner's inquest ruled that death was due to natural causes. Burial was in Blandinville's Glade City Cemetery. [Find-a-Grave]
On March 21, 1903, Mary began to receive $8 in monthly pension payments. [Widow App. #780.932 - Cert. #563.677 - XC #2.674.213] Stepping up to provide affidavits and supporting written testimony on her behalf were longtime friends H.C. Davidson, F.A. York, Abel Fisher and Thomas H. Williams. They testified that her house might rent for $8 per month, but that her entire income from other sources would not exceed $40 annually. Mary endured as a widow for another four decades. She passed into eternity on Dec. 12, 1943.
Daughter Myrtle Sturtz (1871- ? ) was born on Aug. 1, 1871 in Blandinsville, McDonough County. She married (?) Hall ( ? - ? ). The couple did not reproduce. Sadly, Mr. Hall passed away young, sometime before the year 1900. Census records for 1900 show Myrtle at age 28 as a widow with no children, living under her parents' roof in Blandinsville. She earned income that year as a "landlady."
Daughter Ivy Sturtz (1875- ? ) was born in about 1875 in Blandinsville. Sadly, Ivy did not survive childhood. She died at about age seven in 1881, with burial in the local Glade City Cemetery.
Son Charles "Charlie" Sturtz (1877- ? ) was born on July 21, 1877 in Blandinsville.
Daughter Ruby Sturtz (1881-1945) was born on Jan. 10, 1881 in Blandinsville. Unmarried at the age of 29, in 1910, she dwelled with her widowed mother in Blandinsville and made a living as a dressmaker, working out of their home. By 1920, still single and living with her mother, Ruby had become a teacher in the local public schools. She eventually married Paris Atlee Jobe (1882-1964), son of Carroll Tilton and Charity (Fowler) Jobe of Blandinsville. Federal census records for 1940 show the couple living in Blandinsville, with Paris earning a living as an insurance salesman. Ruby died in Blandinsville on Nov. 15, 1945. She rests in the same burying ground as her parents and siblings -- Glade City Cemetery in Blandinsville. [Find-a-Grave] Paris outlived his wife by 19 years. He succumbed on Nov. 17, 1964.
Son Ned D. Sturtz (1888-1889) was born in 1888 in Blandinsville. He only spent about a year on earth. He passed away in 1889, with his tender remains lowered into eternal repose in Glade City Cemetery.
~ Son John P. Sturtz ~
Son John P. Sturtz (1845-1897) was born on April 11, 1845 in Muskingum County.
He chose to spend his life in Adamsville.
On June 10, 1869, at the age of 24, he married 22-year-old Louise C. Mosier (1847-1895), daughter of German immigrants George A. and Anna (Hahn) Moser and granddaughter of Daniel and Catherine (Wendereling) Moser, a potter who came in 1848 from Zweibrücken, Bavaria.
Their three known children were Annie E. Ferrell, Clark N. Sturtz and Roland J.H. Sturtz.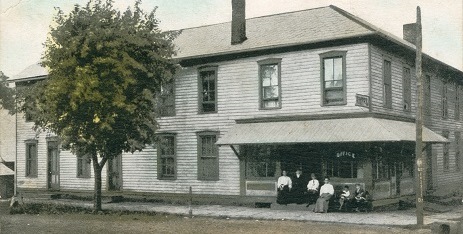 Adamsville Hotel
John is profiled at length in the 1892 book Biographical and Historical Memoirs of Muskingum County (Chicago: Goodspeed Publishing Co.). The newlyweds settled in Adamsville. Said the Biographical and Historical Memoirs book, they "followed farming and teaming for a time, when Mr. Sturtz sold out and moved on a farm in Adams township, lived there one year when he moved to Hayworth farm, where he lived fourteen yeas. On this farm he erected a good house and barn in 1877 and 1878. In 1890 he moved to Adamsville, where he had opened a hardware store in 1889 in company with J.A. Snoots. this was the first hardware store in Adamsville, and they built up a good trade. In 1892 Mr. Sturtz retired and the business is now conducted by Ferrell Bros."
He became proprietor of the Adamsville Hotel in 1890. He is said to have placed the building in "good repair" and furnished the rooms to "meet agreeable standards."
He and Louise were members of the Good Hope Evangelical Lutheran Church, where he volunteered as an elder, deacon and Sunday School superintendent. He also served in the elected office of township trustee for a time.
Sadly, Louise was swept away by the Grim Reaper in 1895.
John only survived her by two years and died on June 5, 1897 at the age of 52. Interment was in New Hope Evangelical Lutheran Church Cemetery near Adamsville. [Find-a-Grave]
Daughter Annie E. Sturtz (1870- ? ) was born on March 12, 1870. On Sept. 30, 1890, she was united in marriage with Elbert Sherman Ferrell (1866-1943), son of Charles and Martha (Shirer) Ferrell of Adamsville. They are believed to have had at least one son, Carl K. Ferrell. Elbert was a hardware dealer and likely worked for Annie's father. Later, they resided in Mt. Vernon, Knox County, OH, where he was employed for 10 years as a post office clerk until retirement. Suffering from cardiovascular problems, and some senility, Elbert died at the age of 77 on May 22, 1943. Interment was in Zanesville.
Son Clark N. Sturtz (1877-1944) was born on July 29, 1877 in Adamsville. He married Golden N. Cherry (1887-1954), daughter of A.H. and Annie (Bowers) Cherry. Clark was a molder in a glass house in Zanesville, Muskingum County. Circa 1926, he worked as a dealer of motorcycles and bicycles in Zanesville, OH. His address in the 1940s was 511 South Street. Suffering from lung and ear cancer, Clark died in Zanesville's Bethesda Hospital on May 10, 1944. He was placed into repose in Woodlawn Cemetery in Zanesville. Golden survived him by a decade. She passed into eternity in 1954, with burial in Zanesville's Memorial Park Cemetery.
Son Roland J.H. Sturtz (1883- ? ) was born on Sept. 8, 1883. Circa January 1926, he was employed as general manager of the Hoover-Rowlands Company in Zanesville, Muskingum County, assisting A.C. Nafzger in the store location at Main and Seventh Streets.
~ Daughter Mary M. Sturtz ~
Daughter Mary M. Sturtz (1846-1868?) was born in about 1846 and grew to womanhood in Salem Township, Muskingum County.
Sadly, she passed away at the age of 22.
~ Son Charles N. Sturtz ~
Son Charles N. Sturtz (1852-1873) was born in about 1852.
Tragically, at the age of 21, in June 1873, he drowned in the Muskingum River. In reporting on the tragedy, the Cambridge (OH) Jeffersonian reported (with misspellings) that the accident occurred "near the mouth Wills Creek. Young Sturtz, with several other men, was fishig with a seine, when, it is supposed, he took the cramp, and, before assistance could reach him, he sank to rise no more. Search was made for the body, but it was not found until Saturday night, when it was discovered, flooting on the water, some two miles below the scene of the accident."
~ Daughter Rachel A. Sturtz ~
Daughter Rachel A. Sturtz (1855-1863?) was born in about 1855 in Salem Township, Muskingum County.
She is said to have died at the age of eight which would place the year of death at 1863.
Copyright © 2000, 2011, 2013, 2015-2019 Mark A. Miner