Ella Jane Swearingen
(1860-1863)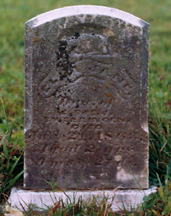 Little Ella's grave marker
Ella Jane Swearingen was born on Sept. 30, 1860 in Tarlton, Pickaway County, OH, the daughter of John S. and Eliza J. (Miner) Swearingen.
She passed away on July 21, 1863, in Tarlton. The cause is not known.
At her death, Ella was only about two months shy of her third birthday.
Ella was laid to rest in the Tarlton Cemetery, where her small, Civil War-era headstone still stands today.
The upright stone may be the only evidence of her brief time spent on Earth.
Her blackened, hard-to-read monument, seen here, is one of the few tangible evidences of her short life. It's also a grim reminder of the family's life and residence in Ohio before migrating as pioneers to Missouri in 1884.
The marker was photographed in August 1994, more than 130 years after Ella's death. Its faded text reads:
E L L A J A N E
Dau. of
J. & E. J.
S W E A R I N G E N
DIED
July 21, 1863
Aged 2 yrs.
9 ms. & 21 ds.
Copyright © 2000, 2009, 2018 Mark A. Miner