Mabel Henrietta
(Swearingen) Ewing
(1889-1940)
Mabel Henrietta (Swearingen) Ewing was born on April 1889 near Concordia, Cloud County, KS, the daughter of Thomas J. and Laura Catherine "Kate" (Johnson) Swearingen.
Mabel married Everett E. Ewing (1886-1970).
They produced seven children -- Roy Ewing, Ralph Ewing, Nelda Withington, Ruth Amberger, Floyd George Ewing, Glen Ewing and Mildred Knutson.
The Ewings migrated westward to a farm in Colorado fairly soon after marriage. All of their children were born in Colorado.
When the federal census was taken in 1920, the family made its residence in Magee, Yuma County, CO. Everett's occupation was listed as farming.
Summit of the Plains tower in Genoa, along U.S. Route 24, which contained what promoters billed as the "only pictograph museum in the U.S.A."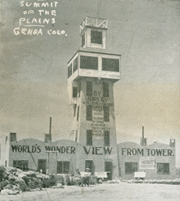 Tower landmark at Genoa, CO
They moved to Genoa, Lincoln County, CO in 1930.
The town of Genoa was famed for its 1920s-era landmark "The Tower, Summit of the Plains," along U.S. Route 24, and what today is Interstate 70. This six-story tower, confirmed by Ripley's Believe It or Not, featured a "world's wonder view" from the top, allowing a visitor to see six states -- Colorado, Wyoming, New Mexico, South Dakota, Kansas and Nebraska. It was billed as the highest point between New York and Denver, or at least from Kansas City to Denver. The building is seen here and would have been well known to the Ewing family.
Sadly, Mabel died in 1940. The details are not yet known. Her remains were placed into eternal repose in Genoa Community Cemetery. Inscribed on her grave marker is the Scripture verse, "I am the resurrection and the life."
When Mabel's mother died in 1955, leaving no will, Mabel's children thus became heirs, and received more than $100 each in cash disbursements from the estate. As heirs to the old family farm, they agreed to relinquish their legal claim for one dollar so that their aunt and aunt, Maude and Sidney Mansfield, could continue living thereon without interruption.
Everett outlived his wife by more than three decades. He is believed to have wedded a second time to Edythe (?) (1900-1986).
Everett died in 1970. Burial was in Genoa Community Cemetery.
~ Daughter Ruth F. (Ewing) Amberger ~
Daughter Ruth F. Ewing (1908- ? ) was born in 1908.
She was united in matrimony with Edward Amberger ( ? - ? ).
Circa 1955, she resided in Wild Cherry, Fulton County, AR.
~ Son Roy D. Ewing ~
Son Roy D. Ewing (1911-1988) was born in 1911.
At the age of 29, not yet married, he lived with his widowed father in Bovina Township, Lincoln County, CO, and assisted his father on the family farm.
He married Bernice A. (1910-1983).
In 1955-1956, they lived in Genoa.
Bernice died in 1983, with burial in Genoa Community Cemetery.
Roy survived her by five years and succumbed in 1988.
~ Son Floyd George Ewing ~
Son Floyd George Ewing (1921-2016) was born on July 31, 1921 in Yuma, CO. He was 19 years old when his mother died in 1940.
During World War II, in September 1942, following graduation from high school, he joined the U.S. Navy. Said an obituary, "From his time in Corpus Christi and training in Stillwater, Oklahoma, to Port Chicago and the South Pacific, his war stories became special to his children and grandchildren through his wonderful storytelling ability." He remained in the Navy through the duration of the war.
He returned home to Genoa, CO and pursued farming, with a deep love for the Colorado soil and all that it could produce. On Sept. 21, 1945, at the age of 24, he was united in matrimony with Norma Jane Holst ( ? - ? ).
Their offspring included Neal Ewing, Barbara Bostwick LaLone and Diana Walz.
Floyd and Norma made Genoa their home during most of their married lives. They spent their free time traveling and in community involvement in Genoa. In later years, in failing health, they moved to Colorado Springs.
Wrote a family member, "Floyd seldom went anywhere without striking up a conversation with someone he had just met. He enjoyed sports, throwing horseshoes, playing cards and created ping pong tournaments that became something family and friends anticipated. Over the years he became quite a baker and filled empty ice cream tubs with his delicious chocolate chip cookies giving them as gifts to everyone's delight. Floyd was known for his infectious laugh, warm smile, his kindness and generosity. His family and friends will remember him as a thoughtful, compassionate and joyful person. He was a loving husband, a wonderful parent and a magical grandparent."
Sadly, stricken with cancer at the age of 95, Floyd died in Colorado Springs on Aug. 21, 2016.
Norma outlived her husband and, in 2019, endured the untimely death of their daughter Barbara.
Son Neal Ewing married Laura Monks. They produced a son, Jacob "Jake" Ewing.
Daughter Barbara Ewing (1952-2019) was born on July 8, 1952 in Denver. She grew up on her parents' wheat farm in eastern Colorado "where she discovered her love for kittens, enjoyed watching sunrises and sunsets on the prairie and exploring the wide open space of the farm...," wrote a relative. She received an associates degree and was employed for many years as a business administrator for a school district ni Modesto, CA. She was twice-wed. Her first spouse was James D. Bostwick (Sept. 5, 1951-2019), son of Morris and Lois Mae (Gum) Bostwick and stepson of Dale Case. The couple produced two children, Shannon Younkin and Sean Bostwick. James had spent his growing-up years in Limon, CO, where he played high school basketball. He attended the Oklahoma School of business and went on to a career in financial consulting. His special interests were competing in triathlon events and basketball, fishing and golf. After a divorce, in a wedding held on April 7, 1989, Barbara was united in matrimony with Ron LaLone ( ? -living). He too had been married before and brought three children into the family -- David LaLone, Randy LaLone and Lisa LaLone. The couple enjoyed vacations, and Barbara especially liked to take walks, read and watch birds. Sadly, she was diagnosed with acute myeloid leukemia and passed away from its effects at the age of 66 on May 3, 2019. A memorial service was held at the Woodmen Valley Chapel in Colorado Springs. Barbara's ex-husband James spent his years in Dodge City, KS. He died on June 9, 2019.
Granddaughter Shannon Bostwick ( ? -living) wedded Patrick "Pat" Younkin, the son of Geary and "Chef" Mari (McClain) Younkin of Colorado Springs and formerly of Connellsville, PA, of the family of

William Henry and Rachel (McClintock) Younkin

of Somerset County, PA. The couple dwells in Colorado Springs and has borne two children, Lana Younkin and Logan Younkin.
Daughter Diana Ewing was joined in marriage with Ronald Walz. They are the parents of Randall Walz and Ran Walz.
~ Son Ralph E. Ewing ~
Son Ralph E. Ewing (1913 -1999) was born in 1913.
He wedded Fern L. Westfall (1918-1998), daughter of Everett and Gladys Rosa (Seymour) Westfall.
They spent their lives in Genoa.
Fern died in 1998.
Ralph joined her in death a year later in 1999. They rest in Genoa Community Cemetery. [Find-a-Grave]
~ Daughter Nelda (Ewing) Withington ~
Daughter Nelda Ewing (1915-2004) was born on Oct. 5, 1915.
She was joined in wedlock with Raymond G. Withington (1902-1958), son of Lorenzo C. and Clara E. Withington.
The couple were the parents of Jerry Withington and perhaps others.
In 1955-1956, they lived in Genoa, Lincoln County, CO.
Sadness blanketed the family when Raymond died at the untimely age of 56 in 1958. His remains were placed into rest in Genoa Community Cemetery.
Nelda survived Raymond by 36 years. She is believed to have married a second time to (?) Miller and to have spent her final years in Hugo, Lincoln County. She celebrated her 88th birthday in October 2003 with a dinner at the home of her son Jerry. Grandsons Gary Withington and Darrel Dunaway and their families traveled to spend the event with her, and the event was covered in the gossip columns of the Eastern Colorado Plainsman.
She passed away on Oct. 25, 2004 and is buried beside her first husband in Genoa.
Son Jerry Withington married Betty. Their home has been on a farm in Trinidad, CO. Jerry was elected to the Hugo school board in May 1975.
~ Son Glen L. Ewing ~
Son Glen Ewing (1924- ? ) was born in about 1924.
When he was age 21, on Sept. 12, 1945, he wedded Bettie M. Anderson (April 27, 1925-2009), daughter of Anders R. and Elizabeth Maud (Owen) Anderson of Genoa.
After graduation from high school in 1943, Bettie studied dietetics at Colorado Women's College.
The couple were the parents of Wayne Ewing and Gloria Exner.
For decades, they lived in Genoa. Bettie was active in the Geloa United Methodist Church as a Sunday School teacher, choir members and leader of the women's Bible study. She also enjoyed golf and coaching softball as well as needlework and crocheting. She had a specialty baking wedding cakes and was a leader of the 4-H organization.
Bettie passed away at home at the age of 84 on Aug. 22, 2009. Burial was in Genoa Community Cemetery.
Son Wayne Ewing married Linda. They have lived in Genoa.
Daughter Gloria Ewing wedded Arden Exner. They make a home in Aurora, CO.
~ Daughter Mildred (Ewing) Knutson ~
Daughter Mildred Ewing (1931-1999) is believed to have been born on May 30, 1931 in Genoa.
She married Oscar Knutson (1926-1989).
In 1955-1956, they lived in Genoa.
Oscar died in 1989.
Mildred passed away in Genoa at the age of 68 on Sept. 1, 1999. Burial was in Genoa Community Cemetery. The inscription on her grave marker reads "Faithful wife, loving mother, wonderful lady." [Find-a-Grave]
Copyright © 2010, 2018, 2020 Mark A. Miner