Catherine Jane (Van Dyke) Fultz
(1915-2016)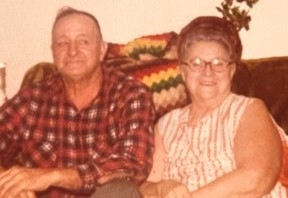 James and Catherine Fultz.Courtesy Nicole Bosley

Catherine Jane (Van Dyke) Fultz was born on July 24, 1915 in Foxtown, Westmoreland County, PA, the daughter of Samuel Aaron and Bertha Mae (Minerd) Van Dyke.
On Aug. 15, 1942, at the age of 27, Catherine was united in matrimony with James B. Fultz (Nov. 26, 1916-1994). James was a native of Mammoth, PA and the son of William G. and Mary (Baker) Fultz.
The couple produced two children -- Catherine "Jane" Prevenslik and James D. "Jim" Fultz.
The Fultzes made their longtime home in Hunker, Westmoreland County. For more than four decades, Catherine was an Avon sales representative. She also was a charter member of New Stanton Alliance Church. James worked for many years for ITE, and was a member of the Youngwood Sportsman's Club and the National Rifle Association.
Sadly, James passed away at the age of 77 on June 3, 1994, in Westmoreland Regional Hospital in Greensburg. Rev. James B. Liston led the funeral service, with burial in Westmoreland County Memorial Park.
Catherine also endured the untimely deaths of her daughter and son-in-law, Jane and Ronald Prevenslik.
The founder of this website, in company with John "Jack" Campbell, visited Catherine in her home in Foxtown on Dec. 27, 1993.
She spent her final time on earth as a resident of Harmon House Convalescent Care in Mount Pleasant, Westmoreland County. She died at the age of 100 on June 1, 2016. Rev. Dan M. Dorchert led her funeral service followed by burial in Westmoreland County Memorial Park, Hempfield Township.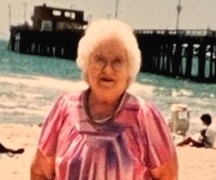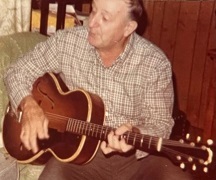 Catherine and James at play.
Courtesy Nicole (Prevenslik) Bosley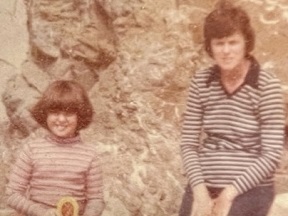 Janie Prevenslik and daughter Nicole
Courtesy Nicole (Prevenslik) Bosley

~ Daughter Catherine Jane "Janie" (Fultz) Prevenslik ~

Daughter Catherine Jane" Fultz (1945-2014) was born on June 17, 1945 in Youngwood, Westmoreland County.

She grew up in the small community of Foxtown and enjoyed watching Pittsburgh Steelers and Penn State University football games with her father. She was an alumna of Hempfield High School.

On Oct. 20, 1967, at the age of 22, she was united in matrimony with 23-year-old Ronald S. "Ron" Prevenslik (March 5, 1944-2012), son of Joseph and Mary Prevenslik of Youngwood.

Ronald as a teenager gained automotive experience as a body man at a small collision shop in Youngwood. After graduating from Hempfield High School in 1962 he joined the Army and was stationed at the Presidio in San Francisco. That's where he fell in love with California.

The Prevensliks were the parents of a daughter, Nicole "Nikki" Bosley, born in 1969. She has written this memory of her mother:
Jane, or Janie, was the most giving, kind-hearted mother I could've asked for. Following their marriage, my mom and dad relocated to Southern California where she supported my dad's business, Automotive Collision & Refinishing, as a bookkeeper throughout its 25 years in business. I cannot remember a time in my youth that my mom was absent for whatever I needed. She was a friend to rely on and was always there for me. As a child, she played board games with me, took me to movies and oversaw all of my pool parties, happily feeding the children in the neighborhood who came over to share our pool. She would be the one standing back making sure everyone was safe during trips to Disneyland when my dad and I would go crazy on the rollercoasters. And my friends would think it was the funniest thing that she'd go absolutely crazy over anything to do with the Pittsburgh Steelers. She would never miss a game, her Terrible Towel close at hand. A trip to Steelers training camp was always on the agenda during our summer visits to PA. My mom especially loved cats and books, and our home had plenty of both throughout the years in California. I remember many an afternoon when I was a young child, my mom reading to me, helping foster my love of books, writing and future career as a journalist. She loved to shop on the weekends, but took the most pleasure in buying things and being there as a friend for others. I can credit her for helping me become voted "best dressed" in high school as she and I would shop on the weekends and enjoy looking at all the new, wonderful styles and fashions. Once I reached high school, Jane continued to help with my father's bookkeeping, but she did something for herself! She became employed by North Drugs Pharmacy in Costa Mesa, where she enjoyed greeting customers and taking care of their needs. She also enjoyed her many coworkers whom she called friends.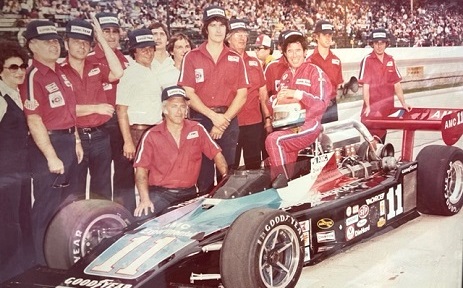 Ron Prevenslik at Indy standing at far right

Courtesy Nicole (Prevenslik) Bosley
Ronald Prevenslik

For many years, Ronald pursued a career in the motor racing industry. As a member of the Gilmore/Foyt Racing Team, Ron was named in the Press Information booklet for the 1977 Indianapolis 500. The reference states that he served as the "right-rear carrier" on the crew of Jim McElreath's no. 73 Carrillo Rod Carrillo/AMC team which captured top prize in the Miller/Indy Pit Stop competition. He also was employed with Dan Gurney All American Racers and part of the team that designed and painted the Jorgensen Eagle, which is in the Indy 500 Museum in Indianapolis.

Of her father, Nicole has written this:
Growing up in Youngwood, my father was a small-town boy with big dreams. His hard work and determination earned him a long career as one of Southern California's premier automotive restorers and collision specialists. Self-employed for more than 38 years, his exemplary skills and talent earned him notice by various professionals in the racing business. He will always be a source of inspiration for me and will be forever loved and missed. As a boy, my father dreamed of one day working in the pits at the Indianapolis 500. He accomplished this goal and much more. We resided in Costa Mesa, Calif., for more than 25 wonderful years. After settling in California, my father established himself by building and racing dragsters. His natural gift for design, creative instinct and attention to detail eventually caught the eye of Indianapolis 500 driver, team owner and car manufacturer Dan Gurney. My father always remembered his first contact with Gurney with pride and enjoyed talking about how exciting this moment was for him. He collaborated with the racing icon on various projects throughout the years, most notably painting the All American Racers (AAR) No. 48 Jorgensen Eagle. He was honored by Gurney when AAR received the PPG Outstanding Use of Color and Design Award in 1976 and 1978 for the Championship Division: Indy 500. My father was the owner operator of Automotive Collision and Refinishing in Costa Mesa, Newport Beach and Santa Ana. A tool collector and aficionado, his shop was a regular stop for the Snap-On tool truck. Throughout his career, my father met and worked with well-known racing celebrities including Mickey Thompson, Steve McQueen and Paul Newman. An active member of the National Rifle Association, he was an outspoken proponent of our second amendment right to own firearms.
The Prevensliks moved back to Youngwood in the early 1990s.
Ron died in Bullhead City, AZ on Dec. 21, 2012. His obituary was published by the Mohave Daily News.
Sadly, Jane passed away on Aug. 22, 2014. They rest together in Westmoreland County Memorial Park.
~ Son James D. "Jim" Fultz ~
Son James D. "Jim" Fultz ( ? - ? )
He wed Bernadette Hitura.
They reside in Mount Pleasant Township and have one son, Christopher David Fultz.
Today they dwell in Kecksburg, PA.
Copyright © 2000, 2003-2006, 2018 Mark A. Miner
Minerd.com extends its gratitude to Nicole "Nikki" (Prevenslik) Bosley and the late Anna Belle (Van Dyke) Breegle for sharing material for this biography.