Home

Alfred Younkin
(1840-1865)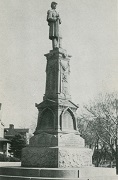 Civil War monument, Somerset, PA
Alfred Younkin was born on Feb. 7, 1840 in Turkeyfoot Township, Somerset County, PA, the son of Henry F. and Mary (King) Younkin. He was a pioneer of Kansas and a casualty of the Civil War.
As a teenager, he migrated westward with his older brothers and settled in Clay Center, Clay County, KS. When the Civil War broke out, he enlisted in Clay Center and was placed within the 11th Kansas Cavalry, Company L. His enlistment date was March 31, 1864, and he was promised a bounty payment of $160, due at the completion of his service.
His brothers Moses, Harrison and Silas also provided military service during the war with Union Army regiments. Brother Silas was wounded in the face and Harrison was "shot entirely through the chest, at the battle of Fair Oaks," VA.
While a member of the regiment, stationed at Fort Kearny, Nebraska, or at Fort Halleck, Wyoming, Alfred caught an incurable disease of "bilious fever." The symptoms included nausea, vomiting, diarrhea and spiked temperatures. The war now over, he and his regiment were headed back to Kansas to be discharged from the army. He could only go as far as as Marysville, Clay County, KS, at a point where he could endure the travel no further. Wrote his fellow soldiers John Hour and George B. Himes: "He was so bad when we came to Marysville, Kansas, that we left him there and went on to Fort Leavenworth...."
Sadly, he died in Marysville on Sept. 15, 1865 at the age of 25 years, seven months and eight days, considered a casualty of the conflict even though it had ended by the time of his demise. His remains were placed into rest at the Timbercreek Cemetery near Wakefield, Clay County.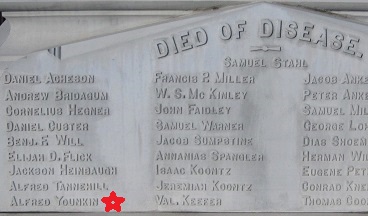 Civil War monument bearing Alfred's name in Somerset, PA
In a tragic twist, one of Alfred's Younkin cousins, Theodore Cremer -- as a member of the 1st Iowa Cavalry -- also gave his life during the war, due to wounds sustained in battle in Arkansas. Some years later, Alfred's death was described in his father's Somerset Herald newspaper obituary as "in the service on the western frontier."
When a monument honoring Civil War soldiers was erected in Somerset, Somerset County, Alfred's name was among 203 names inscribed on the face of the statue under the heading of "Died of Disease." The monument was cast in bronze and dedicated on Sept. 17, 1888 by surviving soldiers and local citizens in a ceremony attended by 5,000 observers. Funds for the effort were raised by members of the R.P. Cummins Post of the Grand Army of the Republic, a Union veterans lobbying organization.
Nearly three decades after the war, now living in Kansas, Alfred's aged mother applied for and on Oct. 25, 1894 was awarded a federal pension as compensation for her loss. [App. #603.672, Cert. #424.026]
Copyright © 2014-2016, 2019 Mark A. Miner
Research for this page graciously shared by the late Donna (Younkin) Logan, Marian (Smith) Posey, Laurel Posey, Loretta (Adams) Kelldorf, Blair E. "Junior" Younkin Jr. and Kay Lynn Younkin.