Elizabeth 'Betsy' (Younkin) Hare
(1823-1900)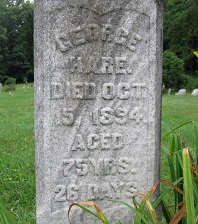 George's grave, Ursina
Elizabeth "Betsy" (Younkin) Hare was born on July 20, 1823 near Kingwood, Somerset County, PA, the daughter of John J. and Mary "Polly" (Hartzell) Younkin.
She married George Hare (1819-1894).
The couple did not reproduce, but adopted a daughter, Barbara Ellen "Ella," born in about 1855.
They first lived near Ursina, about four miles from the home of Elizabeth's brother Jacob J. Younkin. Later, she wrote, "I and my husband moved away, a distance of about 25 miles, but continued to visit ... as relatives usually do."
In November 1878, they relocated from Fayette County to Harnedsville, Somerset County. In reporting on their move, the Somerset Herald said "They are highly respected by all who know them, and we extend to them a hearty welcome in our midst."
They later made their home in Addison, Somerset County.
The Hares attended an Evangelical church with services held in a schoolhouse atWalker's Mill. The first pastor of the congregation was Rev. George White, a circuit rider whose territory extended from Preston County, WV to Jenner, Somerset County.
George made news again in the Herald on Aug. 22, 1883. While "preparing a piece of ground for the plow, [he] came upon what he supposed to be a botler, but upon examination found an arch of solid masonry, underneath which he found ashes and pieces of earthen ware in good preservation. The oldest inhabitants of this section of the county have no recollection of any ware of that kind having been manufactured in the vicinity of Harnedsville. The question is, who did it?"
West Main Street in Addison, early 1900s
In September 1894, Betsy's health began to fail, and she wrote a will. In the document, she said that she was "weak in body but of sound mind, memory and understanding (Praise be to God for it), considering the certainty of death, and the uncertainty of the time thereof... I commend my soul into the hands of almighty God, my creator...." She bequeathed her estate to their daughter, she wrote, "because I consider her my only legal Heir, we adopted her when a small child, raised her and treated her as our own child. She has been to me and my Husband as our own child and to her we have always been a Father & Mother."
George died at the age of 75 on Oct. 15, 1894. He rests in Ursina Cemetery. No obituary has been found in the Meyersdale (PA) Commercial in Somerset County.
Betsy actually outlived her husband by six years. She joined him in death in 1900 at age 76.
Circa 1936, George was named posthumously in a Meyersdale Republican article, stating that he was an early settler whose name was recorded in a daybook kept by Samuel and William Harned, and that as of 1936, the old Hare farm was owned by Jacob Gillenberger.
~ Daughter Barbara Ellen "Ella" Hare ~
Daughter Barbara Ellen "Ella" Hare (1855-1927) was born in about July 1855 in Somerset County.
She never married and spent her life in the home of her parents in Lower Turkeyfoot, as shown in the federal censuses of 1880 and 1900.
Ella is believed to have been fated with mental deficiencies. Her parents allegedly asked a relative, Rev. William M. Baumgartner, a young local pastor, to keep an eye on her affairs. Recalled Baumgartner, "I, being the only relative in reach, was requested by Mr. and Mrs. Hare, prior to their death, and by Miss Hare, to see that her effects would not be misused or squandered." This claim is somewhat dubious, as Ella was surrounded by scores of Younkin relatives in southern Somerset County.
At the age of 39, Ella lost her father to death, followed six years later by her mother in 1900. She inherited a small farm of eight acres in Lower Turkeyfoot, described by a newspaper as containing "a dwelling house, stable, and other outbuildings, valued at about fifteen hundred dollars." Now forced to care for herself, Ella lived in a nearly destitute state during the cold winters of 1901 and 1902. During that time, she is thought to have asked her cousin and family physician Dr. Winfield Scott Kuhlman of Ursina to watch over her well-being.
In August 1903, the Somerset Herald reported the following, which was reprinted by the Meyersdale Republican:
Barbara Ellen Hare of Lower Turkeyfoot township is not insane, according to the opinion of Judge F.J. O'Connor of Cambria county, which was forwarded to Prothonotary Berkey on Saturday afternoon, and as a result of the court's opinion S.M. Baumgardner of Elk Lick township, a relative of Barbara, who was desirous of having the court declare her a lunatic, will be compelled to pay costs in the neighborhood of seventy-five dollars. Early in 1901 Mr. Baumgardner presented a petition to the court asking that a commissioner be appointed to inquire into the lunacy of Barbara Ellen Hare. The court appointed John R. Scott, and a hearing was held in his office on the 29th day of March of the same year, before six persons selected by the commissioner to act as jurors.... The commissioner's report sets forth that Barbara Ellen Hare was aged 48 years, and that for the last 20 years she was a lunatic, incapable of transacting her own business, suggesting that a committee be appointed to transact her business for her. Exceptions were filed to the report of the commissioner, and a short time ago arguments upon these exceptions were made before Judge O'Connor, who sustained the exceptions, and placed all the costs upon the petitioner, S.M. Baumgardner. Touching the question of costs the Court says it may be true that the action of the petitioner in starting the proceedings, may have been prompted by the highest motives, and that selfishness had no part therein, but to impose the costs upon Barbara Ellen Hare, who has little enough with which to keep the wolf from the door, and who has been guilty of nothing, would be an indefensible act.
In the Somerset newspaper coverage, Rev. Baumgartner felt wronged and provided his own account to the Connellsville Weekly Courier, which was printed on Sept. 6, 1903:
The following communication is from Rev. Bumgartner of Somerset county in reference to some published reports that have been printed in Fayette and Somerset counties. Barbara Ellen Hare of Somerset county, Pa., inherited from Mr. and Mrs. Hare property consisting of real estate and household effects... Soon after the death of Mrs. Hare, Mr. Hare dying a few years before, Barbara Ellen gave me power of attorney to transact her business, which I did until Dr. Kuhlman, a distant relative of Mrs. Hare, secured from Miss Hare a similar authority, revoking mine. Believing that Miss Hare was not competent of transacting her own business I asked the court of Somerset, Pa., to take steps to secure her property unto herself. Seeing that she was in want for the necessities of life, especially during the winter of 1901 and 1902, I reported her condition to the court, when Judge Kooser authorized me to give her such necessary relief as might be necessary until the matter as to her mental ability would be decided. Her case was taken up under the old law of "Insanity in business," to which Dr. Kuhlman filed objections. The case was heard and the objections sustained by Judge O'Conner. All other matter published by the press in this case are either imaginations or maliciousness. I think the court should have placed the costs of this case to the objectors of the bill, but am glad it was not placed to poor Barbara. The matter is not yet ended, and the new law of "Weakness of Mind."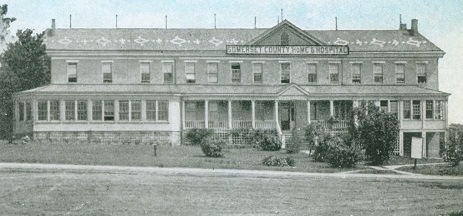 Somerset County Home and Hospital, where Ella Hare died, 1927
The federal census enumeration of 1920 shows Ella maintaining a home for herself at about age 68 in Confluence.
At some point, Ella was admitted as a patient to the Somerset County Home and Hospital. She died there at the age of about 75 on July 13, 1927. Her body was donated to the Anatomical Society of Pittsburgh. No newspaper obituary is known to have been printed.
Copyright © 2013, 2018, 2020 Mark A. Miner
This page is dedicated in the memory of cousin-researchers who graciously shared their findings: the late Donna (Younkin) Logan and the late Olive (Rowan) Duff.