Johannn 'Frederick' Younkin
a.k.a. 'Frederick G. Younkin' - (1763-1843)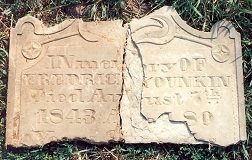 Frederick's broken grave marker, 1843
Along with two of his brothers, Johann "Frederick" Younkin, also known as "Frederick G. Younkin," was an 18th century pioneer settler of Kingwood, Turkeyfoot Township, Somerset County, PA. He produced at least a dozen children and 53 known grandchildren.
He was born on Oct. 15, 1763 in Bedminster Township, Bucks County, PA, the son of German immigrants Johannes "Heinrich" and Catharina (Scherer) Junghen. As a baby, he was christened in the Tohickon Lutheran Church, sponsored by Frederick Schmidt.
He initially was a farmer in Haycock Township, Bucks County, and in 1786 was assessed for taxes as a single man. He is thought to have grown up attending or affiliated with the Tohickon Church, otherwise known as Keller's Lutheran Church and later as St. Matthew's Church, in Perkasie, Bucks County, where German language records naming him and his parents and siblings were kept.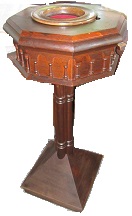 Baptismal font from the
old Sanner church where Younkins were baptized
Sometime before 1789, when he would have been 25 years of age, Frederick married his first wife, Maria Barbara Dieter ( ? -1785). The marriage nuptials took place in Bucks County.
The couple had one known son, Frederick Younken Jr., in the 1780s, and perhaps others. The baby was baptized in the Kellers Lutheran Church on Aug. 22 [year?], with John Klinker and Elizabeth (?) of Nockamixon Township standing up as sponsors.
Sadly, Maria Barbara died an untimely death as a young adult, in about 1785. The precise date and details are not known. The young son Frederick Jr. apparently was taken in by relatives, possibly a grandmother, and remained in Nockamixon for the rest of his life.
It may have been during his time of grieving that Frederick decided that his future lay elsewhere. He made plans to migrate westward into the mountain wilderness of southwestern Pennsylvania, leaving his son behind.
In the mid-1780s, Frederick arrived in Somerset County and put down roots, where many of his descendants continue to live today. His brothers Johannes "John and Jacob also made their way to the county, and all settled near Kingwood. Frederick became interested in large tracts of farmland owned by John Kirkpatrick. He is believed to have agreed to purchase the tracts in September and October 1786, and then 10 years later, on Aug. 27, 1796, received a deed. He had the deed patented on Sept. 8, 1802 to assure exclusive control and possession.

Above: Record of Rudolph's birth, in German,
Keller's Church. Below: signature, 1815

About 1790, Frederick wed his second wife, Catherine Patton (1771-1854). Nothing about her lineage or story is known.
The couple produced the following 11 children: John C. Younkin, Christina Dull, Elizabeth "Betsy" Younkin, Magdalena Younkin, Frederick F. Younkin, Catharine Lehmer, Henry F. Younkin, Sarah "Sally" Weimer King, Nancy Younkin, Margaret Rebecca "Peggy" Pringey and Moses Younkin.
The Younkins considered St. John's Lutheran Church in Black Township near Rockwood as their spiritual home. It commonly was known as the "Sanner Church." Several of their infant children were baptized there over the years between 1797 and 1812. The congregation was founded in 1783 in a log building, and in 1814 a schoolhouse and cemetery were established under its ownership. In 1871, congregations of the Reformed and Lutheran churches were merged, but when a new building was erected that year, "neither the Lutheran nor the German Reformed minister would dedicate this union church," said the book Down the Road of Our Past, Vol. 1.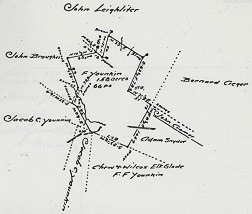 Re-survey of Frederick's 158-acre farm, 1859.
Note son Jacob's farm to the south and west
In 1796, Frederick was named in a list of taxpayers in Turkeyfoot Township, as were his brothers, published in the History of Bedford, Somerset and Fulton Counties. In Turkeyfoot, said the History, "white men dwelt in the hunting-grounds of the savages; here the severest trials of pioneer life were encountered." Of Frederick specifically, the History said he "experienced much annoyance from bears, panthers and other wild animals which then infested the forests. He was a shoemaker by trade, and also carried on distilling and farming."
Frederick is said to have worked as a shoemaker by trade, and also carried on distilling. He did not hesitate to use the county court system to further his interests or seek redress for perceived slights. The Somerset Herald newspaper of Nov. 5, 1828 shows that he and Catherine, in three separate lawsuits, filed complaints against Weimer, Drushell and Weimer.
Heartaches plagued the family as the years went on. In 1811, Frederick's brother Jacob died in Turkeyfoot Township, leaving a widow and six children under the age of 16. Two years later, Frederick agreed to be named by the Somerset County Orphans Court as the legal guardian of two of his brother's offspring, Samuel Younkin and Catherine Younkin.
On Sept. 15, 1828, son in law Michael Weimer died at the age of 29, of causes unknown. The following year, circa 1829, their married daughter Catherine Lehmer was carried away in death at the untimely age of 25. In 1838, Frederick would have learned of the accidental and tragic death of his eldest son Frederick Jr. in Bucks County.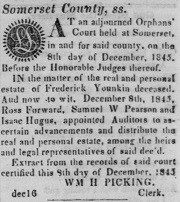 Somerset Herald, Dec. 30, 1845
Three of the Younkins' sons were pioneers of midwestern states -- Frederick F., who went to Indiana in 1835, though returning a handful of years later after his wife died; John C., who migrated to Iowa in 1846 and died in Missouri; and Henry F., who put down roots in Kansas in 1874, his son Moses having moved there some years earlier, in 1856. As well, daughter Margaret "Peggy" Pringey and her family relocated to Virginia (later renamed West Virginia) between 1846 and 1848.
Frederick passed away in Kingwood, said to have been in his 80th year of age, on Aug. 7, 1843. Burial was in the family cemetery 1.5 miles southwest of Kingwood along what today is Route 281.
He died "intestate" -- without leaving a will -- and the family was left to divide the assets among themselves. He owed debts to some 35 creditors totaling $364.12. Catherine, now widowed, renounced her right to serve as the executrix of the estate, and asked that her sons Frederick and Henry take on this role.
Son Henry then filed a lawsuit in the Orphans Court of Somerset County, asking that an inquest be granted to partition the farm among the heirs "without prejudice to or spoiling the whole thing." If the partition could not be so made, he then asked that it be divided "conveniently" to accommodate two or more of the heirs. The estate was administered in Somerset County probate court and assigned the file number "28 of 1843." As part of the legal action, the farm was re-surveyed and found to contain 158.66 acres rather than the previously thought 157.25 acres. On Aug. 31, 1843, just 24 days after Frederick's death, a sale was made of his farm implements, raising $111.33 in cash proceeds.
By the time of Frederick's demise, about 100 acres of his farm were considered clear land. The farm included two dwelling houses, a barn and an orchard.
~ Frederick Younkin Estate Property Sold Aug. 31, 1843 ~
Wm. Baldwin - lasts and clamp

James Cunningham - lot of brass ware

Frederick Dull - log chain; two horse wagon; old black cow

George Dull - tea kettle; 2 razors & box; steel trap; large pot

H.L. Holbrook - cider barrel; shears & chain; 3/4 auger; manure fork; large grindstone

Enos King - hogs 2nd choice; large red cow

Thomas King - shovel; bees 2nd choice; hogs 1st choice; beef cow

J.C. Leighliter - tap auger & rings; pigs 1st choice

Henry Minerd - small lot of old iron and small wheel

Frederick Phillippi - hogs 4th choice

J.R. Pringey - grubbing hoe

J.K. Rush - drawing knife; 11 gallon iron kettle; bees 3rd choice

J.C. Speicher - Book of Martyrs

Aaron Schrock - bees 1st choice

Emmanuel Schrock - German hymn book

Jacob Shep - bed & bedstead; pigs 3rd choice; two sheep

John Vought - plough and groove planes, crose and two plains

Frederick Younkin - shoemakers tools; scythe, nail & nib; pitch fork; spade shovel; German Bible; whiteface heifer; red cow; culling box; small grindstone; hand saw

Henry Younkin - chopping axe; cant hook; hogs 3rd choice

Jacob Younkin of Jac. - 22 gallon iron kettle

John Younkin - two barrels; double barreled gun; pigs 2nd choice; razor

Frederick (?) - bees 4th choice; bees 5th choice

--Source: Somerset County
Estate No. 28 of 1843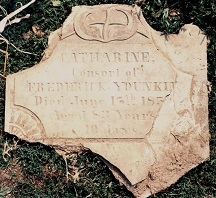 Catherine's fractured grave marker
Catherine survived her husband by almost 11 years. When the federal census was enumerated in 1850, she headed a household with her 37-year-old unmarried daughter Nancy. Living next door was her son Frederick and his large family.
Catherine passed into eternity in Kingwood on June 17, 1854, at the age of 83. She was placed at rest beside her husband. A marker installed at her grave, highly decorated with carved shapes. The stone refers to her as the "Consort of Frederick Younkin" which is an outdated term from the 19th century simply meaning "wife."
Within a decade of Catherine's passing, at least 16 of their grandsons or granddaughters' spouses (and likely many more) took up arms for the Union Army during the Civil War. Two died in the service, and at least another two were wounded.
Later in the 1800s, many of the Younkin grandchildren -- including unmarried women -- left Somerset County for points west in Illinois and Iowa. One grandson even made his way to Alaska in the early 1870s, after abandoning his wife and family. At least three offspring were killed in tragic railroad accidents as the century neared its turn.
Frederick is profiled in the 1884 book History of Bedford, Somerset and Fulton Counties, Pennsylvania, published in Chicago by Waterman, Watkins & Co. He also is named in a list of pioneers in the 1906 book History of Bedford and Somerset Counties, Pennsylvania, co-authored by E. Howard Blackburn, William Henry Welfley and William H. Koontz.
~ Known Burials - Frederick G. Younkin Cemetery ~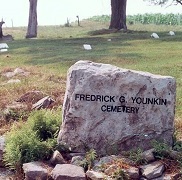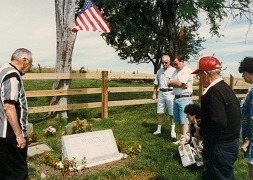 New stone identifies the name of the cemetery; and the new fence and marker dedicated in 1996. Researchers have identified 48 burials within the cemetery, the earliest dating to 1826 and the latest to 1883, a sweep of 57 years. Among them, in addition to Frederick and Catherine, the following 13 others have been identified, in chronological order of burial.
Jemima C. Leighliter, died Feb. 4, 1826
Susannah King, died Nov. 27, 1834, wife of Thomas King
Cyrus Wehier, died Aug. 14, 1843, son of J. & C. Wehier
Rebecca King, died April 4, 1845, daughter of S. & S. King
Susan C. Slatt, died Aug. 18, 1848
Elizabeth Boucher, died Oct. 1850, wife of John Boucher
Sarah (Younkin) King, died July 29, 1854, wife of Thomas King
Caroline Broucher, died Oct. 1854, daughter of J. & E. Broucher
Adam F. May, died Aug. 15, 1861, son of F. & S. May
Peter A. May, died July 15, 1862, son of P. & S. May
Frederick Younkin III, died Aug. 20, 1862, son of Frederick F. and Sarah (Faidley) Younkin
Shapet Dwire, died July 12, 1868, age 72
Catherine J. Dwire, died July 2, 1883, age 85
Source: Works Progress Administration
To reflect the rapid headcount growth of this family, of their dozen children, at least three (Sarah Weimer King, Henry F. and Christina Dull) produced a dozen offspring each, and John had eight. Of the descendants remaining in Somerset County, at least six married Younkin cousins.
In the 1930s, Pennsylvania researchers Charles Arthur Younkin and Otto Roosevelt Younkin, officers with the clan's National Home-coming Reunion in Somerset County, and who published the original Younkin Family News Bulletin, attempted to catalog all of the known branches which Frederick and Catherine had spawned. The compilations and detail are staggering in their sweep, especially since the nation was in the grip of the Great Depression at the time. The only key error they initially made, and later corrected, was that Frederick and Catherine did not have a daughter Mary "Polly" (Younkin) Minerd -- direct ancestor of the founder of this website -- but rather that she was of the family of "Yankee John" and Nancy (Hartzell) Younkin.
Nearly 50 years after World War II curtailed the original Younkin effort, Donna (Younkin) Logan used their body of work circa 1989 to build an expanded database of Younkin genealogy, publish a newly re-formatted Younkin Family News Bulletin and organize the Younkin Reunion- East.
Over the years, Frederick and Catherine's grave markers were under siege from the ravages of time. Cows were allowed to graze in the burying ground, occasionally breaking off the markers in part or in full. During the 1930s, laborers with the Works Progress Administration (WPA) removed some of the stones in an emergency when a tractor or vehicle, tipped over, needed some leverage or traction that the stones could provide. In the late 1980s, direct descendant Kay Lynn Younkin, daughter of the farm's owner Gerald and Iris Marie (Kreger) Younkin (of the family of Jacob C. Younkin), began to search for and rescue some of the major fragments containing writing so they could be preserved. In 1996, the Younkins built a strong wooden fence around the perimeter of the cemetery, dedicated an all-new single marker for Frederick and Catherine, and also placed an etched stone naming the historic site as the "Fredrick G. Younkin Cemetery."
~ 22 Civil War Soldiers Among Frederick G.'s Direct Offspring~
Richard Cremer (1840-1881) - 3rd Iowa Cavalry, Co. M
Theodore Cremer (1840-1864) 1st Iowa Cavalry
Frederick "Fred" Dumbauld (1837-1917) - 142nd Pennsylvania Infantry, Co. C.
Leroy Forquer (1843-1932) - 4th West Virginia Cavalry, Co. I
Jacob Kreger (1839-1922) - 142nd Pennsylvania Infantry, Co. C
Henson Smith Liston (1838-1890) - 3rd West Virginia Infantry, Co. H and 6th West Virginia Cavalry, Co. H
Daniel Henry Myers (1838-1920) - 15th Kansas State Militia, Co. C
John Henry Myers (1843-1909) - 54th Pennsylvania Infantry, Company C
Lewis Powell (1841-1885) - 78th Ohio Volunteer Infantry, Company B
Herman Pringey (1842-1932) - 3rd West Virginia Infantry, Co. H
John E. Pringey (1844-1918) - 14th West Virginia Cavalry, Co. B
Seneca R. Randall (1833-1909) - 100th Illinois Infantry, Co. I
Jacob J. Rush (1841-1922) - 1st Battalion, Pennsylvania Infantry
Edward Shoemaker (1843-1865) - 22nd Iowa Infantry, Company E
Oscar Shoemaker (1837-1921) - 22nd Iowa Infantry, Company E
Jesse Sweitzer - 29th Pennsylvania Infantry, Company A
John S. Trimpey (1841-1929) - 142nd Pennsylvania Volunteer Infantry, Co. C
Alfred Younkin (1840-1865) - 11th Kansas Cavalry, Co. L
Balaam Younkin (1836-1921) - 171st Pennsylvania Infantry, Co. K
Harrison K. Younkin (1842-1919) - 85th Pennsylvania Volunteer Infantry, Co. H
Jeremiah Younkin (1829-1907) - Kansas State Militia
Moses Younkin (1830-1892) - 15th Kansas State Militia; 11th Kansas Cavalry, Co. L
Silas Younkin (1844-1924) - 133rd Pennsylvania Volunteers, Company E and 116th Pennsylvania Infantry, Company E
~ Daughter Elizabeth "Betsy" Younkin ~
Daughter Elizabeth "Betsy" Younkin (1797- ? ) was born on March 13, 1797 in Somerset County.
Following family tradition, she was christened in the Sanner Church in nearby Milford Township.
Circa 1934-1935, when Younkin genealogists in southwestern Pennsylvania gathered research notes, Betsy was named in the typed records, but nothing more about her was known.
~ Daughter Magdalena Younkin ~
Daughter Magdalena Younkin (1799- ? ) was born on March 17, 1799.
She was christened in baptism at the Sanner Church. Her fate is lost to history after that time.
~ Daughter Nancy Younkin ~
Daughter Nancy Younkin (1813-1863) was born on May 5, 1813 in Turkeyfoot Township.
Little of her life is known, other than that she resided at home with her mother in 1850, unmarried at the age of 37 (erroneously shown as 40 on the federal census, suggesting that she did not know her own age).
Copyright © 2014-2016, 2019-2020
Research for this page graciously shared by the late Donna (Younkin) Logan, Marian (Smith) Posey, Laurel Posey, Loretta (Adams) Kelldorf, Blair E. "Junior" Younkin Jr. and Kay Lynn Younkin. Obituaries of Christina (Younkin) Dull, Elizabeth (Dull) Dumbauld, Henry F. Younkin, Harvey Rush and Grant Rush courtesy of the Library of Congress.