Jeremiah Younkin
(1829-1907)
Jeremiah Younkin was born on March 8, 1828 (or March 4, 1829) in Turkeyfoot Township, Somerset County, PA, the son of Henry F. and Mary (King) Younkin.
In 1854, when he was age 15, Jeremiah learned of the passage of the Kansas-Nebraska Act, which opened new territories for settlement. Two years later, he migrated to Illinois in 1856, when he was age 17 years, and in April of that year, along with his brothers Moses and William, and John T. King, settled in Kansas on Timber Creek in Grant Township, Clay County -- cited by the Kansas Historical Society as "the first white men to settle within the present limits of Clay county."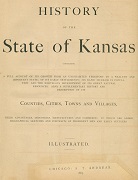 History of Kansas, 1883
On Dec. 23, 1860 (or 1862), at the age of 31, Jeremiah married 20-year-old Elizabeth Branscom (1840-1918), daughter of Daniel and Nancy (Gregg) Branscom. They were wed in Riley, Riley County, KS, with the nuptials mentioned in Janice Schneck's book Kansas Kin.
The couple went on to have seven known children -- Marietta "Mary" Reed, Sylvia Ellen Sanders, Daniel George Younkin, Celinda J. Young Wilson, James Edward Younkin, Earl Younkin and Loretta Younkin.
Putting down permanent roots in Kansas was difficult, not only because of the back-aching work to break the sod and cultivate the soil, but also for legal/administrative reasons. Under the terms of the Homestead Act, Jeremiah selected a particular 160-acre tract in Clay County on July 25, 1862, near the main line of the Union Pacific Railroad, purchased at a price of $2.50 per acre. Then, six days later, the Commissioner of the General Land Office canceled the offer, perhaps at the request of the railroad, stating in legalize that "pre-emptors filing on land after the date of the approval of the Homestead Act could not transmute their pre-exemption to a homestead." Citizens were outraged and many wrote letters to the editors of local newspapers such as the Junction City Weekly Union. How this issue was resolved is a mystery for now.
During the Civil War Confederate forces under Maj. Gen. Sterling Price threatened to mount a raid into Clay County. Jeremiah and many other local men joined the Kansas State Militia in about October 1864 to be prepared if and when an attack ensued, but none materialized.
When the federal census was enumerated in 1870, the Younkins lived in Gatesville, Republican Township, Clay County, KS. In 1872, they had moved to near the town of Batcheller (renamed Milford and later still to Acme) in Milford Township, Davis County, KS, purchasing a farm in Section 21, Township 6, Range 5. Jeremiah was profiled in a short biography in A.T. Andreas' 1883 book History of the State of Kansas (page 1012).

Jeremiah's profile in the 1883 book History of Kansas
Jeremiah died in his home along Timber Creek in the Republican Valley near Wakefield, Clay County at the age of 78 on Feb. 25 (or 26), 1907. The Clay Center Times published an obituary, calling him "an early settler here" and stating the cause as "a complication of diseases incident to old age.... The deepest sympathy of a host of friends of the afflicted family is extended to them in their sad hour of bereavement."
Elizabeth outlived him by more than a decade. She entered eternal sleep in Milford Township on Feb. 27, 1918 at the age of 77. In 1907, the year of his death, Jeremiah's obituary was reprinted in Collections of the Kansas State Historical Society, Vol. 10, published by the Kansas State Historical Society. Jeremiah and Elizabeth's family was well known to Younkin family history researchers in southwestern Pennsylvania in the 1930s and is neatly typed in notes of Otto Roosevelt Younkin, president of the National Younkin Home-coming Reunion.
~ Daughter Mary Etta (or "Marietta") (Younkin) Reed ~
Daughter Mary Etta (or "Marietta") Younkin (1861-1953) was born on Sept. 29, 1861 in Clay County, KS.
On March 21, 1878, at the age of 17, she wed 32-year-old James J. Reed (1845-1932) of Clay County. Manvah Woolpert officiated at the wedding ceremony, held at her father's home. There was a 15-year difference in their ages.
The Reeds lived in Clay Center, Clay County, and had 10 children -- Katherine Metzger, Mary Elizabeth "Lizzie" Budden, Harriet Vandersteldt, Clara Randall, Daniel Reed, Almeda Budden, James Reed Jr., Sylvia Harrell, Alzina Reed and Samuel Reed.
They later migrated to Colorado, making their home in Pueblo, Pueblo County.
Sadly, James died in Pueblo at the age of 87 on Dec. 20, 1932.
Mary lived for another 21 years. Genealogy notes compiled in the 1930s by researcher Otto Roosevelt Younkin show that she lived with a daughter at the time. Mary passed away in Pueblo on Nov. 28, 1953 at age 92.
Fifth Street, north from Lincoln Avenue in Clay Center
~ Daughter Sylvia Ellen ( Younkin) Sanders ~
Daughter Sylvia Ellen Younkin (1865-1937/) was born on Sept. 13, 1865 in Clay County, KS. She attended the Milford Congregational Church.
When she was age 15, she married Isaac "Ike" Sanders (or "Saunders") ( ? -1928) in Milford Township, and they remained there for decades.
They produced seven children, among them Nora Martin, Lucinda Mellinger, Caroline Herr, Lettie Herr, Milton Sanders, Anna Sanders and Minnie Sanders.
Ike succumbed on Oct. 17, 1928 in Milford Township.
Now widowed, Sylvia went to live in Riley, Riley County. She died there in about 1937, at the age of 71. Interment was in the Branscomb Cemetery.
~ Son Daniel George Younkin ~
Son Daniel George Younkin (1867-1949) was born in 1867 in Kansas.
He was thrice married. His first bride was Ella Kanroberts ( ? - ? ). They had one son, Clifford Younkin.
Daniel wed a second time, to Della Avery (1892-1951). The couple was a quarter century apart in age, and apparently divorced. Della passed away in 1951 at age 59.
On June 16, 1906, he then married his third wife, Mabel M. Drury (1883-1923), a native of Terrace, Utah and the daughter of A.W. Drury. Mabel was a teacher and in 1904-1905 taught two terms of school in Clay Center.
Mabel became ill in the winter of 1923 and lingered in failing health for nine months. She died in September 1923, at the age of 40 years, six months and seven days. An obituary in the Clay Center Times reported that she "was a very estimable lady and won the admiration of all her friends by her pleasant manner and gentle hospitality. She will be missed not only in her family circle and by all who knew her."
Rev. F.L. Marcey of Milford, KS preached at her funeral service.
Daniel survived Mabel by 16 years. He died in 1949.
Son Clifford Younkin (1904-1967), born in Wakefield, was a longtime dairy farmer who relocated to Washington State in the early 1940s, spending 18 years in Kent, King County and then 7½ years in Enumclaw, also in King County. Clifford married Esther, had four children and four step-children, and died on Sept. 30, 1967, with an obituary in the Seattle Daily Times. Some genealogical notes about this family were put together by Velda Stitt.
~ Daughter Celinda J. (Younkin) Young Wilson ~
Daughter Celinda J. Younkin (1869-1933) was born on June 11, 1869 in Kansas.
She and her first husband, Levi Young, divorced apparently without reproducing.
She wed a second time, in the late 1890s or in 1900, to George Wilson ( ? - ? ). They had three sons -- Howard Wilson, Walter Wilson and (?) Wilson.
Celinda passed away on March 5, 1933 at the age of 63.
~ Daughter Loretta Younkin ~
Daughter Loretta Younkin (1870- ? ) was born in April 1870 in Kansas. Nothing more is known.
~ Son James Edward Younkin ~
Son James Edward Younkin (1874-1956) was born on Sept. 9, 1874 in Milford Township, Davis County, KS. He and Rosalie Ferguson (1875-1967) were married in Milford Township on Oct. 4, 1896. At the time, he was age 22 and she 21. They first made their home in Milford before migrating to Junction City, Geary County, KS. Their two offspring were Francis Earl Younkin and Maria Burbank. James passed away in Junction City at the age of 81 on April 21, 1956. Rosalie survived him by 11 years and died on June 11, 1967 at age 91. Norma Jean (Younkin) Milligan provided details about this family.
~ Son Earl Younkin ~
Son Earl Younkin (1880?- ? ) was born in the 1870s. Nothing more about him is known.
Copyright © 2014-2016 Mark A. Miner
Research for this page graciously shared by the late Donna (Younkin) Logan, Marian (Smith) Posey, Laurel Posey, Loretta (Adams) Kelldorf, Blair E. "Junior" Younkin Jr. and Kay Lynn Younkin.