Mallzena (Younkin) Shaffer
(1884-1961)

Mallzena Shaffer
Mallzena (Younkin) Shaffer was born on Oct. 1, 1884 in Rockwood, Somerset County, PA, the daughter of Daniel M. and Elmira (Zimmerman) Younkin.
On June 22, 1902, when she was 17 years of age, Mallzena married 21-year-old Harry H. Shaffer (1881-1947), a resident of Bridgeport near Mt. Pleasant, Westmoreland County, PA, and the son of David and Annie Shaffer. Mallzena legally was underage at the time of marriage, but both of her parents signed their consent. The ceremony was performed by Rev. J.T. Balliet at Rockwood.
The Shaffers produced at least four known children.
The only known child to survive into adulthood was Daniel Clyde Shaffer, born in 1904 in Connellsville.
Tragically, three of the offspring died young, within a span of five years, from 1907 to 1912 – David Harrison Shaffer (Aug. 21, 1907, of cholera at the age of three months), Clarence Edgar Shaffer (April 15, 1910, from pneumonia at the age of five months) and Mary Grace Shaffer (July 23, 1912, age one day). All three of the Shaffer children are buried together at the Rockwood IOOF Cemetery.

Graves of the Shaffer infants, l-r: David, Clarence, Mary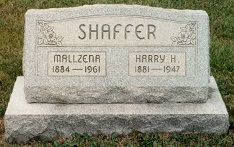 Rockwood IOOF Cemetery
Harry was a longtime railroad employee. He worked as a conductor on the Baltimore & Ohio Railroad, and he retired from the company after many years of service. He also was a member of the Brotherhood of Railroad Conductors, an early union organization.
In 1906, the Shaffers are known to have resided in nearby Connellsville, Fayette County, where Harry may have been stationed on the B&O. That year, the City of Connellsville celebrated its centennial anniversary. To enjoy the festivities, Mallzena's cousin, Missouri (Younkin) Wingerd, came from Rockwood for a visit, as reported by the Connellsville Daily Courier.
By 1907, they were back in Rockwood, and were there at the time three-month-old son David died. Then in 1910, when toddler son Clarence passed away, and 1912, when newborn daughter Mary Grace succumbed, they were in Connellsville, at the address of 211 Cedar Street.
Mallzena and Harry no doubt would have gone to see Connellsville's Centennial Arch, seen here, located at the corner of Crawford Avenue and Pittsburgh Street during the city's 100th birthday. The famed arch was constructed completely of coal and coke, and was donated by industrial magnate Henry Clay Frick. Frick was the owner of the H.C. Frick Coke Co., which at that time had been merged into United States Steel. The initials of Frick's company -- "H.C.F.C.Co." -- were lighted at the very top, and outlined in red.
In April 1914, the Shaffers relocated to the town of Somerset, Somerset County, with the move reported in the gossip columns of the Uniontown Morning Herald. They spent the rest of their lives in Somerset. Both Mallzena and Harry were charters member of the Christian and Missionary Alliance church of Somerset, said the Somerset Daily American. Their home address was 383 West Church Street.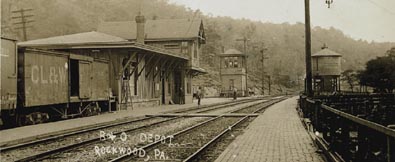 Baltimore and Ohio Railroad station at Rockwood, early 1900s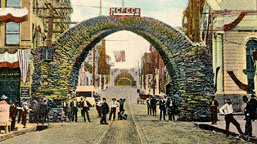 Rockwood IOOF Cemetery
Mallzena and Harry accompanied her elderly father to the Minerd Reunion in August 1932, held at Lake Forest Park near Scottdale, Westmoreland County. Writing in the Huntingdon (PA) Daily News, their cousin Laura Jane (Minerd) Williams reported: "Everyone seemed to enjoy the fine fellowship that existed among all the reunionists and the innumerable baskets that provided dinner and supper for the party were bottomless."
Harry suffered "for some time" from heart and artery disease, and died of a sudden heart attack at age 66 on Sept. 24, 1947. Funeral services were held in their home, led by Rev. B.F. Bungard and Rev. A.T. Hibbard. Obituaries were printed in the Daily American and Daily Courier with a death notice appearing in the Pittsburgh Post-Gazette.
Mallzena outlived Harry by 14 years and continued making her home at 383 West Church Street in Somerset. In August 1949, reported the Daily American, she traveled to Connellsville to visit with Mr. and Mrs. George Zimmerman and their daughter Catherine. While in Connellsville, she also spent time seeing kinsmen in Norvelt and Hopwood and then went to Pittsburgh's Bethel Park suburb to be with her sister Missouri Shumaker.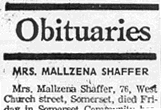 Somerset Daily American
The Daily American gossip columns noted in August 1950 that she and her son and daughter-in-law had spent her Sunday at the home of her brother Emory in Rockwood, along with married niece Mickey Newcomer and husband and daughter Gwendolyn, and Maude Hileman. Again in August 1956, her name again was in the Somerset newspaper for having been a recent guest at her brother's home, in addition to Mrs. Andy Felix and daughter of Castle Shannon; sister Missouri Shumaker; niece Mickey Newcomer, Amelia Schrock and Mrs. Harry Bowman of Somerset; Gladys Duppstadt of Detroit; and grand-nephew George Wayne Christner and wife and daughter of Hobart, IN.
At Christmas 1956, she received a visit from her half-sister and husband, Alice and Silas Gary, who were in town from Erie.
She is known to have undergone surgery in September 1960 in Somerset Community Hospital.
Having endured hardening of the arteries for 20 years, she suffered a heart attack and died at the age of 76 in Somerset hospital on June 30, 1961. She was buried beside her husband in Rockwood IOOF Cemetery, and near her infant children.
~ Son Daniel Clyde Shaffer ~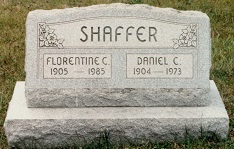 Rockwood IOOF Cemetery
Son Daniel Clyde Shaffer (1904-1973) was born on March 14, 1904 in Connellsville.
When he was age of 19, he earned a living as a laborer and resided at 76 West Church Street in Somerset. He was employed with the local railroad as a "call boy."
On Dec. 20, 1923, at the age of 19, Daniel married 18-year-old Florentine C. McQuade (1905-1985), daughter of bricklayer William and Maude (Houpt) McQuade, and step-daughter of William M. Ream of Somerset. Rev. I. Hess Wagner officiated in the ceremony held in Somerset. Both groom and bride fibbed on their marriage license that they both were 21 years old. At the time of their nuptials, she was a telephone operator, living in Berlin, Somerset County.
They had one daughter, Evelyn R. Shaffer.
Daniel obtained employment in East Pittsburgh, Allegheny County as a "wire man" in an electric shop, likely with Westinghouse Air Brake Company or one of its suppliers. The family relocated to Bessemer Avenue in East Pittsburgh and were there in 1930 when the census was taken.
Circa 1961, the Shaffers made their home in Canonsburg, Washington County, PA.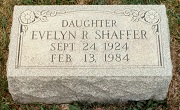 Rockwood IOOF Cemetery
Daniel passed away in August 1973 at the age of 69.
Florentine survived him by a dozen years, and made her home in Canonsburg. She died there in January 1985, at the age of 79.
In both instances, their remains were returned to Somerset County for burial side by side at the Rockwood IOOF Cemetery.
Daughter Evelyn R. Shaffer (1924-1984) was born on Sept. 24, 1924. She apparently never married. She is known to have been in California circa 1947 when her father died.She died in Los Angeles on Feb. 13, 1984 at the age of 60. Her remains were shipped back to Somerset County for burial was in the Rockwood Odd Fellows Cemetery.
Copyright © 2002-2006, 2012, 2015, 2019 Mark A. Miner