She married (?) Johnson ( ? - ? ), sometimes spelled "Johnston." They had three known children -- Mary Johnson, Harriet Johnson and Herman Johnson. She also helped raise a young grandson, Isaiah Johnson Struckoff.
An examination of government census records for 1850-60-70 shows that at no time during those intervals was a husband shown in the household.
When the United States Census was enumerated in 1850, Nancy was age 40 and listed as a farmer. She headed an Upper Turkeyfoot household of three children as well as a German-born farm laborer, 23-year-old Henry Struckhoff. The whereabout of her husband that year is not known, although he may have been deceased by that time.
The federal census of 1870 lists Nancy and her two daughters and one grandson living in Upper Turkeyfoot, most likely near Scullton, with Nancy's 80-year-old widowed mother in the household. That year, their next door neighbors were her widowed niece Mariah Crossen and her children.
Nothing more is known.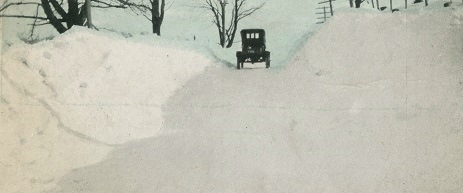 Winter roads in Somerset County, early 1900s
~ Daughter Mary Johnson ~
Daughter Mary Johnson (1834- ? ) was born in 1834. At age 16, in 1850, she lived at home with her mother.
When she was age 20, in 1854, she gave birth out of wedlock to a son, whom she named Isaiah Johnson, sometimes spelled "Josiah." It's likely that the boy's father was Henry Struckhoff, a immigrant from Hanover, Germany (then known as Prussia) who had boarded with the family at about the same time.
In 1860, at age 28, Mary worked as a seamstress and resided at home.
By 1870, still unmarried, she dwelled under her mother's roof and helped with the farm. The son eventually took the surname of his father, Struckoff.
The federal census of 1880 shows Mary living with her son Isaiah "Struckoff" and his wife Cordelia, as well as her unmarried sister Harriet. Their next-door neighbors in 1880 were double cousins Michael and Mariah (McClintock) Younkin and their offspring. She is believed to have died during the two-decade span between 1880 and 1900. Nothing more is known.
Grandson Isaiah Johnson (1854-1883?), later known as Isaiah Struckoff, was born in 1854. His father is thought to have been German-born Henry Struckhoff (1826- ? ). He was raised under the name "Johnson" until he eventually changed it to "Struckoff" (without the "h"). He married Cordelia "Delia" Kuhlman or Lucas (1858-1930?). In 1880, they lived in Scullton, where Isaiah labored as a farmer. They had at least one son, Milton Bruce Struckoff, born in 1883. Sadly, the Struckoffs' marriage ended about the time their son was born -- perhaps Isaiah passed away, at around the age of 29. The following year, on Dec. 14, 1884, his wife Delia married again to Noah Pletcher ( ? - ? ). The wedding was noted in the Somerset Herald. Cordelia and Noah Pletcher went on to have a large family of children, residing in Lower Turkeyfoot Township -- David Rush Pletcher, Susan L. Pletcher, George Arnold Pletcher, Lucina Grace Sipe and Ira Clyde Pletcher. Noah passed away in 1910, and Cordelia died in Somerset County on April 11, 1930, with burial together in Scullton Cemetery. Their son Milton may have been raised under the name "Pletcher" but married Alice May Cope in 1907 under the name "Struckoff." Milton was a boiler maker and allegedly died in New Stanton, Westmoreland County, PA in 1923, with burial in Scottdale Cemetery.
~ Daughter Harriet Johnson ~
Daughter Harriet Johnson (1839-1907) was born in February 1839 (or 1838).
At age 20, making a living as a seamstress, she lived at home with her mother. She remained unmarried through the 1860s and by 1870, at age 29, she still resided in her mother's home. At age 40, still unmarried, she made her home with her nephew and his wife Isaiah and Cordelia Struckoff and with her 46-year-old sister Mary. By 1900, at age 61, she resided alone, near Scullton.
In her late 60s, Harriet's health began to fail. On the fateful last day of February 1907, she walked to a spring near her home, and apparently lost her balance, falling in. Unable to summon the strength to pull herself out, she drowned. A coroner or physician was summoned from Casselman, and in his report, he wrote that the cause of death was: "Died without a physician. Fell into a spring. Accidental Drowning." He added that a contributing factor to her tragic passing was "Feebleness. She lived alone on the mountain. Was found dead."
No obituary has been found in the Meyersdale (PA) Commercial in Somerset County.
On her official Pennsylvania certificate of death, there was no informant. Her mother's name was given as "Nancy Younkin," and the space for the name of her father was left blank. Burial was in the Dumbauld Cemetery.
~ Son Harmon ("Herman") Johnson ~
Son Harmon "Herman" Johnson (1841- ? ) was born in 1841.
Circa 1860, when he was 19 years of age, he was employed as a teacher in the common schools of Upper Turkeyfoot. Nothing more is known.
Copyright © 2013-2014 Mark A. Miner
Research for this page graciously shared by the late Olive (Rowan) Duff and the late Donna (Younkin) Logan.