Rachel (Younkin) Myers
(1848-1884)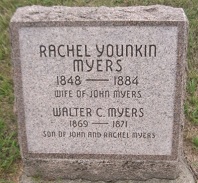 Rachel's grave, Timber Creek
Courtesy Connie Langvardt
Rachel (Younkin) Myers was born on May 18, 1848 in Somerset County, PA, the daughter Somerset County, PA, the son of Henry F. and Mary (King) Younkin.
She was the first wife of John Henry Myers (1843-1909), son of Henry A. and Mary Ann "Polly" (Faidley) Myers of Meyersdale, Elk Lick Township, Somerset County. He stood five feet, 7˝ inches tall and weighed 170 lbs., with a dark complexion, dark hair and grey eyes.
John served in the Civil War as a member of the 54th Pennsylvania Infantry, Companies C and H. He also was a member of the 81st Pennsylvania Infantry, Company F. He enlisted on March 4, 1862 and was mustered in at Harrisburg, PA. He was promoted to corporal of the company.
During his time in the army, he contracted dysentery and typhoid fever and lost several teeth. In June 1863, he was sent for treatment to the U.S. Army General Hospital in Cumberland and later in October 1864 received care at the army hospital in Clarysville, MD.
He was discharged on April 2, 1865, having served for a total of 37 months, and returned home to Meyersdale.
The year after the end of the war, Rachel and John were united in wedlock on March 18, 1866. Later that year, with their respective parents, they too migrated as pioneer settlers to Kansas, establishing their home in Wakefield, Clay County.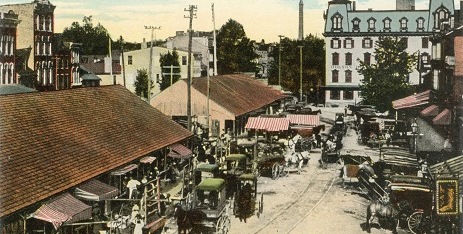 Harrisburg, PA as John may have seen it during the Civil War
Their five children were Minerva Elizabeth Moyer, Walter C. Myers, Carrie Randall, Herbert W. Myers and Albert Myers. The family was shaken in 1871 with the death of their two-year-old son Walter. His remains were placed at rest in Timber Creek Cemetery.
Circa 1883, John made a living as a dealer in cattle stock and grain. He also was a member of the Kansas Department of the Grand Army of the Republic, a veterans' organization, as was his brother in law Silas Younkin. In 1892, he applied for and was awarded a military pension of $6 per month as compensation for his wartime service. [Invalid App. #1089152, Cert. #835119.] He claimed that his lung trouble and asthma kept him from putting in a full day's work and that he often was confined to the house.
Rachel died at an untimely age of 36 on July 16, 1884, with burial beside her young son Walter in Timber Creek Cemetery. Apparently her grave was not marked for many years, as the red barré granite stone there now is of recent vintage.
After Rachel's death, her widower wed again to 32-year-old Felicia A. Mitchell (1858-1915), daughter of Alfred and Julia Mitchell of Addison, Somerset County. He returned to his native Somerset County for the wedding, held in Listonburg on Christmas Eve 1885, which was officiated by the hand of Rev. W.B. Dorsey. He was a decade older than his bride, and they did not reproduce over the course of their 24 years together.
By 1898, John's health was in decline. Family physician Charles Hewitt, who had treated John for more than a quarter century, wrote that he was plagued with pneumonia, bronchitis, rheumatism, asthma and hemorrhoids. His heartbeat was bad and intermittent, his breathing short and thick and only had one molar remaining in his mouth. He also received medical care from Dr. J.E. Hewitt. His pension payments were increased to $12 per month.
John passed into eternity at the age of 65 on Aug. 16, 1909. Funeral services were held at the Wakefield Methodist Church, followed by interment in the Wakefield Cemetery. [Find-a-Grave] The Junction City Weekly Union reported that "The second Mrs. Myers and the surviving children all live at or near the old home in Wakefield neighborhood, where they stand high.... [He] was a farmer and stock man and an important factor in the business of the community.
Felicia began receiving her husband's pension benefits in January 1910. [Widow App. #934.520, Cert. #700.565] She died in Wakefield on Sept. 18, 1915.
~ Daughter Minerva Elizabeth (Myers) Moyer ~
Daughter Minerva Elizabeth Myers (1867-1940) was born in 1867.
She wed William Moyer (1867-1951).
Their two known children were Cecile Moyer and Morgan Moyer.
Minerva died in 1940 at the age of 73, with burial in Wakefield's Highland Cemetery. William followed her to the grave in 1951.
~ Daughter Carrie (Myers) Randall ~
Daughter Carrie Myers (1870-1953) was born in 1870.
She married Civil War veteran Seneca R. Randall (1833-1909), a native of Steuben County, NY but at the time a resident of Braceville, IL who was 37 years her senior.
As a young man Seneca taught several terms of school. During the war, Seneca served as a private in the 100th Illinois Infantry, Company I. He enlisted on Aug. 30, 1862 and was promoted to the rank of corporal. After the end of the war, he mustered out on June 12, 1865. In 1890,
Seneca was featured in a lengthy written profile in the book Portrait and Biographical Album of Washington, Clay and Riley Counties (Chicago: Chapman Brothers). The profile said that he:
...owns and occupies one of the best farms in this part of the Mississippi Valley, 160 acres, situated in — what is now Athelstane Township, Clay County, having been located under the Homestead Act in 1871. It is fertilized by the waters of Chapman's Creek, which stream flows through the estate, and from the first year of its cultivation Mr. Randall has never had a total failure of crops, although other farmers, whose estates were on higher land, have sometimes failed wholly. Mr. Randall has added 160 acres by purchase to his homestead, and carries on farming on an extensive scale, besides raising stock of all kinds, his horses, cattle and hogs being well graded.... He was one of the first to begin reclaiming the wild prairie, and his was one of the first frame houses built in this part of Kansas on the farm lands. The first year after filing his claim he got five acres of breaking done, and at once began operations in tilling the soil. Although some years his crops have been light, he has always raised some corn, if not much else. He is not only industrious and enterprising in the cultivation and improvement of his fine estate, but displays excellent business tact in the management of his affairs.
Seneca had been married to Katura Butler ( ? - ? ) earlier in life and was widowed when he met Carrie. Circa 1890, having been a town trustee and treasurer, he served in the elected post as Clay County Commissioner. That same year, on July 23, 1890, his application was approved to receive a federal government pension for his military service. [App. #842.998, Cert. #583.267] He died on April 3, 1909, at the age of 76.
Carrie survived him by many decades. On June 6, 1910, she began receiving her late husband's pension. [App. #944.855, Cert. #706.075, XC 2.682.736] She passed into eternity in 1953, as one of America's few Civil War widows, with interment in Highland Cemetery in Wakefield.
Many years, later, in July 2016, the founder of this website requested access to Seneca's full and complete Civil War pension file under the Freedom of Information Act. As of today, the request has not been honored.
Copyright © 2014-2016 Mark A. Miner
Research for this page graciously shared by the late Donna (Younkin) Logan, Marian (Smith) Posey, Laurel Posey, Loretta (Adams) Kelldorf, Blair E. "Junior" Younkin Jr. and Kay Lynn Younkin.