World War II
Through a Porthole
Part 2 of 4 - A Memoir of Wartime By James Melvin Younkin
Edited By His Daughter, the Late Diana (Younkin) Egan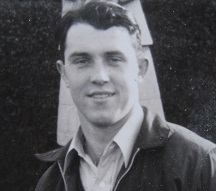 James Melvin Younkin Sr.
Last month: Mel survives frigid waters when his minesweeper sinks in 30-foot waves off the US coast -- and later ends up picking pineapples on Fiji.
At the beginning of the war, the United States and Britain had agreed to concentrate most of their efforts on defeating Germany before turning full strength against Japan. However, the United States did not want the Japanese to get too firmly established in their new perimeter, and the American Joint Chiefs of Staff wanted to seize some forward bases from which a full-scale offensive against Japan could be launched. After winning the Naval battle at Midway, the United States wanted to secure a position in the jungle-thick Solomon Islands. After that we left to Guadalcanal and the Solomon Islands.
When we approached the dock on Solomon Island June 10, 1943, there was no one there to receive our lines. The captain, in trying to pull the ship alongside, got too close to the dock and broke up part of the newly built dock. The Seabees would have more work to do now.
After taking on some personnel we left June 13 for Espiritu Santo. Transporting troops around the South Pacific, we were in New Hebrides June 15 to June 18, then left for Noumea, New Caledonia, June 20 to June 23.
The LaSalle then went to Pago Pago, Samoa for one day -- June 28. Everyone on the LaSalle thought we were doing ferry boat duty.
One time Bob and I were assigned to wire brush the pop-off valves in back of the boilers. We were supposed to polish valves in the 120 degree boiler room. The job was going very slowly; we were not enthusiastic workers. A chief notice and put us on report. We were assigned to clean heads.
Throwing down our wire brushes, we went to clean the bathrooms. Here we decided to speed up the process by using the high pressure water hoses; we were done in less then 30 minutes. The Chief was unhappy and we were put on report again. This time we were busted to laundry detail. At that time, the only laundry equipment on the ship was one washing machine and an ironing board and iron.
From Pago Pago, Samoa we sailed to San Francisco, arriving August 2, 1943. While in San Francisco, our first day of liberty, the pay master had not received the payroll. So, my friend Bob and I did some panhandling up Market Street. We wanted enough for a big juicy hamburger and drink at the Pepsi Cola Center. Total cost: five cents.
Bob started up one side of the street and I went up the other. We did OK; earned enough money for a good meal and a good time the rest of the evening.
Payday did arrive and we learned that San Francisco was a "Navy Town" with lots of USO girls who wanted to show the sailors a good time; we were ready. We would find a bar or dance hall and tell sea stories for the girls and dance until the wee hours of the morning.
Bob and I found a tattoo parlor which specialized in Navy tattoos. Bob had a large tattoo put on his chest. Not to be outdone, I had a beautiful Navy emblem on my upper arm. It was a sad day when we left Frisco.
Before leaving the States, Bob and I decided we wanted to make the Navy proud of their ship's laundry department. Pleading that we needed more equipment to do a good job, we requisitioned washing machines, an extractor, a clothes dryer and pressing equipment. Now we could do the laundry for the whole crew, not just the officers.
After some maintenance work on the ship (including equipment for a first-class laundry) we left Oxnard, California where we took on some troops for our next port.
If an officer was not popular with the laundry department (me and Bob), his clothes might not come out from the laundry the same size they went in. We would throw the steam to those woolen jackets, and they came out very small. We could make a size one out of a size 30.
We claimed all items left in pockets, and we started saving coins, bills, pocket knives, cigarettes, lights, nuts and bolts. With this basic stake we ran gambling games were crew members could play poker. We took a cut from each pot, so we made good money on the operation.
We also made money by collecting winter uniforms in the summer, holding them until the ship was in a cold climate, then selling the warm clothing. We didnít save the summer uniforms, however. There were plenty of those.
Because we usually had money, we often made loans to other sailors. Our banking system netted us money we earned from charging interest. One sailor was always borrowing money from us; he was a nuisance. I thought up a way to keep him from coming down to our laundry/bank.
There was a freezer in the hold and sometimes dead bodies were stored inside. I asked Bob to get a sheet and hide in the cooler. We knew Sam would be coming for a loan soon. When he came around the corner, Bob walked out of the cooler with a white sheet over his head. Sam ran off screaming that he had seen a dead man walk and did not come down to our area again. People on deck said that the only thing that kept him from going overboard when he was running was that he stumbled on the anchor chain.
The Japanese had built an airfield on Guadalcanal. In a surprise attack, August 7, the Marines overran the small Japanese garrison and took the airbase, renaming it Henderson Field.
In 12 days we were in Samoa again, August 19 to 24. This was the start of our Island hopping, taking Marines and Army troops from island to island. In one month's time we tied up in New Caledonia, Guadalcanal, Tulagi, New Hebrides and ended up in Pearl Harbor. Coming from Guam, we were about three days out of Pearl Harbor when we were asked to break radio silence and explain why we were headed to Pearl Harbor and not New Zealand. After much confusion we docked in Pearl Harbor. In the meantime, some radioman aboard ship had some questions to answer as we were going the wrong way.
It could have been a costly error as we were traveling alone with no escort. After a few days at Pearl Harbor we left for Wellington, New Zealand, October 15, 1943.
Were we ever glad to see land. For the past two or three months Bob and I grew what we thought were nice beards. Our first evening ashore, we decided to go to a dance in town.
Things looked good at the dance: live music and lots of girls to dance with. There must have been 10 girls for every serviceman. Bob and I knew it would only be a few minutes before we would be dancing with a New Zealand gal. Bob went one way and I the other, asking girls to dance, but we were refused by every girl we asked. No one would dance with us, but they eagerly danced with our shipmates.
After about 30 minutes of rejection I concluded that the beard must go. So, I borrowed a five dollar bill from Bob, caught a cab back to the ship, shaved off the beard, and returned to the dance hall. In no time, I had a dancing partner; Bob was still looking. The next night ashore Bob was as clean shaven as any girl could wish for.
Because fuel in the islands was precious, I was curious about what the New Zealand taxis were using. When I examined an engine I learned that the cabs were running on the fumes of burning coal.
Shore leave in Wellington was pleasant and relaxing. Too soon we had to leave. We told the girls that play time was over; we had a war to win. By the fall of 1943, Admiral Nimitz' forces were ready to begin the offensive in the Gilbert Islands. To force the Japanese out of this area would help ensure the safety of Australia and New Zealand.
October 28, 1943, the LaSalle was loaded with as many landing boats as possible, plus small landing craft; we knew something big was coming. We left the Shangri-La of the South Pacific. The compass bearing was north by northeast. Seeing this, we knew we were not going to a birthday party.
Next month: Mel alternately mans a 20mm anti-aircraft gun; survives an explosion of bootleg raisin whiskey; and sees GIs die in four days of action invading Saipan.
Copyright © 1998 James Melvin Younkin and Diana (Younkin) Egan.
Published on Minerd.com with permission.