Home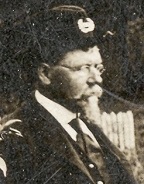 Jerome B. Jennings
Standing at attention at far left, Civil War veteran Jerome B. Jennings -- of the family of David and Catherine (Ream) Jennings -- poses with his fellow members of the Ross Rush Post of the Grand Army of the Republic at the historic burying ground of the 1775 Turkeyfoot Baptist Church, later renamed the Jersey Baptist Church near Ursina, Somerset County, PA.
Others in the line, left to right: Leroy Forquer (son-in-law of Jacob J. Rush), Zack Tannehill, Dr. Mountain, James R. Johnston, [unknown], Jacob Phillippi, Balaam Younkin, Samuel Tressler, Dave Fields, Jacob J. Rush, Harrison Rush, Isaac Hall, [unknown], Isaac Van Sickel, Daniel Sechler, Silas Conn, William Thomas and [unknown].
The Rush Post was founded in July 1883 as part of a national organized effort to advocate for patriotic education, make Memorial Day ("Decoration Day") a national holiday, lobby Congress to establish regular veterans' pensions and support Republican political candidates. Its peak national membership, circa 1890, is said to have included more than 490,000 members.
Other members of the Rush Post who are featured on Minerd.com include Foster C. Younkin (also of the family of Jacob J. Younkin), John H. Younkin and Charles Rose as well as Marcellus "Marsh" Andrews, John Enos and Harrison K. Younkin. In an interesting twist, soldier Ross Rush, killed during an infantry charge at the Battle of Petersburg and for whom the post was named, was the brother in law of Rev. J. Frederick Kuhlman.
In 2016, the original antique membership ledgers of the Post were purchased with private funds from an eBay seller in New York and then digitized, repaired and placed into the ownership of the Sons of Union Veterans of the Civil War, Mt. Union Church Camp #502. As well, cousin Barbara Bowers of the family of Bertha (Ream) Conn stepped forward to donate original application papers which the soldiers had filled out when pursuing membership.
At the invitation of the Mt. Union Church Camp, Minerd.com's founder was a guest speaker at a memorial program held at the church on May 21, 2017, and later re-recorded the presentation as a series of three podcasts. Click to hear the first podcast with stories about Jennings, J.J. Rush and Forquer -- the second podcast about veterans H.K. Younkin, Enos and Andrews -- and the third and final podcast about F. Younkin, B. Younkin and Rose. Minerd.com extends its gratitude to Mt. Union Camp organizers Robert Wrigley and cousin Linda Marker of the family of Frederick J. Younkin.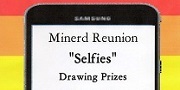 Mark your calendar -- Our next national reunion of the Minerd-Minard-Miner-Minor family -- devoted to "SELFIES" -- will be held the weekend of June 23-25 at Donegal, PA. Everyone will be engaged in creative selfie-taking and being part of our first-ever, historic national broadcast via Facebook Live. Your best selfie will be uploaded to a reunion selfie collage on award-winning Minerd.com for posterity. You'll have more than your 15 seconds of fame -- your legacy photo will live forever! Depending on the turnout, it may be our last reunion.


VisitPITTSBURGH is the promotional sponsor of this page. Be sure to get your copy of the Greater Pittsburgh Convention & Visitors Bureau's Official Visitor's Guide, a 25-page workbook to help event organizers stay on track, no matter what type of reunion or meeting they are planning to hold. The booklet features a page of ideas by the founder of this website, headlined "Take It from a Professional."
Full text>>>
Copyright © 2017 Mark A. Miner