Home

Frances M. Davidson
(1868- ? )
Frances M. Davidson was born in 1868 in Lewistown, Fulton County, IL, the daughter of William Taylor and Lucinda (Miner) Davidson.
Raised as the daughter of a newspaper man, Frances' young life was absorbed by current events, politics, economic development and continuous controversy.
When her father died in 1915, Frances and her sister Martha were named executors of his will. They inherited his entire newspaper office and plant, "including all furniture, presses, types and all other fixtures, tools and implements, used in publishing the Fulton Democrat, together with its subscription lists, accounts and good will," he wrote.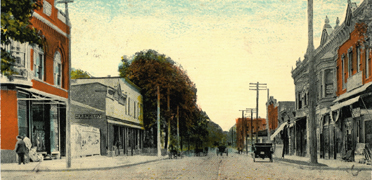 North Main Street, looking south, in Lewistown
Circa 1920, when the federal census was taken, Frances was the age of 52, and oversaw a household in Lewistown including her 49-year-old sister Martha, 46-year-old sister Maude, and 22-year-old half brother Gilman. Frances' occupation was listed, as was Martha's, as publishers of the newspaper.
Frances' fate after that is unknown.
It's possible that she died sometime around 1926, as that is the year her half-brother Gilman stepped into the role as editor of the Democrat. More will be reported here when learned.
Copyright © 2007, 2010 Mark A. Miner