Emma M. Dillow
(1864-1883)

Emma Dillow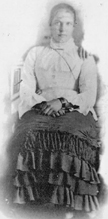 Emma Dillow
Emma M. "Emmie" Dillow was born on March 11, 1864 in or near Madison County, OH, the eldest daughter of William and Elizabeth (Houser) Dillow.
Her short life as an Illinois pioneer girl was ended by a tragic and senseless household accident.
As a youngster, Emma would have migrated with her parents to the town of Weldon near Clinton, DeWitt County, IL. There, she helped her parents with domestic chores.
We know nothing else about her life, except for the photograph here which shows her as a beautiful young woman, with a life of promise ahead. This image is juxtaposed against a fluky, tragic accident which claimed her life in May 1883, when she was age 19.
Her world was shattered in a split second, as reported in the May 11, 1883 issue of the Clinton Public:
Monday [May 7], Miss Emma Dillow, daughter of Wm. Dillow, a young lady was washing some carpet. She built a fire out in the yard to heat the water, and it being a very windy day her dress caught fire, and before the flames could be extinguished her limbs and the lower part of her body were severely burned. It is hardly thought she will recover.

Clinton Public, May 11, 1883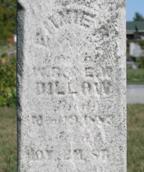 Deland Cemetery
Clinton Public, May 25, 1883
For about 10 days, Emma suffered from the unspeakably painful after-effects of such an otherwise avoidable accident.
She finally passed away, relieved of her misery, on May 18.
The May 25 issue of the Public reported that Emma was buried in the graveyard at Deland, Dewitt County.
She rests beside her parents.
Today, the shaft that marks her grave stands tall and true, but the lettering is badly faded, as photographed in October 2007 by the founder of this website.
Copyright © 2003, 2007, 2019, 202`1 Mark A. Miner
Newspaper clippings provided courtesy of a volunteer with the Obituary Project of the DeWitt County (IL) RootsWeb.