Edwin 'Edgar' Coleman Everly
(1867-1941)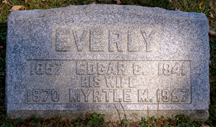 Maplewood Cemetery, Kingwood, WV
Edwin "Edgar" Coleman Everly was born in 1867 in or near Kingwood, Preston County, WV, the son of Absalom and Sarah (Carroll) Everly. He also was known as Edward, Edgar and Ed.
Edwin married Myrtle Mollie Carroll (Sept. 29, 1870-1957), also a native of Kingwood and the daughter of Alfred and Elizabeth (Scott) Carroll.
The couple did not reproduce.
After spending his early career as a teacher, presumably in Preston County, Edwin ran a dry goods store in Kingwood, known as "E.C. Everly & Co." or for short, "Everly''s." Edgar often placed prominent advertisements in the local newspaper, the Preston County Journal, offering the public a variety of new items for sale.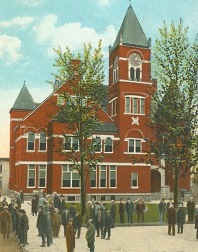 Monongalia County Courthouse
Later, the Everlys apparently moved to Morgantown, WV, where Edwin became prominent in legal circles, serving for three terms as County Clerk of the Court of Common Pleas of Monongalia County, WV.
He also served as justice of the peace in Kingwood, and was a farmer in addition to that. During his term as justice of the peace, circa 1930, Edgar's name appeared in each issue of the weekly Preston County Journal in a county directory. The Everlys resided on Main Street in Kingwood during their final years.
As with their grandfather James Miner Carroll, Edwin and his brother John Amaziah "J. Ami" Everly were active in the Kingwood Methodist-Episcopal Church. In fact, Edwin is mentioned six different times in a 1950 booklet, entitled Through the Years: A History of Methodism in Kingwood, West Virginia, authored by Ethel Peaslee Beerbower. His activities recorded in this slim volume range from serving on the church governing board to forming a church brotherhood and organizing church reunions.
Circa 1904, Edwin signed a church resolution praising Rev. H.C. Howard for having "rendered the most efficient and satisfactory service in all departments of the church; his sermons having been exceptionally helpful and uplifting and deeply spiritual; his work as pastor among the membership has been faithfully cared for and under his pastorate the church has made continuous growth along all lines as is evidenced by the spiritual, financial, social and numerical condition of the church."
In February 1913, he and 29 other men of the church were charter members of "The Craig Brotherhood of the Kingwood Methodist Church," with Edwin elected president. Three years later, in September 1916, he served on a committee to organize a Methodist Church Reunion "held in the new armory and was deemed a great success. The armory was filled with tables and between 250 and 300 were served. Good fellowship was manifest." He also was Sunday School superintendent in 1916, and was still in this role in September 1932 during a "Home-coming and Basket Dinner." In February 1921, he was on a planning committee to consider adding a kitchen to the church.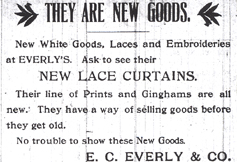 Everly store advertisement, Preston
County Journal, March 1906
Obituary, 1941
Myrtle, also active in the Kingwood Methodist Church, was a charter member of the Woman's Society of Christian Service when it was formed on Sept. 10, 1940. Its purpose was to raise funds for home and foreign missions work.
Edwin passed away at the age of 73 on Jan. 11, 1941, of cardiac failure, with asthma as a contributing cause. His funeral was "one of the largest ever held in Kingwood," reported the Journal. He was laid to rest at Kingwood's Maplewood Cemetery.
Myrtle outlived her husband by 16 years. In her final years she was burdened with hardening of the arteries and then at the end with congestive heart failure. She was cut away by the Grim Reaper on June 7, 1957, at the age of 86, and is buried beside Edgar. Helen Unger of Kingwood was the informant for the official West Virginia certificate of death.
Copyright © 2002-2008, 2019 Mark A. Miner