Hannah M. (Fegely) Dankel
(1815-1915)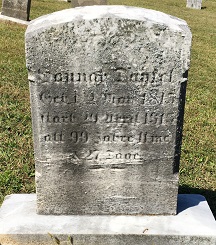 Hannah's grave, in German, Longswamp
Hannah M. (Fegely) Dankel was born on May 2, 1815 in Longswamp Township, Berks County, the daughter of David and Susanna (Gaumer) Fögle -- a surname Americanized to "Fegely." She "lived there all of her life," said the Allentown Morning Call.

On Christmas Day 1840, at the age of 25, Hannah wedded 31-year-old David Dankel (Sept. 22, 1809-1884). Rev. John Helfrich officiated. They made a residence in Longswamp, with Hannah remaining there for more than 70 years, including three decades as a widow..

The couple did not reproduce.
David made a living as a weaver as shown in the 1850, 1860 and 1870 federal census enumerations of Longswamp. Living under their roof in 1850 was 14-year-old Elizabeth Christman. In 1870, 13-year-old servant girl Susanna Beaver was in the household, and they were near neighbors to Hannah's niece and husband, Sarah and Matthias Roth.
The 1880 census shows that David at age 69 stated his primary occupation as farmer and that he suffered that year from typhoid.
Sadly, David passed away at the age of 74 on April 12, 1884. Burial was in Longswamp Union Cemetery.
Hannah survived him by more than 30 years. Circa 1900, census records show her in the home of her brother Henry, a carpet weaver in Longswamp.
Then in 1910, the census lists her at the age of 94 as residing in the household of Constantine and Adlina (Zimmerman) Fretz in Longswamp. The census-taker recorded that her primary language of speaking was German.

The Dankels' farm southeast of Shamrock, Longswamp Township, as published in the 1876 Atlas of Berks County.
David's grave, in German
In her final years, Hannah bore the chronic family health problem, an insufficiency of the heart valves. Said the Allentown Democrat, "She loved to read her Bible and her devotional books until her sight failed. She was fond of telling her experiences in childhood days, concerning which she had a good memory."

In May 1911, Hannah reached the age of 96, with her family holding a birthday party. The Morning Call said she was "one of the oldest residents of Berks County. She is a member of the Lutheran wing of the Longswamp church. She is the oldest member of the Fegley family and Peter, son of Mr. and Mrs. Raymond Fegley, of Monroe Street, this borough is the youngest." Among the party attendees were Mrs. Peter Fegley, Mrs. Robert Rohrbach and son Stephen, Mr. and Mrs. Raymond Fegley and son Peter, Sarah Roth, Beatrice Roth, Shirley Fegley, Earl Fegley, Walter Fegley, Clemmie Christman, Mrs. Samuel Bean, Mr. and Mrs. Robert Stansfield and daughter Frances, Fred Clewell and Mrs. Charles Adams, all of Allentown; and Mrs. Willoughby Mohr of Milford Square, Mr. and Mrs. Constantine Fretz and daughter Lillie.

She made a home with the Constantine Fretz family near Maple Grove in 1913 upon reaching her 98th birthday. At her 99th birthday, the Morning Call said she was "enjoying excellent health, considering her advanced years."

Just three days before her 100th birthday, in Schlossberg, Longswamp Township, she succumbed to the Grim Reaper on April 29, 1915. Interment was in Longswamp Church Cemetery. Lillian Fretz of Longswamp provided details for the death certificate.
Both of their grave markers are inscribed in German, despite the passage of three decades between their deaths.
Copyright © 2018-2019 Mark A. Miner