Susanna (Gaumer) Fegely
Also known as Fögle and Feglie
(1754-1837)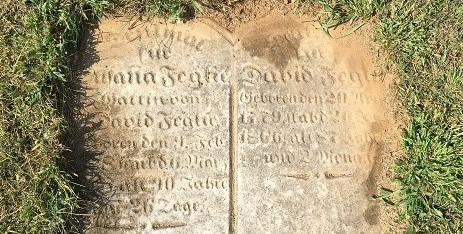 Zion Lehigh Evangelical Lutheran Church Cemetery in Alburtis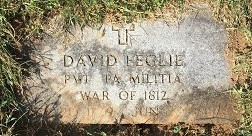 Zion Lehigh Evangelical Lutheran
Church Cemetery, Alburtis
Susanna (Gaumer) Fögle -- Americanized to "Fegely" -- was born on Feb. 16, 1778, the daughter of Johann Heinrich and Anna Margaretha (Meitzler) Gaumer. At the age of about seven weeks, she was baptized on April 5, 1778, with her sponsors named as Friederich and Susanna Kuhl.
Susanna was joined in wedlock with David Fegely (April 20, 1779-1866).

Their eight known offspring were Lydia Fegley, Esther "Hettie" Kline, Benjamin Fegley, Jesse Fegley, Hannah M. Dankel, Evan Fegley, Henry E. Fegely, David Fegely Jr. and James Fegley.
During the War of 1812, David took up arms. He joined the Pennsylvania Militia, 2nd Regiment, known as "Ritscher's." He held the rank of private, with his name alternately spelled in military documents as "Fagely" and "Fegaly."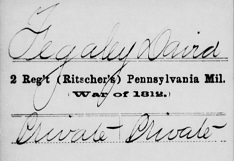 David's War of 1812 record.
National Archives
David later made a living as a weaver. When the federal census was enumerated in 1850 and then again in 1860, the family dwelled in Lower Macungie Township, Lehigh County, PA. The 1860 census shows David and Susan residing with their son James and his wife Mary and their offspring.

David died on June 20, 1866, at the age of about 87 years and two months. Burial of the remains took place in Zion Lehigh Evangelical Lutheran Church Cemetery in Alburtis, Lehigh County. His and his wife's grave markers were inscribed in the German language and script, with the family surname spelled "Feglie."

Susanna passed away the following year, at the age of 90 years, 26 days, on March 6, 1868. [Find-a-Grave]
Many years later, a flat military marker in English was placed at David's grave to mark his status as a War of 1812 veteran. The marker was photographed by the founder of this website in September 2019.
~ Son Henry E. Fegely ~
Son Henry E. Fegely (1821- ? ) was born in Jan. 1821.
He received an education as a child and knew how to read and write.
Henry never married but, having apparently learned the trade from his father, spent his long life as a carpet weaver in or around Longswamp, Berks County.
At the age of 79, in 1900, he and his widowed 85-year-old sister Hannah Dankel shared a home in Longswamp. His final fate is not yet known.
Copyright © 2018-2020 Mark A. Miner