Cecelia (Gorsuch) Zearfoss
(1899-1967)
Frank Zearfoss
Martha "Cecelia" (Gorsuch) Zearfoss was born on Jan. 15, 1899 at Maple Summit, Fayette County, PA, the youngest daughter of Richard M. and Martha (Minerd) Gorsuch.
Her husband Frank and her brother Floyd Gorsuch, were among many Minerd-Miner-Minor cousins to die in coal, coke and steel accidents.
As an unmarried teenager in 1915, Cecelia gave birth to a son, whom she named Wilbur Samuel "Bert" Buzzard Jr. She left the mountains and went to Mickley, PA to bear the child, away from prying eyes and tattletale gossip. The boy later was adopted by his stepfather and took the name "Zearfoss."
In 1916, Cecelia served as secretary of the congregation of the local Maple Summit Church. Among her friends was Mr. and Mrs. William Rowan, who resided on Grant Street in Ohiopyle, and at whose home she spent visiting in February 1918.
She is known to have been fond of her first cousin Arnold Overholt, who resided in Greensburg, Westmoreland County, PA. In about January 1915, she sent him a penny postcard featuring artwork of roses and a greeting from her home village of Nicolay, and then handwriting a series of "X" marks in her message as kisses.
Cecelia was united in matrimony with Frank Zearfoss (May 28, 1898-1937), the son of Ellwood and Georgia (Parker) Zearfoss of Rockwood.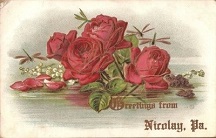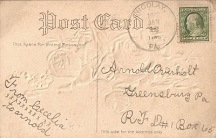 Cecelia's 1915 postcard to her cousin Arnold Overholt.
Courtesy Lannie Dietle.

Frank and Cecelia,
1920 Minerd Reunion
They produced an only son, Robert Ray Zearfoss, born in 1923.
The Zearfosses apparently enjoyed family gatherings and are known to have attended the 1920 Minerd Reunion at Ohiopyle, Fayette County, PA. They were photographed together at the 1920 event, standing on the steps of the old Ferncliff Hotel. (To see a full-image of the entire group photo, click here.) In 1927, Frank was a guest speaker at the clan's reunion, held at Confluence Park in Confluence, Somerset County. He also was named to a committee to organize the 1928 reunion at Confluence and the 1930 gathering at Shady Grove Park in Uniontown, PA.
Frank worked on and off over the years as a brakeman on the railroad. Fatefully, he also labored as a coal miner. In about 1931, they resided at Stoystown, Somerset County.
Tragedy rocked the family in the early days of autumn 1937 at a time when Frank lived in the coal mining village of Brownstown near Stoystown. On Sept. 24, 1937, he was killed at work in a mine accident. He was "crushed to death ... in a rock fall at the Royal Quemahoning mine [near Stoystown]," said the Somerset Daily American. "He was pronounced dead by a physician upon being removed from the fall." Coroner William J. Logue of Meyersdale wrote on the official Pennsylvania death certificate: "Fractures skull, fractured rt. ulna & radius, fractured ribs (rt.), internal hemorrhage, crushed chest.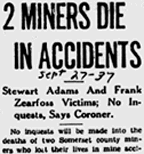 Headline, 1937
News of the tragedy was sent via telegram to relatives near and far, including to Cecelia's half-sister, Laura Jane (Minerd) Williams, and her family in Allenport, Huntingdon County. Laura Jane's son Edward immediately left and drove to the Zearfoss home to comfort his newly widowed aunt. Laura Jane, her husband Charles, and Mrs. C.H. Carter and Mrs. McHenry also made the trip from Allenport for the funeral. Also attending the funeral, from Confluence, were Cecelia's sister Edna Hyatt, her son Ray and his wife Freda, and daughter Martha and her husband Alfred Hatton.
Frank's remains were lowered into repose in the Lutheran church cemetery in New Centerville, Somerset County.
Cecelia outlived her husband by three decades and remained in Stoystown.
During World War II, son Bert served in Europe with the U.S. Armed Forces. News about him was published in a hometown newsletter, The Messenger, edited by a cousin, Ferne (Minerd) Work. A Messenger article in November 1944 reported that: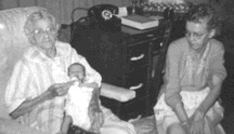 Cecelia, far right, with her
mother and great-grand-niece
Bert Zearfoss, of Somerset, ... has had a thrilling experience that we feel you all would enjoy hearing about. Bert has been with the ground forces of the AAF for several years and during this time he has the thrilling experience of living on the grounds of Mussolini's castle for a time. He saw the Il Duce's sister coming and going from the magnificent rendezvous of the former dictator of Italy.
Seen here, Cecelia was photographed in 1959 seated with her mother on the left holding a great-great granddaughter, Kim Neave, circa 1959.

Lutheran Church, New Centerville
As she aged, Cecelia was burdened with a thickening of the walls of her blood vessels in the brain. She was admitted to the Somerset State Hospital. There, suffering also from bleeding in the brain and respiratory failures, at the age of 68, she passed away on Jan. 19, 1967.
Cecelia's remains were laid to est beside her husband's at New Centerville, after a separation of 30 years. Their grave plot is not far from her mother's.
~ Son Wilbur Samuel "Bert" (Buzzard Jr.) Zearfoss ~
Wilbur Samuel "Bert" Buzzard Jr. (1915-1979) was born on Oct. 8, 1915 in Mickley, Fayette County, PA. As a boy, he was adopted by his stepfather and took the name "Zearfoss."
Circa 1936, he worked as a coal miner and made his home in Stoystown. On June 10, 1936, the 20-year-old Bert was united in holy matrimony with 16-year-old Betty Mae Shaulis (1920- ? ), daughter of Harry A. and Helen G. (Baumgartner) Shaulis and a native of Quemahoning Township, Somerset County. Rev. Lewis F. Foltz officiated at the nuptials held in Stoystown.
The couple produced one known daughter, Frances G. Hartong.
During World War II, Bert served in the U.S. Armed Forces. After the war's end, he was employed by General Telephone Company of Pennsylvania and retired from the company.
Bert and Betty divorced, with the Somerset County court approving the marital dissolution on Feb. 8, 1945. On June 22, 1946, at the age of 26, she wed again to 32-year-old truck driver Ray Ferguson Queer (1914- ? ), son of Edward and Josephine "Josie" (Brant) Queer of Berlin, Brothersvalley Township. Ray had been married and divorced previously. The Queers remained in Somerset.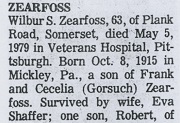 Obituary, 1979
Later, Bert married again to Eva R. Shaffer (Jan. 11, 1917- ? ), daughter of John and Lizzie Jane (Meyers) Shaffer of Somerset. They were the parents of Robert Zearfoss and JoAnn Zearfoss. Their home in the late 1970s was at 241 Plank Road in Somerset.
As Bert's health declined in 1979, he was admitted to the Veterans Affairs Hospital in Pittsburgh. He died there at the age of 63 on May 5, 1979. Rev. Roger L. Forry officiated at the funeral service and burial at Beachdale Cemetery.
Daughter Frances G. Zearfoss (1940-1961) was born in about 1940. In about 1953, at the age of 13, she relocated to Akron, Summit County, OH. She married William Hartong ( ? - ? ) and they maintained a residence in Akron. The young couple bore two children, Christopher "Chris" Hartong and Cindy Hartong. Their address in 1961 was 113 Gale Street in Akron. Tragically, on the fateful day of June 27, 1961, William found his 21-year-old wife "sitting on a floor at home in a near-stupor," reported the Akron Beacon Journal. She was rushed to Akron General Hospital, where she succumbed. The mysterious nature of her passing led to a coroner's investigation. Her remains were lowered into repose in Crown Hill Cemetery. An obituary appeared in the Beacon Journal. William married again and in 1968 dwelled at 57 Belvedere Way in Akron.
Grandson

Chris Hartong

(1957- ? ) was born in 1957. He grew up in Akron and in April 1968 was a participant in the annual Soap Box Derby race. He raced for several years and in 1970 had a car with a "raise airfoil on the back like those now on many sports cars," reported the

Beacon Journal

.
Granddaughter Cindy Hartong

grew up in Akron. Circa 2007, she is believed to have been a realtor in Akron with R

E

/M

AX

.
Son Robert Wilbur Zearfoss ( ? - ? ) was born in (?). During the Vietnam War, he joined the U.S. Army and underwent infantry training at Fort Polk, LA. In 1987, his home was in Blairsville, Indiana County, PA. Circa 1987, he was united in wedlock with Evelyn Kathleen Eckert ( ? - ? ), also of Blairsville.
Daughter JoAnn Zearfoss ( ? - ? ) was born in (?). Evidence suggests that she dwells in Somerset.
~ Son Robert Ray Zearfoss ~
Son Robert Ray Zearfoss (1923-1986) was born on July 11, 1923 in Johnstown, Cambria County. He was 14 years old when his father was killed.
During World War II and the Korean War, he served in the U.S. Army. He was a longtime truck and bus driver, and was employed by Schrock Tour Buses of Berlin, Somerset County and by Carolina Freight, from which he eventually retired.
On Aug. 7, 1948, when he was 25 years of age, he married 23-year-old Helen L. Whipkey (Feb. 15, 1925-2003), daughter of Ralston and Margaret (Shupe) Whipkey of Somerset. Rev. B.F. Bungard led the nuptials held in Somerset. At the time, Robert and his mother made their home together at 465 Main Street in Somerset.
They were the parents of two sons -- Gregory Zearfoss and Bradley Zearfoss.
Helen was a nurse as a young woman and provided volunteer services for the American Red Cross. Later in life, she was active with a local RSVP program.
The Zearfosses had a second home in Tampa, FL while maintaining their Somerset residence at 1076 Sunset Drive. He was a member of the First United Church of Christ in Somerset and she of St. Paul's United Church of Christ.
Sadly, Robert died in Tampa at the age of 63 on Nov. 22, 1986. His remains were returned to Somerset County for interment at Union Cemetery in New Centerville. Rev. Joseph Beer officiated. An obituary was published in the Somerset Daily American.

Two of Helen's mid-1990s articles published in the Somerset Daily American
Helen authored a number of historical articles for the Daily American newspaper during the 1990s. She graciously entertained several visits from the founder of this website in the late 1980s and shared treasured memories for development of this biography. She dearly loved her husband's grandmother, Martha Gorsuch. She attended the 1994 Minerd-Miner Reunion with a focus on Civil War soldiers in the family.
At the age of 78, Helen died at home on April 12, 2003. Burial was at Union Cemetery, with Rev. James Hughes officiating at the funeral. His obituary appeared in the Daily American.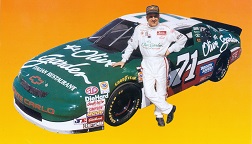 NASCAR driver Dave Marcis sponsored by
Olive Garden, a program managed by Greg Zearfoss.
Photo by Dorsey Patrick Photography
Son Gregory F. Zearfoss has been married and fathered a daughter, Kelli Jo Zearfoss. He lived in Tampa in 1986 and in Atlanta in 2003. From 1991 to 1996, he was employed in corporate marketing by Olive Garden. In that role, he directed regional and national marketing and launched the company's major NASCAR sponsorship and national charity initiative "Pasta for Pennies" which raised nearly $1M for Leukemia research. This included directing the company's sponsorship of Winston Cup stock car racer Dave Marcis (car no. 71). After that time, he was marketing director for Blimpie International in Atlanta -- director of international marketing for Focus Brands in Atlanta directing strategy for Seattle's Best Coffee, Cinnabon, Moe's Southwest Grill, Schlotzsky's and Carvel Ice Cream -- and international brand leader for Dunkin' Brands in Canton, MA. Today he is a marketing leader with Little Caesers in New York City. Greg has been interested in his Gorsuch roots and generously shared information with the founder of this website in the mid-1990s.
Granddaughter

Kelli Jo

Zearfoss
Son Bradley A. "Brad" Zearfoss ( ? - ? ) was born in (?). On Aug. 30, 1986, he was joined in matrimony with Deborah Jean Rodkey (March 12, 1962-2021). A native of Bellevue, NE, she was the daughter of Robert W. and Carol Mae (McFeaters) Rodkey of Nanty Glo, Cambria County, and the stepdaughter of Nancy (Straton) Rodkey. The nuptials were led by Rev. Keith V. Lindsey at the Christian and Missionary Alliance Church in Nanty Glo. Husband and wife were pictured in a story about the wedding in the Somerset Daily American. Two offspring born to the couple were Lara L. Zearfoss and Ryan Robert Zearfoss. Deborah was a 1980 alumna of Blacklick High School. She earned her bachelor of science degree from the University of Pittsburgh/Johnstown. They made their first home in Fort Pierce, FL in 1986 and later in Shanksville, PA in 2003. Circa 2001, Brad was employed as a planner with the County of Somerset and quoted in a Pittsburgh Post-Gazette story about Rockwood headlined "Little Somerset Town Has Big Hopes for Train Stop." Today he serves as director of the Somerset County Planning Commission. Among other major initiatives, he has been involved in planning the Flight 93 National Memorial. Deborah for three decades was self-employed as an accountant. The couple separated and may have divorced. Deborah made her home in Berlin, PA, and continued her accounting practice. She belonged to the Pennsylvania Institute of Certified Public Accountants and North Ridge Baptist Church. Sadly, at the age of 59, she passed away in UPMC Somerset Hospital on Oct. 16, 2021. Her obituary was printed in the Daily American.
Granddaughter Lara Lynn

Zearfoss
Grandson

Ryan Robert Zearfoss
Copyright © 2000, 2002, 2006, 2013, 2017, 2018, 2021 Mark A. Miner