Edna (Gorsuch) Hyatt
(1884-1971)
Edna Hyatt
Edna Lilly (Gorsuch) Hyatt was born on Oct. 9, 1884, at Mount Pleasant, Westmoreland County, PA, the daughter of Richard M. and Martha (Minerd) Gorsuch.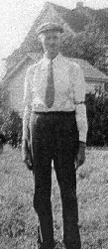 Lloyd Hyatt
Edna's parents moved often during her childhood. She primarily grew up in the mountains at the now-defunct town of Nicolay, or what also has been called Maple Summit, where her mother was a United States Postmistress. Nicolay was a crossroads near Mill Run, close to the border of Fayette-Somerset Counties, PA.
On June 5, 1901, when Edna was age 17, she married 24-year-old Lloyd Melvin Hyatt (1877-1947), the son of David and Mary (Wills) Hyatt. They were seven years apart in age. Rev. J.C. Cunningham performed the nuptials in Ursina, Somerset County.
The Hyatts lived in Draketown and Confluence, Somerset County. Circa 1943, their home was on Oden Street in Confluence.
Their children were James "Willis" Hyatt, Francis Melvin Hyatt, Edward Ray Hyatt, Mary Custer, Martha Hatton Lillustrung and Mildred Catherine Kreger.
A 1900 issue of the Connellsville Courier reported that Lloyd and friend Albert Younkin left Draketown "for Layton where they expect to swing axes in a timber tract there."
Edna is said to have lived near the corner of Sterner Street in Confluence in the downstairs portion of a two family home. Friends recalled her as "a tiny cute woman" who could be seen on her front porch or walking with armloads of groceries.
In August 1924, the Hyatts were among a crowd of 82 who attended the annual Minerd-Miner Reunion held at Lincoln's grove, near the Western Maryland Railroad Station in Confluence, Somerset County. Among other attendees were Edna's mother, brothers Richard, Charles and Carl, and nephew Wilbur S. Buzzard (Zearfoss). In an article about the reunion, the Meyersdale Republican reported: "A very successful and pleasant reunion of the Minard family was held ... A fine picnic dinner was partaken of at 12:30 p.m., after L.L. Mountain invoked a blessing." In the article the family name was misspelled as "Gorsage."

Bird's eye view of Confluence, early 1900s

Edna and great grand-
daughter Kimberly Neave
Edna became ill during the autumn of 1925, and was admitted for several weeks at the Frantz Hospital. The Connellsville Daily Courier reported on Oct. 24, 1925 that she had been 'in a serious condition, [but was] slightly improved."
A newspaper once said that Lloyd "joined the I.O.O.F. 814 Lodge [in Confluence] in Jan. of 1921 and attended every meeting, 1300 of them until his first sick spell a year ago kept him from his Lodge." He often was mentioned in Daily Courier news articles about Odd Fellows activities, and in 1933 traveled to Erie, PA for a grand lodge meeting.
Edna was a longtime member of the Christian church in Confluence and belonged to the Three Rivers Rebekah Lodge No. 61.
The federal census enumeration of 1920 shows the family living in Confluence, with Lloyd and son Ray employed as railroad laborers. That year, Edna's 39-year-old unmarried brother, Charles M. Gorsuch, a timber laborer, resided under their roof (with his name misspelled by the census-taker as "Gorsige").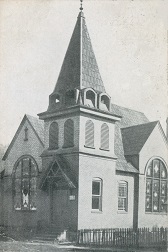 Confluence Christian Church
As their family of children grew, married, had their own families and moved to new locales, Edna and Lloyd played hosts to their visits whenever possible. In August 1936, their young granddaughter Jean Hyatt spent several days in their home before returning with her parents to their residence in Pittsburgh. In September 1942, their son Willis and family arrived from Painesville, Ohio for a stay. Edna herself was not adverse to travel, and visited her married daughter Martha Hatton in Buffalo, NY in the summer of 1945.
Tragedy struck in 1937 when Edna's brother in law, Frank Zearfoss, was killed in a coal mine accident. Edna, her son Ray and his wife Freda, and daughter Martha and her husband Alfred Hatton motored to Stoyestown for the funeral.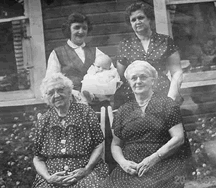 Five generations, 1954
Sadly, Lloyd was in poor health for the last five or so years of his life. In 1947, he suffered a light stroke, and died at home on March 25, 1947, at the age of 69. The Daily Courier noted that his funeral was "quite largely attended." He was laid to rest in the Jersey Church Cemetery near Ursina, Somerset County.
Edna outlived Lloyd by 24 years.
A remarkable photo is from the summer of 1954, comprising five generations of the family. Edna is seated at right, beside her mother Martha. In the back row, left to right, are Mona Ruth (Kreger) Jarvis and baby daughter Jerri, and Mildred (Hyatt) Kreger. The image was taken by family friend Dr. E.M. Price.
In 1967, Edna suffered the death of her son Melvin, age 61.
Edna passed away at the age of 87 on April 8, 1971, in the home of her son Ray in Confluence.. In an obituary, the Daily Courier reported that she was survived by 16 grandchildren and 27 great- grandchildren. She joined Lloyd in eternal repose in the Jersey Church Cemetery.
The late Olive Duff researched the Hyatts and published their family listings in the Moon Genealogy booklet, which is preserved today in the Minerd- Minard- Miner- Minor Archives.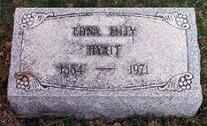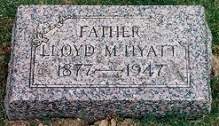 The Hyatts' graves in Jersey Cemetery
~ Son Edward Ray Hyatt ~
Son Edward Ray Hyatt (1903-1985) was born in 1902.
He married Freda Shipley ( ? - ? ).
They had two children -- Donna Rae Hyatt and Wiletta Hyatt.
They dwelled in Confluence for decades, at least until the early 1970s.
Later, Edward moved to Wickliffe, Mahoning County, OH.
Edward died in Wickliffe in 1985. He was laid to rest in the Indian Creek Baptist Church Cemetery in Mill Run, Fayette County, PA. (Edward's great-great-great grandparents, Jacob and Maria [Nein] Minerd Sr., also rest for eternity in the Indian Creek cemetery.)
~ Son James Willis Hyatt ~
Son James Willis Hyatt (1904-1978) was born on March 8, 1904.
At the age of 24, he married 17-year-old Margaret Duser ( ? - ? ). They had at least three children, Jean Louisa Hyatt, Erwin Hyatt and Charlotte Hyatt. One of their sons also may have been known as "Elwood Hyatt."
The family resided in New Castle, Lawrence County, PA circa 1930, where they lived in West Cherry Street, and James was a railroader.
By 1936, they were in Pittsburgh. The federal census of 1940 shows the Hyatts living on Pearl Street in Pittsburgh, with James employed as a railroad laborer and Margaret as a janitress in a bank building.
Later, circa 1942, they had relocated again, to Painesville, Lake County, OH. They were in Painesville at least through the early 1970s and perhaps longer.
James died on July 21, 1978, at the age of 74.
Daughter Jean Louisa Hyatt (1929- ? ) was born in Pennsylvania.
Son Erwin Hyatt (1931- ? ) was born in 1931 in Pennsylvania, likely in New Castle.
Daughter Charlotte Hyatt (1938- ? ) was born in 1938 in Pittsburgh.
~ Son Francis Melvin Hyatt ~
Son Francis Melvin Hyatt (1906-1967) was born in 1906.
He is said to have married Margaret Bowser ( ? - ? )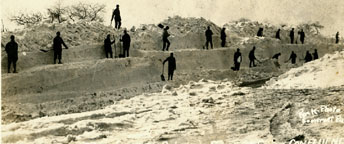 A common wintry sight -- men clearing a heavy snowfall on the road from Confluence to Somerset, circa 1936.
Francis lived at Confluence.
He died on Oct. 31, 1967, in Confluence, at the age of 61, with burial at the Jersey Church Cemetery.
~ Daughter Mary E. ( Hyatt) Custer ~
Daughter Mary E. Hyatt (1911 -1977) was born on July 12, 1911 near Confluence, Somerset County.
At the age of 20, Mary wed 29-year-old laborer Harry J. Custer (1902- ? ). He was a native of Rockwood, Somerset County, and was the son of James and Tillie (Snyder) Custer. Rev. William H. Weishirt officiated the marriage ceremony held at Confluence on Feb. 17, 1931. (Their name also has been misspelled occasionally as "Kooster.")
The Custers had one daughter, Linda Custer.
Their home in 1935-1938 was in Meyersdale, Somerset County, and they belonged to the Confluence Christian Church.
Mary went under the knife for serious surgery in the spring of 1938. Afterward, she began to improve at first, but then her recovery stalled. A short article in the Connellsville Daily Courier noted that she was "not improving very fast." But she eventually recovered.
By 1942, the Custers relocated to Buffalo, Erie County, NY, remaining there until at least 1950. Circa 1971, Mary lived in Ashtabula, Ashtabula County, OH, and was mentioned that year in the Daily Courier obituary of her mother. She and Harry and their daughter later resided in Kent, OH.
Mary died at the age of 65, in Kent's Thomas Hospital, on April 23, 1977. Her remains were returned to Confluence for burial in the Jersey Cemetery, following a funeral service led by Rev. L. Gene Bonnell. Her obituary was published in the Somerset Daily American.
Click to learn about the Minerd family's connection with the family of General George Armstrong Custer.
Daughter Linda Custer resided in Kent, OH in 1977.
~ Daughter Mildred Catherine (Hyatt) Kreger ~
Daughter Mildred Catherine Hyatt (1915-2000) was born in 1915 in Draketown, Somerset County, PA.
At the age of 17, she wed married 23-year-old George Arthur Kreger (1909-1950), a Confluence native and the son of B. Fred and Laura (Sanner) Kreger. W.H. Zufall, a local justice of the peace, performed the wedding ceremony at Harnedsville, Somerset County on Sept. 24, 1932.
At the time of marriage, George earned a living as a laborer.
They resided in Confluence and had five children -- Georgetta Kay Conway, Larry L. Kreger, Mona Ruth Jarvis, Sandra Lynn Tressler and Rena Denise Kreger.
Tragedy rocked the family just two days before Christmas 1950, at a time when Mildred was expecting their fifth child. While driving on Route 711 near New Florence, Westmoreland County, George was seriously injured when his automobile skidded and collided with a tractor trailer owned by Tank Trunk Rentals, Inc. He was rushed to Johnstown Hospital, where he was pronounced dead.
Mildred gave birth to a daughter in March 1951, three months after George's death.
Widowed at the age of 35, Mildred filed a $50,000 lawsuit against the company and its driver who was operating the truck.
She outlived her husband by many years, residing in Somerset, but is said to have never spoken about her late husband to her children.
Mildred died in Somerset's Siemon Lakeview Manor on Jan. 13, 2000.
Daughter Sandra Lynn "Sandy" Kreger married Paul L. Tressler, son of Mr. and Mrs. Paul C. Tressler of Markleton, Somerset County. Circa 1973, they resided on Stadium Road in Connellsville.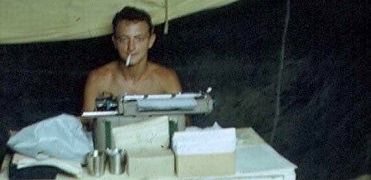 Army medic Larry Kreger in Vietnam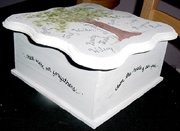 Laura Linderman's decorated boxes
Son Larry L. Kreger (1946-2005) was born on July 5, 1946. He was a veteran of the Vietnam War, receiving his basic training at Fort Hood, TX. Later, he married and had a family and resided in Mentor, OH. "He was a U.S. Army veteran who enjoyed hunting, fishing and archery," said the Somerset Daily American. He passed away in Willoughby, OH, on Nov. 29, 2005, at the age of 59.
Granddaughter Laura (Kreger) Linderman has been married and has two sons. She has created colorful wooden keepsake boxes and canvases, decorated with family trees. The samples seen here were made for her mother for Mother's Day. Laura prepared each box and canvas differently, featuring the names of an individual's own family tree.
~ Daughter Martha (Hyatt) Hatton Lillstrung ~
Daughter Martha Hyatt (1918-1983) was born on March 29, 1918. She named for her grandmother Martha (Minerd) Gorsuch.
In her youth, she enjoyed visiting with her elder siblings, and in August-September 1936 spent two weeks in Pittsburgh with her brother James Willis Hyatt.
At the age of 18, Martha married her first husband, Alfred Hatton ( ? - ? ) on Jan. 23, 1937. They eloped to Cumberland, Allegany County, MD for their nuptials, a fact noted in a short article in the Connellsville Daily Courier. At the time, Alfred was "from Los Angeles" but was a member of the Civilian Conservation Corps (CCC) of Grantsville, MD. Said the Courier, "Mrs. Hatton will remain at the parental home until spring, Mr. Hatton at the camp."
She is pictured below in a montage of women in this branch of the family.

L-R: Ruth (Hatton) Neave Parsons Clark; Martha (Hyatt) Hatton
Lillstrung; Edna (Gorsuch) Hyatt; Martha (Minerd) Gorsuch
Upon his return to Confluence in June 1937, they rented rooms from Laura McDonald on Sterner Street. Nine months later, in March 1938, they moved in with Martha's parents in Confluence, but the next month they moved back into McDonald's dwelling. In late June 1938, the Daily Courier noted that they had "moved to Ursina today where Mr. Hatton will be more conveniently located to his work."
The couple had four known children, among them Ruth Neave Parsons Clark, with the other names being researched. Sadly, their first child, a daughter, born in August 1937, died at the age of one day, and was laid to rest in Jersey Cemetery.
In the mid-1940s, they lived in Buffalo, NY, where Martha's married sister Mary Custer also resided.
But by August 1945, with Alfred apparently unemployed, Martha and the children had moved back to Confluence. In September of that year, Alfred rejoined his family and found a job with the Baltimore and Ohio Railroad.
Alfred's fate is not yet known.
Martha married again, to Harvey M. Lillstrung ( ? - ? ), also known as "Arvl." They made their home in Mentor, OH.
Harvey passed away on Oct. 27, 1978.
Martha survied him by almost five years. She died in Conneaut, Ashtabula County, OH on May 21, 1983, at the age of 65. She and Harvey rest for eternity in Mentor Municipal Cemetery, in Plot 21.
Copyright © 2000-2003, 2006-2008, 2013, 2015-2016, 2018 Mark A. Miner