Richard A. Gorsuch
(1894-1954)

Richard A. Gorsuch was born on June 17, 1894, at Bidwell near Mill Run, Fayette County, PA the youngest son of Richard M. and Martha (Minerd) Gorsuch.
Richard grew up not knowing much of his estranged father, and only saw him on rare visits. Once he and his brother Charles went to Vanderbilt, PA to see their father, who was living in a shanty and very sick. In 1912, his father came home one last time, but then left in anger, in the middle of a snowstorm, and the family never saw him again.
In the fall of 1916 Richard obtained employment as a coal miner in Rockwood, Somerset County, PA, and moved there. The following April, his mother also moved to Rockwood, to be near him, bringing her youngest children Charles and Cecelia.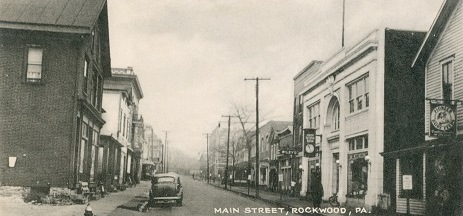 Rockwood's Main Street in an old postcard view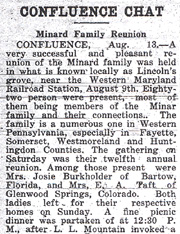 Meyersdale Republican, 1924
On Aug. 8, 1919, when he was 25 years of age, Richard married his 18-year-old distant cousin, Blanche Hazel Swarner (1901-1991). She was the daughter of John H. and Bertha Mae (Cramer) Swarner of the family of Henry S. and Barbara Jean (Younkin) Swarner.
They produced an only son, David O. Gorsuch.
The newlyweds first lived in Rockwood, where Richard labored as a coal miner in 1920.
In August 1924, Richard and Blanche, along with his mother, sister Edna Hyatt and brothers Charles and Carl, were among a crowd of 82 who attended the annual Minerd-Miner Reunion held at Lincoln's grove, near the Western Maryland Railroad Station in Confluence, Somerset County. In an article about the reunion, the Meyersdale Republican reported: "A very successful and pleasant reunion of the Minard family was held ... A fine picnic dinner was partaken of at 12:30 p.m., after L.L. Mountain invoked a blessing." In the article the family name was misspelled as "Gorsage." In 1928, Richard served on a committee to organize the reunion held at Confluence Park.
Federal census records for 1940 show Richard and Blanche making their home in Lavansville, Somerset Township, Somerset County, with Richard working as a manager of a retail grocery store.
Their son was born in 1946, after the couple had been married for 27 years.
In the mid-1950s, Richard earned a living as a coal miner and resided with his wife at 603 East Main Street in Somerset.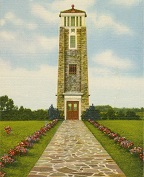 Somerset County
Memorial Park
Richard was afflicted with heart disease. While cutting Christmas trees on their farm near Bakersville, PA, he suffered a heart attack and died at the age of 60 on Dec. 11, 1954. Burial was in Somerset County Memorial Park.
In Richard's memory, Blanche donated a new sound system to the Somerset Church of the Brethren.
Later, Blanche married widower Wilson Dewey Pyle (June 23, 1899-1992), son of Cyrus and Emma (Dorsey) Pyle of Somerset. He and his first wife, Olive Gahring, had borne three offspring, Alzene Miller, Ray Pyle and Jay Pyle. Wilson belonged to the Somerset Church of the Brethren.
Blanche was a co-owner of Farmer Gorsuch's Cloverleaf Market in Lavansville. In April 1968, she attended an auction at her parents' former home in Black Township, along with her siblings Mrs. Leonard Schrock, Wilbur Swarner, Yvonne Narad and Mrs. Ray Heinbaugh, and was mentioned in a related story in the Somerset Daily American.
In November 1968, she transferred real estate to her son in Jefferson Township.
Blanche passed away in 1991 at the age of 90.
Dewey only outlived her by a year. Death swept him away at age 92 on May 15, 1992. His obituary was published in the Daily American.
~ Son David O. Gorsuch~
Son David O. Gorsuch (1946-2019) was born on Jan. 7, 1946.
He was joined in wedlock with Karen Glessner ( ? -living), daughter of Robert and Evelyn (Felton) Glessner. They initially resided in Friedens and Central City, Somerset County, PA.
At least one son born to their union was Richard J. Gorsuch.
Circa 1986, he was employed as a life insurance agent with New York Life Insurance Company. In the community, he served as president of the Somerset Area Little League in 1974.
The couple separated in late 1983, with Karen moving to Florida, and David and their son remaining behind. By 1992, David relocated to Sarasota, FL.
David passed away in Sarasota at the age of 73 on Oct. 1, 2019.
Son Richard J. Gorsuch was born in about 1971. He at the age of 13 was involved in the Jan. 14, 1984 accidental shooting death of a 14-year-old girl in Somerset County. The resulting legal case Kinsinger v. Gorsuch, heard in Common Pleas Court of Somerset County, centered on a parent's responsibility for a child's behavior. Richard went on to graduate in 1988 Somerset Area Senior High School. He joined the U.S. Air Force in 1988 and took his basic training at Lackland Air Force Base in Texas. He entered into marriage with Renee.
Copyright © 2000, 2005, 2007, 2014, 2017, 2021 Mark A. Miner