Richard A. Gorsuch
(1894-1954)

Richard A. Gorsuch was born on June 17, 1894, at Bidwell, Fayette County, PA the youngest son of Richard M. and Martha (Minerd) Gorsuch.
Richard grew up not knowing much of his estranged father, and only saw him on rare visits. Once he and his brother Charles went to Vanderbilt, PA to see their father, who was living in a shanty and very sick. In 1912, his father came home one last time, but then left in anger, in the middle of a snowstorm, and the family never saw him again.
In the fall of 1916 Richard obtained employment as a coal miner in Rockwood, Somerset County, PA, and moved there. The following April, his mother also moved to Rockwood, to be near him, bringing her youngest children Charles and Cecelia.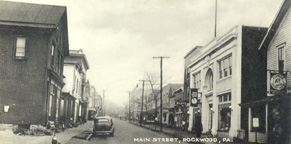 Rockwood's Main Street in an old postcard view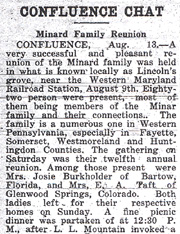 Meyersdale Republican, 1924
On Aug. 8, 1919, when he was 25 years of age, Richard married 18-year-old Blanche Hazel Swarner (1901-1991).
They produced an only son, David O. Gorsuch.
The newlyweds first lived in Rockwood, where Richard labored as a coal miner in 1920.
In August 1924, Richard and Blanche, along with his mother, sister Edna Hyatt and brothers Charles and Carl, were among a crowd of 82 who attended the annual Minerd-Miner Reunion held at Lincoln's grove, near the Western Maryland Railroad Station in Confluence, Somerset County. In an article about the reunion, the Meyersdale Republican reported: "A very successful and pleasant reunion of the Minard family was held ... A fine picnic dinner was partaken of at 12:30 p.m., after L.L. Mountain invoked a blessing." In the article the family name was misspelled as "Gorsage." In 1928, Richard served on a committee to organize the reunion held at Confluence Park.
Federal census records for 1940 show Richard and Blanche making their home in Lavansville, Somerset Township, Somerset County, with Richard working as a manager of a retail grocery store.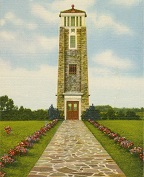 Somerset County Memorial Park
In the mid-1950s, Richard earned a living as a coal miner and resided with his wife at 603 East Main Street in Somerset.
Richard was afflicted with heart disease and died at the age of 60 on Dec. 11, 1954, at the age of 60. Burial was in Somerset County Memorial Park.
Later, his widow Blanche married Wilson Dewey Pyle ( ? - ? ).
She was a co-owner of Farmer Gorsuch's Cloverleaf Market in Lavansville. In April 1968, she attended an auction at her parents' former home in Black Township, along with her siblings Mrs. Leonard Schrock, Wilbur Swarner, Yvonne Narad and Mrs. Ray Heinbaugh, and was mentioned in a related story in the Somerset Daily American.
In November 1968, she transferred real estate to her son in Jefferson Township.
Blanche passed away in 1991 at the age of 90.
~ Son David O. Gorsuch~
Son David O. Gorsuch ( ? - ? ) resided in Somerset County, PA.
Copyright © 2000, 2005, 2007, 2014, 2017 Mark A. Miner