Harold Dwight Harbaugh
(1914-1938)

Harold Harbaugh

Harold Dwight Harbaugh was born on Nov. 16, 1914 in Maple Summit, Fayette County, PA, the son of Robert B. and Elizabeth (Long) Harbaugh Sr.

He lost his life as a young man in a tragic automobile accident.
When Harold was age seven, his father passed away of stomach cancer. The boy remained at home with his mother in Maple Summit. He never married.
During the Great Depression, Harold enrolled in a CCC (Civilian Conservation Corps) Camp. He also found employment as a dishwasher at the popular Francis Restaurant in Uniontown, the county seat of Fayette County.
Harold's census enumeration records have not yet been located for 1930, despite an extensive search effort on Ancestry.com.
In 1937, at age 22, Harold and his mother moved to Lemont, near Uniontown, likely to be near his married sister, Ollie Hall, who also was residing there.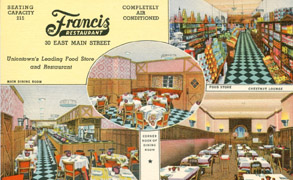 Uniontown's Francis Restaurant, where Harold was a dishwasher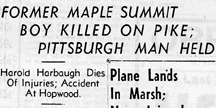 Obituary, 1938

Tragedy struck on Jan. 6, 1938, when the 24-year-old Harold was struck and killed by a motorist in Hopwood, Fayette County. He was hit as he attempted to cross Route 40 (the National Pike). According to a front-page story in the Connellsville Daily Courier: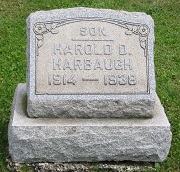 Imel Cemetery
[He] was walking across the pike near the Hopwood Community Hall when he was struck. Although he weighed 240 pounds he was knocked about 60 feet to the sidewalk by the impact of the machine. The victim with two companions had returned from a motor trip to the mountains and had parked their machine at Hopwood. He started across the pike to a gasoline station when he was hit… he suffered a frontal skull fracture, a broken right arm and compound fracture…. [The driver] told [police] that he did not see Harbaugh until he struck him and that he stopped his machine as soon as he was able to do so with safety. He was traveling in the direction of Uniontown.
The funeral was held at the Harbaugh home "along the old road from Gaddis Cross Roads to Uniontown." He was buried at Imel Cemetery near his father, grandparents and many aunts, uncles and cousins.
Copyright © 2003, 2009, 2013, 2020 Mark A. Miner