William Sturgis Harbaugh
(1898-1973)

William Sturgis Harbaugh was born on Nov. 13, 1898 at Maple Summit, Fayette County, PA, the son of Robert B. and Elizabeth (Long) Harbaugh Sr.
William was single for many years, and resided with his mother. He remained single until at least as late as 1949, when the Harbaugh History book was published.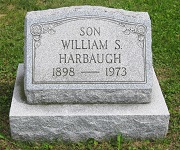 Imel Cemetery
In August 1936, at the age of 38, he and his mother and siblings joined their cousins at the Harbaugh Reunion at Kingwood, Somerset County. He is seen in a group photograph taken that day.
At some point, William married Viola Buck ( ? - ? ). He relocated to Winfield, Union County, PA, where he was a member of the Sound of the Gospel Church.
Sadly, Viola passed away, of unknown causes, in May 1967.
In 1968, the newly widowed William traveled back home to attend the Harbaugh Reunion, and received the award for furthest-traveled -- a distance of 260 miles.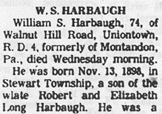 Circa 1970, je lived in Montandon, Northumberland County, PA. Later in life, he moved back to his home region, settling on Walnut Hill Road, Uniontown.
William died on July 25, 1973, at the age of 74. His remains were laid to rest in the Imel Cemetery, the family's ancient burial ground going back several generations.
Copyright © 2003, 2013 Mark A. Miner