Evangeline (Knight) Strasburg
(1892-1990)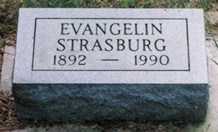 Evangeline (Knight) Strasburg was born in 1892 in Ohio, or in Gladwin, Gladwin County, MI , the daughter of Norman W. Knight.
The identity of Evangeline's mother is unknown. She was raised from infancy by her grandparents, Daniel Harry and Caroline (Llewelyn) Knight.
At the age of two, Evangeline came down with scarlet fever, lost her vision and was blind for the rest of her years. Yet she enjoyed a full existence of 98 years.
For many years, Evangeline was institutionalized at the Institute for the Blind in Saginaw, Saginaw County, MI. When the federal census was taken in 1930, the 37-year-old was enumerated in the institute. She made a living for herself there as a mop-maker.
At some point, after 1930, she married Kenneth Strasburg ( ? - ? ). They purchased a home together. A cousin recalls that "Aunt Eva, as she is called, does her own housework. She is independent, self-sufficient as possible, and a very sweet-tempered person."

The Institute for the Blind in Saginaw, where Evangeline lived for years
She died in 1990, at the age of 98, and is buried at Highland Cemetery near Gladwin, with a simple stone marking her final resting place.
The fate of her husband Kenneth is unknown.
Copyright © 2001, 2011 Mark A. Miner