Daniel Harry Knight
(1842-1917)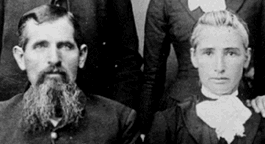 Daniel and Caroline Knight
Daniel Harry Knight was born on June 25, 1842, in Turkeyfoot Twp., Somerset County, PA, the son of James and Susanna (Imel) Knight Sr. He and his brother Norman were soldiers in the Civil War.
At the age of 10, after his mother died, Daniel moved with his father and siblings to near Marshfield, Athens County, OH. Why they made this move is not yet known.
As an adult, Daniel stood 5 feet, 8 inches tall, with a dark complexion, brown hair and blue eyes.
On Aug. 3, 1861, when Daniel was 19, he purchased a 2.5-acre parcel of the 80-acre farm of his father and stepmother. in Section 18, Township 10, Range 15 of Athens County. At about the same time, he also bought a nearby parcel of four acres from Andrew and Jane Means in Section 12, Township 10, Range 15.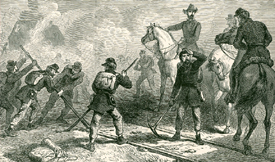 Sherman's troops rip up railroad track in Georgia
After the Civil War broke out, Daniel enlisted in an Ohio regiment -- Company A, 92nd Ohio Volunteer Infantry -- on July 30, 1862. His brother Norman also enlisted in the Army, as a member of the 4th West Virginia Volunteer Infantry. The brothers remained close throughout their lives, even though they eventually lived far away from each other.
Daniel took part in a number of major battles in the southeastern United States -- Chickamauga, Chattanooga, Resaca (GA), Kennesaw Mountain and Jonesboro (GA). He also participated in the devastating "March to the Sea" from Nov. 15 to Dec. 10, 1864, led by General William Tecumseh Sherman, where Army forces destroyed railroad lines, crops, houses and just about anything else in their way.
The 92nd Ohio was present when Confederate General Joseph E. Johnston surrendered to General Sherman in Durham, NC, in April 1865.
Daniel is said also to have marched in the Grand Review before President Andrew Johnson on May 24, 1865, involving more than 100,000 troops of the Grand Army of the Republic. He was discharged on June 12, 1865 at Washington, DC.
The Civil War records of Daniel and brother Norman's briefly are summarized in the 1989 booklet, Civil War Veterans of Athens County, Ohio, authored by Mary L. Bowman and published by the Athens County Historical Society & Museum. The work can be found today in the at the Alden Library at Ohio University in Athens.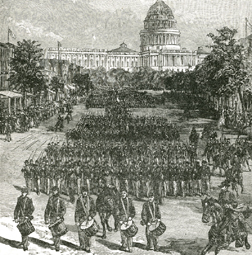 Grand Review in Washington, D.C., May 1865
He then returned home to Athens County. On Sept. 3, 1866, Daniel purchased the remaining 78 acres of his father's farm in Lee Township, for the sum of $2,370. Daniel is named, and the location of his farm is visible, in the 1875 Atlas of Athens County, Ohio. His farm is in the lower right-hand corner, directly south of Marshfield.

The Knights' marriage license, Ohio
The 1866 real estate transaction may have related to the fact that the same month, September 1866, Daniel married Caroline Elizabeth Lewellyn (1846-1924). She was the daughter of Alphena and Ellen Nora (Schmitley) Llewellyn of Scott, OH. (Ellen's maiden name also has been given as "Schantley.") Officiating at the ceremony was E.R. Cooper, a justice of the peace, held in Athens County.
A copy of Daniel and Caroline's marriage license is seen here, still on file in the Athens County courthouse.
The Knights were the parents of six children -- Lillie May Walters, Norman W. Knight, James Jasper "Jap" Knight, Martha Jane Webb, Zeruah Samantha Snyder and Laura Ann Knight. They also raised a granddaughter, Evangeline Strasburg.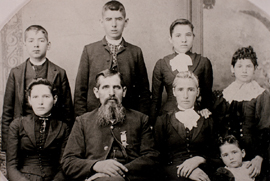 Daniel and Caroline and brood, late 1880s

Sketch of Daniel's amputated thumbtip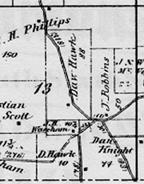 Map of farm, ca. 1866
In the fall of 1867, Daniel lost the tip of his right-hand thumb, crushed by a wheel wood machine. A stump of flesh grew around it over time, leaving a stub 1.25 inches long. A surgeon's sketch is seen here. In about 1870, Daniel came down with rheumatism which left him weakened the rest of his life.
The Knights lived on their farm near Marshfield until 1872. That year, on March 18, Daniel sold their 80-acre farm to Hiram F. Porter. Around that time, the Knights are believed to have moved to the western part of the state in Scott, Van Wert County. Some of his distant Minerd relatives also resided in the Van Wert area at that time, including a first cousin of Daniel's late mother, John Minerd Jr.
Daniel's physical condition worsened in about 1884 when he contracted "intestinal indigestion" as a result, he claimed, of diarrhea while in the Army during the war.
~ Departing Ohio for Points West ~
In March 1898, after about 25 years in Van Wert and Paulding Counties, Daniel and Caroline relocated again. They moved with their married children and young grandchildren to Washington State, finding a home in Puget Sound near Seattle, King County. However, the experience did not meet their expectations, and left them disappointed. Unhappy with the cold, wet climate, they decided to leave after only three months.
Gladwin's main street at turn of the centur. Hassan Photo.
Knowing that Caroline's brother John Lewellyn and his wife Emma had moved to Michigan, and "found things to their liking," said one account, the Knights then relocated to Gladwin County, MI, and settled on a farm near the town of Gladwin. They remained there for the rest of their lives.
The Knights' log farmhouse near Gladwin is seen here then, and now, in July 1993, some 76 years after Daniel's death.
In 1892, one of their sons produced a daughter out of wedlock, Evangeline Knight. Daniel and Caroline stepped forward to raise the child themselves. Yet at the age of two, the girl tragically came down with scarlet fever, lost her vision and was rendered permanently blind. Daniel and Caroline agreed that she should be institutionalized, where she would receive better care, and Evangeline was sent to live at the Institute for the Blind in Saginaw, Saginaw County, MI.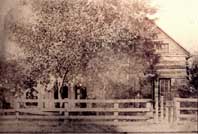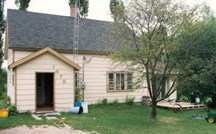 The Knight farmhouse, early 1900s and 1992
~ Final Years ~
Daniel began receiving a federal government pension as compensation for his wartime disabilities. In about 1893, he began suffering from heart disease. He underwent annual medical checkups as part of his pension obligation. He complained of a sore spine and problems with swallowing in January 1896. At his exam in March 1905, doctors wrote that Daniel "can do a little choring but no real hard work" due to his rheumatism and weak heart.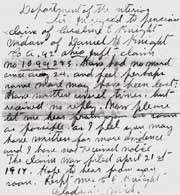 Caroline's pension letter
Daniel died at home on March 20, 1917, at the age of 75.
Caroline survived him by seven years. During that time, she endeavored to obtain her late husband's pension as a source of badly needed income. With the help of the Cashier G.C. Goodrum, of the First National Bank of Gladwin, she wrote to the Pension Commissioner, asking about the status of her petition. Her letter, on stationery of the Standard Oil Company, is seen here.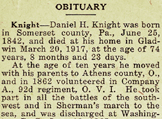 Obituary, 1917
Among the evidence she needed to furnish was proof of her maiden name. This involved providing names and dates from the old Lewellen Bible, and also the federal census from 1860, in which she was a teenager in her father's home.
Eventually, her request was approved, and she began receiving $30 each month.
As a widow, Caroline went to live with her married daughter and son in law, Zeruah "Ruby" and William Snyder, in Gladwin. She is listed in their household in the 1920 census, along with her unmarried daughter Laura Ann, who was a seamstress and dressmaker.
She passed away on Oct. 17, 1924, at the age of 77.
The Knights are buried together in a family plot at nearby Ridge Cemetery. Their graves were photographed by Minerd.com's founder during a visit to Gladwin in 1992.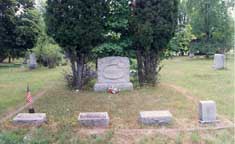 Daniel's grave, and the Knight family plot in Gladwin
Copyright © 2000-2007, 2016, 2019 Mark A. Miner
Sherman sketch from Life and Deeds of General Sherman, F.F. Spyer & Co., Brooklyn, NY