Laura Ann Knight
(1884-1956)

Laura Knight

Laura Ann Knight was born on Oct. 28, 1885 at Scott, OH, the daughter of Daniel Harry and Caroline Elizabeth (Llewelyn) Knight. She never married.
Laura is known to have attended the one-room Riley School near Gladwin. She never married.
Said her newspaper obituary, Laura "worked in the telephone office for a number of years and was a dressmaker for 30 years. She was a member of the Maccabees."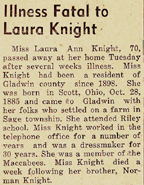 Obituary, 1956

A grand-niece, Dorothy (Bender) Krieg, once wrote that "I always remember her living in her own apartment in Aunt Ruby's big house. She was a seamstress and made a comfortable living."

The census of 1920 shows Laura as a 33-year-old dress maker, making her home with her married sister and brother in law, Zeruah "Ruby" and William Lewis Snyder. William's occupation was "expressman" for the M.C. Railroad. Laura's 73-year-old, widowed mother also made her home with Laura and the Snyders that year.

When the federal census was taken in 1930, Laura was employed as a seamstress, again living in the Snyder home. By that time, her brother in law William worked as a salesman in a Gladwin hardware store.

Federal census enumeration records for 1940 show the sisters Laura and now-widowed Ruby sharing a residence in Gladwin. Laura was marked as a dressmaker, working out of the home.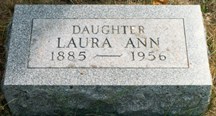 Ridge Cemetery

Laura died on March 27, 1956, at the age of 70. Her death occurred just one week after the passing of her brother Norman Knight. Ironically, her funeral arrangements were conducted by the Miner Funeral Home in Gladwin, but a connection between the facility and our family has not been determined.

Her remains were lowered into the sacred soil of the Knight family plot at Ridge Cemetery. A simple stone marks her grave.

Copyright © 2001-2002, 2006, 2011 Mark A. Miner